*Product provided by Sola Look. All opinions are my own*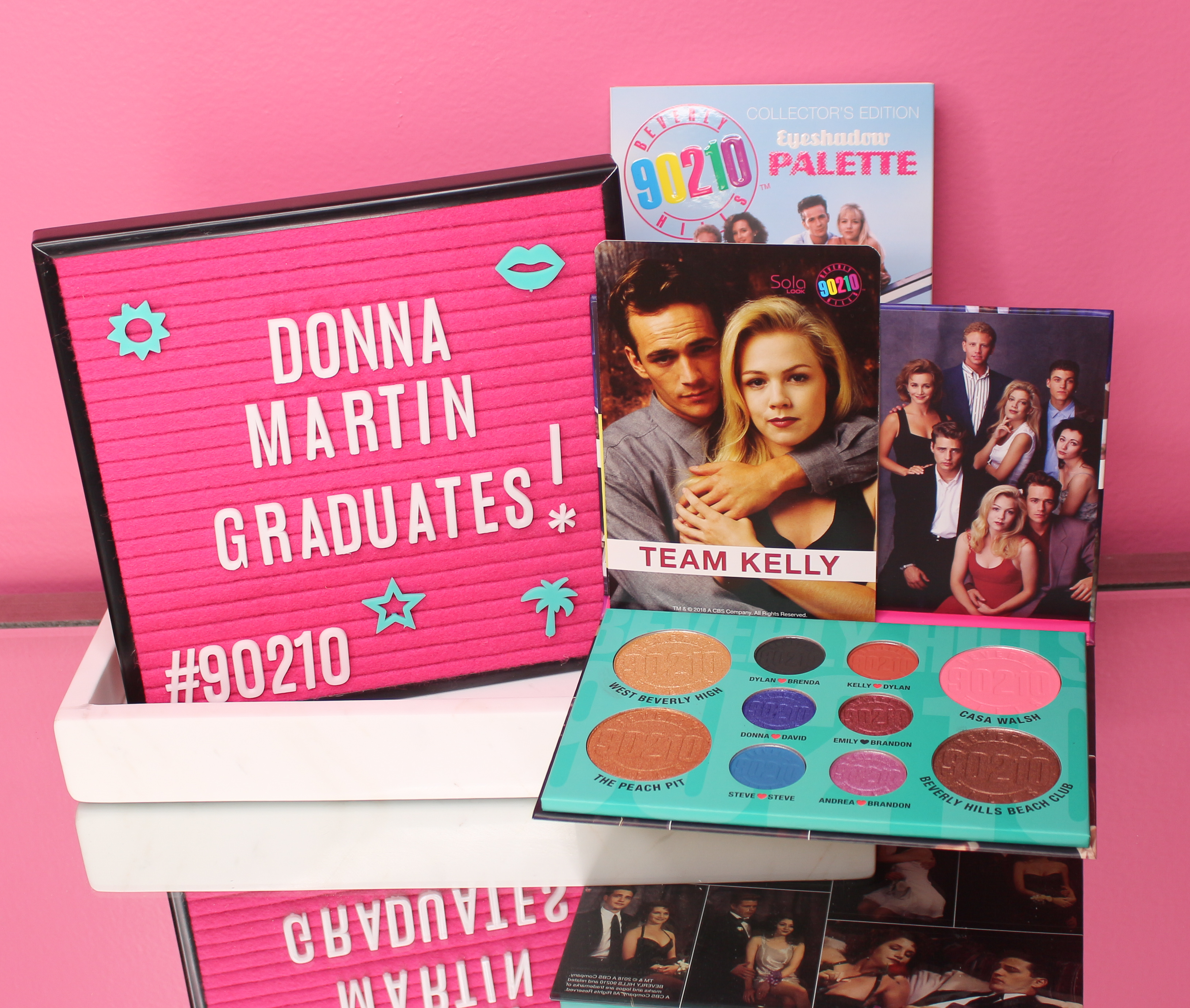 9-0-2-1-OH SNAP! Sola Look has done it again! This time, they are honoring West Beverly High's finest alumni – Brenda, Dylan, Kelly, Brandon, Donna, David, Steve, and Andrea. Their newest palette which contains a combination of 10 eyeshadows and highlighters will make you want to grab your friends and head down to The Peach Pit. Sola Look is known for creating nostalgic makeup products such as the 'Grease' Pink Ladies Palette, Dirty Dancing Palette and some of my personal favorites – The Saved By The Bell Lipstick Trio (Which I reviewed here) The quality of their products is incredibly top notch and I've never been disappointed in a single eyeshadow palette they have released.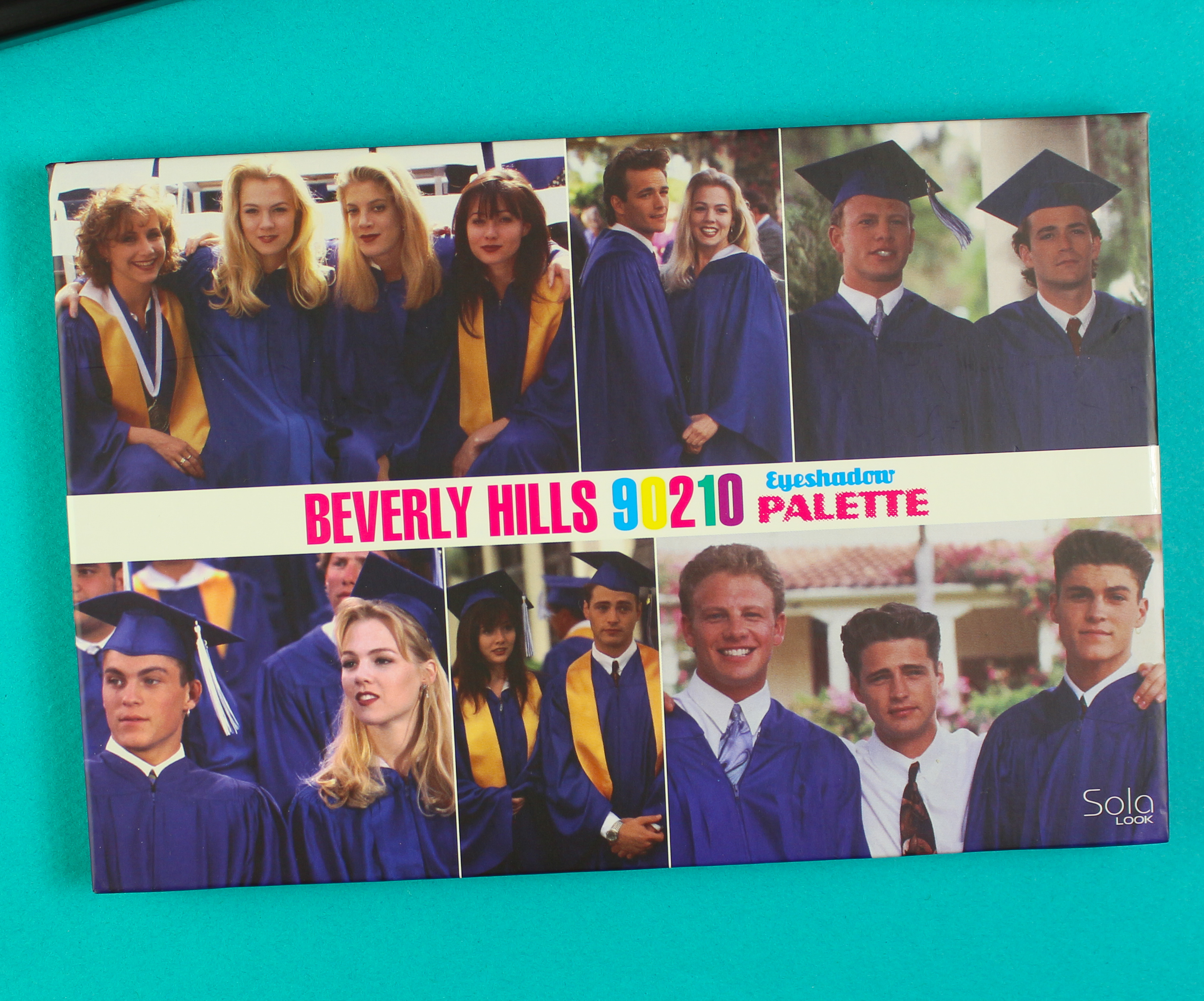 If you grew up in the '90s, you probably watched at least one episode of Beverly Hills 90210. The retro teen soap ran for 10 seasons portrayed the not-always-so-fabulous lives of these teens living in the world's most fabulous zip code. To be honest, I've never watched the entire series and since receiving this palette I've added it to my Hulu watch list so I can start!
The Sola Look Beverly Hills 90210 palette packaging is super cute. It arrives in a collector's edition sleeve and has some iconic photos on both the front and back of the sturdy cardboard packaging. There is also a small mirror on the inside and another photo of the cast as well.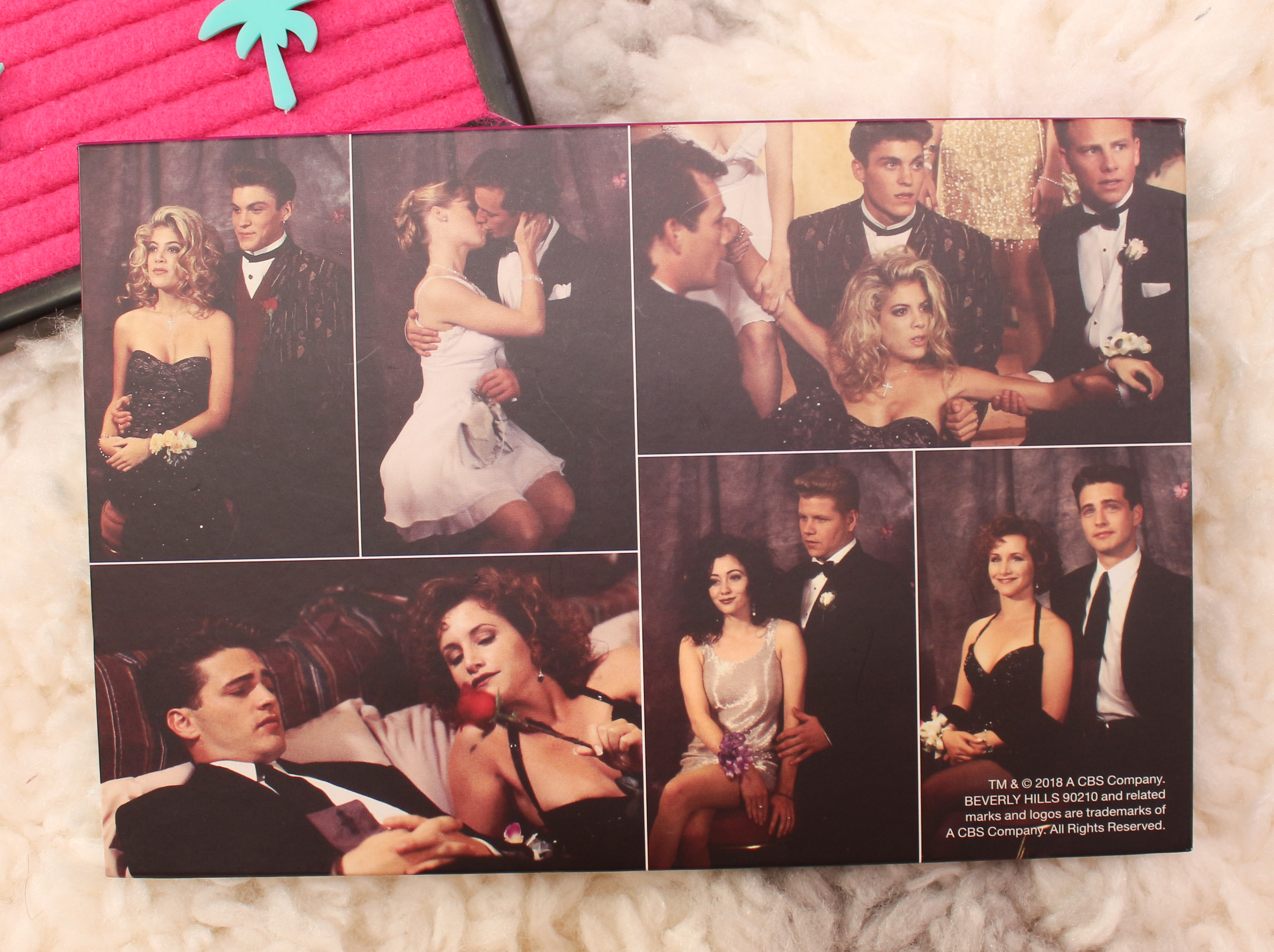 The inside of the palette contains both eyeshadows, highlighters, and blush with the names each representing a specific place or relationship to the show.  I saw a few comments saying they didn't understand the "color story" for this palette in regards to the shadows. I think what Sola Look did was fun and definitely had a 90's feel to it. The shimmers and matte shades packed a pretty stellar punch and I could definitely see myself using them to coincide with other shadows I have in my collection. The blush and highlighters, on the other hand, are absolutely to die for.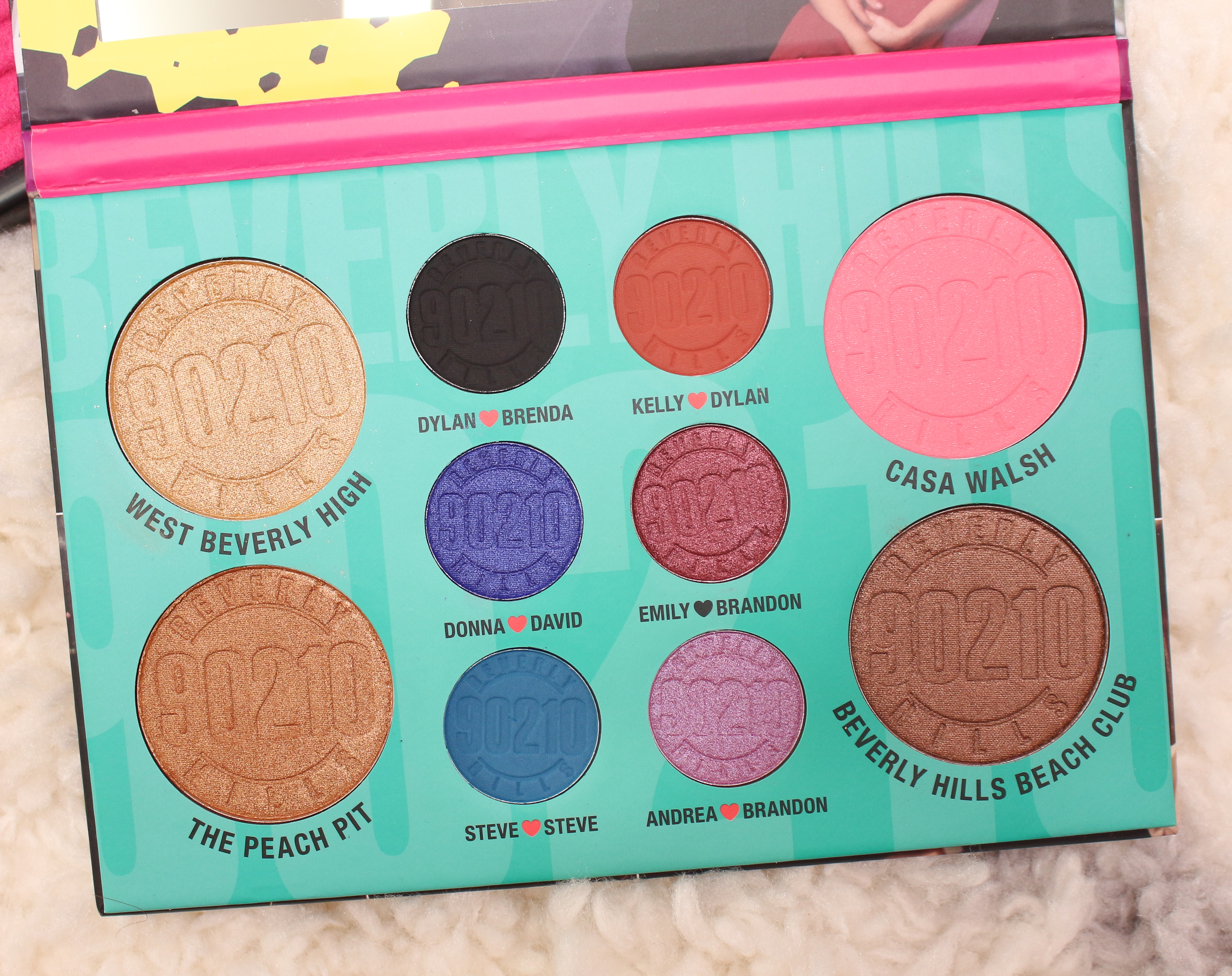 L-R: Beverly Hills Beach Club, Casa Walsh, The Peach Pit, West Beverly High (0.16 oz. / 4.5g (per highlighter) x4)
For me, West Beverly High is the only shade I can use as a true highlight. The Peach Pit & BHBC are definitely too dark for my skin tone but would make incredible eyeshadows or blush toppers. Casa Walsh is a GORGEOUS blush shade and would probably work for most skin tones. I can definitely see myself using this blush quite a bit as the shade is definitely up my alley. The formula on all 4 face products was consistent – Each one was buttery smooth & pigmented. They were a tad bit powdery, but nothing I couldn't deal with. When I dipped my brush in the pan, a LOT of product gets picked up onto the brush so be sure to give it a quick tap before applying. (Especially the blush) Other than that, I had no issues applying to my skin or blending out the blush and highlighter.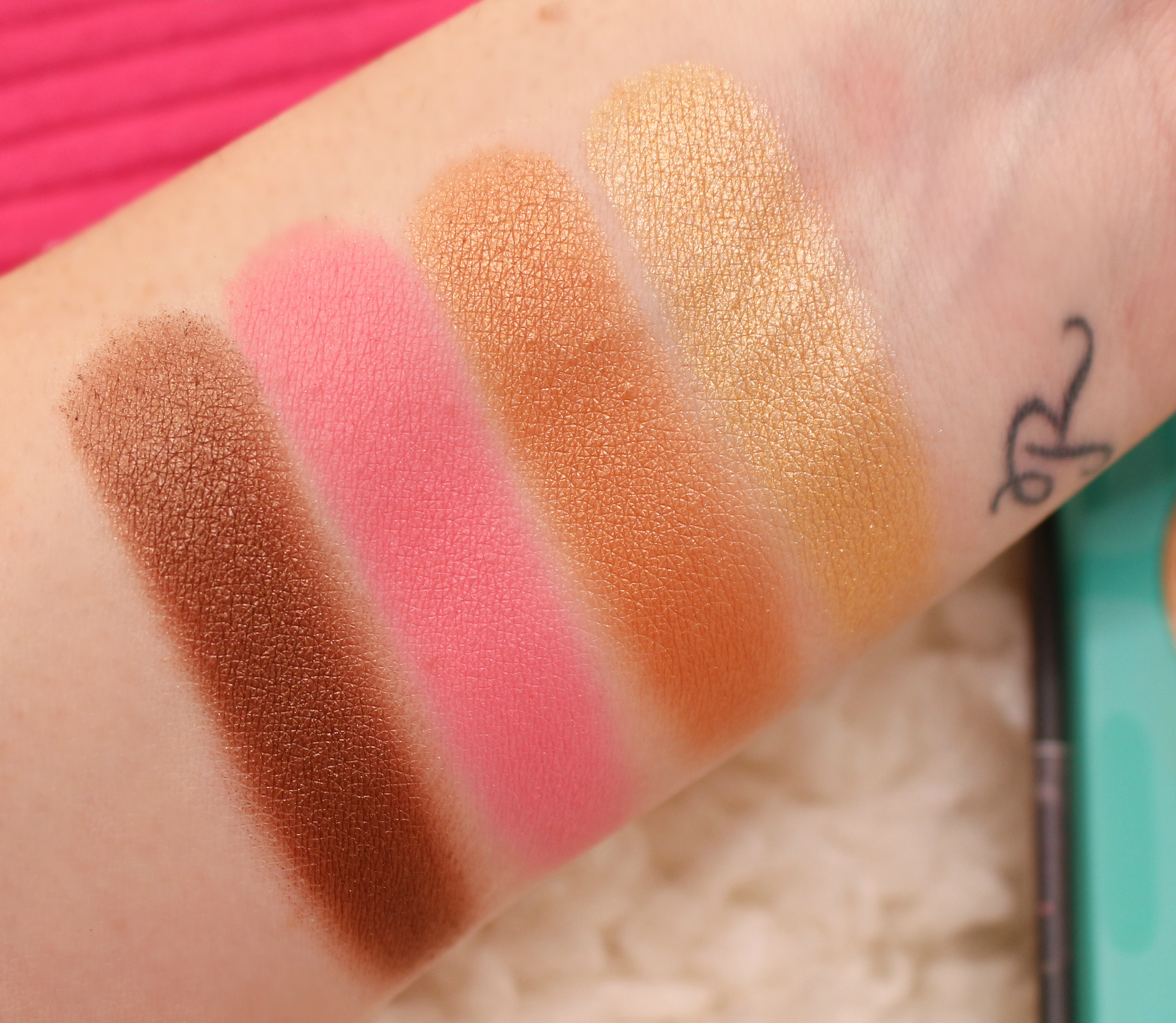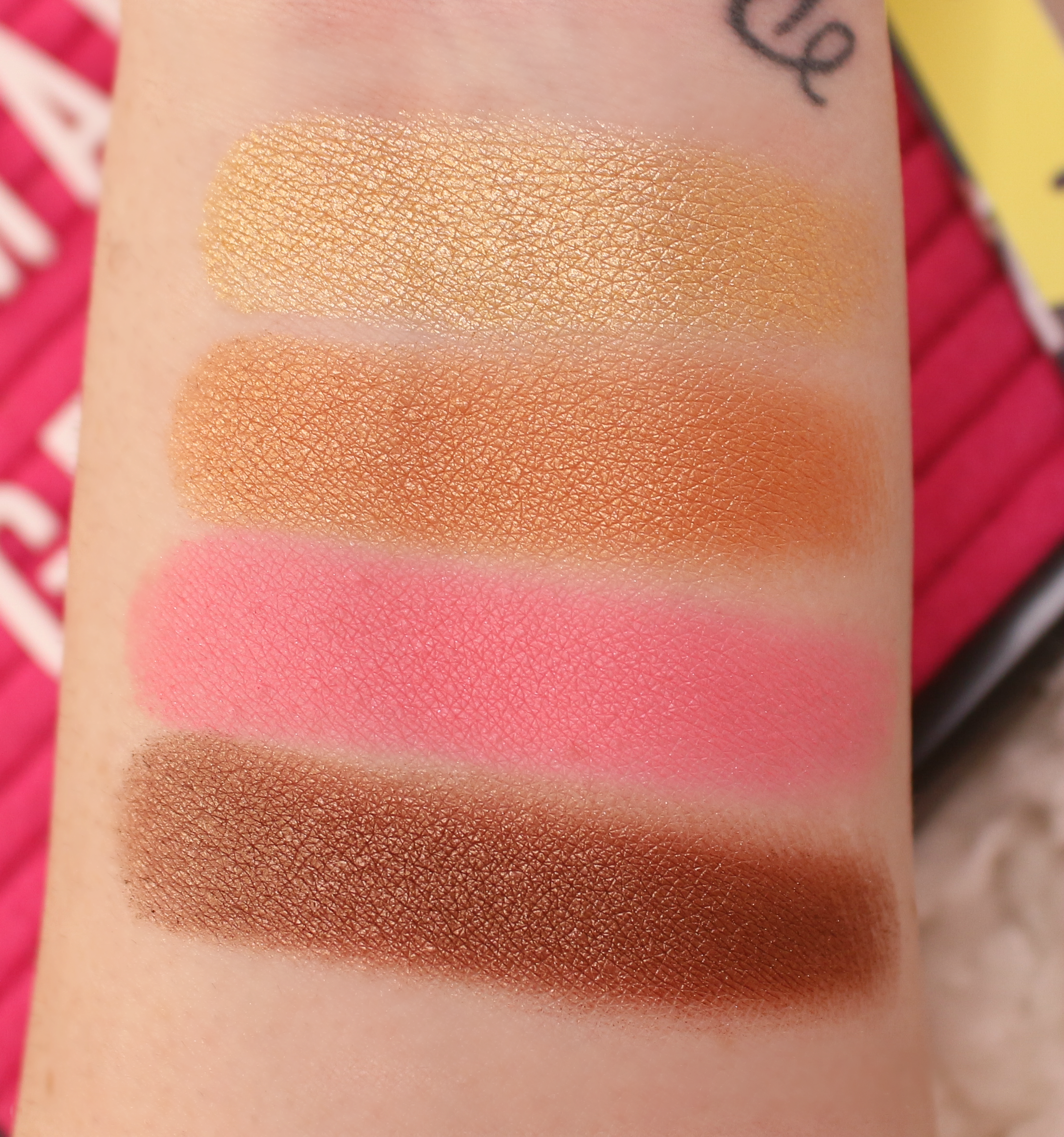 The brand definitely put thought into customizing this palette with all of the nostalgic details. I love the Beverly Hills 90210 imprints on each of the pans and the fact that for the names they chose the "showmances" throughout the series. Were you Team Kelly or Team Brenda?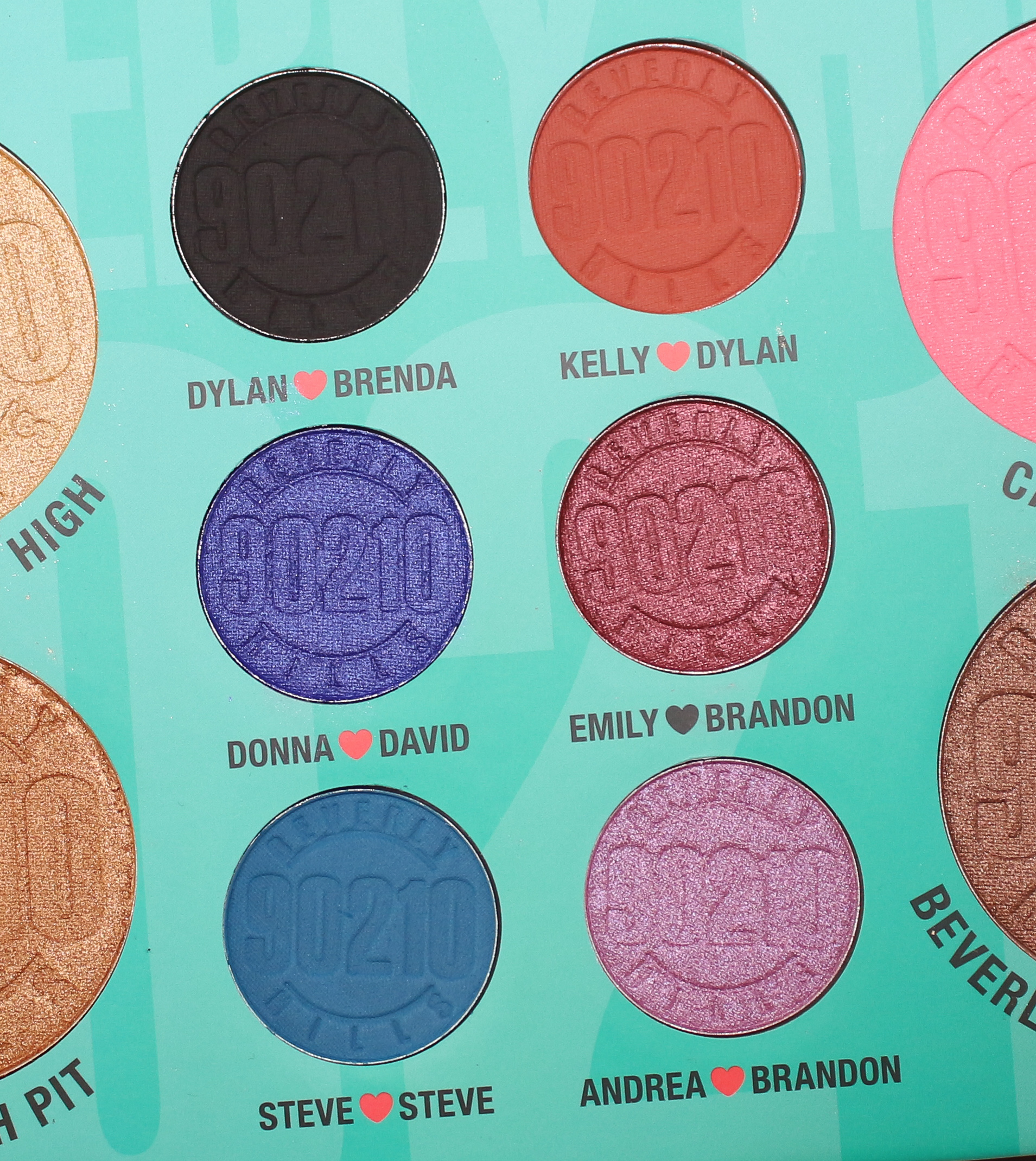 L-R: Andrea ❤️Brandon, Steve ❤️Steve, Emily ❤️Brandon, Donna ❤️David, Kelly ❤️Dylan, Dylan ❤️Brenda (0.053 oz. / 1.5g (per eyeshadow) x6)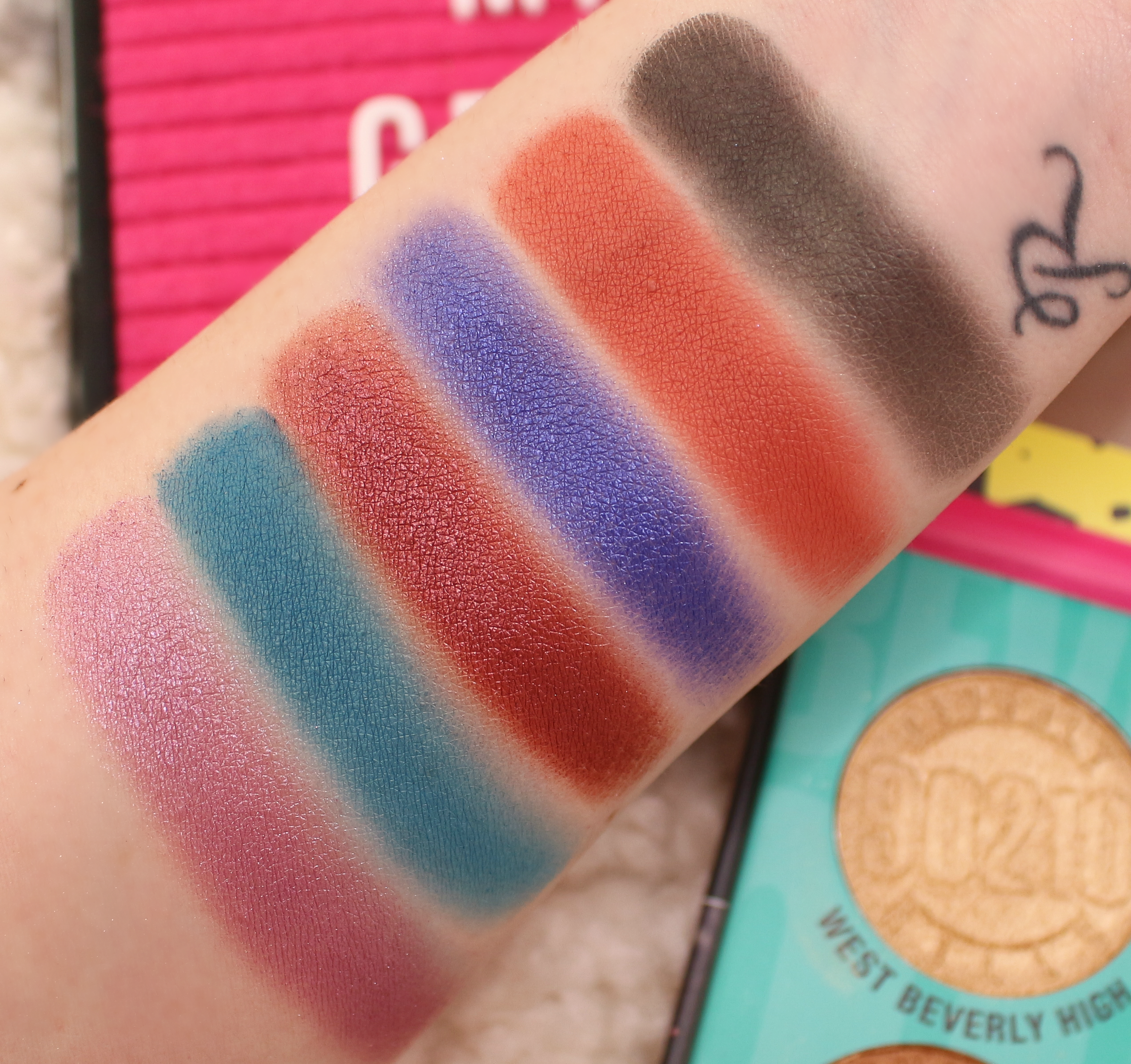 You get 6 eyeshadows in this palette – 3 mattes and 3 shimmers. A few of the shades swatched better than others, but again I'm only going off of the first swatch. The only ones I wore on my actual eyeballs were Kelly ❤️Dylan in my crease and then Emily ❤️Brandon on the lid. I did a super quick warm eye look with these two colors and loved the way it turned out. They were easy to apply and blend out. Just like the face products, they all felt buttery smooth- especially the shimmers. The black shade isn't pitch black but I'm okay with that. It's a great shade to use as a liner or smoke out the outer corner. Andrea ❤️Brandon was the least pigmented of the shimmers in my opinion. It's almost like it had some sort of film or coating on it, so I had to scrape some of the top off before swatching. Now again, I did NOT put this on my eye yet so it could be a totally different story so this is just my observation from swatching it. Once I wear it on the eye, I can give you an update.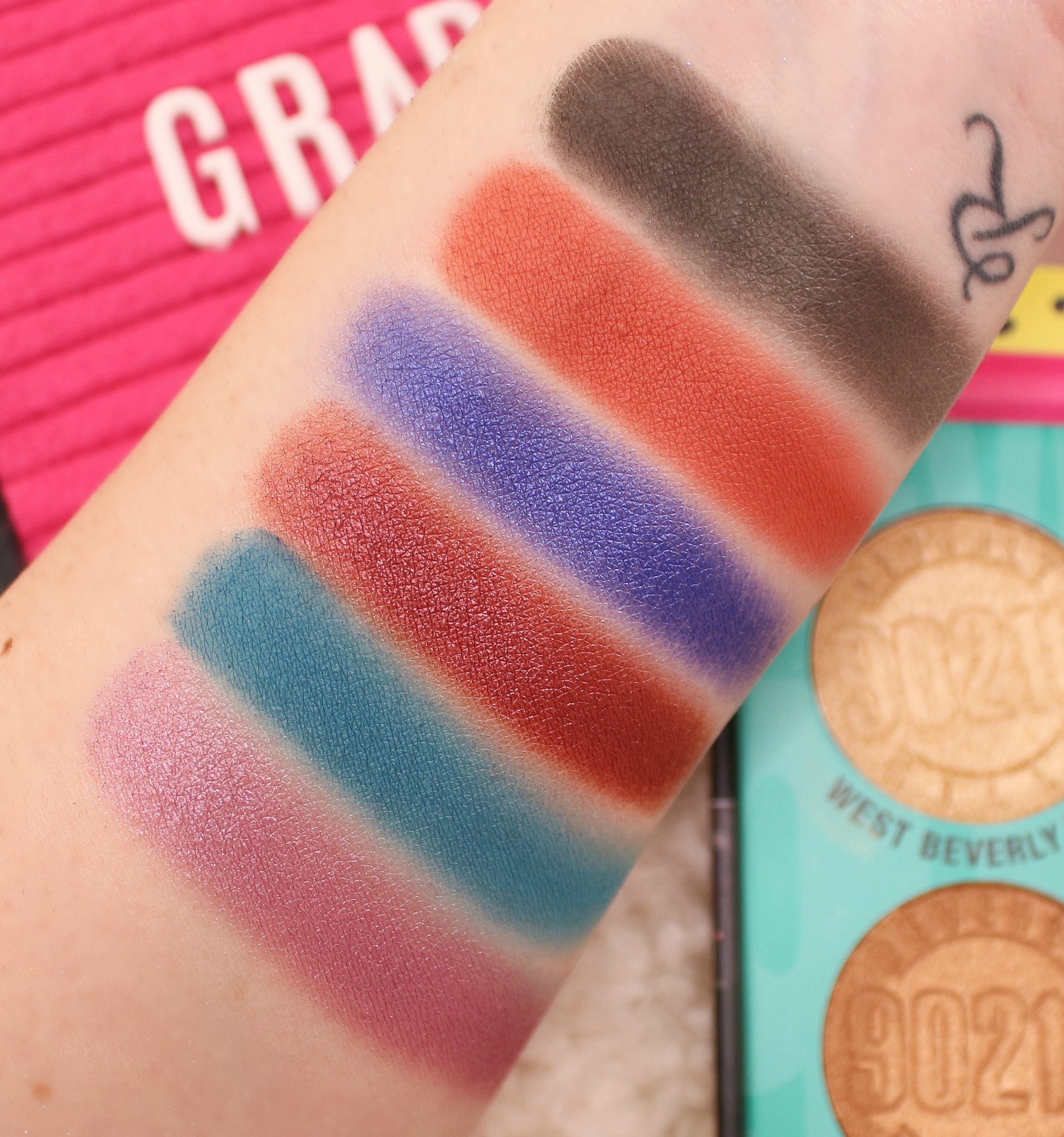 Overall, I think this is a fun palette for the collector in you (both makeup and nostalgia) The shade range is different and I can see myself using this frequently for a quick & easy eye look.  The Beverly Hills 90210 palette drops January 17th at 9 pm PST at solalook.com and retails for $40. Each order comes with a Team Brenda/Team Kelly postcard and a "Donna Martin Graduates" sticker. You'll definitely want to snag this – I have a feeling it is going to sell out incredibly fast!
Donna Martin Graduates! Buy Yours HERE