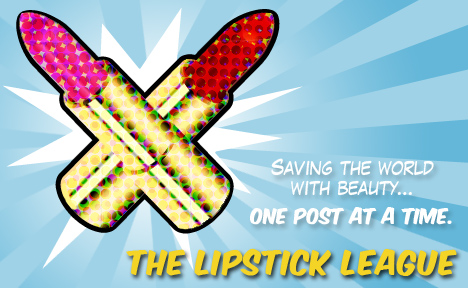 The Lipstick League – week of 8.24.15
Question of the Week: How many makeup products do you use for an everyday face?
Answer : Depending on what I'm doing that day, no more than 10-15.  Some days it's less than 5.
Lipstick Links Of The Week : 
Blushing Noir – Check out the collab with butter London and Allure Magazine… plus enter to WIN a set! Get you some arm candy!
EauMG – went to NY Now's Summer '15 trade show. Here's the products and trends that stood out to her in the wonderful world of home fragrance and bath/body products.
Glitter.Gloss.Garbage – Check out Aprill's refreshing Freeman Beauty Sweet Tea and Lemon mask review.
Gouldylox Reviews – I'm obsessed with these necklaces! Check them out and score your own with my coupon code just for you!
Love for Lacquer – May the beauty force be with you! Jess has a few lipstick swatches of the NEW Covergirl x Star Wars collection! Will you choose the lightside or the darkside?
My Newest Addiction – Laura shared her 3 steps to fabulous nails this week and you aren't going to believe how easy it is!
Nouveau Cheap – There's always a certain level of risk when it comes to beauty box subscriptions (will we actually like/use the products we get?), but here's a beauty box that's been pretty awesome for me so far (and it's only $15 per month).
Phyrra – Do you have Obsessive Compulsive Cosmetics Lip Tars but want the new RTWs (Ready to Wear)? Try my quick and easy How to DIY OCC RTWs!
Prime Beauty – discovers the perfect eyeshadow if you like shimmer but don't like the fallout. Josie Maran Coconut Water Eyeshadow makes eyes glow!
we heart this – Can you really make your own lip balm?! You TOTALLY can make your own lip balm! Look at you, adding tints and essential oils like a boss.
Beautygeeks – Cranky complexions seem to react to so many things – sleep deprivation, environment, ingredients…. Three top dermatologists weigh in on stress and whether zen is even a thing for sensitive skin.
Beauty Junkies Unite – If you're all about versatility and customization when it comes to your face products, then prepare to meet your new best friend.
(Wondering what the Lipstick League is? Find out here.)
Guest Post of the Week, as chosen by Blushing Noir – Rae from The RAEviewer is one of my biggest enablers! She recently gave us a peek at the new Christian Louboutin Lip Colours and I'm already lusting for them!