*Post contains affiliate links*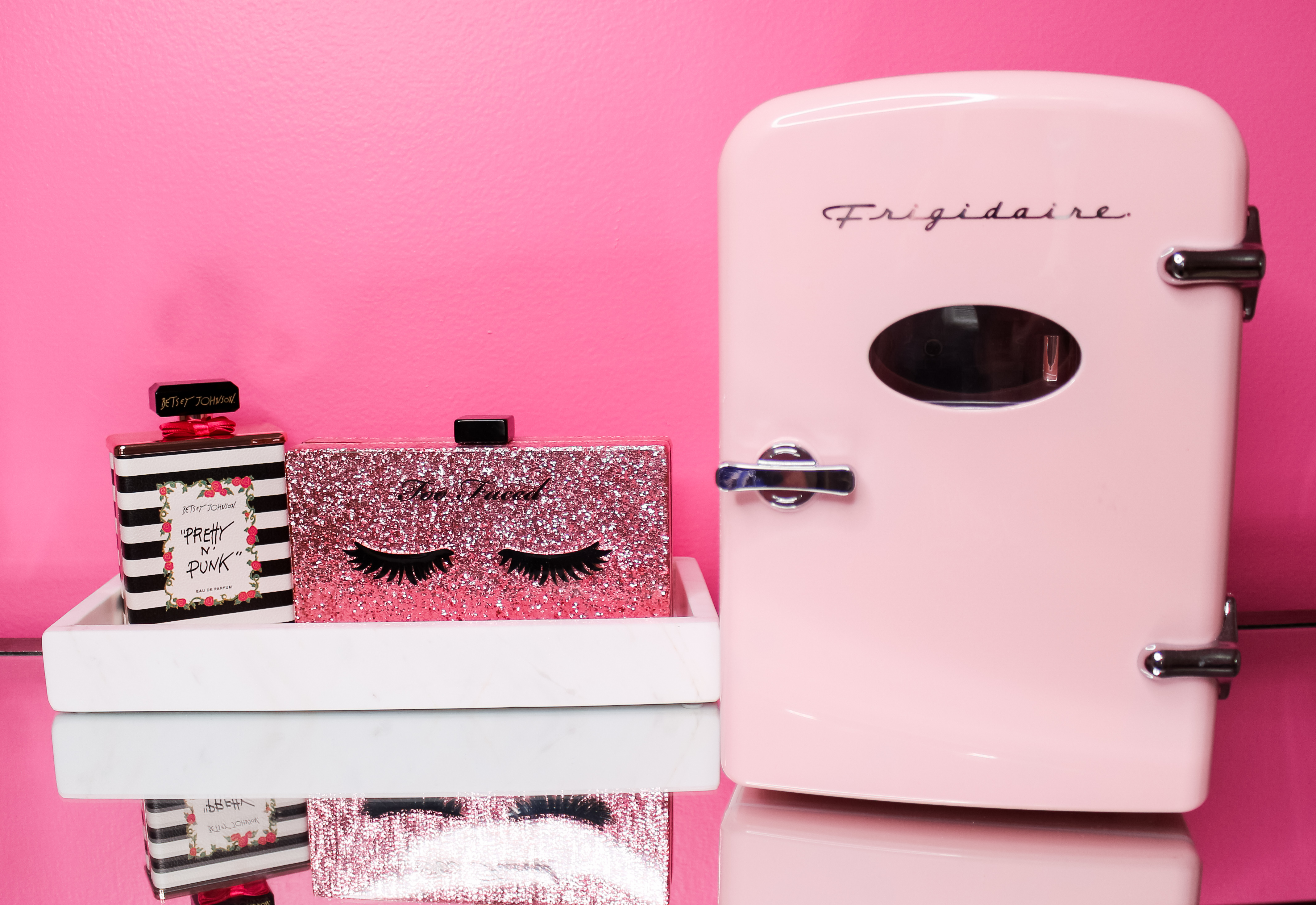 About a month ago, I decided to take the plunge and buy a skincare fridge after seeing them all over my Instagram feed. Not only was it pretty inexpensive, but hi..it's pink and adorable. I bought mine at Walmart for about $30 (The only color left is blue but check your store or Amazon) Definitely one of the bougie-est things I've ever done (and I've done quite a bit haha) So what is it exactly? Basically, a mini fridge that was obviously designed for an apartment or dorm room to keep drinks in but swap all of that out for your favorite skincare products. Have you ever used your skincare chilled? It's ah-ma-zing! I keep my skincare fridge right in my beauty room for easy access to all of my favorite everyday products and sheet masks.  I do switch out the products quite a bit so if you'd like to see this every few months or so, just let me know. Let's take a peek at all of the products in my fridge currently: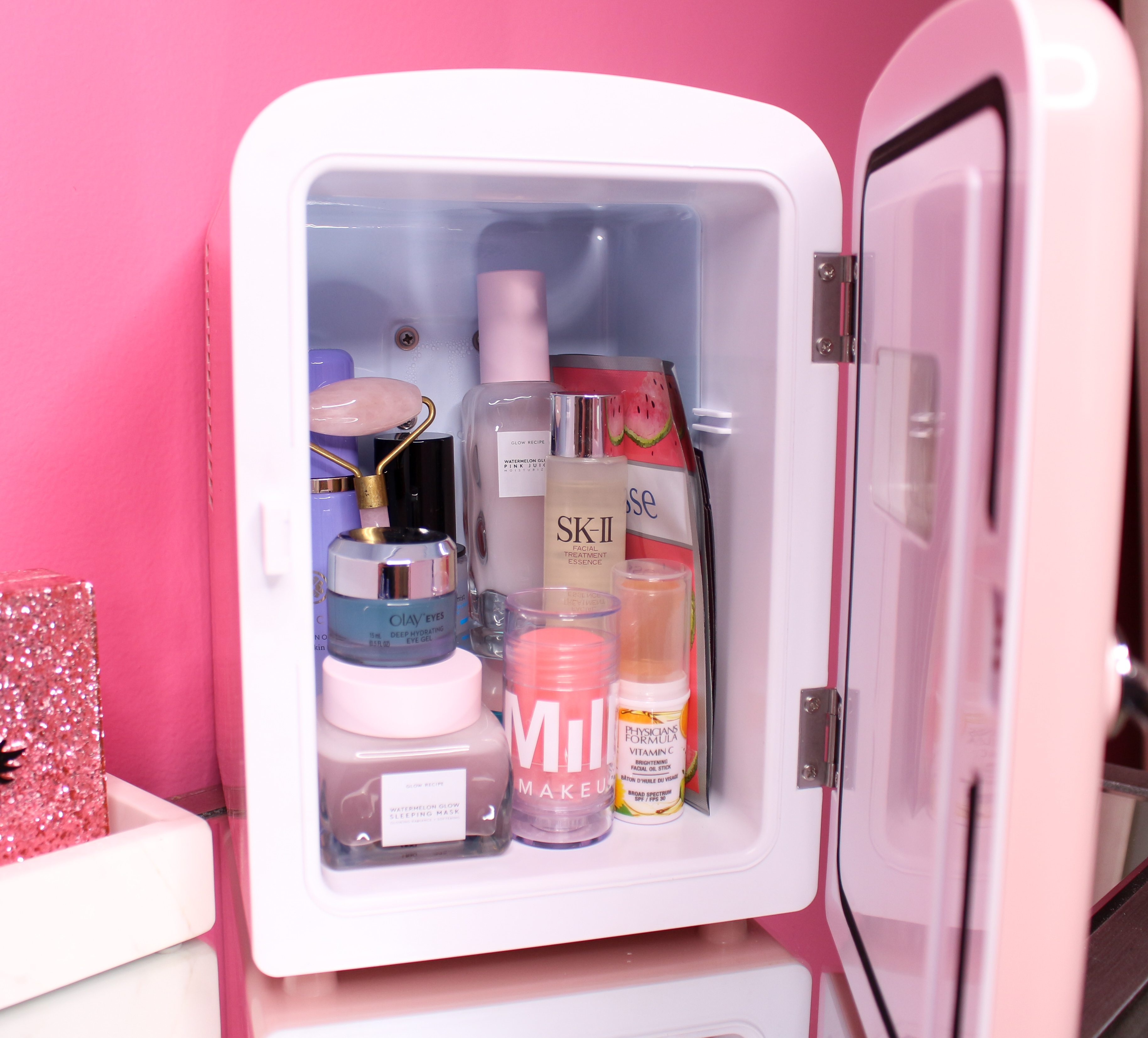 Surprisingly, it holds quite a bit. I was a bit bummed out though because I'm pretty sure it's supposed to come with a shelf and mine wasn't in the box. No big deal though -I made it work.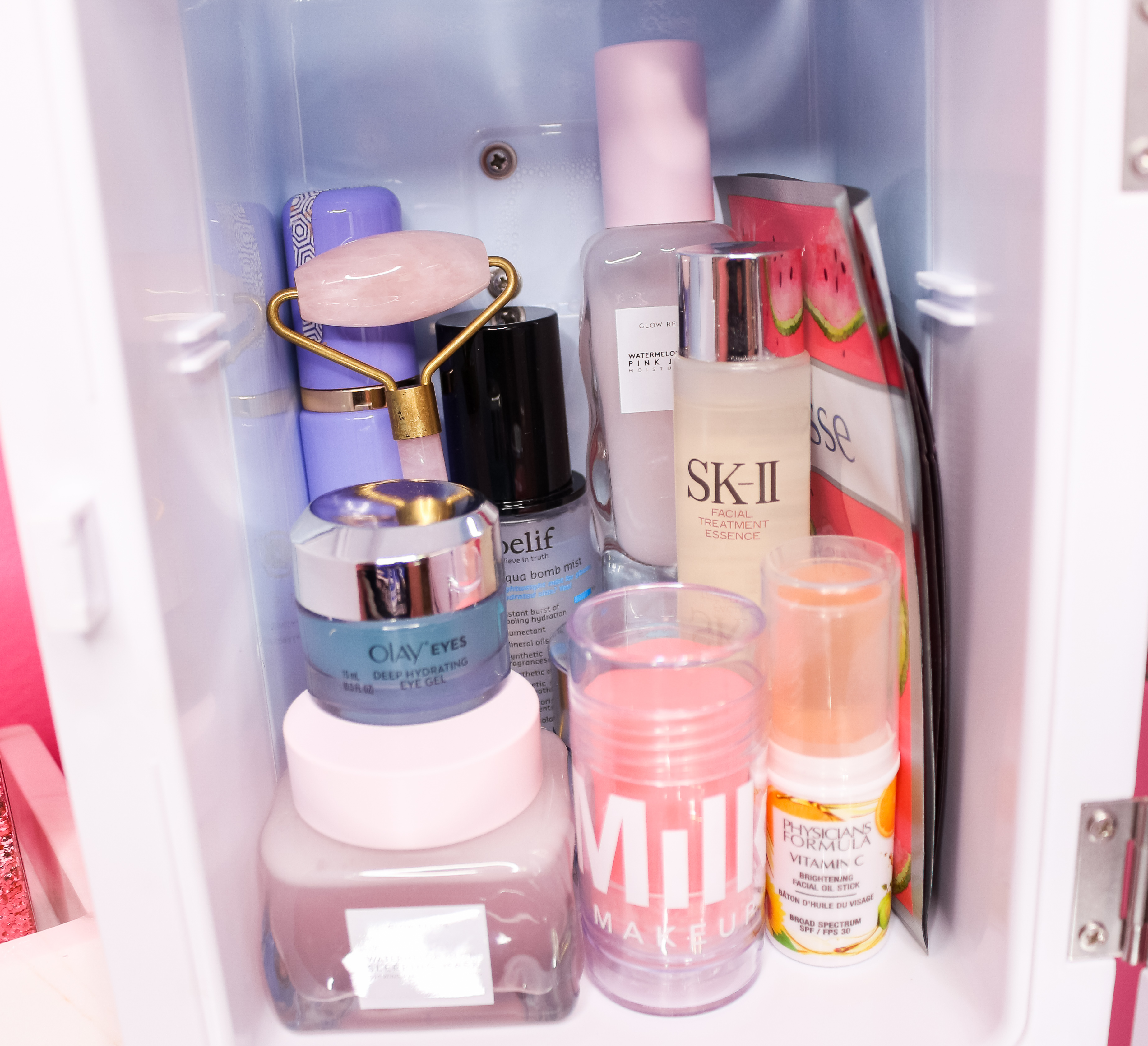 The only thing I also wish it had was a small basket like shelf on the door to keep sheet masks. I know there is one on Amazon that has that feature so I *MAY* upgrade at a later time.
Moisturizers + Facial Mists: 
Glow Recipe Watermelon Glow Pink Juice Moisturizer: One of my favorite lightweight moisturizers that can also be used as a serum. Smells like watermelon and gives my skin the most radiant glow.
belif Aqua Bomb Mist: I love using this as a skin refresher during the day. Having it cold makes it SO much more refreshing on the skin!
Tatcha Luminous Dewy Skin Mist: Putting this mist on before & after makeup is a savior for my dry skin. The fine mist nozzle is everything!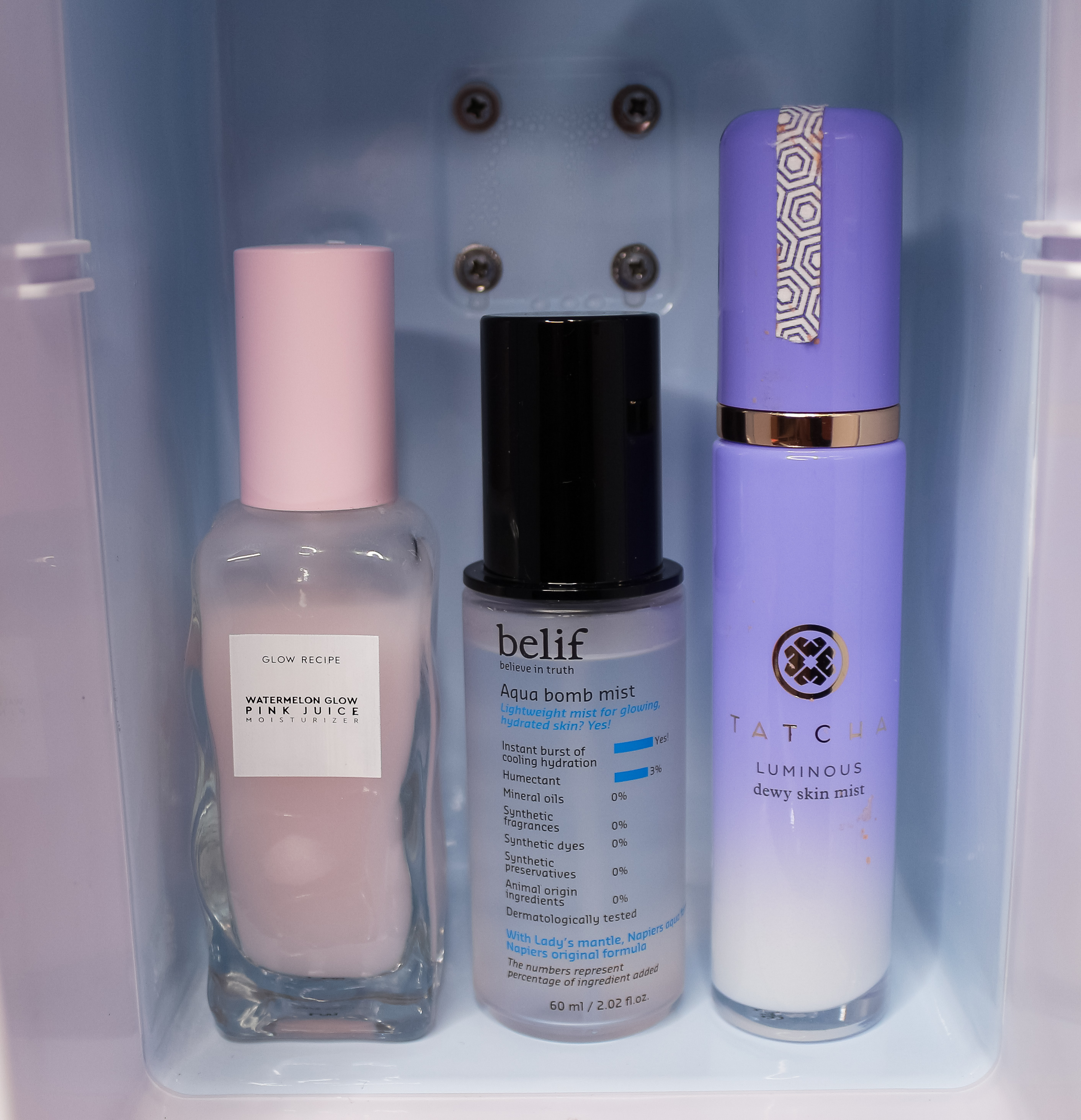 Olay Eyes Deep Hydrating Eye Gel: Girl, my eyes are tired. This eye gel is perfect for waking up tired eyes and giving them a refreshed wide-awake look. The cooling formula helps fight visible signs of fatigue plus with it being in the fridge, gives the eyes that extra hydration they need.
Glow Recipe Watermelon Glow Sleeping Mask: I use this about 1-2x a week in my nighttime routine as an overnight mask. When I wake up in the morning, my skin feels SO soft.
GlamGlow Waterburst Hydrated Glow Moisturizer: This is actually a new moisturizer I recently added to my collection. I had gotten a small sample from Sephora and I loved the way it smelled and how it made my skin feel before applying makeup.  It's not extremely heavy so I can definitely see myself using this more in the Summertime than the Winter.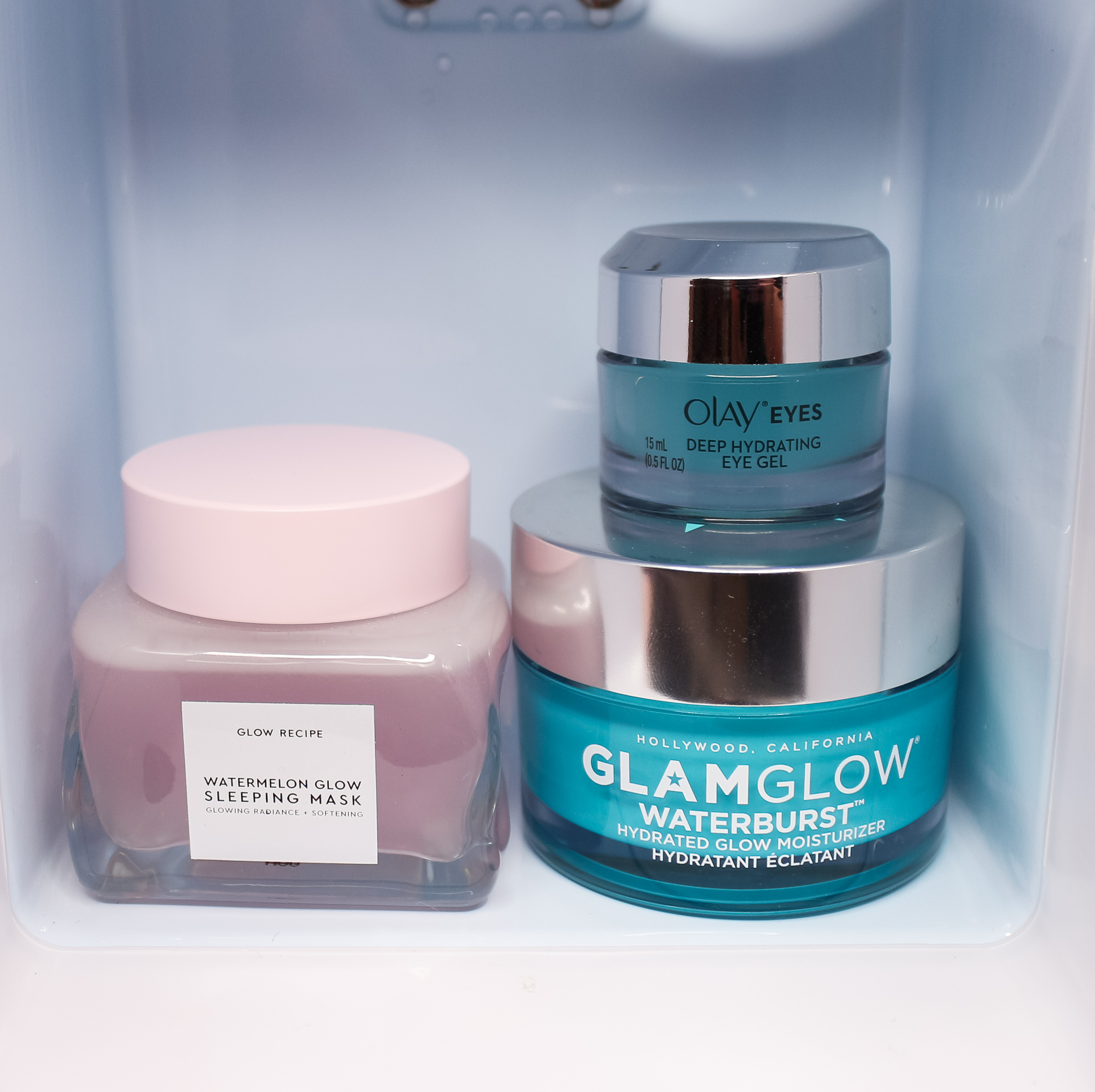 Serums, Rose Quartz Roller, Facial Oils + Essence:
Facial Roller: This new-to-me skin-care tool has been making a buzz in the beauty community. It's great for rolling all over your face in an outward direction for a relaxing facial massage leaving you with radiant skin. It's also great to use when applying cream products to the skin. I found mine at TJMAXX, but you can grab one on Amazon.
Milk Makeup Watermelon Brightening Serum: A brightening and hydrating solid serum stick that evens skin tone, reduces the appearance of fine lines, and revitalizes the complexion for luminous, glowing skin. I love that it's in solid stick form and just makes it SO easy to quickly apply. Definitely wakes your skin up in the morning!
Physician's Formula Vitamin C Brightening Facial Stick: I don't know why no one talks about this product more! It brightens and hydrates the skin with Vitamin C, orange & sunflower oils, Kakadu plum PLUS SPF30. Say hello to a more healthier, youthful and radiant complexion!
SK-II Facial Treatment Essence: The full-size of this is stupid expensive, so I am so thankful I was able to grab a sample in a recent subscription box. I put a small amount on a cotton pad and use in the morning after I cleanse my skin. I've only used it a handful of times but it's definitely softened my skin and made me break out less.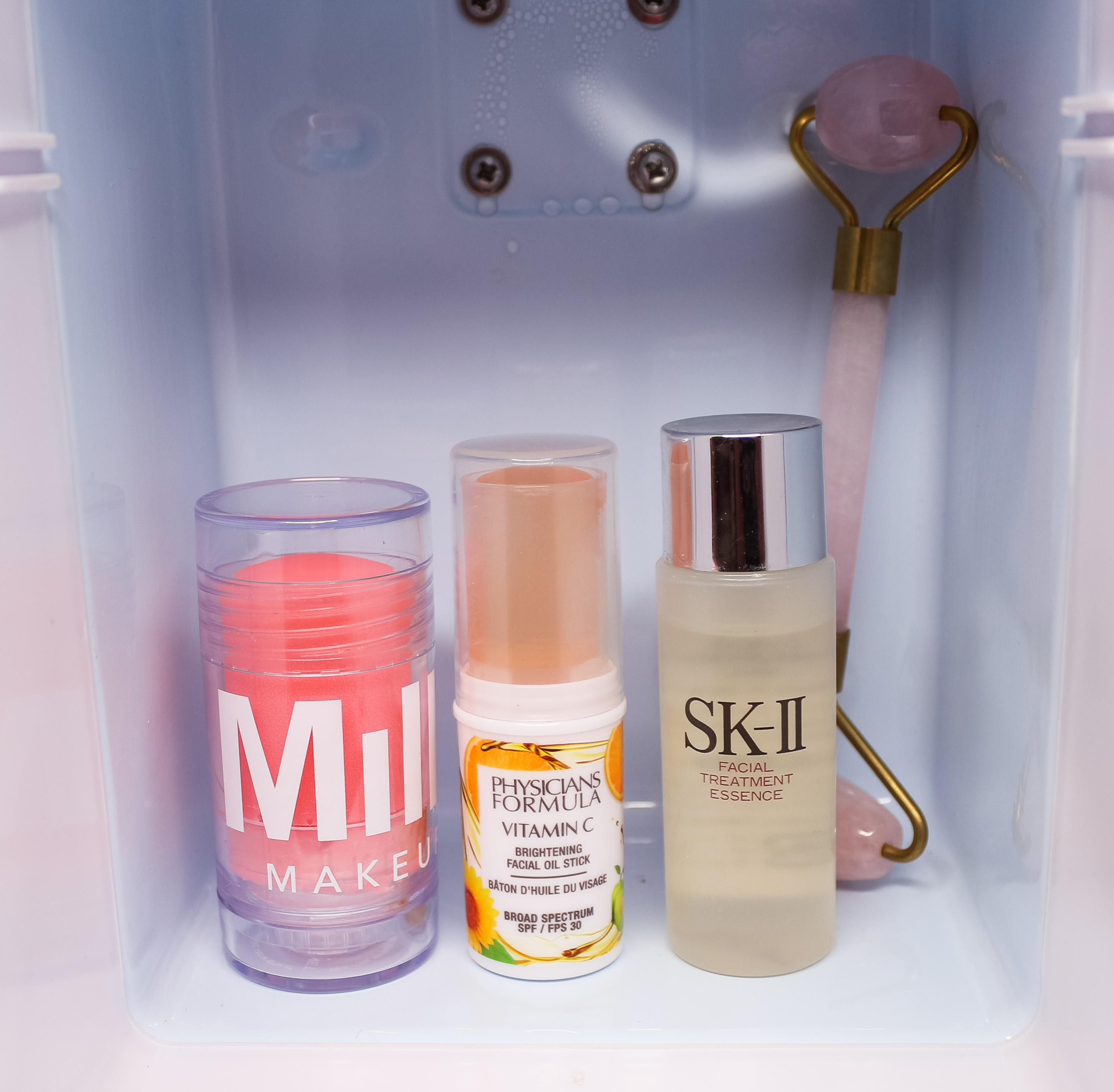 Sheet + Eye Masks:
Purlisse Watermelon Energizing Sheet Masks: I was able to try these when I was at CPNA and I was instantly hooked. First – I love anything watermelon scented and 2nd, these are SO NICE. Keep them on for 20 minutes and your skin is instantly energized. They're made with restorative Asian botanicals that are rich with antioxidants that help soothe, nourish, and fight off free radical damages. You can get them at purlisse.com in a pack of 6.
Wander Beauty Baggage Claim Gold Eye Masks: I LOVE using eye masks at night or in the morning before I'm ready to do my makeup. These gold eye masks are not only fun but are miracle workers! If you're looking to add an extra "umph" to your routine, these are totally worth the money.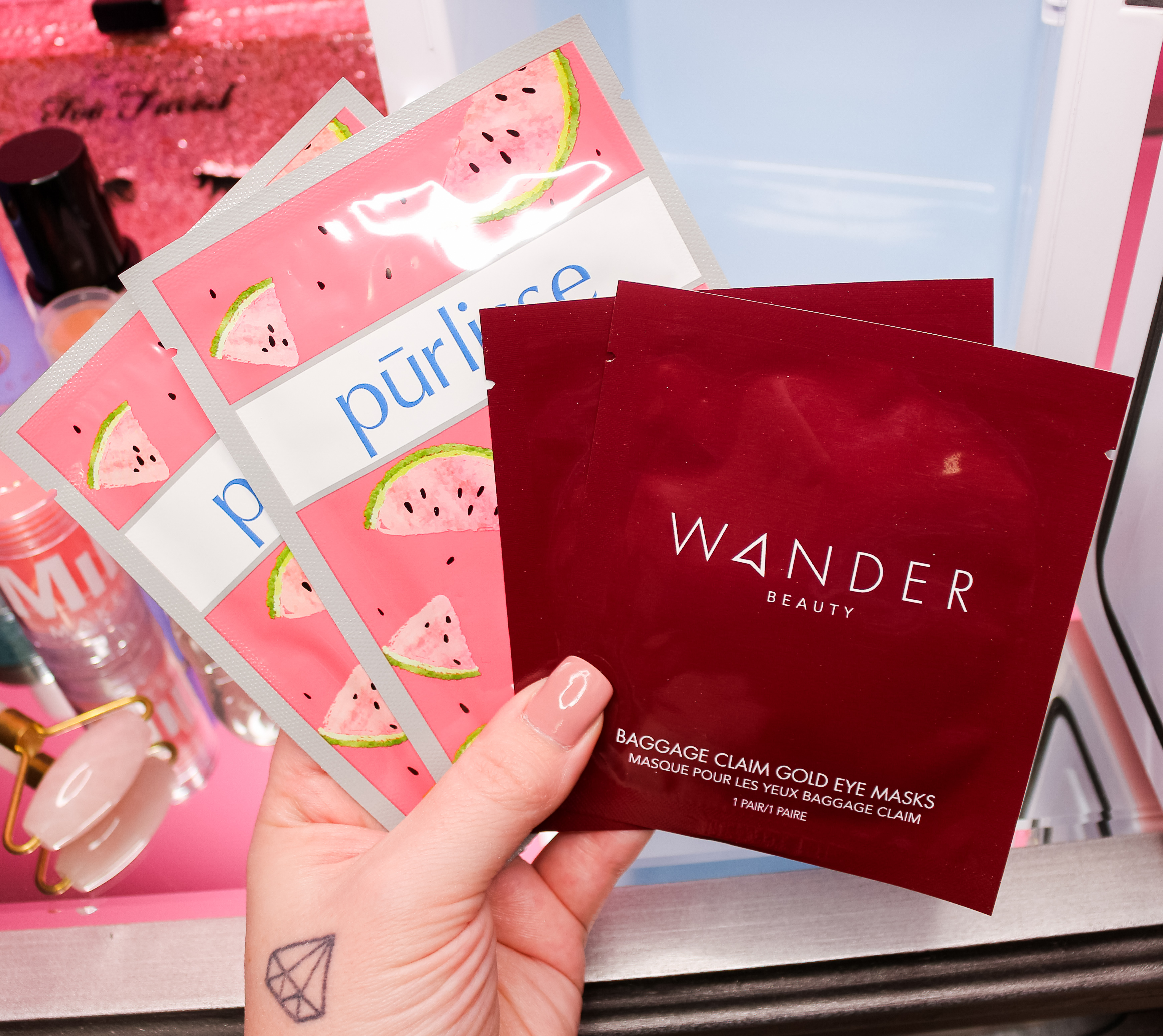 And that's everything in my skincare fridge! Would you splurge on one for your skincare products? Let me know!
SHOP THE POST: