This post is sponsored by Mirum, but opinions expressed are my own
I've been traveling a LOT recently which means living out of a suitcase, packing, and unpacking and trying to remember to take all the necessities with me. Being a mom, I always make sure I have my emergency or "medicine bag," a small, portable makeup bag that has everything I need it in and then some.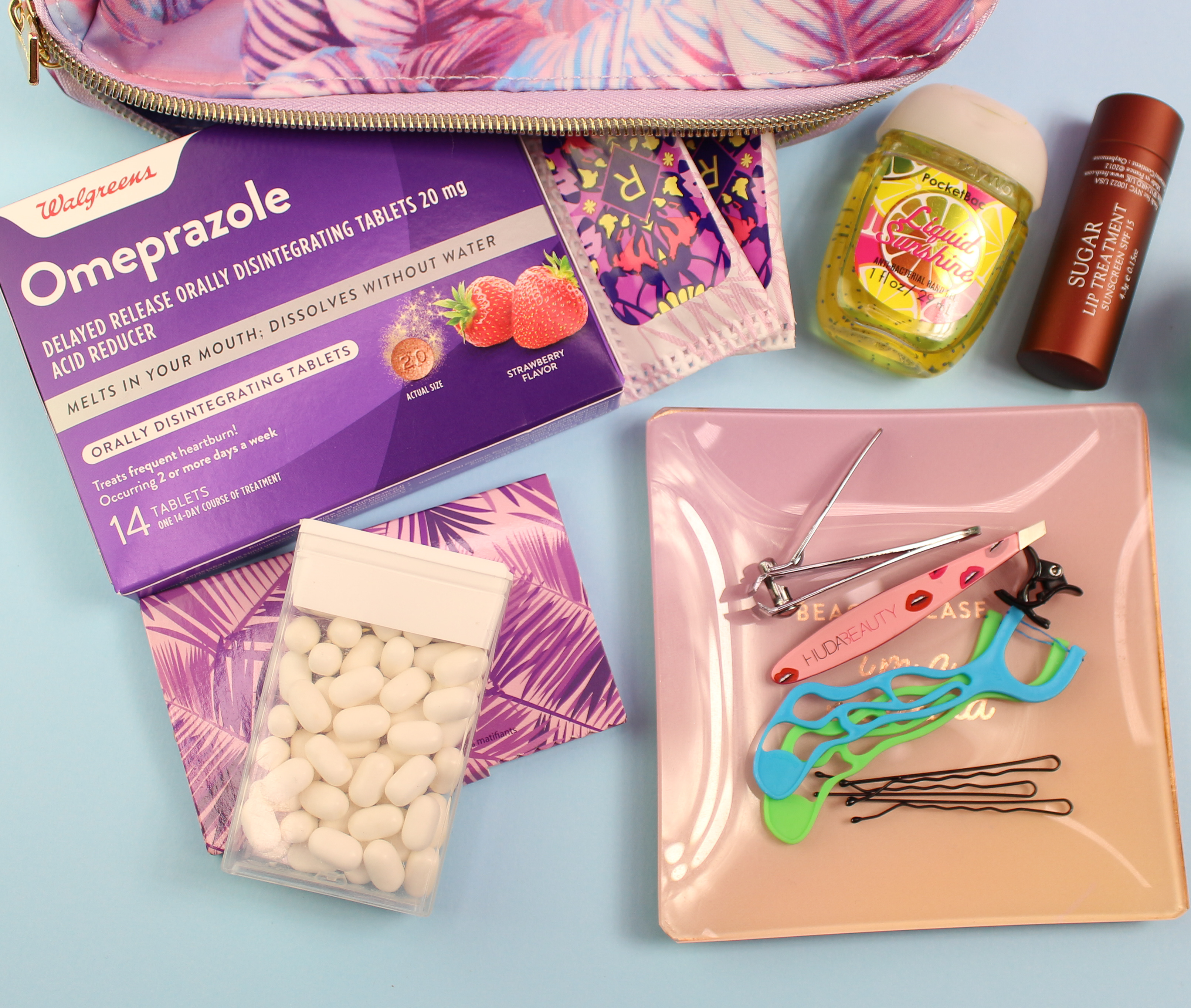 If you have kids or even if you don't, you know things happen and life happens so you definitely want to make sure you are 100% prepared for whatever situation gets thrown your way. Here is a peek inside my emergency medicine bag – which includes the new Well at Walgreens Omeprazole Orally Disintegrating Tablet which is a brand NEW innovation for treating heartburn. (Something I suffer from often). I know it may seem very random to include, but when you're traveling often and visiting new places, you're most likely eating new foods as well.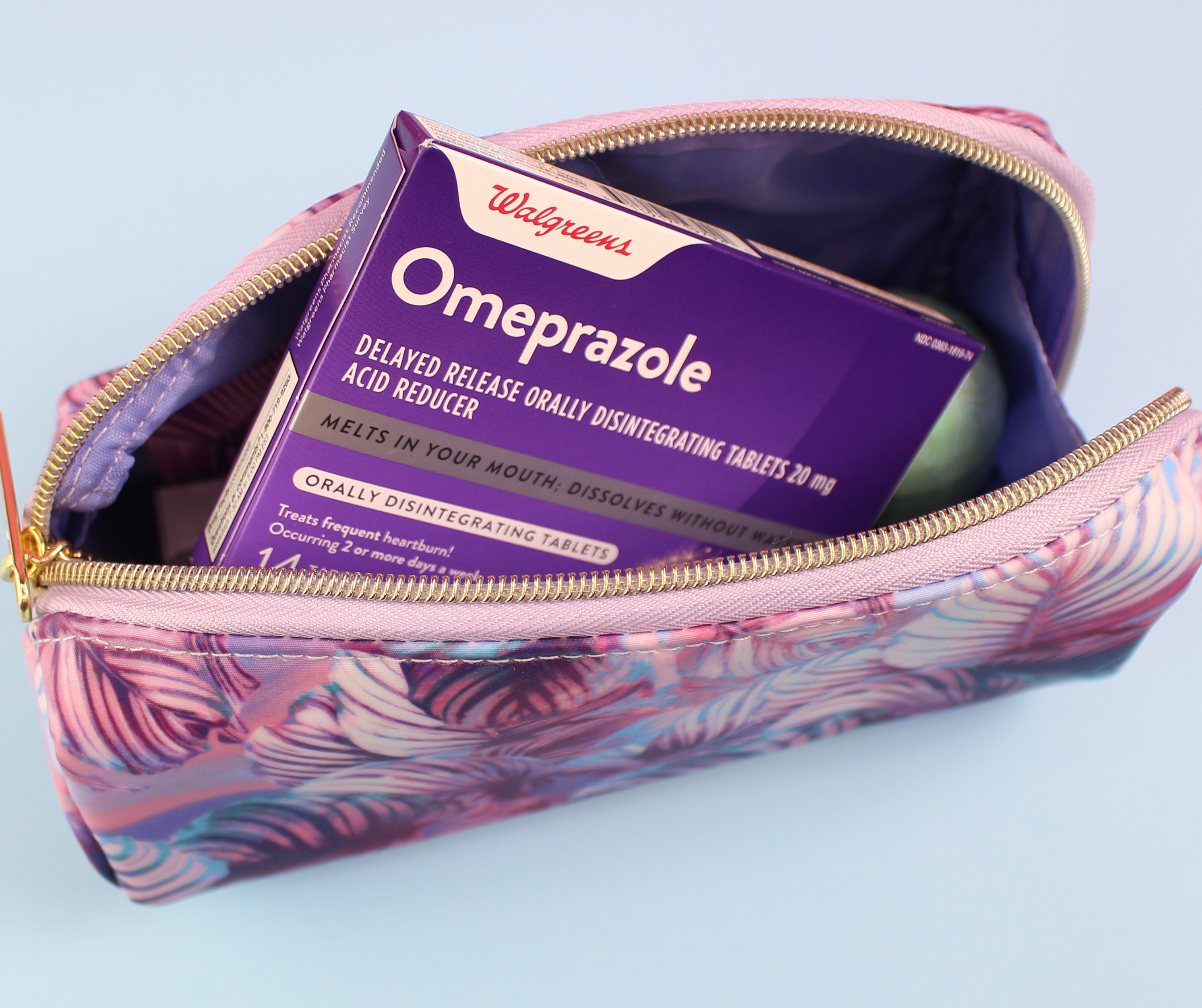 Omeprazole Orally Disintegrating Tablets (also referred to as Omeprazole ODT) is designed to treat the symptoms of frequent heartburn and are also available as an easy-to-take orally disintegrating tablet. Can we just take a second to realize how amazing this is? I am someone who HATES swallowing pills. I hate to call myself a drama queen, but let's face it… I am. What's also great is that I don't need to always have water or a drink on hand. I've suffered from heartburn for as long as I can remember (It really kick-started when I got pregnant years ago and hasn't let up ever since. I get it at least 2-3x a week.)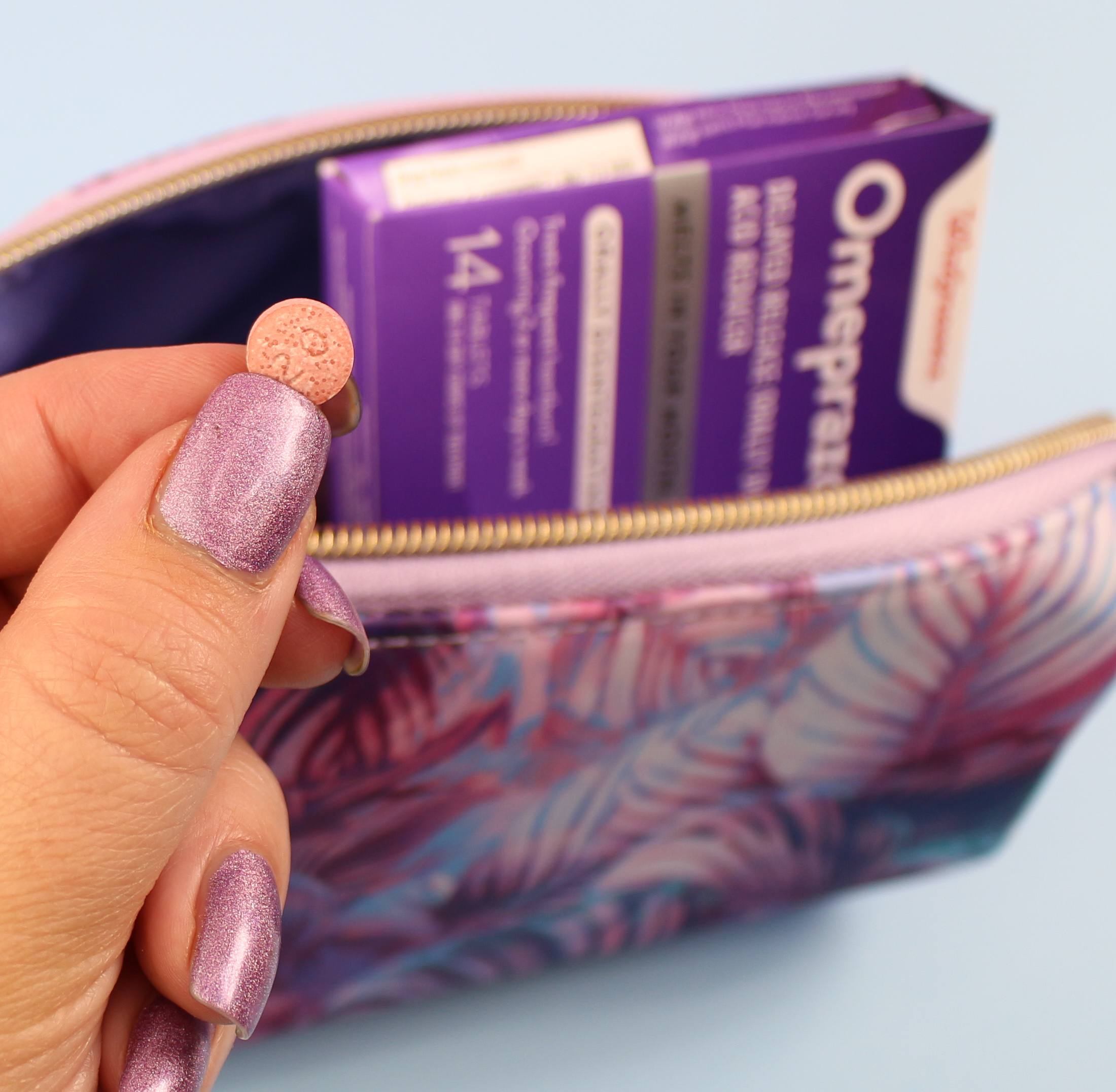 They are super tiny and contain MELTechTM, which allows the tablet to dissolve on your tongue quickly and easily. Plus, the tablet is a great strawberry flavor, so it tastes pleasant and goes down much easier than swallowing a pill. Omeprazole treats the same symptoms as Prilosec OTC ® and works as well as the national brands but it's a more affordable store-brand, over-the-counter medication. Just take one dose every 24 hours for 14 days to finish the full course of treatment.
Use as directed for 14 days to treat frequent heartburn (occurring 2 or more days a week). May take 1-4 days for full effect. Not intended for immediate relief. Do not take Omeprazole ODT for more than 14 days or more frequently than every four months, unless directed by a doctor.
Valid until 12/31, BOGO 50% off PLUS when you buy 2, you will receive 5,000 points!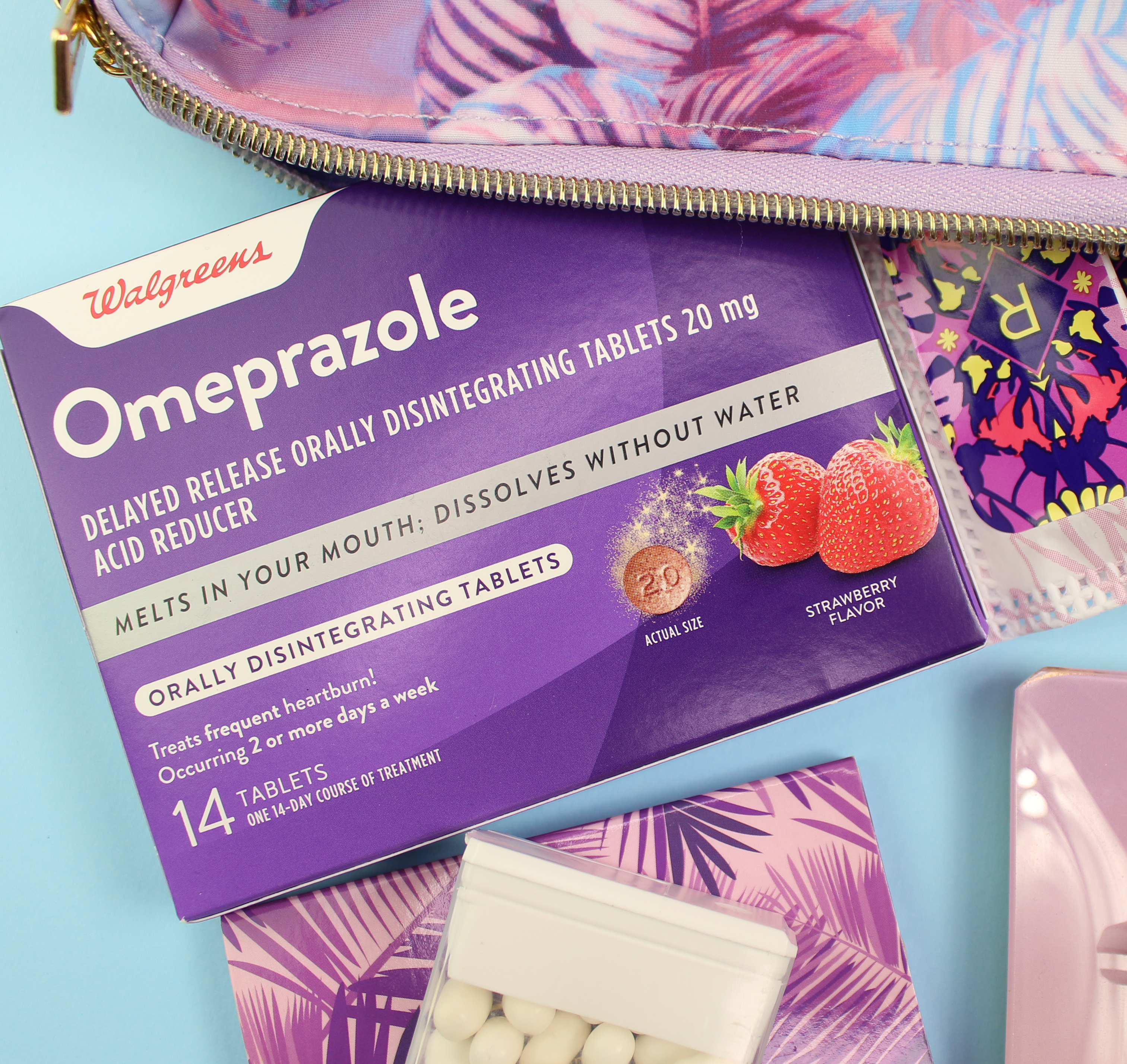 Some other important items I keep in my emergency bag are: Band-Aids, Antibacterial gel, chapstick, mints, deodorant, tweezers, nail clippers, bobby pins, tampons, blotting sheets, floss & a hair clip. What do you keep inside your emergency bag when you're traveling?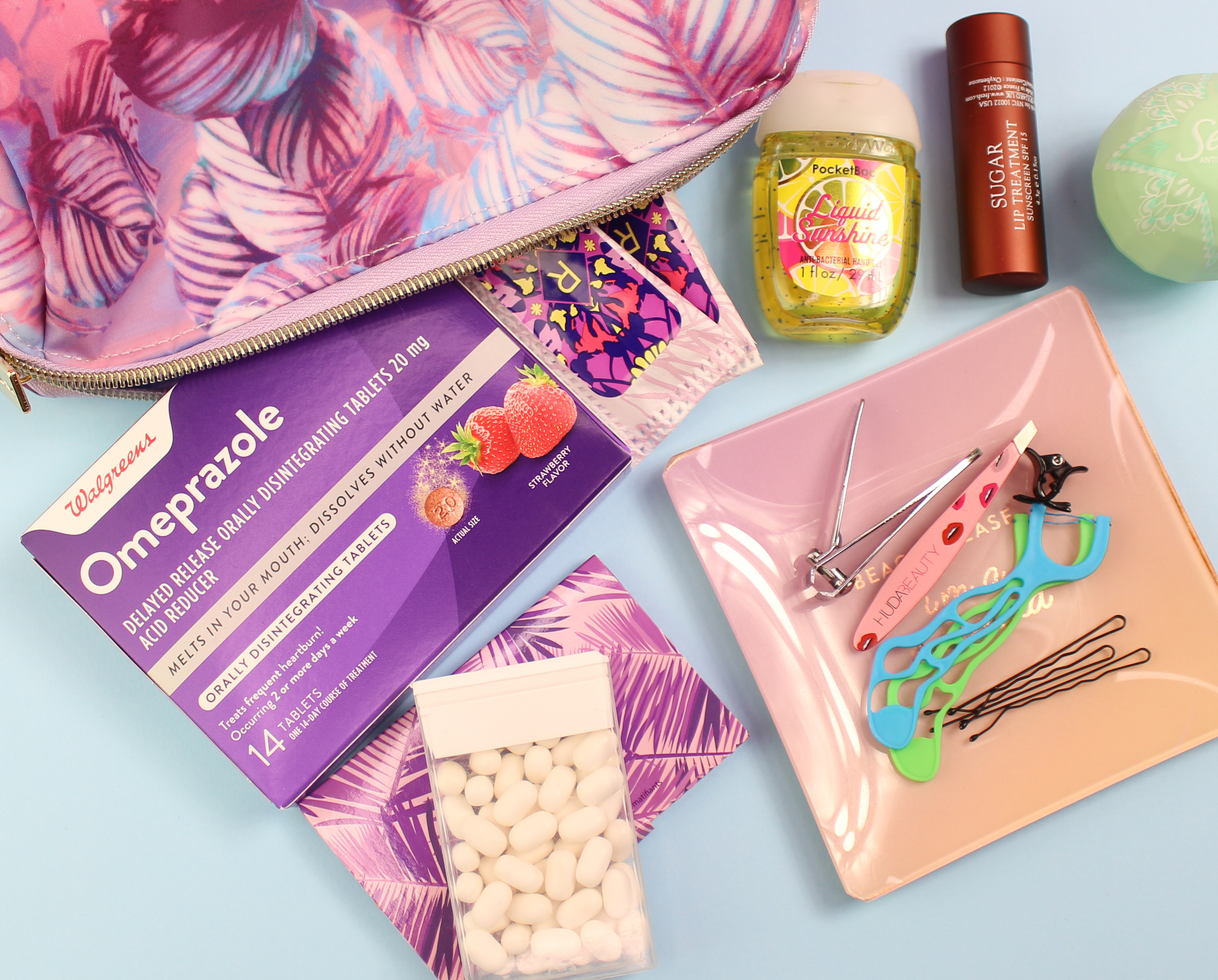 You can learn more about Omeprazole ODT & purchase yours from Walgreens HERE