*This post is in collaboration with BRÖÖ. All opinions are my own*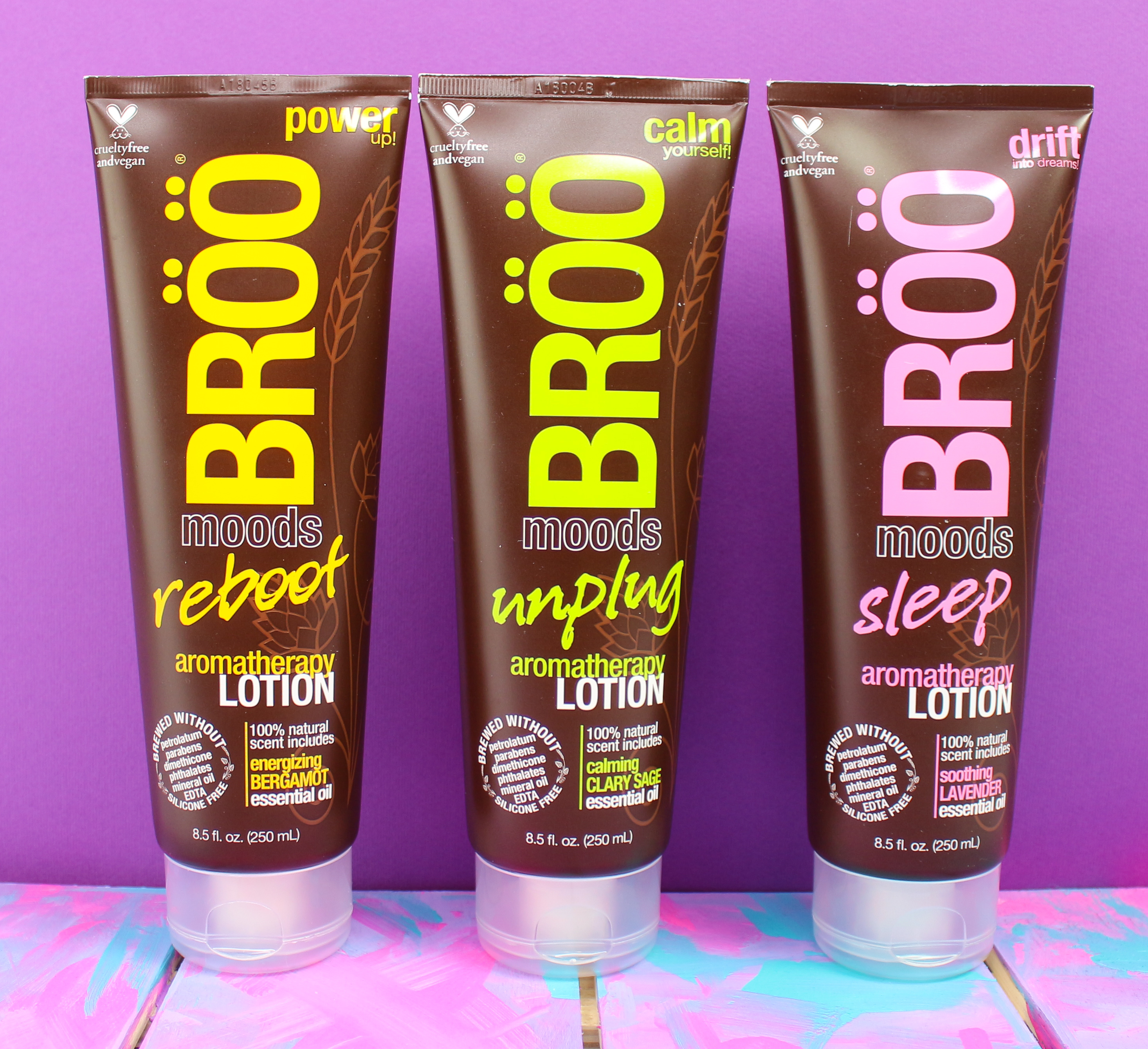 What's your current mood? For me, I'm always on the go and running around like crazy. I made it my mission this weekend to unplug and take some time out to live in the moment, relax and refresh. To help me do so, I partnered with BRÖÖ, the makers of the ever so popular craft beer shampoo,  (You can read my review on that here) to test out their new BRÖÖ Moods Aromatherapy Lotions in Reboot, Unplug & Sleep that just launched exclusively at Walmart and on Walmart.com. And the coolest part? They are the world's first aromatherapy lotions powered by an App!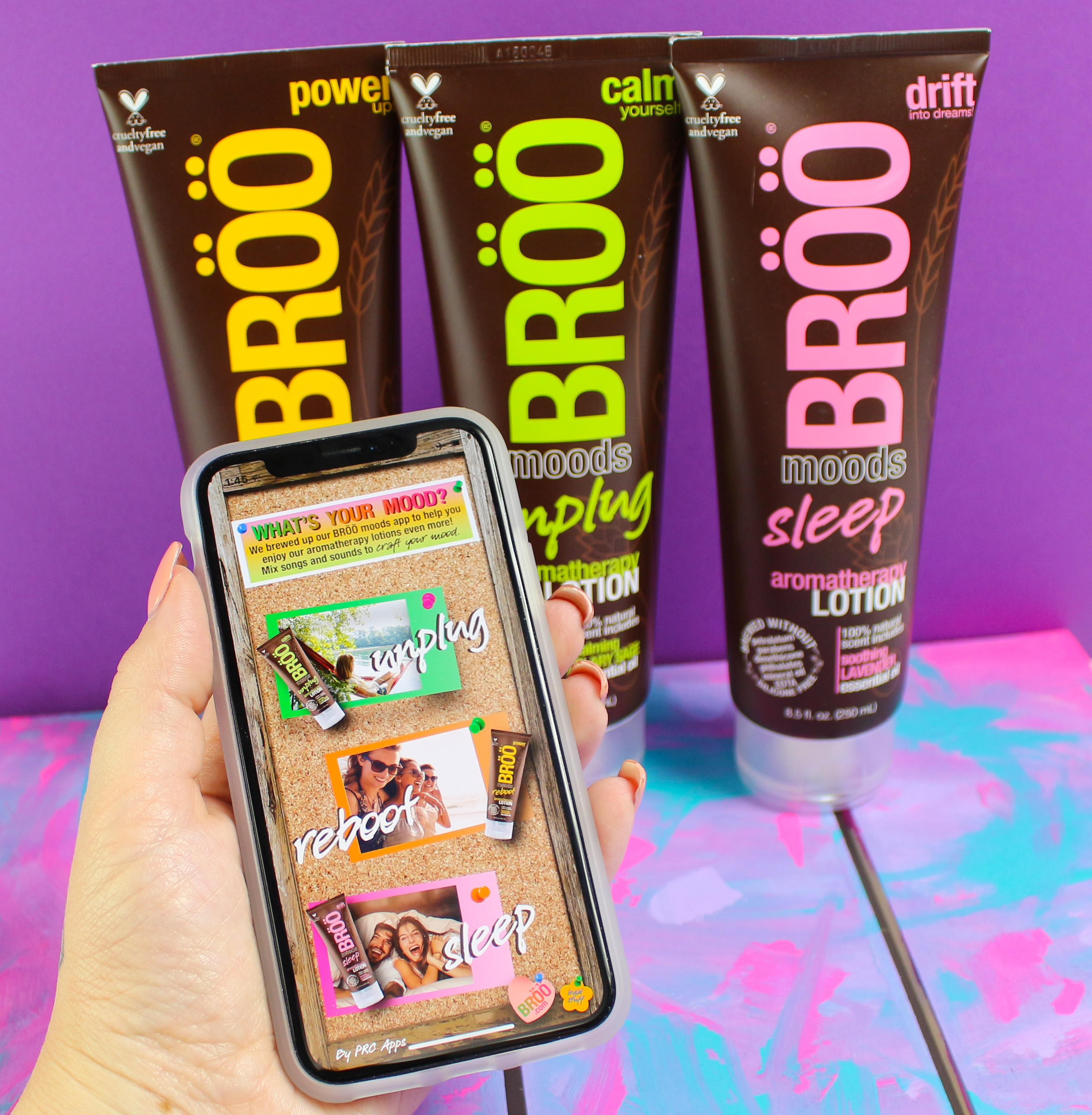 The BRÖÖ Moods app is available for FREE in the app store and contains a mix of songs and sounds to help craft your mood and stay focused and in the zone. This weekend, I really focused on the Unplug & Reboot scents. Once you download the app, you're taken to the home screen (shown above) and from there you can choose which lotion you want to pair with your current mood. You can choose to add song (or not!) and then add your favorite sound FX. You can also pause, set a timer and reset.
Unplug – Infused with essential oils of clary sage, lemon, Juniperus Virginiana, geranium, ylang-ylang, bergamot, lime, orange, palmarosa, roman chamomile, olibanum, and lavandin, for a truly aromatherapeutic, calming cocktail.
How I Use It – The beach is my happy place so being able to close my eyes and listen to lazy waves makes me SO happy.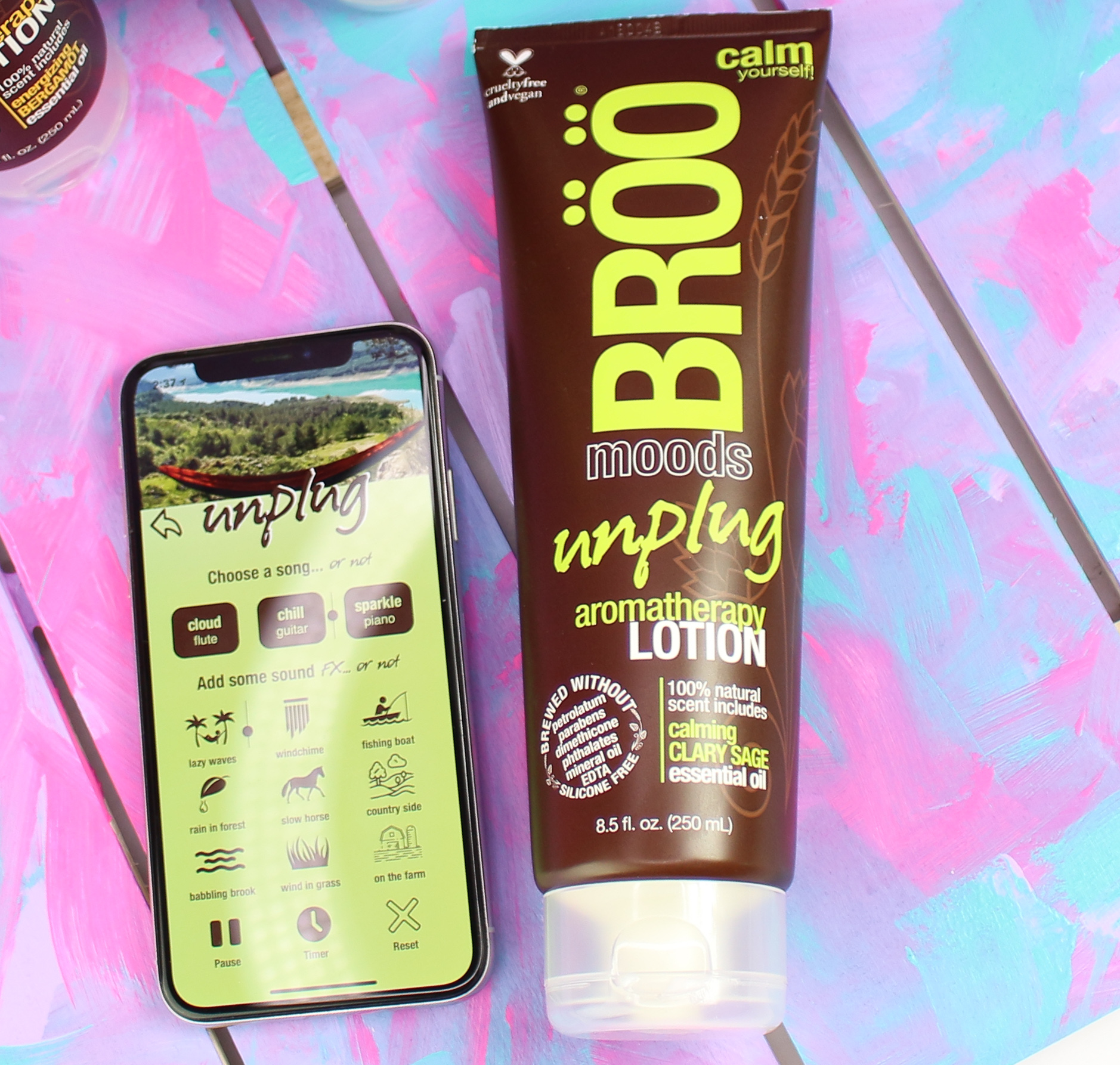 Reboot– Its 100% natural scent is infused with essential oils of bergamot, litsea cubeba fruit, cedar, eucalyptus, lemongrass, thyme, tangerine, lemon, orange, and patchouli, for a truly aromatherapeutic, uplifting cocktail
How I Use It-  If I'm dragging throughout the day, this one is PERFECT for me to use! The 'Pumped Up' song totally gets me going and motivated!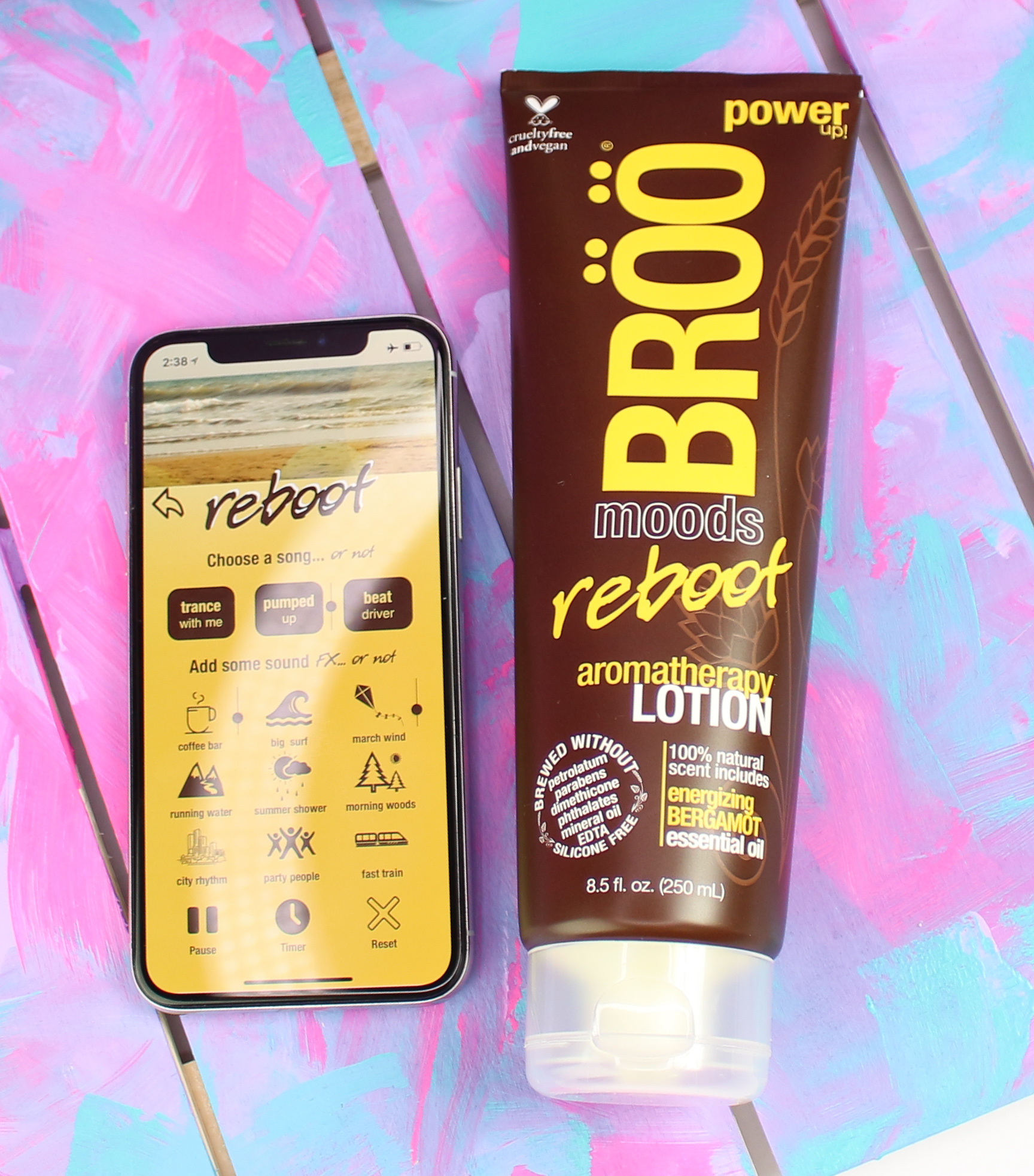 Sleep– It's 100% natural scent is infused with essential oils of lavender, eucalyptus, tangerine, clary sage, and lavandin, for a truly aromatherapeutic, tranquil cocktail
How I Use It- If I can't sleep at night, I will apply some of the Sleep lotion and drift into dreamland with the scent of lavender and sounds of gentle rain. Absolutely dreamy and so relaxing!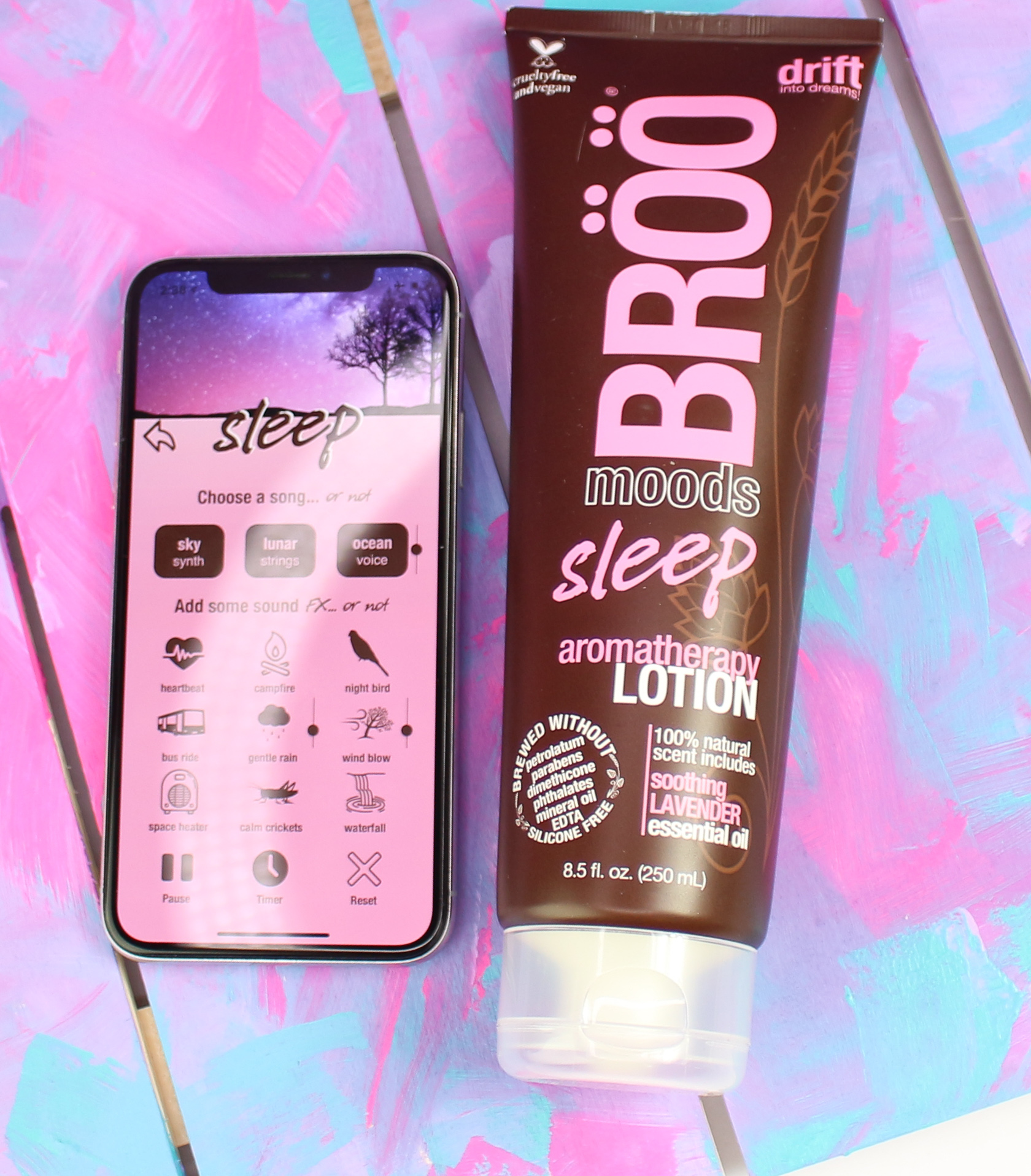 This whole concept and pairing of lotions with the app is so genius. All of the lotions help to nourish and moisturize my skin without leaving me feeling greasy. Plus – they totally brighten and lift up my mood! I'd say that's a win-win all around.  All of their scents are 100% natural, cruelty-free, vegan & made with only the BEST ingredients. (free of parabens, phthalates, dyes, synthetic fragrances, PEGs, polyquaterniums, phenoxyethanol and propylene glycol)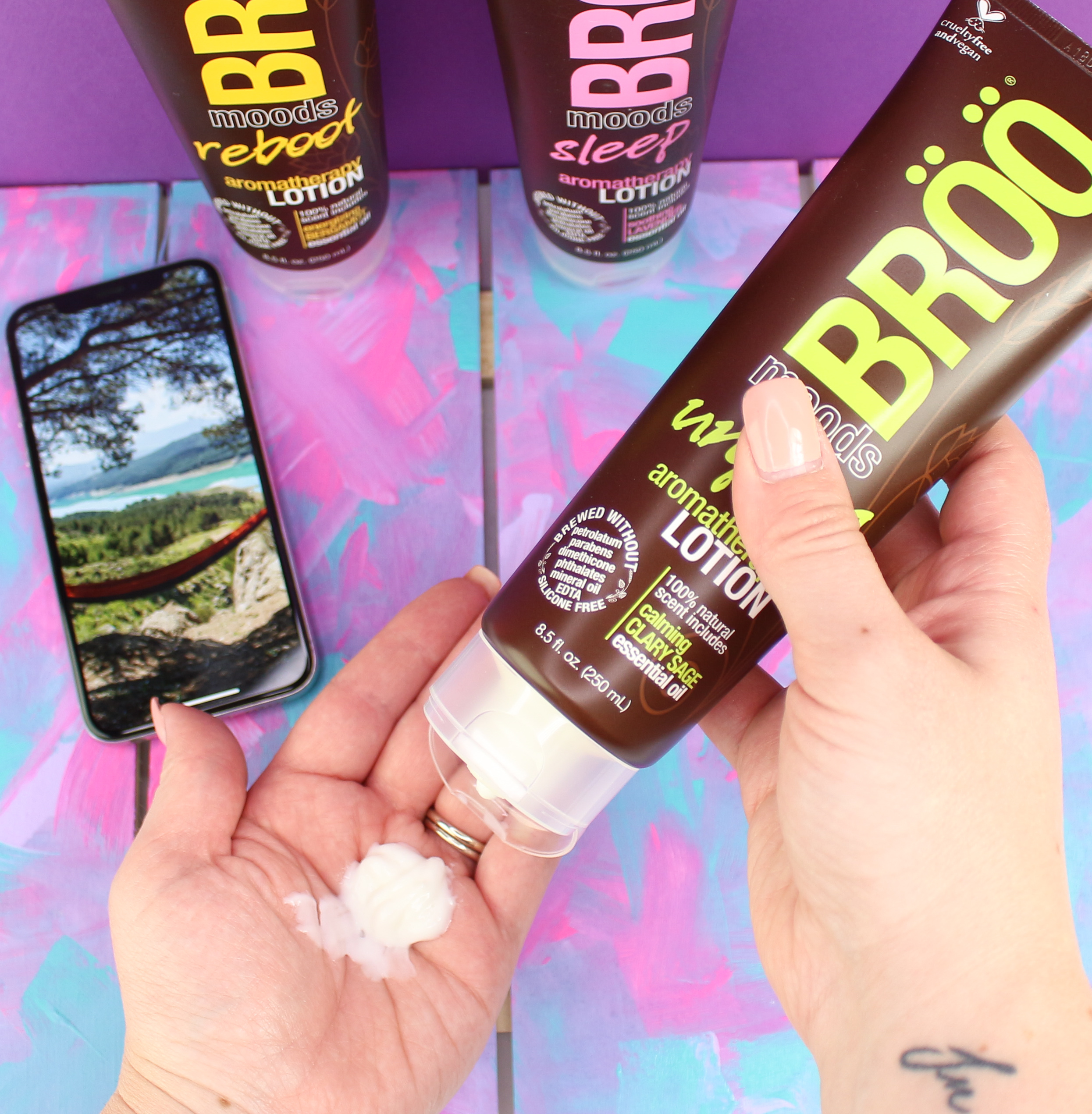 No matter what life throws at you, there is always time to take a step back, unplug and enjoy the sounds of crashing waves from the comfort of your own home. Be sure to check out the BRÖÖ Moods Aromatherapy Lotions available exclusively at Walmart stores & walmart.com now!