This post has been sponsored by The Seaweed Bath Co. All opinions are my own
Who else loves scouring Target for brand new beauty products? *Raises Hand*  A few months back, I partnered with The Seaweed Bath Co and chatted about their emollient-rich body creams that are are perfect for hydrating and soothing the body.
The Seaweed Bath Co. is devoted to transforming the skin and hair care ritual by providing nutrient-rich, personal care formulas that offer visible results and a unique ocean-inspired sensory experience that instills a sense of well-being.
Now the brand has launched their facial care line at Target stores nationwide. With the seasons changing, now is the perfect time to pursue wellness and switch up your facial care routine. This line offers a great way to detoxify, restore and protect for smoother, healthier-looking skin. The Seaweed Bath Co. worked with an incredibly talented team of world-class scientists to create an innovative seaweed-based skin care that is clinically-proven to repair and restore skin's protective moisture barrier; These products contain an AlgaDermTM Complex (which is a combination of 3 types of seaweed and Vitamin B3), and powerful Marine Tri-Peptide. 
The white & gold packaging is incredibly sleek and is every blogger's aesthetic dream. With several products in the line, each delivers a unique solution for the skin.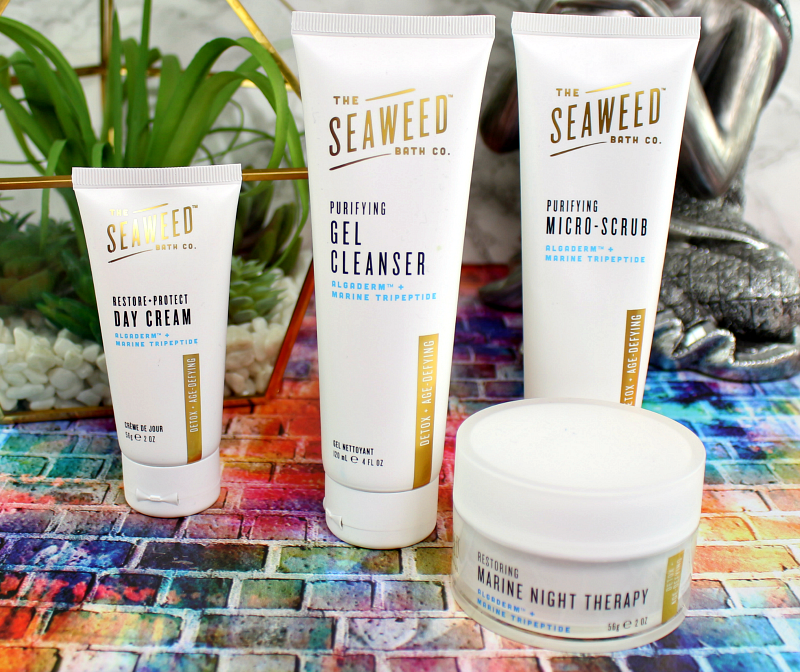 Purifying Gel Cleanser – Gently detoxifies and removes dirt, oil and impurities to leave skin feeling clean,refreshed and purified. This cleanser is great for all skin types, including sensitive skin and is gentle enough to use both morning and night.  I love using the cleanser in the morning to rid my skin of any dirt or makeup residue from the night before. It foams up quite nicely and makes my skin feel super refreshed.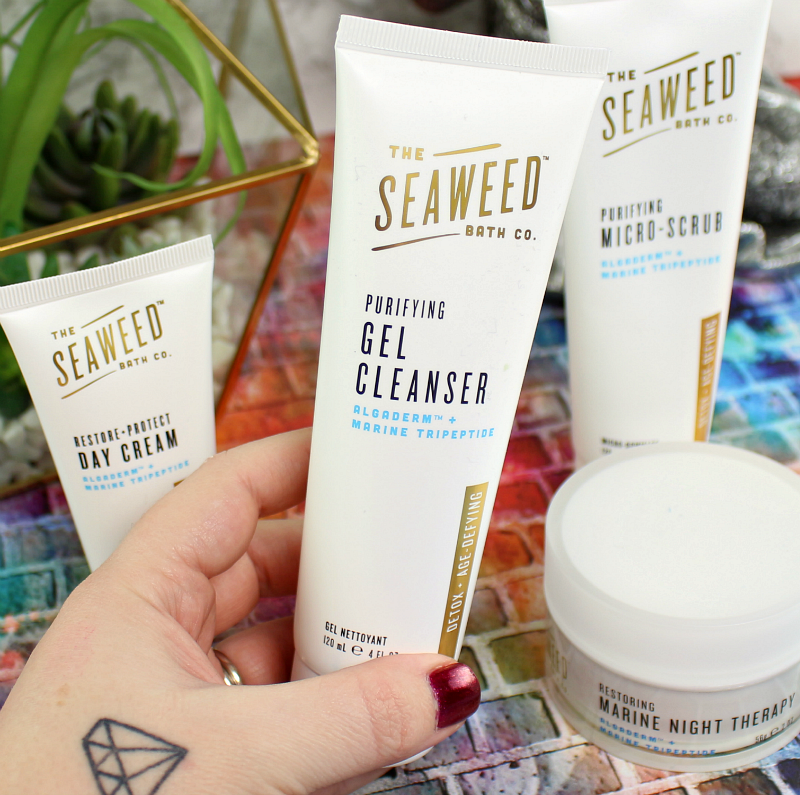 Purifying Micro-Scrub – If I want to really cleanse my skin and detoxify while exfoliating away dead skin cells and damaging toxins, I'll grab the Micro-Scrub and use it about twice a week for best results.It does a great job at helping to even out texture and making my skin look smooth & healthier. Super gentle and smells GREAT! 
The Eco Cert volcanic particles sustainably sourced from Spain gently and effectively remove debris and dead skin cells better than non-environmentally friendly microbeads without irritating skin.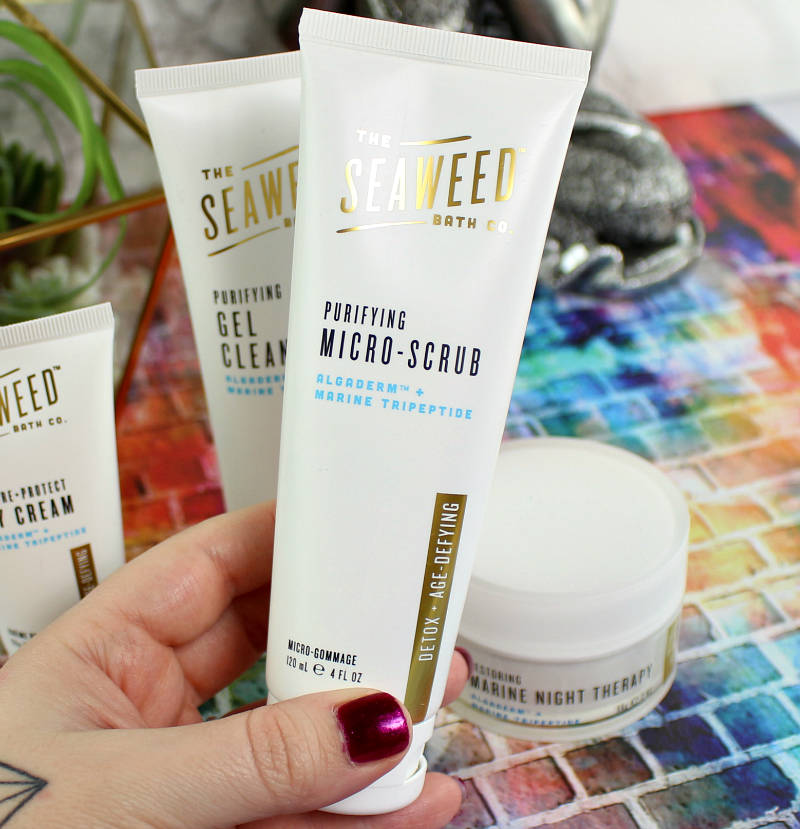 Restore + Protect Day Cream – This cream is PURE GOLD! It's perfect for every day use and hydrates all day to work to reduce fine lines and wrinkles. It's great for no makeup days when I just want to give my skin some extra TLC. It absorbs into the skin seamlessly and doesn't leave a gross greasy oily residue.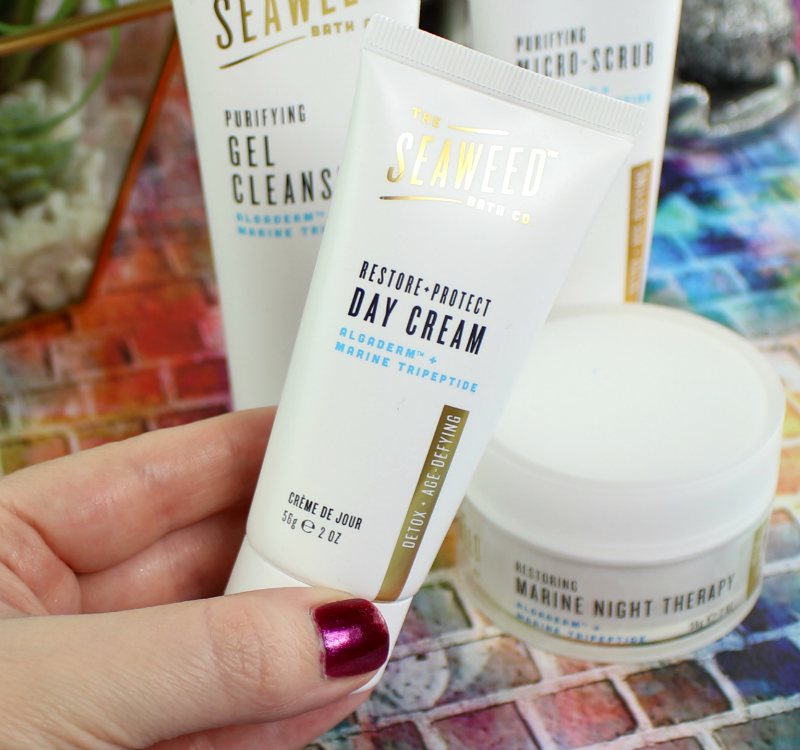 Restoring Marine Night Therapy – If you struggle with extreme dry skin, you will LOVE THIS product! The consistency is super thick, without the greasy feel. I've been using this as my night cream and when I wake up in the morning, my skin feels absolutely incredible. You can absolutely use this during the day, but for me personally it works better when I let it sink into my skin overnight.
Combines AlgaDermTM Complex, our proprietary, clinically proven ingredient, with Marine Tri-Peptide to fight free radicals and support skin's natural collagen production for age-defying skin.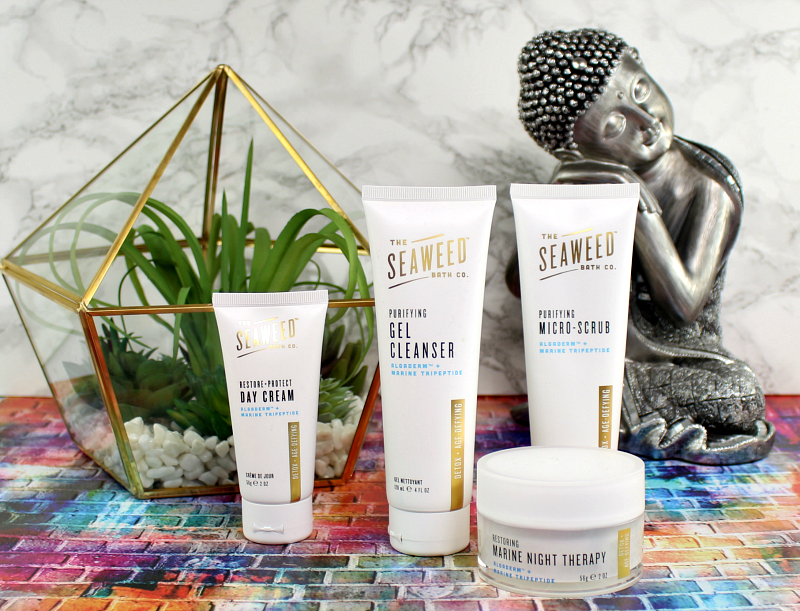 I seriously can't say enough great things about this line. The fact that the products work WONDERS, are extremely affordable and readily available at Target is a huge win for me. They really pride themselves in creating products that work for all skin types, are cruelty free and are 100% devoted to transforming the skin and hair care ritual by providing nutrient-rich, performance-optimized personal care formulas that offer visible results.
And how do they do that? With bladderwrack seaweed. The Seaweed Bath Co. hand-harvests certified organic seaweed off the coast of Maine, which is used in their products and formulas to naturally detoxify, replenish, and protect the skin. Iodine levels in bladderwrack seaweed help the skin's natural detoxification process to flush environmental toxins and heavy metals.
So next time you're browsing the beauty aisles at Target, I highly recommend picking up a few items from the line and treating your skin to feeling happy and healthy.
Shop The Seaweed Bath Co Products at TARGET & THEIR WEBSITE