This post is sponsored by Mirum, but opinions expressed are my own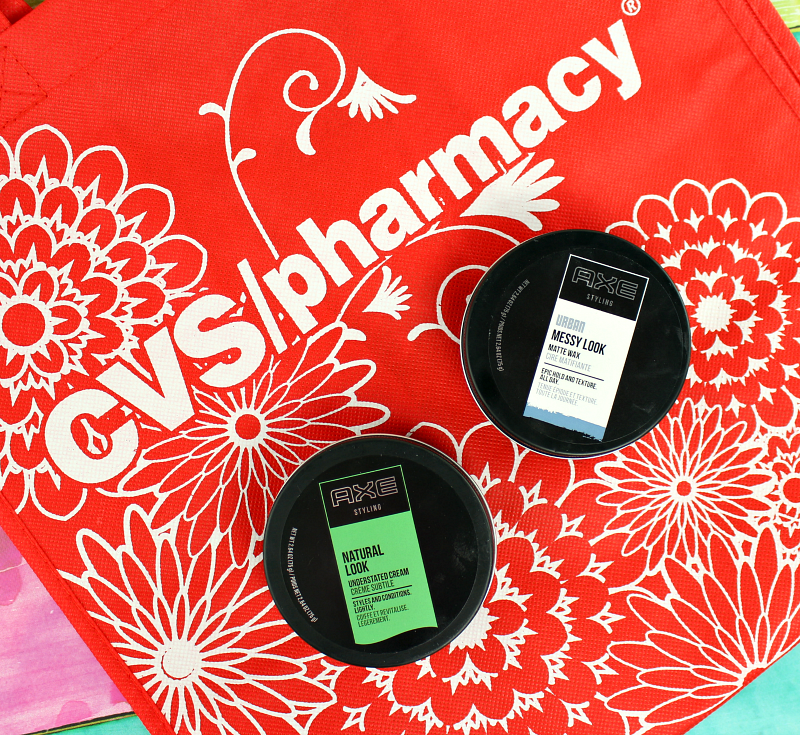 If you ask my son, being a 7 year old is a tough job. But when you have great hair, anything is possible. A few months back, I took the leap and let my son dye his hair blue. His personality did a complete 360 and he knows he is rocking that hair color to its full extent. When you have such a bold hairstyle like his, you always have to make sure it looks 100%.  He's always loved experimenting with his hair with different haircuts and now we are about to kick it up a notch with the Axe Hair Styling products – found at CVS.
He's such a cool kid and that's exactly how I would describe his style. He may rock a wrestling shirt every once in awhile, but take him to Target and he's all about that on-trend, I can rock whatever I want kind of life. I mean -just take a look at this photo (pre-blue hair) of him owning those floral shorts and palm tree shirt. He looks like he should be living on the beach in Key West with a pet parrot. lol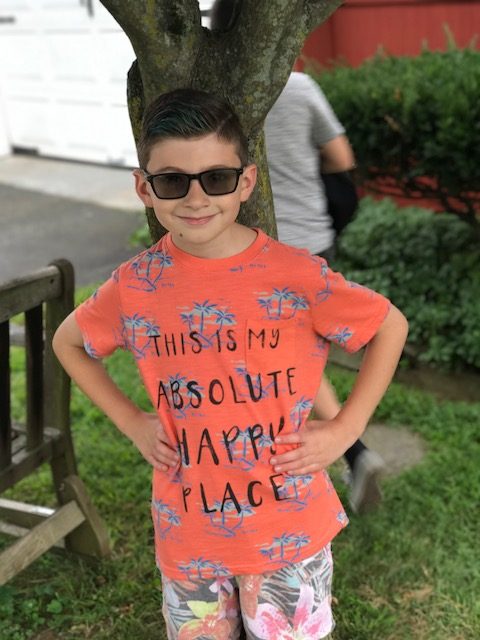 Rylan & I have been using a mixture of the Axe Natural Look Understated Cream (Which creates a more natural look without looking like you tried too hard)  & Axe Messy Look Matte Wax (For the inner surfer in you who wants that epic hold, texture, and definition) His favorite was hands down the messy look. He loves to spike up that blue hair and show it to the world! (Can I just mention the kid gets more compliments on his hair than I do? It's insane) Textured and messy hair is in and we have definitely created our own version of it.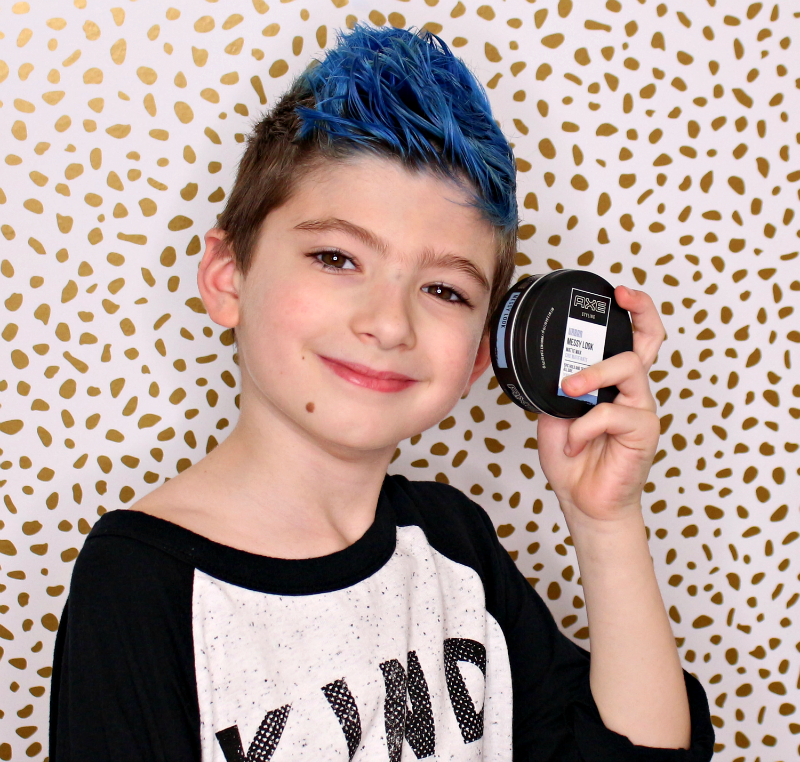 What's great about these styling creams is they are incredibly easy to use and he can do his own hair before school. Since we are going for the 'messy look' it doesn't have to be perfect! We definitely want to achieve that 'I just rolled out of bed and my hair still looks cool' style. He's able to achieve this in just a few minutes by using both of the styling creams and cocktailing his own mixture. It's a fun thing for him to do and he loves being in control of his own hair. 
How can you help your child find their personal style? Here are a few suggestions:
Let them choose what they want to wear– Some days he will get himself dressed in a WWE shirt – other days he's dressed in a pair of joggers and a t-shirt with a powerful message on it (Like above – Kind is Cool kids!)
Don't force them to wear something they don't want to– Rylan would prefer wearing a pair of joggers over jeans ANY DAY and I'm totally fine with that. Heck, I'd rather do the same!
Let them experiment– When Ry told me he wanted blue hair, I didn't even hesitate. How could I say no when my hair is dyed 3 different colors? You have to remember – it's JUST HAIR plus it's a great form of self-expression. It will eventually fade out or get cut off in his next haircut. Just because he is rocking blue hair doesn't affect the way his grades or behavior are at school and home. It's him expressing who he is as a kid and just having fun!
Give Them Confidence– Every morning when Ry comes down, I'll always say 'ooh Ry NICE OUTFIT! Looking SHARP today!' Does he get embarrassed? Yes. But that's our job as parents isn't it?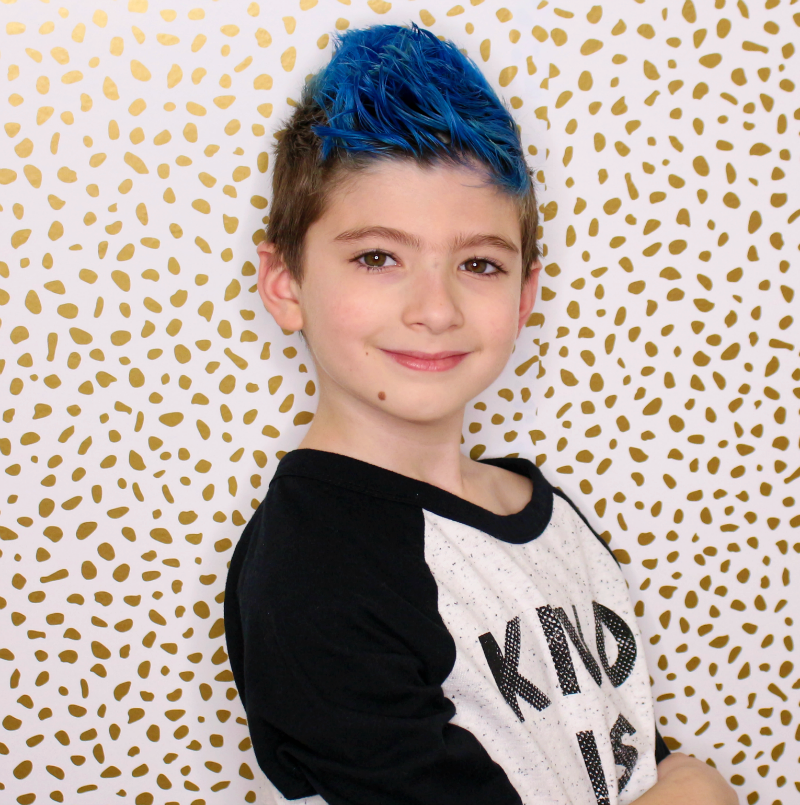 If you want to help your child find his or her personal style, head to your local CVS and take advantage of the following in-store offers:
2/25/18 – 3/3/18

Buy 1, Get 1 50% OFF WITH CARD Select AXE Hair products

$5 ExtraBucks® Rewards when you spend $15 on participating AXE Hair products

3/18/18 – 3/24/18

Buy 1, Get 1 50% OFF WITH CARD Select AXE Hair Care products.

$5 ExtraBucks® Rewards when you spend $20 on participating AXE Hair products
How do you perfect and personalize your hairstyle? Find out more about AXE products HERE
And just for fun – here's an outtake of our photoshoot (Those dab skills though)