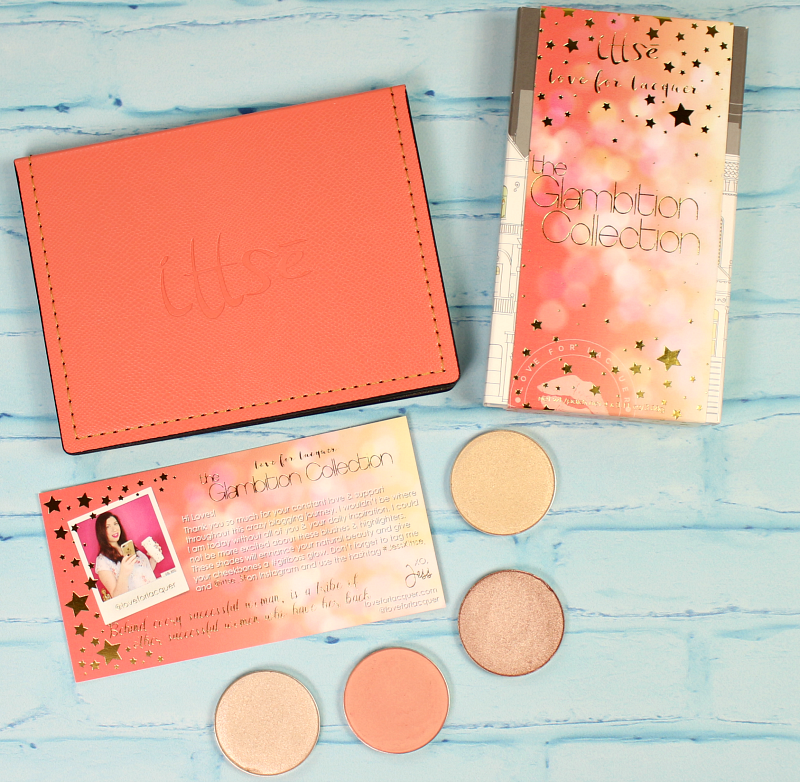 First of all, I can't even believe I am writing on my blog about my very OWN makeup collaboration. This blog has been reviewing products for the past 6 years and never did I think I would be talking about my very own product. With that said, I am thankful, grateful and could not be more excited for what I have to share with you today.
If you follow me on social media, then you probably already know that for the past year I have been working with ittse on a blush and highlighter collection that will blow.your.mind. I can't thank the beautiful ladies at ittse enough for giving me this opportunity. It has been a dream of mine to have my own collab and that day is FINALLY here!
I present to you – The GLAMbition collection by Love For Lacquer x ittse.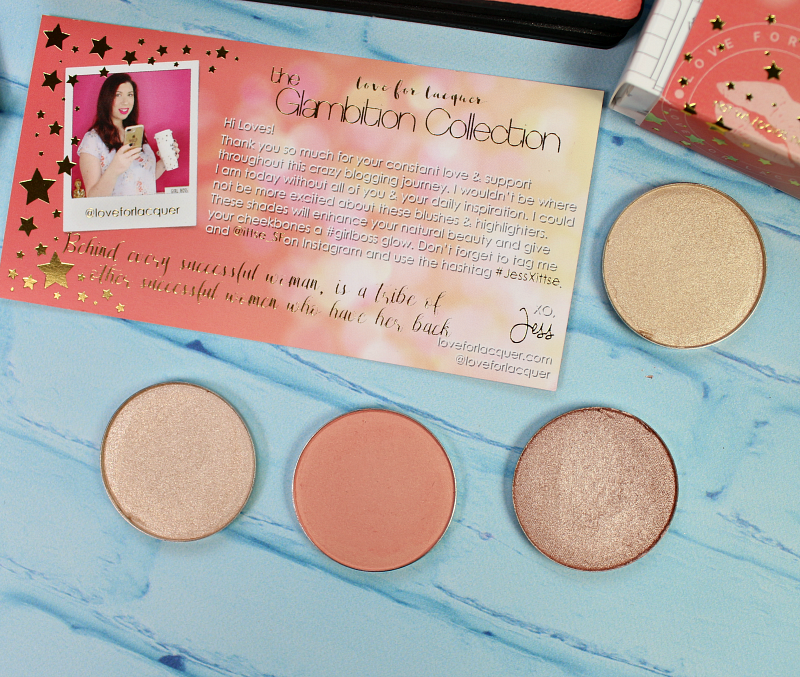 About ittse: 
Based out of San Francisco, All ittsē products are gluten-free, paraben-free, cruelty-free, and come in eco-friendly packaging. With ittsē, you can curate your own collection of eye shadows, brow and complexion powders, and lip crèmes.  ittsē refill products come in magnetized pans that fit perfectly into portable and chic magnetic palettes, which are available in six stylish colors and finishes. You choose the products that are right for you and voilà, your personalized collection is complete. You are going to fall in love with the vivid color payoff, bendability and luxe-quality of ittsē products!
About the collab:
When the girls at ittse first asked me to do a collab with them, I was at CosmoProf last year in Vegas. It was a surreal moment for me and I'm pretty sure I cried on the spot. When we brainstormed about what we were going to do, I immediately knew it had to be blush & highlighters. Those products are the ones I gravitate towards most when I'm making purchases and I have a deep (probably too deep) love affair with them.  Working with ittse was a breeze. They let me take full control of what kind of shades I wanted, the colors, the finishes, the shade names and pretty much everything in between. Pretty sure they were sick of me by the end of the journey as well as their lab when I made numerous tweaks and changes to each shade.
Why a Girl Boss theme?
I wanted to dedicate this quad to every hard working, dream chasing blogger, vlogger, mom, wife, entrepreneur & #GIRLBOSS out there. Over the past 6 years, I have met some amazing women on my blogging journey. These women have guided me, lifted my spirits and have always been there for me through the good and bad.
"Behind every successful woman, is a tribe of other successful women who have her back"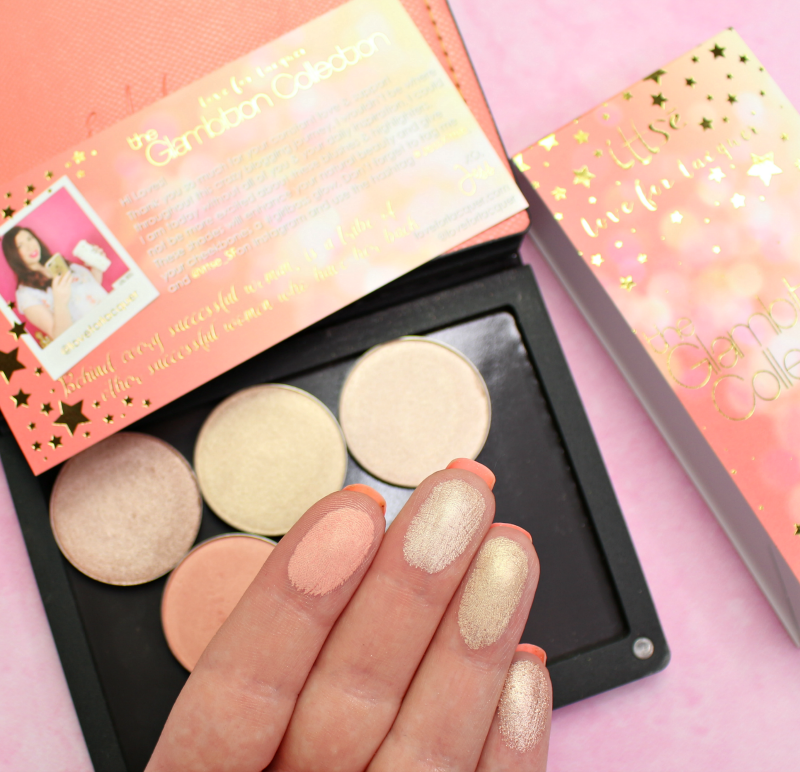 GLAMbition? Tell me more!
 Glambition is used to define "real beauty". Your confidence is what makes you beautiful. Like I said, I wanted this quad to represent the powerful and strong women who are building their empires, becoming their own Girl Bosses and chasing their dreams. When you work hard & stay focused, you can make anything happen! I want this quad to inspire women and remind them that good things come to those who hustle. And it doesn't help to glow a little bit in the process. – You were born to shine!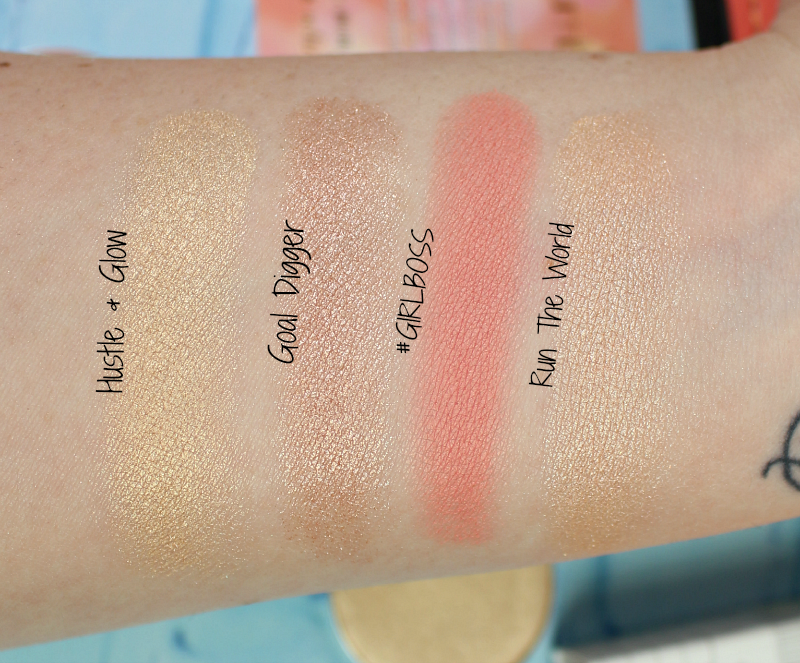 Hustle & Glow – Pop a little on your cheekbones, the tip of your nose and your cupid's bow and you will be shining bright like a diamond!
Goal Digger -This is probably my favorite shade in the entire collection. I love that it's so versatile and can be used in so many different ways. When I don't know what to put on my eyes for the day, I pop a little Goal Digger on the lid and I'm out the door. I use it to highlight anywhere the sunlight may hit.
#GIRLBOSS – I knew I wanted a satin finish peachy / pink blush that would go with any of these highlighter shades. It has a gorgeous finish to it and I am obsessed!
Run The World – This light champagne highlight is out of this world! This is another shade that can also be used as a shadow. The extra gold sparkle makes it 10 times prettier.
I am SO proud at how this collab turned out. It's absolutely PERFECTION. The shades are buttery, pigmented and so soft. If you have never tried anything from ittse, this palette would be a GREAT one to start out with. These shades will get you through Summer and all year round.
Where To Buy: 
The GLAMbition collection launches TODAY, June 1st at ittse.com
Price: $35 for the quad ONLY / $50 for the bundle (You can choose your palette color at checkout – I highly recommend Anemone, which is shown in the photos above)
Discount: LFL20 gets you 20% off your purchase of the collection for the first 2 weeks only!
Please don't forget to tag me & ittse on social media using #JessxIttse (@jess.scull & @ittse_sf)
More Reviews, Swatches & Photos (Will be constantly updated)
Blushing Noir | Notes From My Dressing Table | XO, Noelle | Karissa Bianco | Eleventh Gorgeous | Beyond Beauty Lounge | I Like To Talk Blog | Tonya Michelle 
GeniaBeme | My Beauty Bunny | Makeup By Jenny | Cosmetic Sanctuary
I cannot express how thankful I am to you my readers, ittse and everyone who has stuck by me since I began this journey. Your support means the world to me. Looking back at where I was, If I could tell that shy, young girl from 6 years ago who had no idea what she was doing with her life anything in the world, I would give her a hug and tell her that she's going to make it. No matter what anyone says or whenever someone said to her 'Blogging is silly. You can't make a living off of that' I want to tell her she will prove them wrong one day. You CAN make a living from blogging. I would also tell her that SO many incredible opportunities are going to come your way by you just taking the plunge, putting yourself on the internet and posting that first blog post with your horrible lighting and photo skills. I am so different today than I was back then. I know who I am & I know what I want in life. And I wouldn't change any of that.
"A GirlBoss is someone who's in charge of her own life. She gets what she wants because she works for it. As a GirlBoss you take control and accept responsibility. You know when you're going but can't do it without having some fun along the way. You're going to take over the world and change it in the process.  You're a badass" – Sophia Amoruso