*Sponsored by HiMirror. All opinions are my own*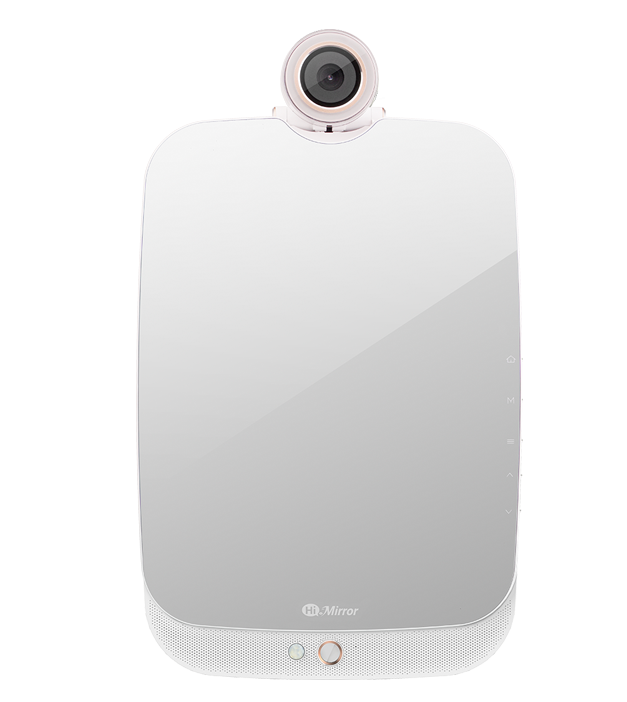 Have you ever wondered if the skincare you're purchasing is actually making a difference in your skin? I know I have wondered that plenty of times myself, especially if I'm using fairly pricey products. A few months ago, I was introduced to a brand new product that just launched called HiMirror.
HiMirror is an innovative skin analysis tool that helps you quickly recognize and identify your problem areas in your skin and gives you suggested solutions on how to fix them. Sounds pretty cool right? So that $60 moisturizer you just bought? You'll be able to see if it was well worth the money!
Specs: 
HiMirror weights about 5.5 lbs and is pretty large. (18.97 x 11.18 x 2.00 inches / 482 x 284 x 51 mm) The mirror can be installed on a wall or on your bathroom mirror. When you open the box, you are provided with all the tools necessary to hang. It takes about 5-10 minutes and was pretty simple. I have mine hung securely on my bathroom mirror so I can use it in the morning or when I get out of the shower.  HiMirror must be plugged in at all times in order to work. Side note: The cord is VERY short so you have to make sure you hang it right near a power outlet or use an extension cord. The HiMirror is NOT a touch screen. Everything is done via hand motions. They do take some getting used to and you will need a LOT of patience (Plus they give your arm quite the work out) but once you get the hang of it, you can go from screen to screen on the mirror with ease. I would describe it as waving a magic wand. Make sure your fingers are pushed together and your palm is out.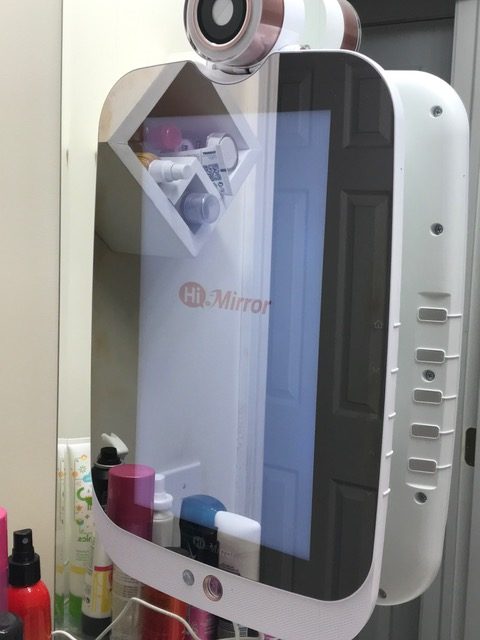 Once you have it hung, hit the power button to turn it on. You should see a white screen for a few minutes as it powers up.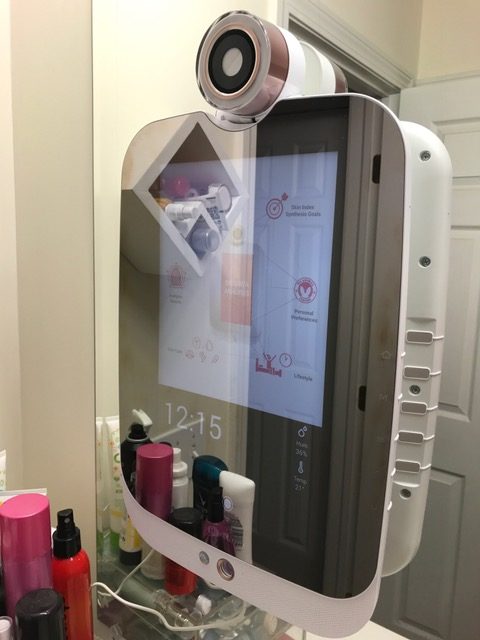 Once it powers up, it will show you a video tutorial on how to install (These instructions also come in the box as well) They will also go through a tutorial on how to properly use the hand gestures.
Connecting to Wifi & Setting Up The App
You also need to download the free HiMirror app in order to connect, so a smartphone is necessary to use this product. HiMirror will take you step by step on how to install and set up your mirror. The directions are pretty self-explanatory. It did take me a few tries for it to connect to my wifi, but we managed to get there!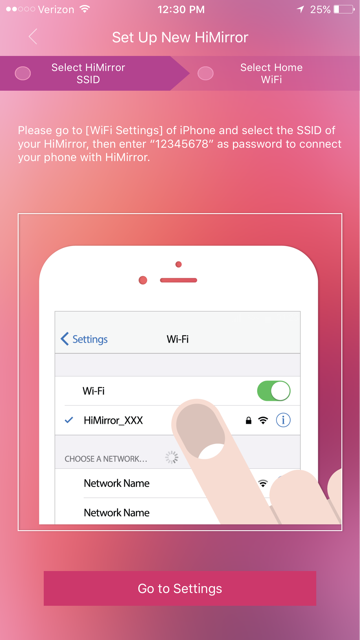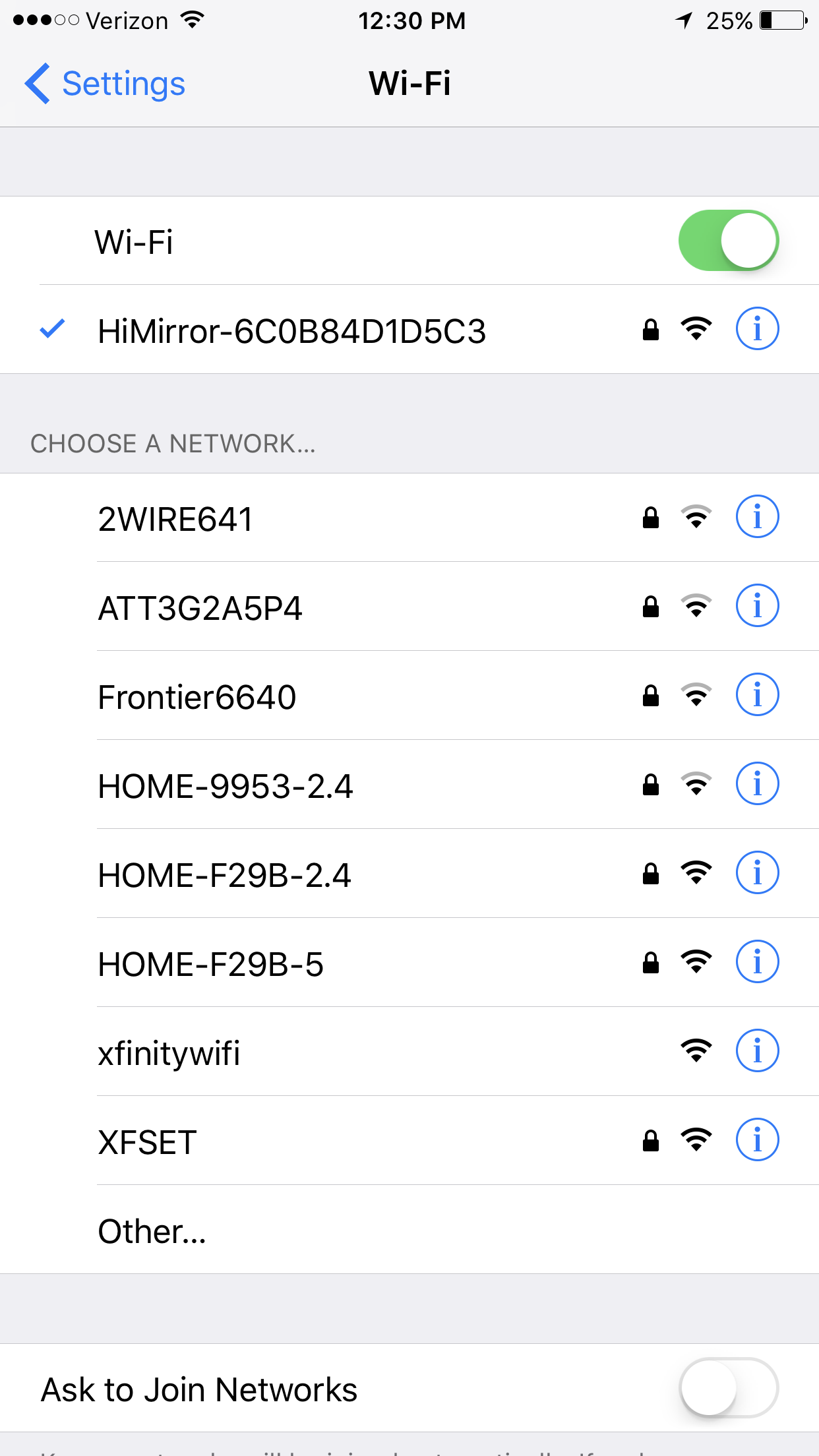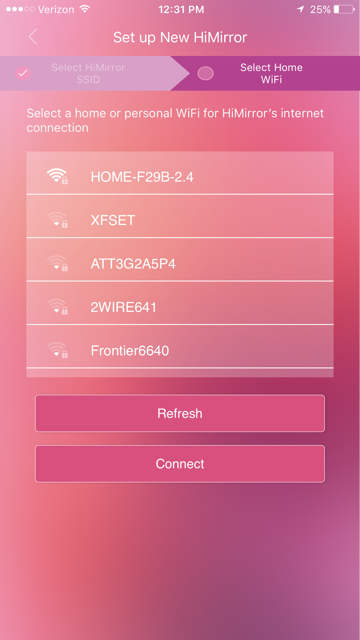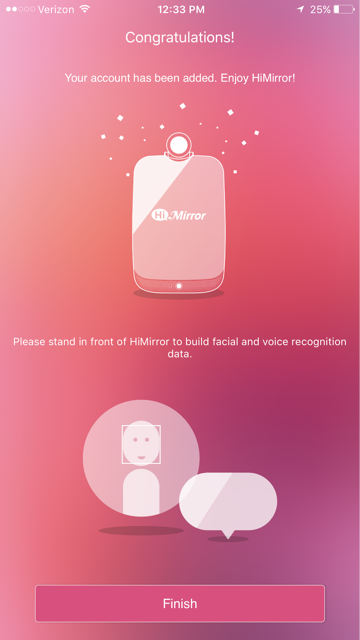 Once your app is set up, you will now begin the facial and voice recognition process. Side note: Make sure you open up the camera lens by twisting it! I couldn't figure out why it wasn't working and then I had a duh moment.  It will also ask you to do a voice recognition for sign in purposes as well. You need to say HiMirror Listen 3 times and once you see the 3 green check marks on the screen, you're good to go!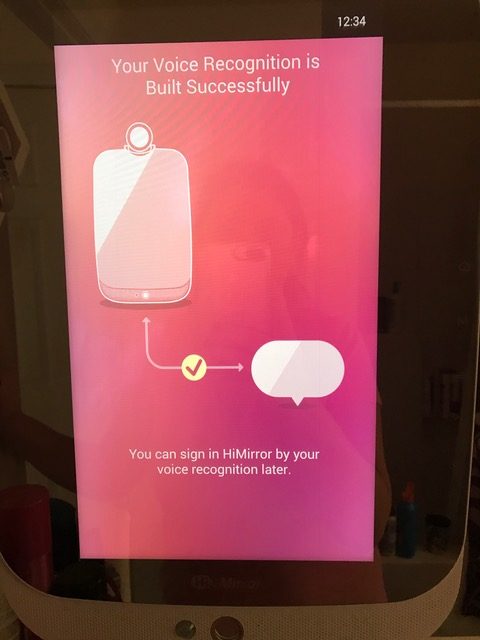 Skin Analysis
Once you are all logged in and set up, HiMirror will tell you the weather outside, time and even recent news events. If you don't want to see the weather, just scroll past with your hand. You will see arrows at the bottom of the mirror which indicates which direction you can go.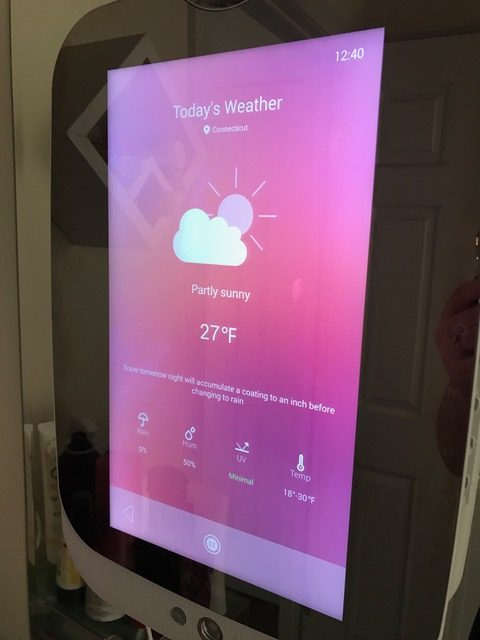 When you do your first skin measurement, you want to make sure you are makeup free and your hair is pulled back.  Once you are ready, swipe your hand and push inwards to push the camera button. It will give you a 3-second countdown and take your photo.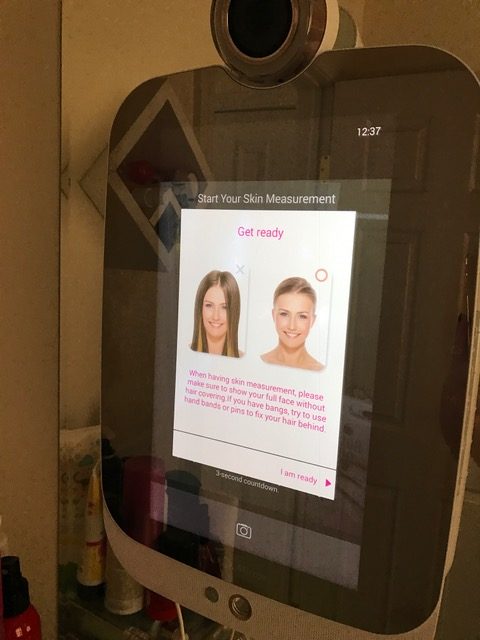 You can measure your skin every day to see your changes and progress. It saves up to 2,000 photos so it's cool that you can go back and compare! This allows you to see which products work and aren't working for you.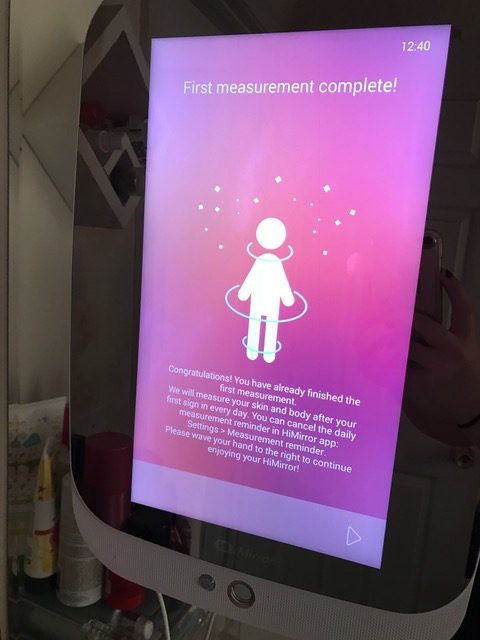 HiMirror will asses your skins clarity, dark spots, wrinkles, redness firmness, healthiness & brightness. It will judge you based on a score from 0-100 with 100 being the best.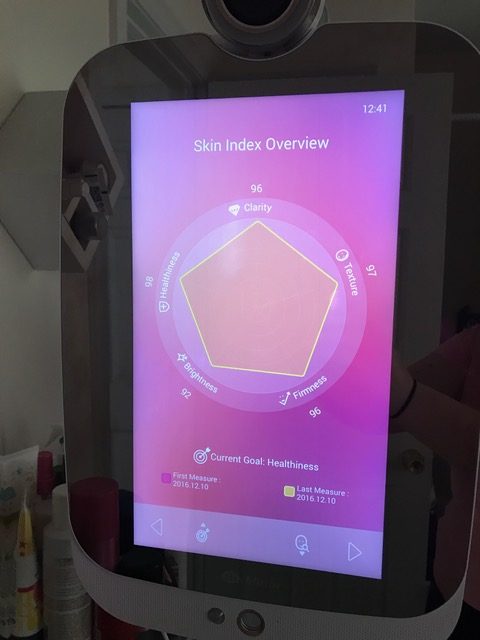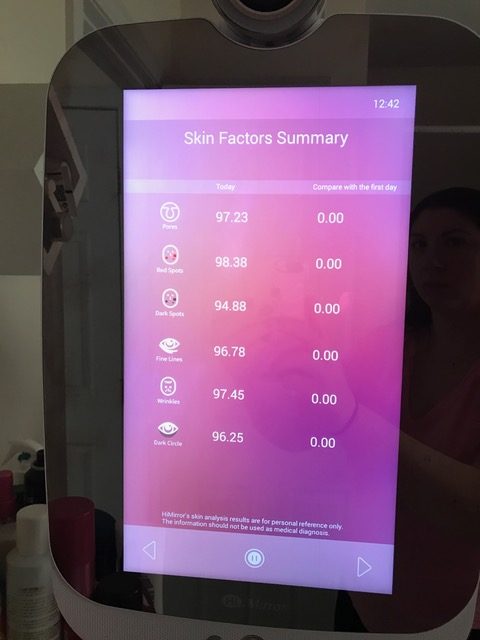 You can scroll through the main menu and access additional features as well, such as My Beauty Box or the Media Center.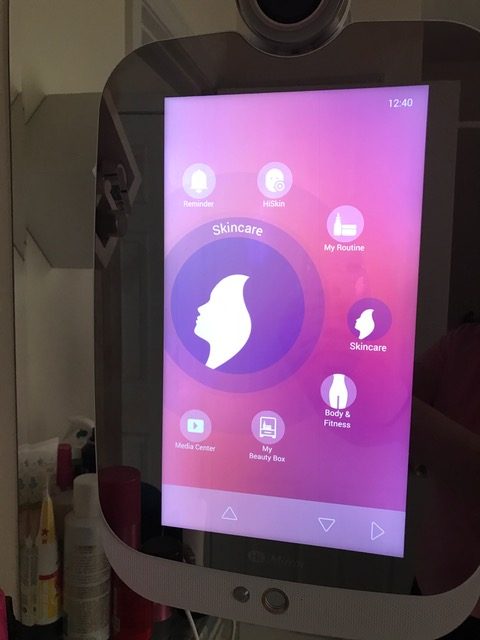 The beauty box lets you add products to the mirror, manage your skincare routine and track which products you are using.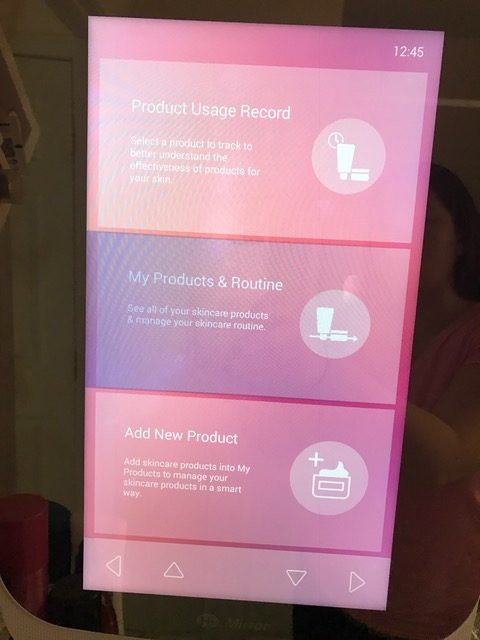 You have the ability to scan in a barcode or if your product does NOT have a barcode, you can take a photo of it from your app and add it in that way.  There were a few products it was unable to find, so I'm hoping with the next update I am able to add them in.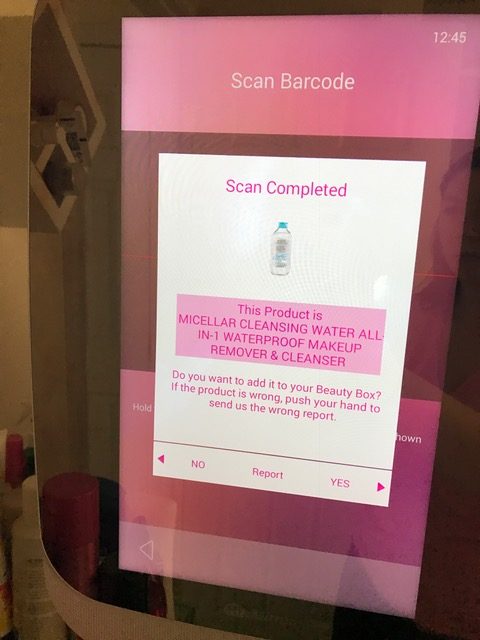 Another added feature is the Media Center.  You can listen to internet radio, but with that comes stations from other states & countries. There were a few stations that didn't play music at all, so I'm not sure what was going on with those. I believe they will be adding Spotify soon so that is awesome!
The HiMirror is available to purchase right now for $189.  Right now, they are running a promo event that includes the HiMirror and the Smart Body Scale for $229.  There are only a few days left in this special promo, so if you want to try HiMirror out for yourself, you need to act fast!
Final Thoughts
Overall, I really think the HiMirror is going to be a device that comes in handy when it comes to my skin and testing out skincare. There have been a few kinks & bugs along the way but with the updates they have been doing, it is getting easier to use.  It was definitely a challenge to get used to the hand gestures. I'm sure we all wish it was touch screen, but I think the point of them making it this way was so that you didn't have to touch it with wet hands. The other thing I would love to see is a stand for the mirror so you don't need to mount it on a wall or bathroom mirror. As far as I know, this will be an option that is coming in the near future. They have updates rolling out on both the app and mirror constantly, and it seems each one fixes the bug issues or adds on a new feature. I'm really excited to continue to use it and track my progress each week. It's definitely something I will keep you guys updated on!
What are your thoughts on HiMirror? Does this innovative new gadget look appealing to you and would you want to try it out for yourself?
*Sponsored by HiMirror. All opinions are my own*