*Post sponsored by Mirum Shopper. All opinions are my own*
Are you a fan of twitter parties? You are not going to want to miss tonight's with Dr. Mona Gohara – Associate Clinical Professor at Yale School of Medicine, Department of Dermatology.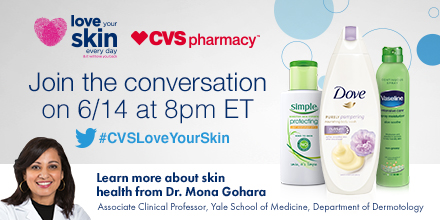 Join in on the conversation tonight, June 14th, at 8pm ET – 9pm ET. She will also be joined by #CVSLoveYourSkin brands such as Dove, Vaseline & Simple Skincare. She will be answering all your questions about caring for your skin during the summer when days are longer and there are more hours of daylight.  So join Dr. Mona Gohara tonight for tips & advice for your summer #skincare routine to help you #CVSLoveYourSkin even more this season!  Use #CVSLoveYourSkin to follow along.
Visit CVS.com/LoveYourSkin  for tips & videos on skin health!
*Post sponsored by Mirum Shopper. All opinions are my own*