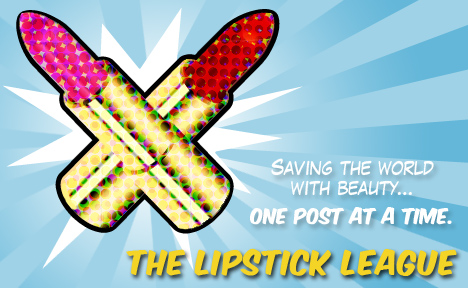 Question of the Week: How do you remove your makeup? Traditional makeup removers, cleansing oils, balms, towelettes, natural oils or…?
Answer : I typically will use makeup remover wipes and some sort of cleansing balm or oil. Right now I am OBSESSED with the Clinique Take The Day Off. It is the BEST balm I have ever used and I am so glad I took the plunge and bought it!
Lipstick Links Of The Week : 
Clumps of Mascara – Yep, Fall collections are rolling out and I, for one, am loving what I'm seeing so far. Zoya's Focus collection is rich, opaque and ooooh, have you seen that brown?
EauMG – It's back to school time! Victoria reviews a quirky little 'fume, A Beautiful Life Composition. It smells like school supplies! ZX
Gouldylox Reviews – Only have $10 and want to make an image impact? Makeup Wars has the best deals for $10 and under.
Love for Lacquer – Get your nails ready for Fall with the new Leggy Legend collection from Essie! Intense one coaters? Yes please!
My Beauty Bunny – The last big holiday weekend of summer is here! If you have a little too much fun in the sun, check out these DIY Cruelty Free and Vegan Cures for Sunburns for some relief.
Nouveau Cheap – Are the new Maybelline Baby Skin Instant Cheek Flush blushes as fun as their Baby Lips counterparts? Here's my full review.
Olive & Ivy – Ever wish you could just quit life and become a mermaid? Well, you can't (sorry, haha!)… but this pretty mermaid-inspired eye look will give you all the mermaid feels, if only for a day!
Phyrra – Neutral lovers rejoice! The Urban Decay Vice 4 Palette palette was made for you!
Prime Beauty – knows that we'll be saying buh bye to summer soon but that doesn't mean you have to lose your hard earned tan. Keep your bronze goddess status with NKD SKN Tinted Liquid Tan – she's giving away 2 bottles!
we heart this – Would you spend $195 on a pillow? What if I told you it helped prevent wrinkles?
Beautygeeks – Oh lovelies, sorry for showing you the Guerlain holiday 2015 Neiges et Merveilles collection so early. But the Enchanted Snowflakes Meteorites… *swoon*
Beauty Junkies Unite – See how Amber temporarily zaps her grey roots in just seconds! If you color your hair due to greys, you need this!
(Wondering what the Lipstick League is? Find out here.)
Guest Post of the Week, as chosen by Clumps of Mascara – Those OCC Lip Tar RTW lippies are taking the beauty world by storm. I always struggle with wondering how a color will look on me so I'm loving Erica of The Gorgeous Gleam's swatches. Girlfriend is fierce, isn't she?