PR Sample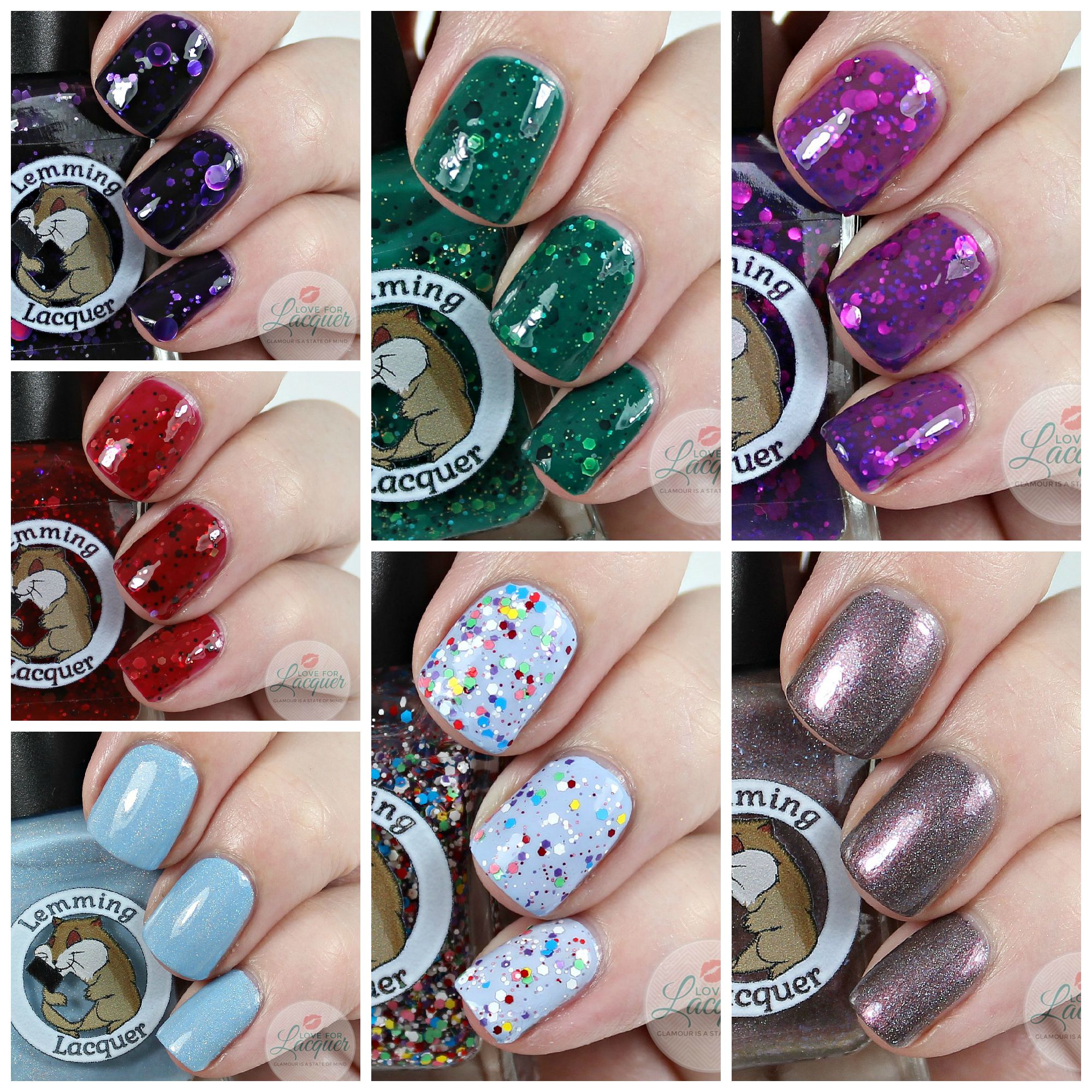 Happy Monday! Today I have the Curiosities from Wonderland collection from Lemming Lacquer to share with you! Plus, I'm going to share with you my thoughts on a few of her bath & body products! This collection consists of 7 shades and was inspired by Alice in Wonderland.
Curiouser & Curiouser : Pale sky blue holo with gold shimmer throughout. This shade captures Alice's dress perfectly! Formula was really great – Photo below shows two coats plus top coat.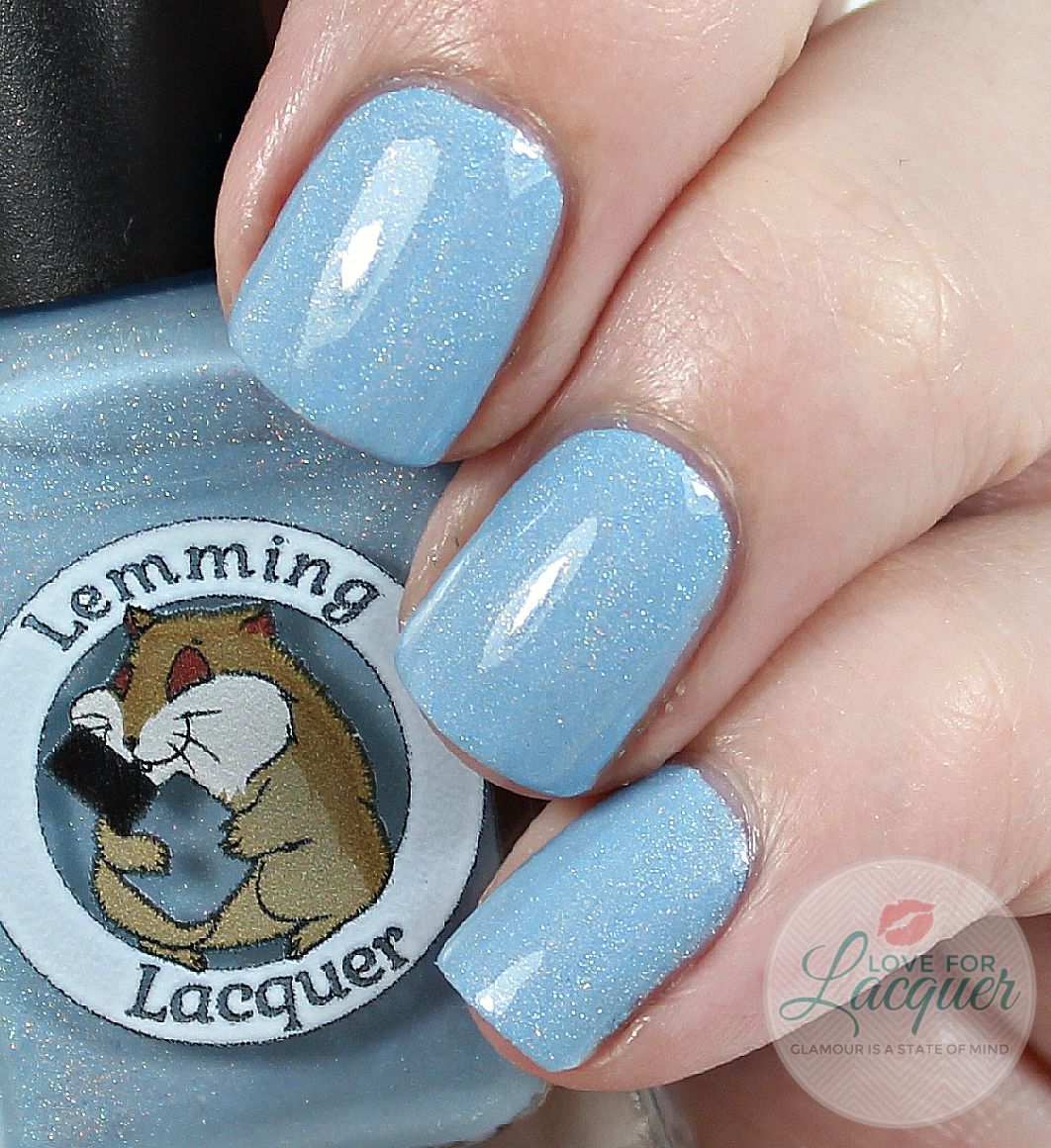 Drink Me : Lush purple jelly with small holo hex glitters and large holo circle glitters. This polish was inspired by the suspended "Drink Me" bottle and the purple bubbles Alice hiccups in shrink mode in the video game Alice : Madness Returns. Photo below shows two coats plus top coat.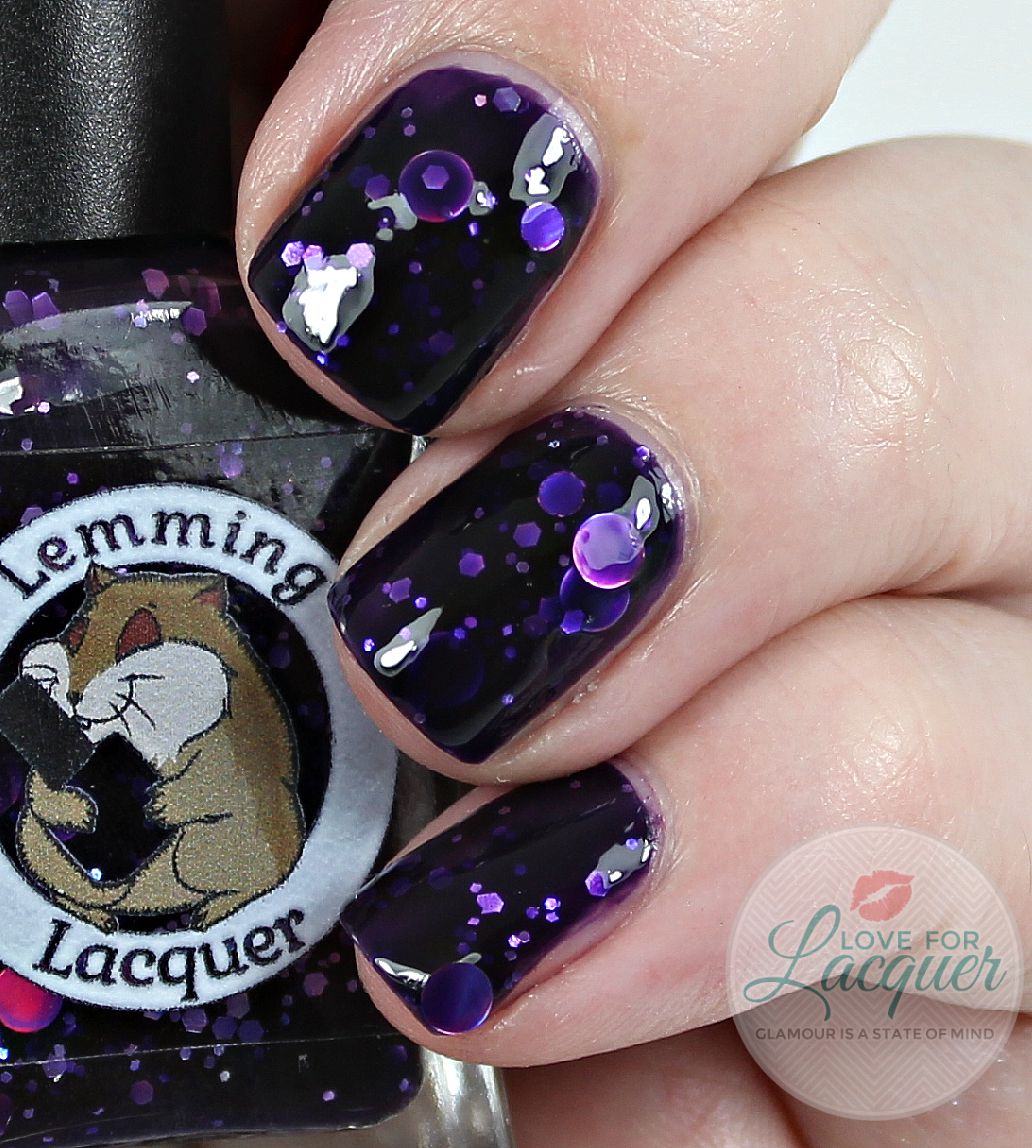 Eat Me : Small & medium sized matte glitters in all colors of rainbow sprinkles. "Eat Me" is written on the cakes Alice eats to grow large after tumbling down the rabbit hole to Wonderland. I have one coat over Essie Saltwater Happy.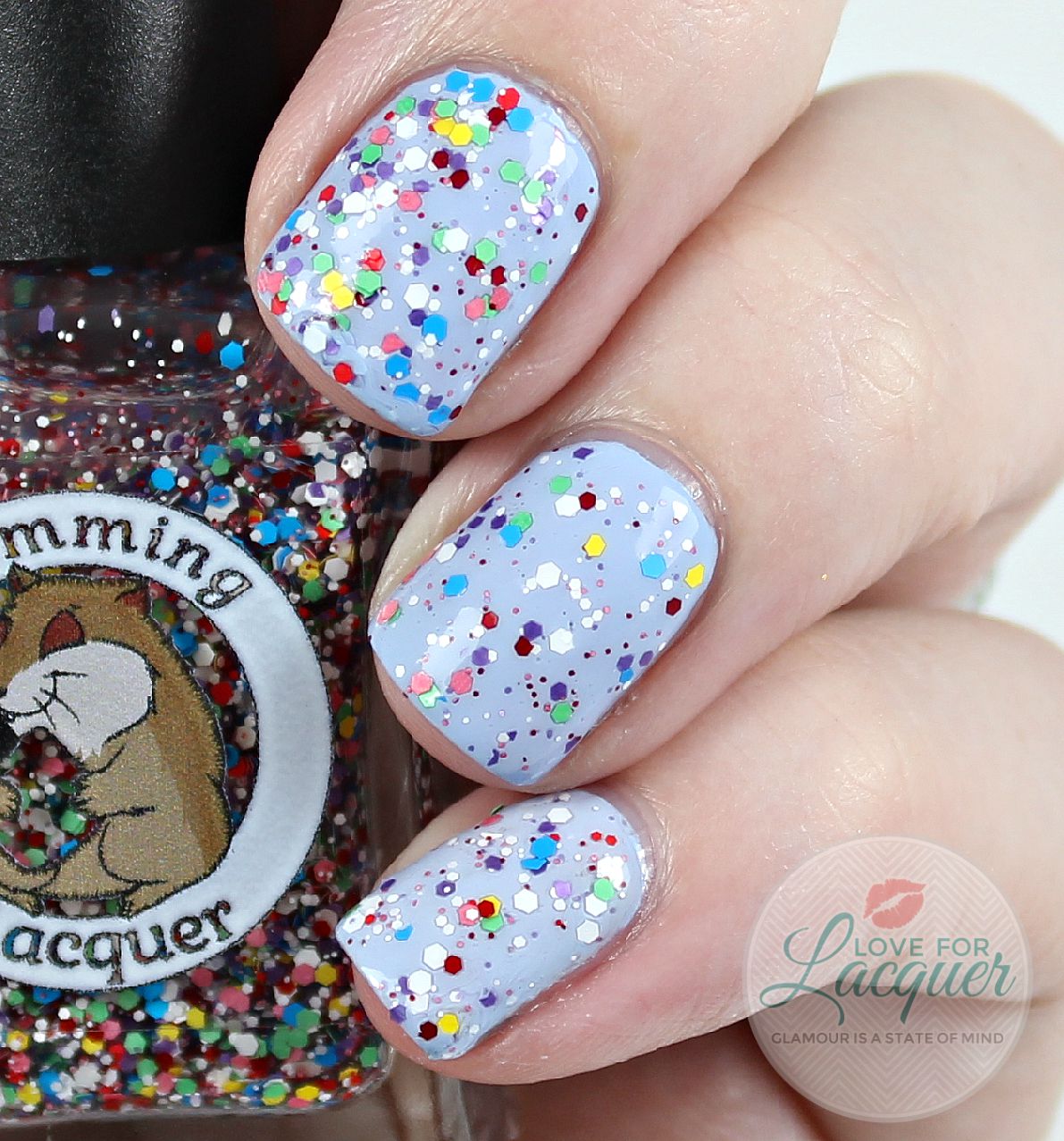 Her Imperial Viciousness : Jewel toned red with different sized copper, red and black glitters, color shifting iridescent glitters and a helping of black heart glitters. This polish was inspired by the character Redd Heart in The Looking Glass Wars series. Application was a breeze – 2 coats shown below.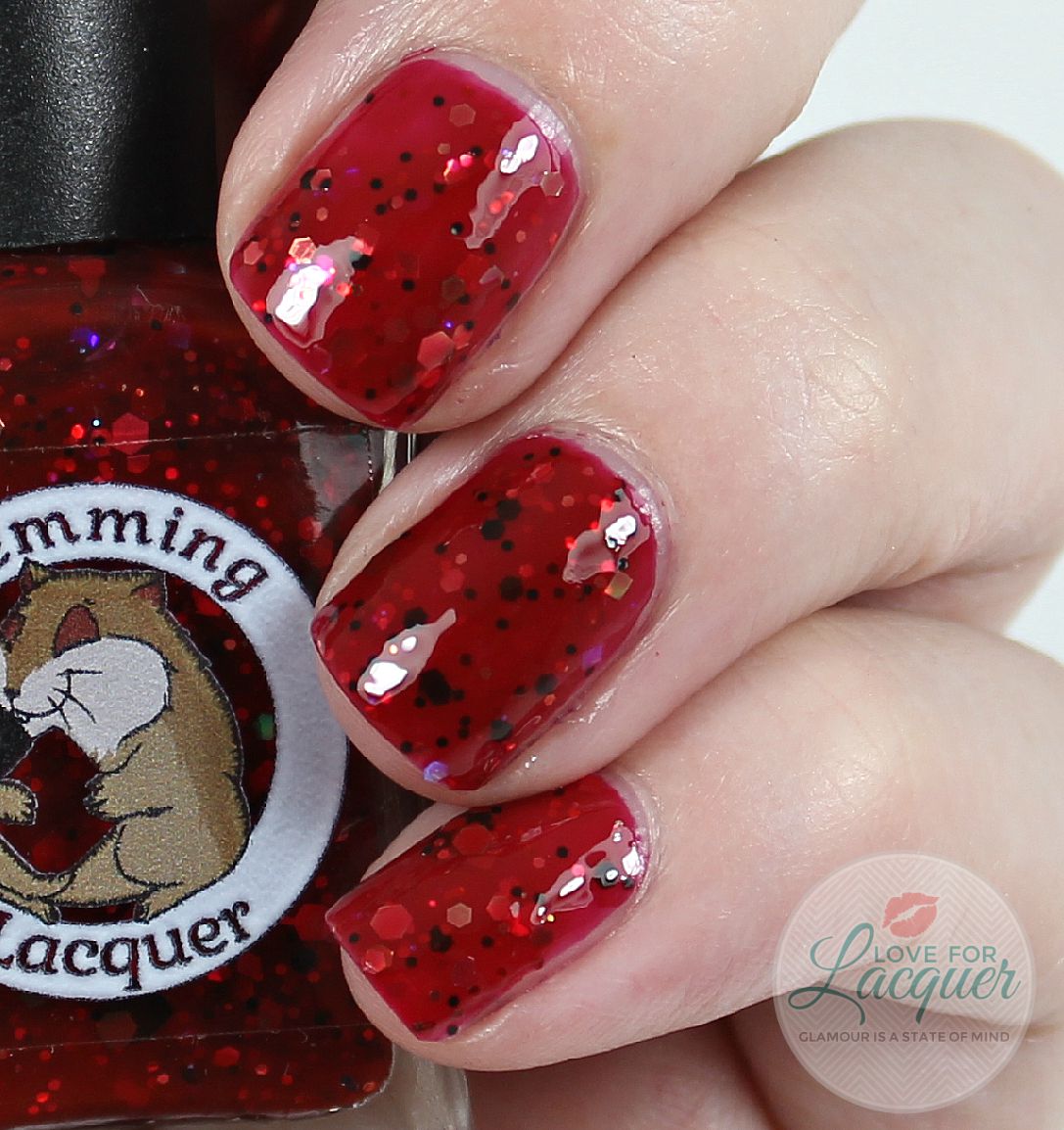 I'm Not All There Myself : A thermal polish! This shade changes from a velvet purple when cool to a vibrant pink when warm. You can see in the photo below it starting to change a bit on me! It also contains various sized hex fuchsia glitters and purple hex glitters. Photo below shows two coats.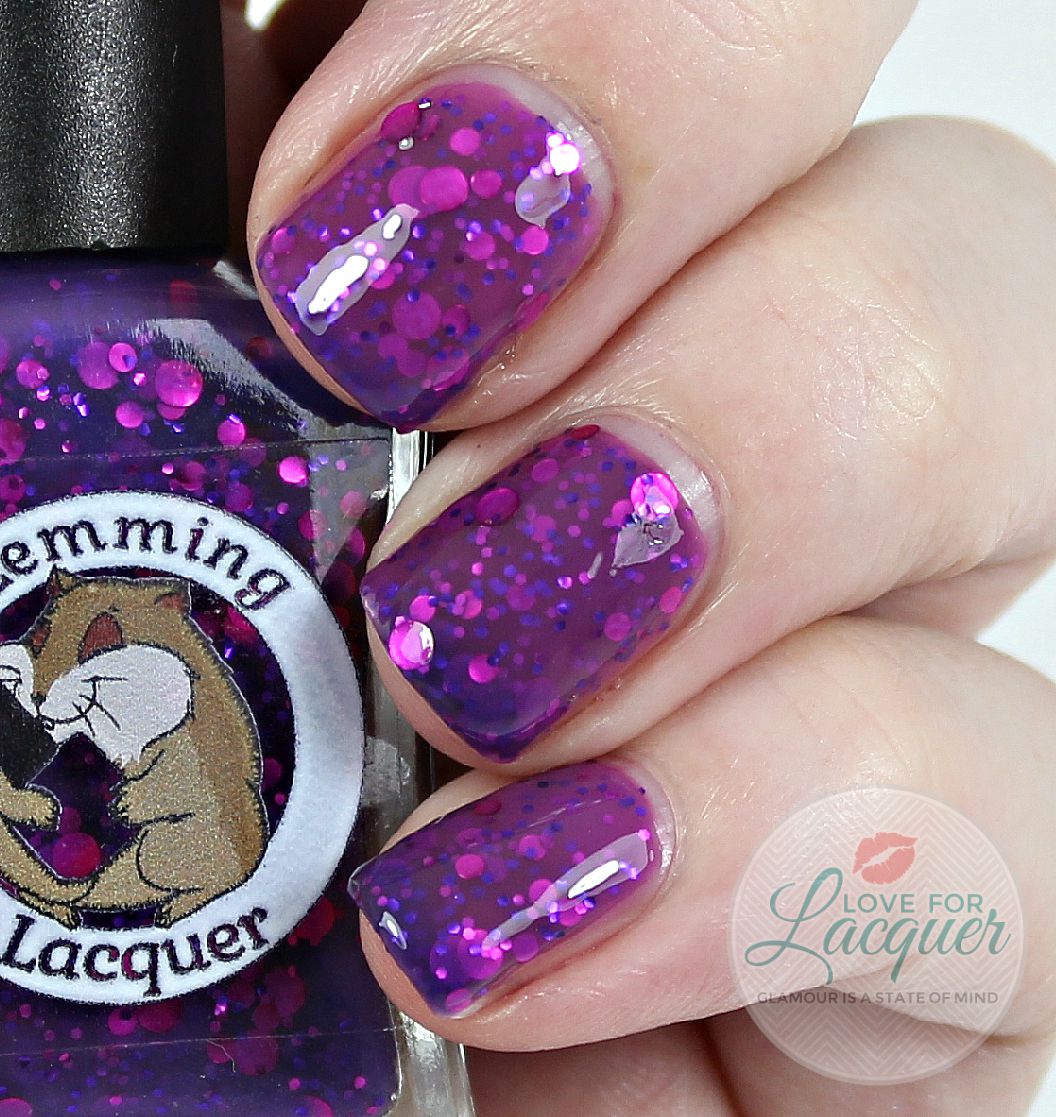 Ravings & Writing Desks : Teal / green colored base with different sized holo gold, lime green, and turquoise glitters and black hex glitters.  Inspired by a combination of Hatter Madigan of The Looking Glass Wars series & 1951 Disney's Alice in Wonderland's Mad Hatter. Amazing formula on this one – Super impressive. Photo below shows two coats.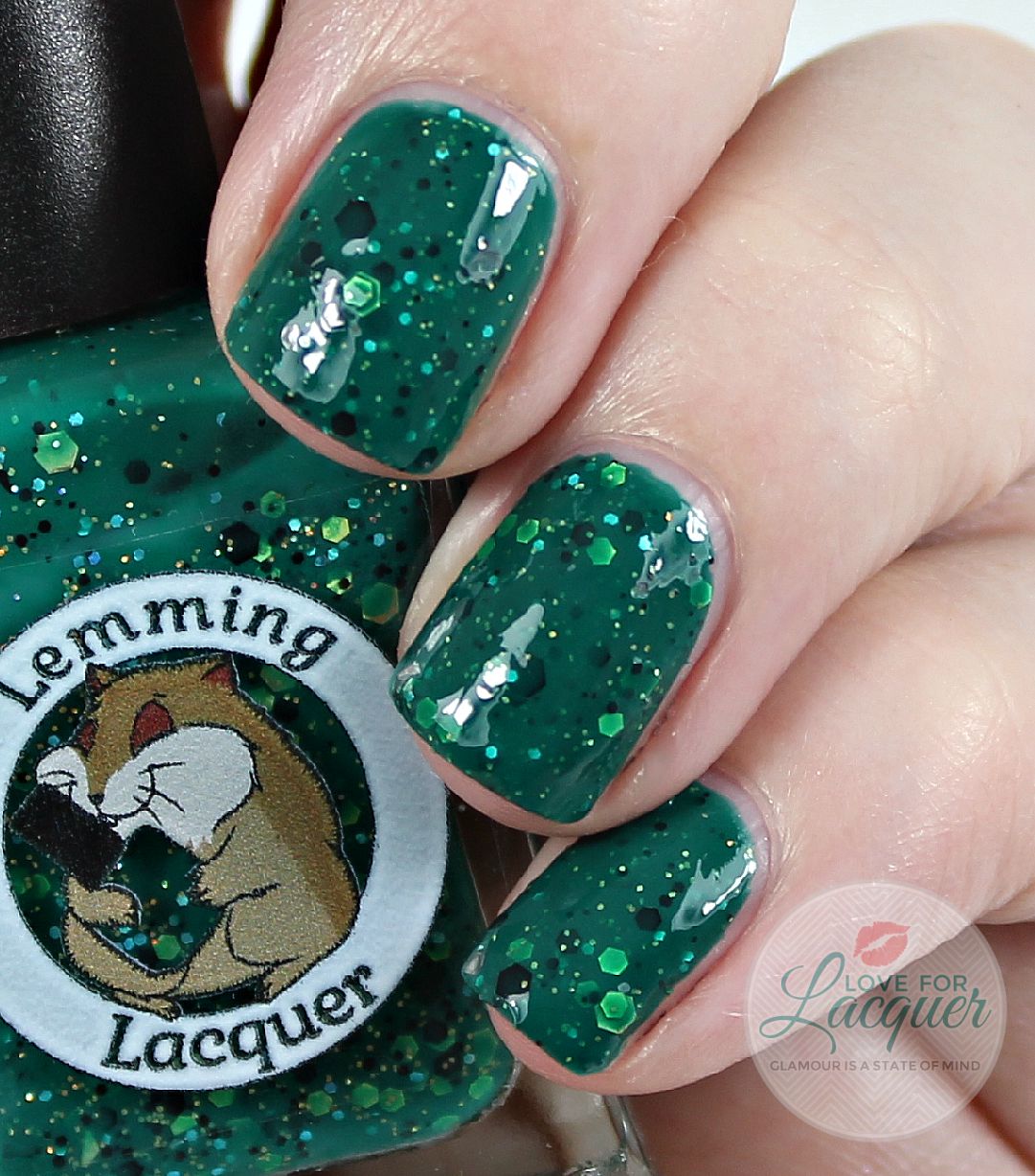 Whooo R U? : Smoky duochrome grey holo polish with pink / purple overtones and bright blue sparks of shimmer. Hands down my FAVORITE in this collection. Formula was impeccable and I am living for this color! Photo below shows two coats.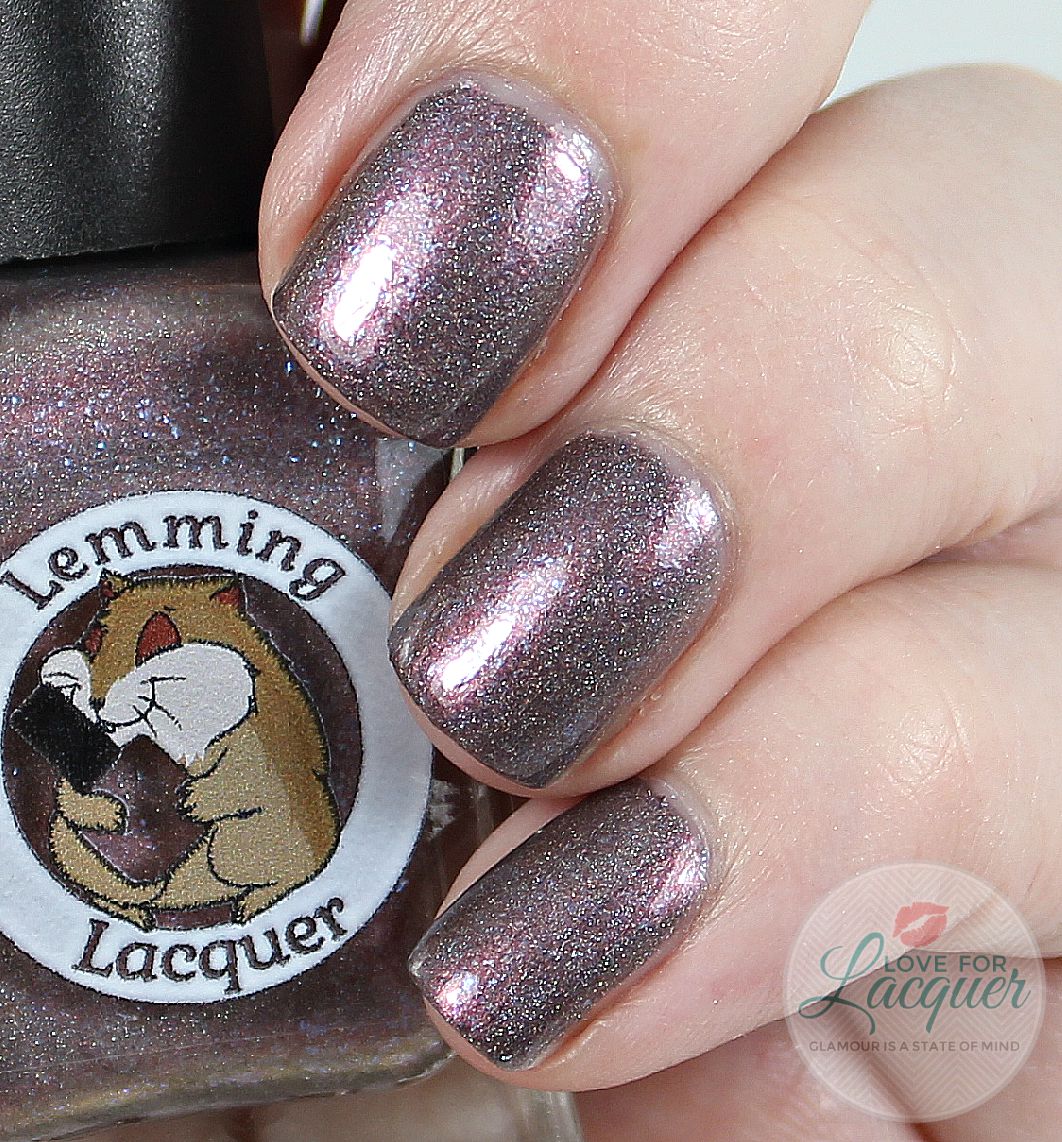 As far as this collection, I am in love! This is my first time using Lemming Lacquer and I was incredibly impressed with how nicely the formulas were. I also love that each one of these tells their own story. Incredible collection!
I also had the chance to try out some of her Mani Bombs & Cuticle Oil! If you have never tried a Mani Bomb, it's a must! Lemming Lacquer has them for extremely cheap in her shop and they are great to nourish and pamper your nails & hands. They are infused with extra oils and butters to sink into your cuticles and soften your hands. PERFECT for using before or after a major swatch session!
I kept them inside their plastic baggies for this photo only because they are fragile and didn't want them to break! If you follow me on Instagram, you can see the Eat Me one I posted!
I used the cuticle oil after each one of these swatches and really love it. It melted into the cuticle nicely and smells delicious! I believe the scent I have is Tropical Fruit Breeze (The label fell off)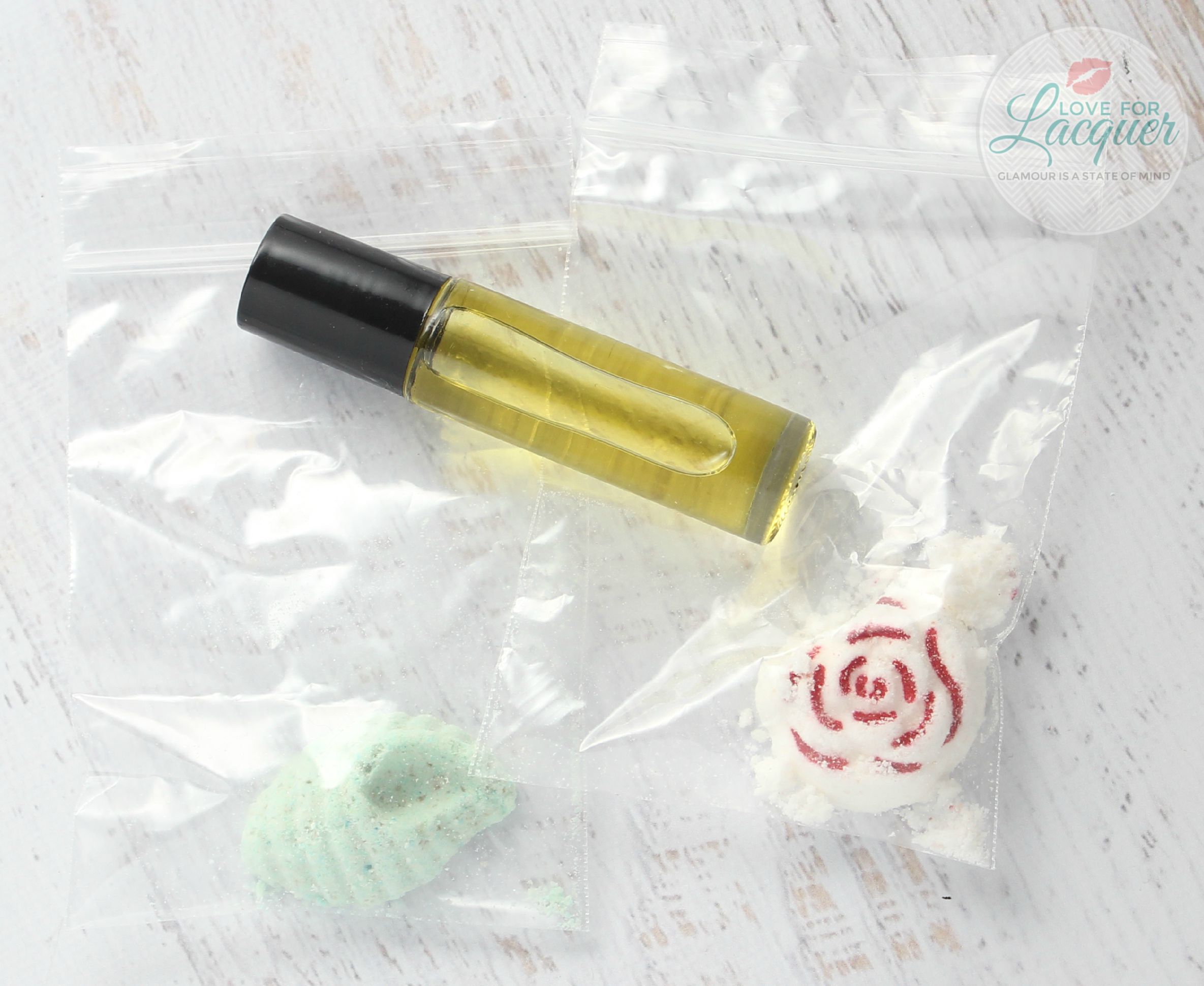 I highly recommend picking up a few of these goodies along with her polish! Which shade is your favorite?
Availability : Lemming Lacquer
Price : Polish : $10 – $12 Each | Full Collection : $65 | Mani Bomb : $1 – $1.25 | Cuticle Oil : $7
Social Media : Facebook | Twitter | Instagram
*Provided for an honest review. All opinions are my own*