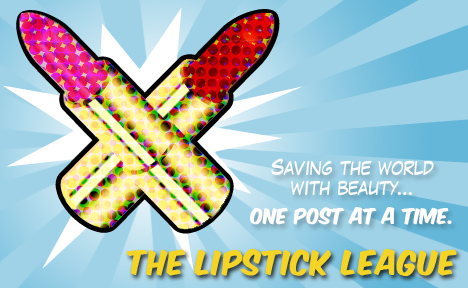 The Lipstick League – week of 7.27.15
Question of the Week: Name the very first lipstick you ever purchased (if you can't remember, pick the earliest one you remember purchasing).
Answer : I don't know if I can remember the VERY first one, but I do remember my very first MAC lipstick! I purchased Creme d Nude lipstick thinking I was SUPER awesome because I saw Tracy from Jerseylicious (Reality TV Show) wear it.  And then my very first MAC lipglass was Prrr! (Do they still make that?)
Lipstick Links Of The Week : 
Phyrra – shares the Best Damn Lip Pencils! Find out who makes the most versatile, perfect pencils!
we heart this – Vacation on the horizon? You might want to add these must haves to you list.
Beautygeeks – Is there anything worse than being stuck at your desk when your Instagram feed is jammed with summer vacation photos? Our Liza (leeza) Herz is all about the spraycation: summer scents + wardrobe to lend your days a vacation vibe until the weekend arrives.
Beauty Junkies Unite – Amber tested out the new Laura Geller Baked Liquid Radiance Foundation, and she's only wearing it on half of her face in photos so you can see the difference!
Clumps of Mascara – Everyone has been raving about the FOREO LUNA and I finally gave it a whirl. Is is worth the hype?
EauMG – was told that a Clarisonic Mia 2 would change her life. So did it?
Gouldylox Reviews – Can you tell the difference between a $300 look and a $60 look? Check it out and vote
Love for Lacquer – The Makeup Geek Vegas Lights palette is an absolute must have! Check out Jess' swatches & review!
My Beauty Bunny – The heat and humidity can be cruel during the summer, but that's no reason not to be cruelty free! Check out our wrap up of our favorite cruelty free Summer Beauty Essentials!
My Newest Addiction – Keep Calm and Lip Balm! Laura shares Rimmel's new lip balms and loves the one named Keep Calm and Shop.
Nouveau Cheap – NYX STORES? Am I dreaming? Nope. It's happening, people! Where? When? Here you go.
Prime Beauty – knows summer equals travel and she's dishing about her Top 10 Travel Beauty products!
(Wondering what the Lipstick League is? Find out here.)
Guest Post of the Week, as chosen by Phyrra – My friend Ange from Hairspray & High Heels always has great beauty posts. Her Beat the Heat Summer Beauty article features many of my favorites!