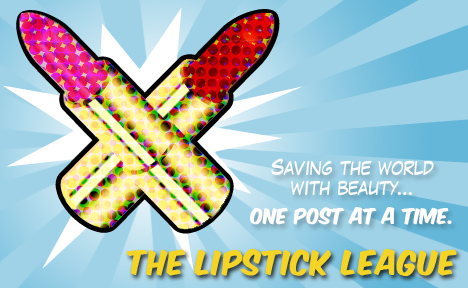 Question of the Week: When it comes to brows, do you tend to gravitate toward pencils, gels, or powders?
Answer : I use a combination of pencil & powder. I am obsessed with the combination of Anastasia Brow Wiz and Gerard Cosmetics Brow Bar To Go. Then, I top it off with a tinted brow gel from Serenity & Scott.
Lipstick League Links Of The Week :
Prime Beauty – took Pürminerals Chateau Cheek Stains for a test drive. They are great for travel and provide a beautiful and natural glow!
Phyrra – Want to get your hands on the hottest new eyeshadows? Phyrra has the Kat Von D Metal Crush Eyeshadows to share with you!
we heart this – The butter London Bloody Brilliant Lip Crayons are ok, I guess…JUST KIDDING! They're bloody brilliant.
Beautygeeks – "How do you paint your nails so perfectly" is probably the number one question we get for our ManiGeek. Check out our Paint Your Nails like a ManiGeek video in partnership with Sally Hansen CSM that shows Karen's no-clean-up painting process!
Beauty Junkies Unite – Amber found the most perfect summer moisturizer for your body that's not sticky or thick. See what soothes skin and dries in a flash! (And there just may be a giveaway in the post.)
Clumps of Mascara – Is serious about her skin's health, especially the skin under the arms. Yep! You read right. If you're sick of smelling like a goat, this post may save you and your social life.
EauMG – Are you cuckoo for coconuts? Victoria has put together an updated, comprehensive guide to coconut perfumes.
Glitter.Gloss.Garbage – Interested in a few good Ciate Velvet Lip swatches? They are right here!
Gouldylox Reviews – This new (H)air Styler will change everything about how you style your hair this summer – and every other day.
Love for Lacquer – Show me your Best In Class Selfie! Jess shares her skincare go to's at the moment and a chance to win gift cards just by snapping a photo of you! Check it out now!
My Beauty Bunny – If you are hitting the beach or lounging by the pool this summer, we've got all the essentials. Head on over and enter to win our Gentle Hair Removal Summer Prize Package Giveaway!
My Newest Addiction – The Too Faced Love Flush Blush line is new and exciting and Laura has reviewed and swatch all 6 shades!
Nouveau Cheap – I put the new L'Oreal Infallible Pro-Last Nail Color to the test, but did it give me pro-results with "up to 14 days" of wear? Come find out!
(Wondering what the Lipstick League is? Find out here.)
Guest Post of the Week, as chosen by Prime Beauty – The Everygirl covers well…everything! From career and finance, to fashion and beauty. Her photography is stunning and her style spot on. She even has a feature for her readers to post their outfit of the day!