PR Sample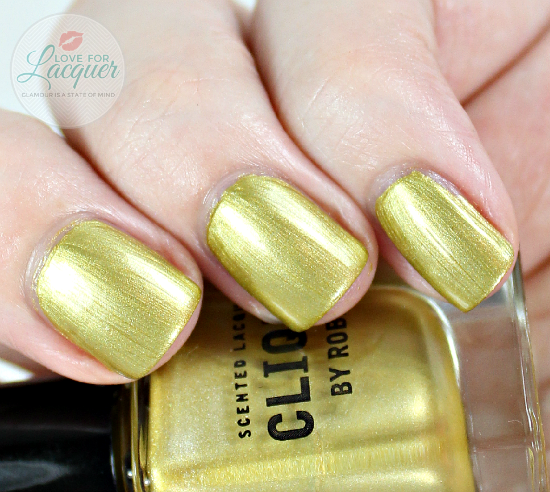 Hello loves! Today I have just a short & sweet post for you! About two weeks ago, I attended a CPNA (CosmoProf North America) party in NYC and had the pleasure of connecting with so many awesome people & brands. One of them being Chef Roble. If you are a Bravo fan, then you have most definitely seen his show! He has been called one of the hottest up and coming chefs  and has released a fragrance and scented nail lacquer.
I swear, as soon as I walked into the event I immediately spotted his booth loaded with polish. I'm not usually one to gravitate towards scented nail lacquer, but I was very intrigued by this color. I would describe it as an olive green with strong gold undertones. Needless to say, it is definitely beautiful and looks like you are wearing liquid gold on your tips.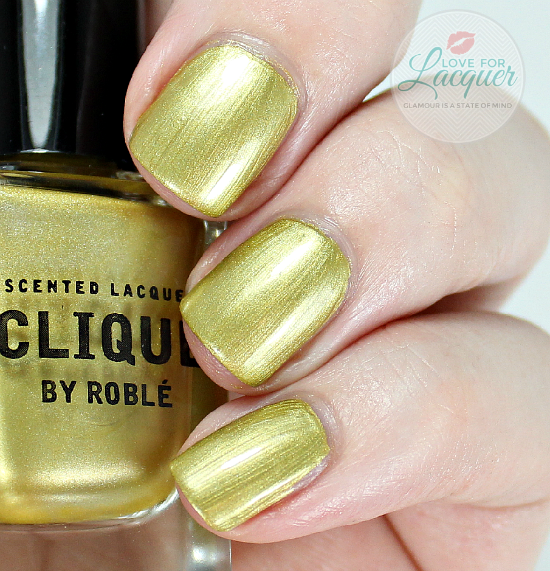 This shade is a metallic finish so you will see some slight brush strokes. I was actually REALLY impressed by the formula. I only needed two coats for full opacity.  As far as the scent goes, I didn't really find it overpowering. You can definitely start to smell it right away when it dries.
Roble describes the scent as an irresistible fragrance recipe that maintains the freshness of a citrus cocktail on top, with an alluring and sensual dessert base containing notes from one of his favorite dessert recipes – French Toast Crunch. 
I'm not sure how strong the fragrance is as I don't have that to compare, but I found the scent on this to be very light and VERY sweet. I did also end up using a top coat, and that kind of diluted the scent as well.
Overall, I think the shade is BEAUTIFUL and I am incredibly impressed with how well it applied! If you're looking for a polish that makes you look like you are wearing some serious luxe liquid gold, this is for you!
What do you think about Clique by Roble? Are you a scented polish fan?
Availability : CliqueByRoble
Price : $15
Chef Roble : Instagram | Twitter
Clique By Roble : Twitter | Instagram
*Received at a press event. All opinions are my own*