PR Sample
Affiliate Link
I seriously cannot believe the post I have for you today! This baby landed at LFL HQ this week and it took everything in me not to scream & shout and run around the house like a maniac. (Maybe I did a little) If you have NO idea what is happening, I present to you – Champagne Pop. The limited edition Shimmering Skin Perfector shade from Becca Cosmetics & Youtube Beauty Celebrity & Makeup Artist – Jaclyn Hill.
Champagne Pop releases next month (July 2nd at sephora.com | July 16th in Sephora stores) and will be limited edition. I have a feeling the website WILL end up crashing based on how many people are extremely excited about this collaboration! So your best bet may  be to wait until it is stocked inside your local Sephora store. Much like all of the Becca Shimmering Skin Perfectors, this one is absolutely STUNNING and extremely soft to the touch.  The pigmentation is out of this world!
There is no special edition packaging with this collaboration, but the box is a pretty gold and has Jaclyn's name on it. (My PR sample did NOT come with a box which is why you won't see it in this post) Champagne Pop has 8g / 0.28oz of product and also comes with a mirror inside and will retail for $38.
Described as a soft white gold with pinky peach undertones, this highlight looks absolutely STUNNING on the skin.  Jaclyn was inspired by the luxurious lightness and spirited essence of champagne and is calling this her "dream shade". It is also infused with light – reflecting pearls that beautifully catch the light and will allow your favorite features to pop.  I'm actually REALLY stoked to use this as an eyeshadow as well!
I tend to have a heavy hand with my highlight (I like to highlight ALL the things!)  so I applied this with my Becca The One Perfecting Brush in Copper and they are a match made in heaven! It picks up and distributes just the right amount of product and goes on beautifully.
Would you just LOOK at how beautiful this is?!  It is literally everything. If you are a highlight freak like I am, this is going to change your life. Seriously. I know a lot of you were curious as to how it compares to some of the other Becca highlights so here we go!
Champagne Pop Vs. Opal
Champagne Pop Vs. Rose Gold 
Champagne Pop Vs. Moonstone
Edited To Add : I had a few requests on Twitter & Instagram  to see how it compares to a few well known highlighters.  Estee Lauder Heatwave, The Balm Mary-Lou Manizer, MAC Whisper Of Guilt, Laura Mercier Spellbound & Laura Geller Gilded Honey. Here are some quick iPhone swatches! (I wanted to get them up quickly!)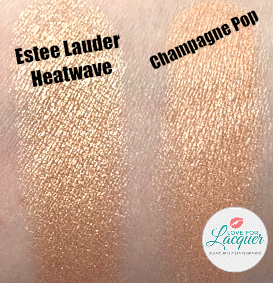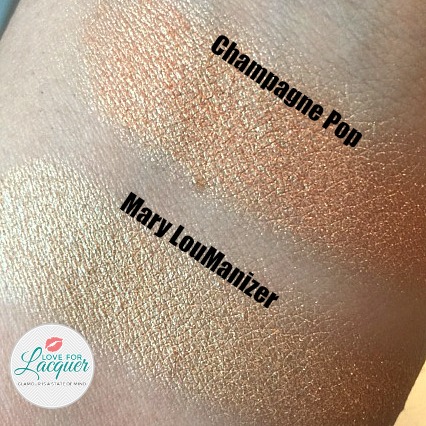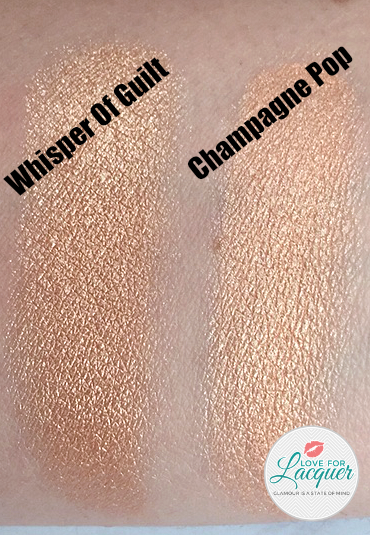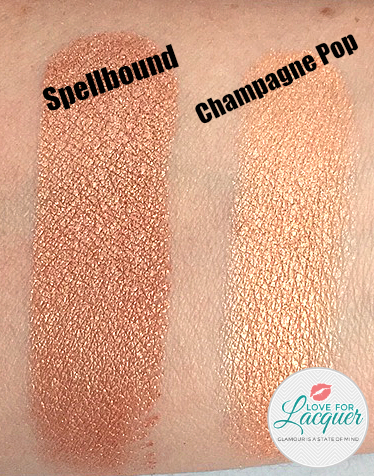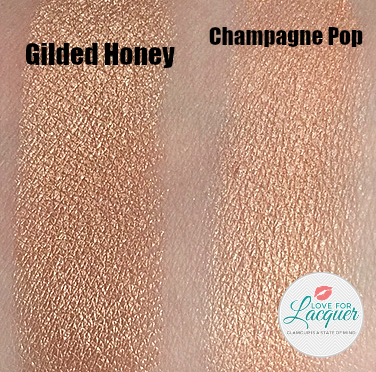 As you can see, they are remotely different from each other. Champagne Pop definitely pulls very peach on my skin tone. Needless to say, I am SO proud of Jaclyn for teaming up with Becca. This is a HUGE deal for her and I couldn't be more thrilled with how Champagne Pop turned out! By the way – I had the pleasure of meeting Jaclyn at the NYX event back in April and she is seriously the most down to earth, kind human being ever.
Will you be picking up Champagne Pop when it releases? What are your thoughts? #ChampagnePop #DefineYourLight
Availability :  Sephora.com (July 2nd – 9am PST / 12pmEST) | July 16th In Sephora Stores
Price : $38
Follow Becca Cosmetics : Facebook | Twitter | Instagram
Follow Jaclyn Hill : Youtube | Instagram | Twitter | Facebook
*Provided for an honest review. All opinions are my own. Post does contain affiliate links*