PR Sample
Another post today?! You betcha! (And there is most likely a 3rd on the way! I'm a busy bee today!) Today's second post is the Summer 2015 Fan Favorites collection from Blue-Eyed Girl Lacquer! These will be available for pre order beginning tomorrow, June 30th, at 3:30pm EST over in her shop. This is a 24 hour pre order and will end on July 1st at 3:30pm EST. I have a feeling these are going to sell very quickly, so be ready! Also releasing tomorrow is the newest Siren in the LE numbered series and the latest Destination Duo collaboration with A Rhyming Dictionary! So many awesome goodies!
Bound To The City Life – Dark teal jelly with teal, purple, turquoise, and blue holo microglitters. Hands down – My absolute FAVORITE in this collection. If you're stuck on what to order, get this one! Everything from the color to the formula was perfection. Photo below shows two coats.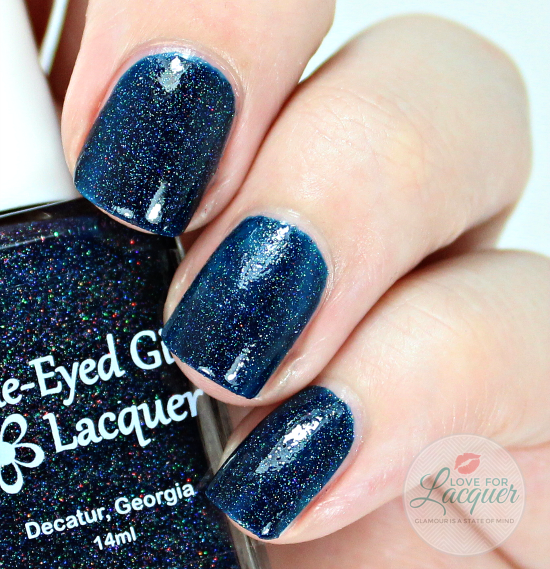 Cherry Blossom – Baby pink with an aqua tint. The formula on this was a little tricky. I recommend going VERY slow and waiting until the first coat dries before adding a second. I learned that the hard way! It's a gorgeous color though!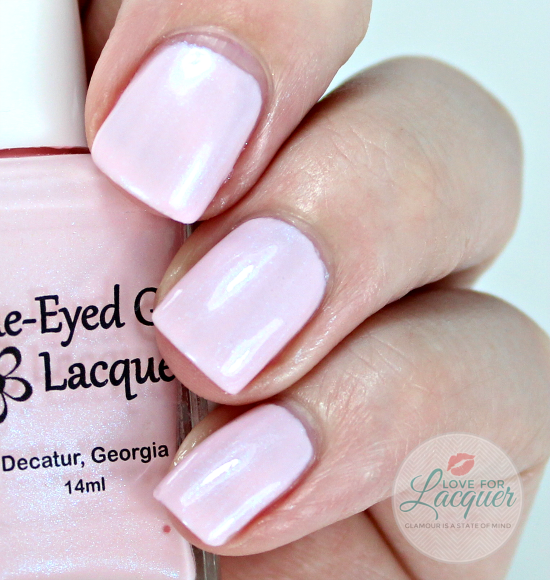 Fare The Wind – Purple holo with blue to purple shift and red shimmers.  Another one of my faves! This shade is EVERYTHING! Fantastic formula. Photo below shows two coats.
Fierce And Free – Medium orange jelly with gold, orange, red and berry pink holo and metallic microglitters.  Such a beautiful fun & bright Summer shade! Another great formula – Only two coats needed for full opacity.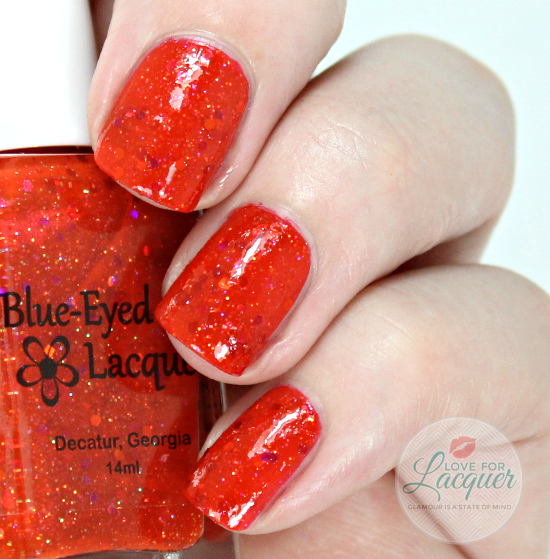 I Still Adore – Orchid pink holo with a gold to pink shift. Hello gorgeous! This shade of orchid pink is to die for. Photo below shows two coats.
Monster's Tea At Tiffany's – Tiffany blue with a green to red shift. This is so my power color! I love the slight sparkle in it! Photo below shows two coats.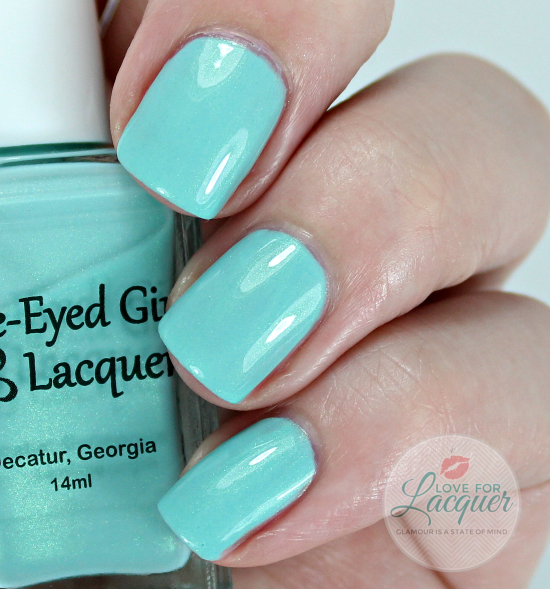 Sirens Birthday Sprinkles – Clear base with sky blue holo, navy holo royal blue and Canadian blue glitters with blue microflakies. I have one coat layered over butter LONDON Kip. The glitters came out and placed onto the nail perfectly!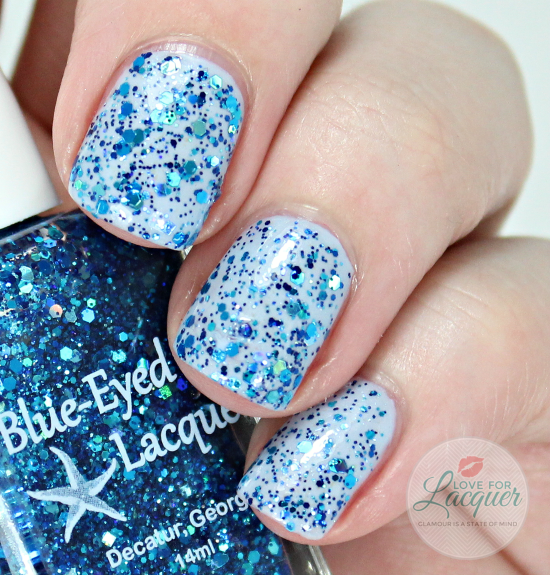 Sordid End – Periwinkle with a blue to purple shift. Beautiful shade! Fantastic formula. Photo below shows two coats.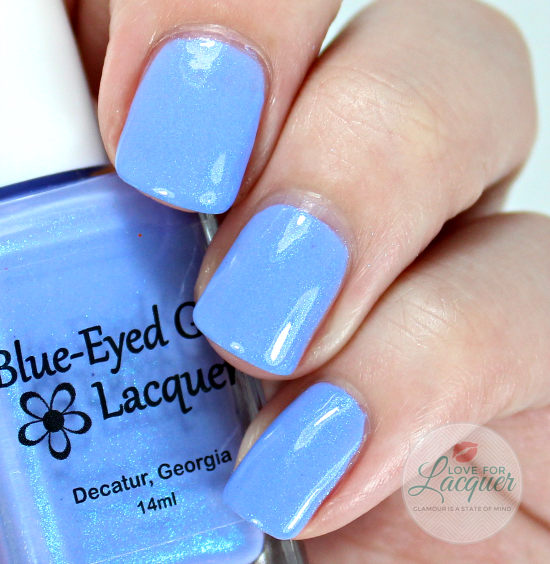 Untrodden Snow – White with a blue flash & blue shimmers. I had the same formula issues as Cherry Blossom and would recommend the same type of application. Very slow and let it dry before adding another coat! Photo below shows two coats.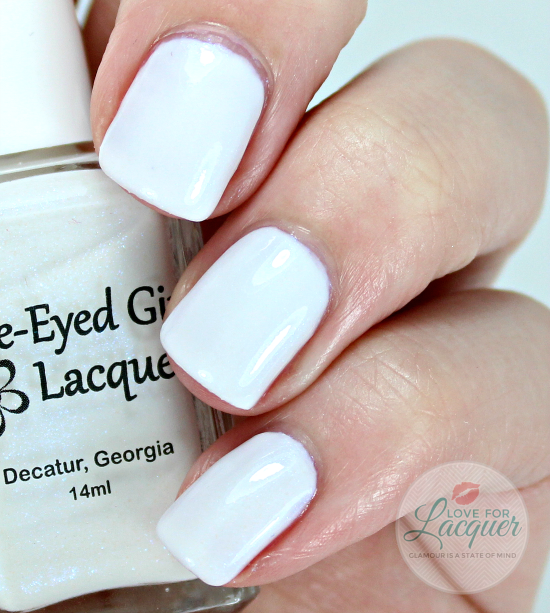 Wanna Fall In Love Tonight – Purple with glowing red shimmer. Obsessed with this shade of purple! And that glow makes it so unique! Photo below shows two coats.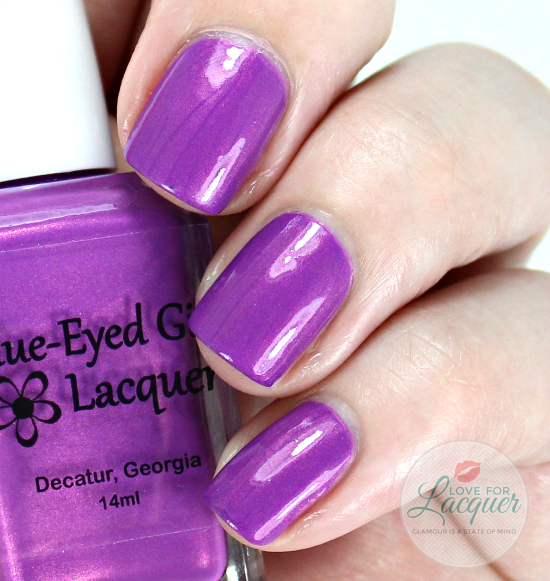 You guys… I'm pretty sure I'm in love. This was my first experience with Blue-Eyed Girl Lacquer and I am kicking myself for not trying them sooner! These are definitely going to be favorites for sure!  If you are interested in purchasing these, all of the details are linked below!
Will you be picking anything up from this pre order?!
Availability : Big Cartel Shop (Pre order begins June 30th at 3:30pm EST & ends July 1st at 3:30pm EST) 
Price : Ranging from $8.50- $12. The full Fan Favorites set will cost $102.5 (full size bottles) | $55 (mini bottles) plus shipping.  
Social Media : Facebook | Instagram  | Twitter | Pinterest | Facebook Group
*Provided for an honest review. All opinions are my own*