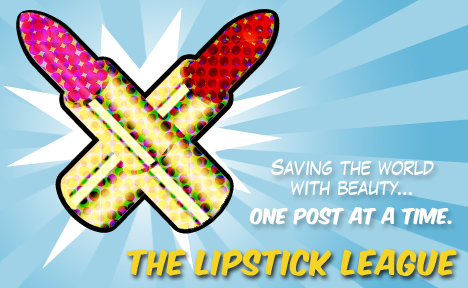 The Lipstick League – week of 2.23.15
Question of the Week: What is the one part of your beauty routine that seems to get neglected most often?
Answer : As I was reading through some of the other ladies answers, I'm going to have to agree with Phyrra and said lotion! After showering, I NEVER moisturize. Is that bad? Probably. It's just something I never seem to do!
Lipstick Links Of The Week : 
EauMG – takes a stroll down memory lane and finally reviews one of her favorite masculine fragrances. She can't believe that this fragrance is celebrating a 20th birthday this year…oh, how time flies.
Glitter.Gloss.Garbage – Cinderelly! Cinderelly! Glitter.Gloss.Garbage swatched MAC Coupe D'Chic from the Cinderella collection, so check it out before the store launch!
Gouldylox Reviews – These palettes have not gotten much love and I'm not sure why. They are absolutely gorgeous to look at and to wear!
Love for Lacquer – Must have date night essentials? Love For Lacquer shares hers!
Nouveau Cheap – You know I love finding dupes for popular, expensive palettes. So did I strike (rose) gold with this one? Come find out.
Prime Beauty – asks what happens when unique packaging and quality products come together? Stix Lipstiks!
Phyrra – Want a new miracle skin product? Check out Phyrra's First Impressions of the bareMinerals Complexion Rescue Tinted Hydrating Gel Cream!
Vampy Varnish – Sometimes matte polishes look much better with a top coat, which Kelly shows you with some of the new Essie Cashmere Matte shades.
we heart this – want to try Neutrogena's new Hydro Boost Water Gel? How about winning it, along with a $200 GC to MyHabit? Well then, click here!
Beautygeeks – Meet your dry-lips superhero. Your wallet will love it, too.
Beauty Junkies Unite – If there really is shaving nirvana, Amber has just found it with the new Gillette Venus Swirl Razor. See what makes it a sublime shaving experience!
Clumps of Mascara – How many beauty thangs can you score for $50 at CVS? Check out what I grabbed and enter a giveaway so you can score $50 worth of beauty items, too!
(Wondering what the Lipstick League is? Find out here.)
Guest Post of the Week, as chosen by EauMG – One of my favorite perfume blogs, The Candy Perfume Boy, simply explains one of the most amazing technologies in the perfume world, headspace. It sounds so sci-fi and well, it sort of is. These are machines that captures smells. Yeah, really.