*Thanks to UByKotex for sponsoring today's conversation*
Happy Monday! Today we're going to be talking about what's in my clutch & some of my date night essentials! Mr. LFL & I don't get to go on dates very often, but when we do I always like to make sure I am fully prepared for life's unexpected moments. Let's take a quick peek inside my clutch shall we?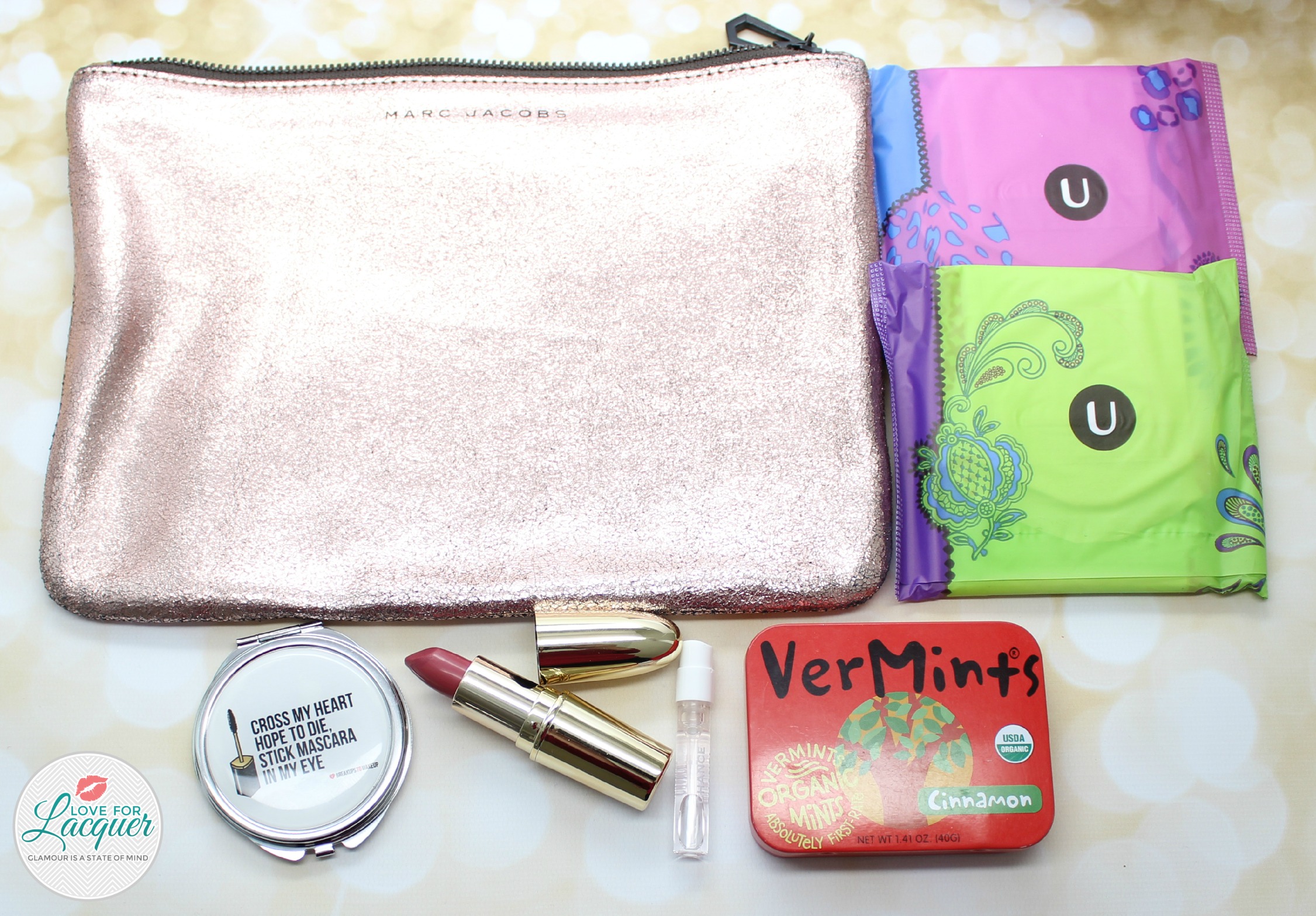 Marc Jacobs Rose Gold Clutch – This is my go to whenever I'm heading out. It's the perfect size and zips close. I got this from Target a year or so ago when they did their collab on clearance!
Breakups To Makeups Compact – Because you don't want spinach in your teeth when you're on a date! (Am I right?)
Gerard Cosmetics Berry Smoothie – I will usually take whatever lip product I am wearing that night in case I need to touch up. I have been LIVING for this color lately!
Chanel Chance Perfume Sample – If I have a small sample of the fragrance I am wearing, I will definitely include it in my clutch. It's nice to freshen up!
Mints – Does this need an explanation?
U By Kotex with 3D Capture Core – Because you never know when life is going to slap you in the face! The pads are super thin and discreet so I always like to keep a few extras on hand as well. Because I'm never sure when exactly my period is going to grace me with it's presence, it's always fantastic to keep these everywhere! They help stop the leaks and keep your panties as good as new!
Do you carry U By Kotex in your purse or clutch? If you don't, now is your chance to head over to their site and request a FREE sample! You can always be prepared!
I would love to hear what your date night essentials are in the comments below! And don't forget to request your FREE sample HERE and join me in becoming an #UnderWarrior!
*Thanks to UByKotex for sponsoring today's conversation*