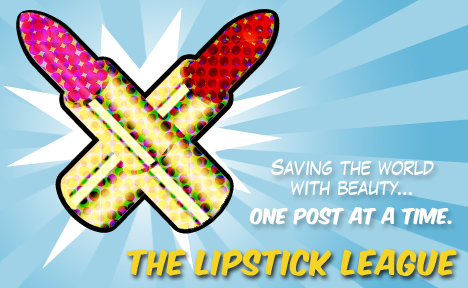 The Lipstick League – week of 2.16.15
Question of the Week: What's your favorite beauty pick-me-up? New fragrance? New lipstick? New nail color?
Answer : Definitely lipstick! I always tend to go for the more luxurious and expensive brands if I need a HUGE pick me up or if I'm having a bad day. (Hello Marc Jacobs & YSL) I know I can't be the only one!
Lipstick Links Of The Week
Clumps of Mascara – is running! Literally. The Iron Girl Clearwater race is in April and I can't wait to run, walk and wog my way to the FINISH line.
EauMG – I'm sure you've seen a lot of posts featuring makeup products that match Pantone's color of the year. Now let's talk fragrance. Here's my guide to perfumes that remind me the color Marsala.
Gouldylox Reviews – I'm not a pink lipstick kind of girl. But lately, everything is reach for is pinky pink. You've got to check out my favorites that are rocking my world.
Love for Lacquer – Looking for amazing Spring nail polish? The new KBShimmer collection will rock your world!
My Beauty Bunny – Is your skin revolting against this harsh, cruel winter? We amped up our hydration routine with Murad's Hydro-Dynamic Ultimate Moisture – it's a great cure for dry, winter-ravaged skin!
My Newest Addiction – Laura shares with us #allthethings she carries in her Tory Burch Robinson Open Dome Satchel. The hand cream is pretty fabulous.
Nouveau Cheap – Did you know that Wet n Wild has released new blushes in their Fergie line? Take a peek at all three of these lovely shades here.
Prime Beauty – shares her love for the February POPSUGAR Must Have box. Seven full-sized products that captures a beauty junkie's heart and then some!
Phyrra – shares her best tips and tricks for How to Wear Urban Decay Moondust Eyeshadows, as well as other glittery and duochrome shades!
we heart this – Would you believe us if we told you we fell in love with a lipstick that sells for just $2.49? You should, 'cause it's true!
Beautygeeks – has the BEST-EVER advice on how to choose the right hair colour, guidelines from veteran celebrity hair colourist Christophe Robin (row-ben), who is the best in the world.
Beauty Junkies Unite – Amber tried an eyebrow product that's only $4.88, thinking it was way too good to be true. The good news: it's not! See what it is!
(Wondering what the Lipstick League is? Find out here.)
Guest Post of the Week, as chosen by Clumps of Mascara – Are you a lover of gel nails? If so, check out those Gellac Glitter Effects Sprays that Chickettes featured. I'm just so amazed at how far gel nails have come!