*Thanks to Cottonelle for sponsoring today's post and inspiring me to #GoCommando!*
So in a few months, I have a couple events coming up where I of course need to pull myself together and dress up. While perusing my favorite shop online, Rent The Runway, I was looking at all of these dresses and thinking to myself 'How the heck am I going to make sure everything is smooth with NO panty lines underneath?!" Because, believe me, the LAST thing you want to see is your underwear showing through a white or nude dress.  Just take a look at some of these dresses I found – There is NO way I can wear regular panties with any of these!
And then it hit me. Why not #GoCommando? That's right. I said it. I'm a strong, confident woman who feels good about herself. Plus, I have been using Cottonelle Fresh Care Flushable Cleansing Cloths & they are AMAZING! They definitely freshen up the bathroom experience and give you the confidence that you will stay fresh all day long.
There is nothing worse than the dreaded panty line and I don't want to be "that girl" at the event that has everyone pointing and staring.  I bet all of your favorite stars at the Oscars did the same thing! They all looked flawless in their gowns and there was not a single VPL to be found!
The Cottonelle Fresh Care Flushable Cleansing Cloths not only offer you a confident clean, but also break down immediately after flushing. I love the convenient tub they come in as well – They have also been perfect to keep in my toddlers bathroom as he is not the best wiper yet if ya know what I mean!
If you want the ultimate clean, I would definitely recommend pairing them with the Cottonelle Clean Ripple texture!
Right now for a limited time only, Cottonelle is inviting YOU to take the challenge to #GoCommando! You can head over to their site and request a FREE sample of the commando kit while supplies last!
So what do you think? Which dress above should I go with? And do YOU have the confidence to #GoCommando?! Don't forget to grab that FREE sample!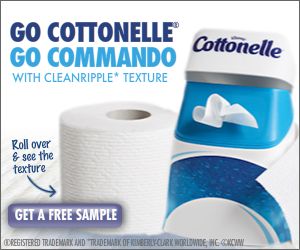 *Thanks to Cottonelle for sponsoring today's post and inspiring me to #GoCommando!*