This post is sponsored by BabbleBoxx.com – All opinions are my own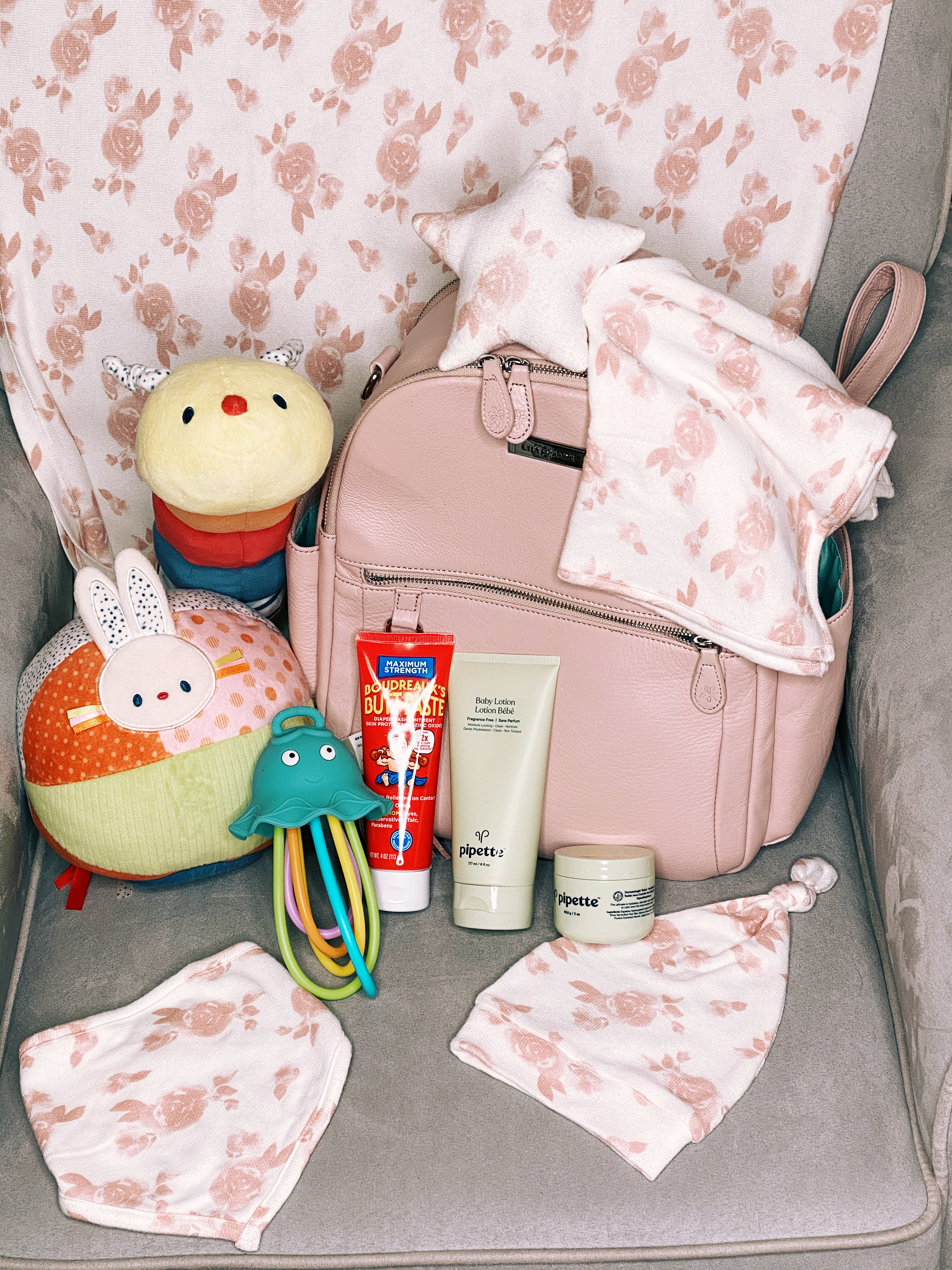 I'm lucky enough to have an incredible mom and grandma to both Rylan & Harlow so anytime she offers to babysit while Chris and I take Rylan out for some alone time or just want to have date night we couldn't be more thrilled. Traveling with Harlow basically takes a village so when I received some Baby Essentials from BabbleBoxx, I knew they would be perfect for adding to her diaper bag for Grandma's house!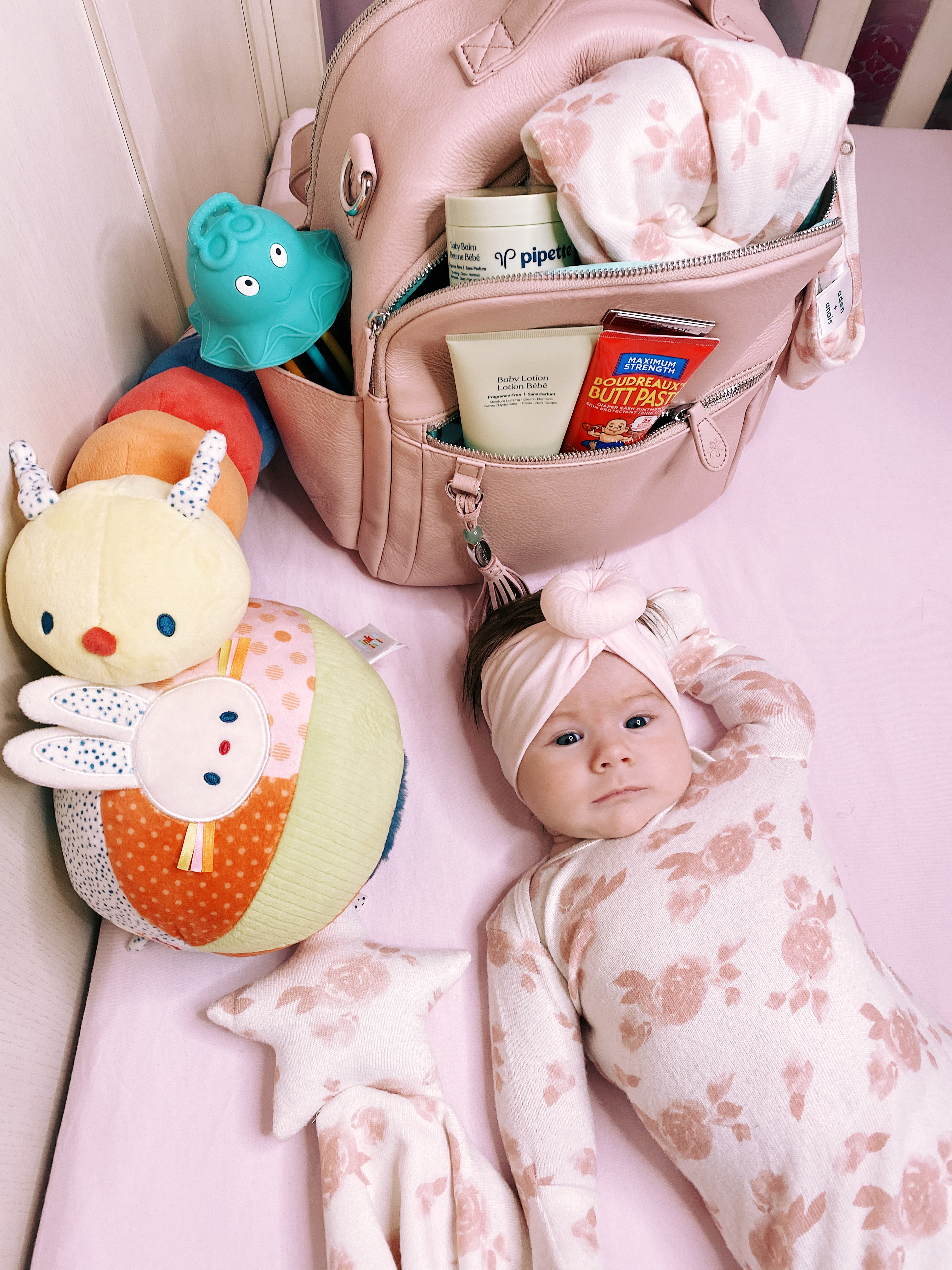 A Cozy Outfit – The NEW snuggle knit collection from aden + anais is the perfect outfit to go from playtime to travel. The newborn gift set comes in three different styles – rosettes (which Harlow is modeling), navy stripe & heather gray and includes a knotted gown with an easy-access tie bottom that is perfect for quick diaper changes, a one-size-fits-all knotted baby hat that grows with baby, swaddle blanket, and bandana bib.
The fabric is incredibly soft and stretchy which makes it perfect for the ultimate snuggle. This collection would also make for a wonderful gift for a new mom! Available for purchase at adenandanais.com, on Amazon, at retailers including Nordstrom, Bloomingdale's and Saks Fifth Avenue, and at select specialty boutiques across the country.
Bonus! Harlow also loves her aden + anais Lovey – It's perfect for snuggling and has the same soft, stretchy fabric & print.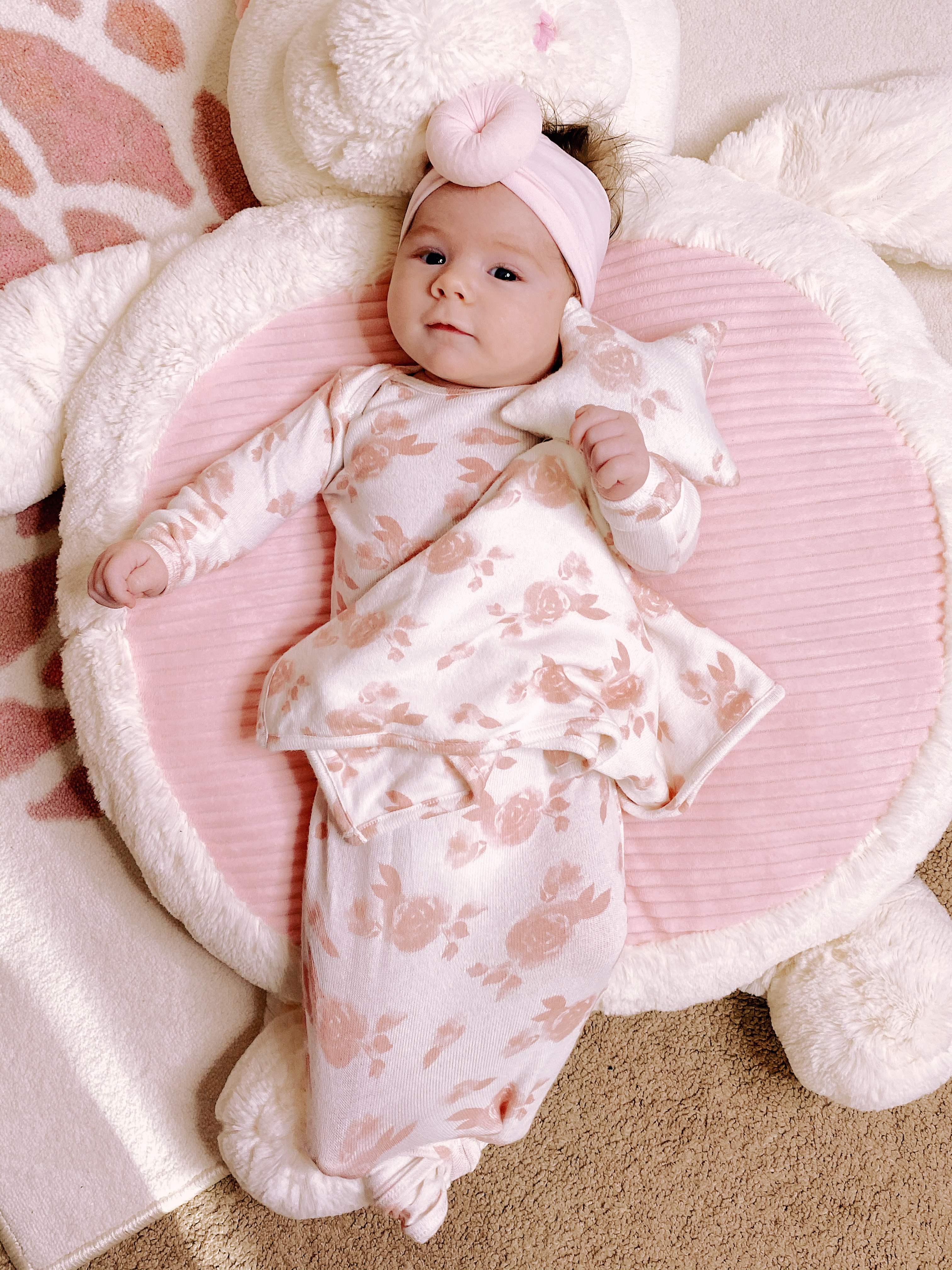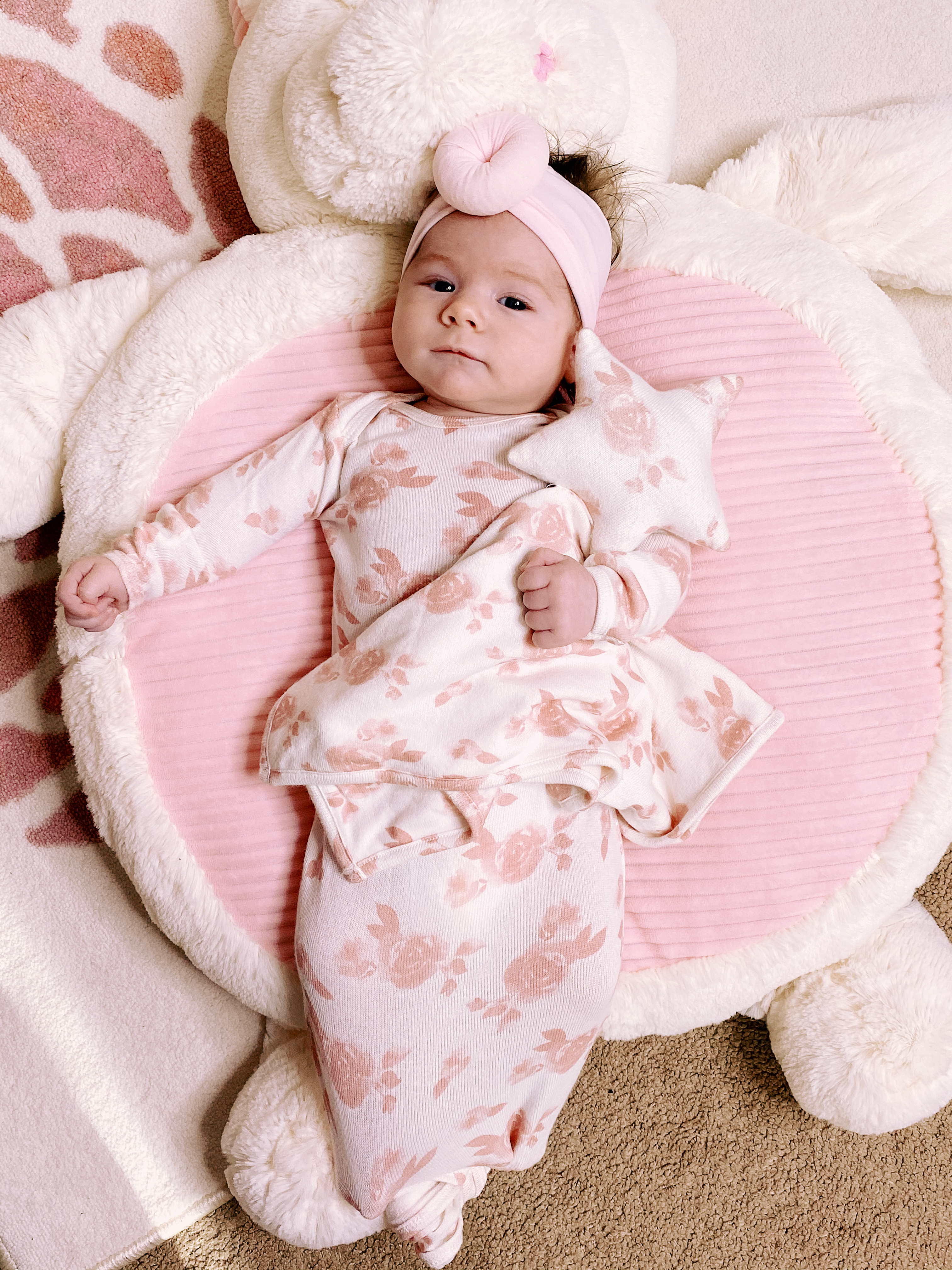 Entertainment- I know for a fact my mom doesn't have any toys at her house for a new baby, so when I saw these two loveable characters from GUND, I knew they would be the perfect option to keep at her house. 
Tinkle Crinkle Caterpillar: How stinkin' cute is this little guy? There are so many fun surprises including a squeaker, rattle, crinkle sound and more in bright, colors and fabrics.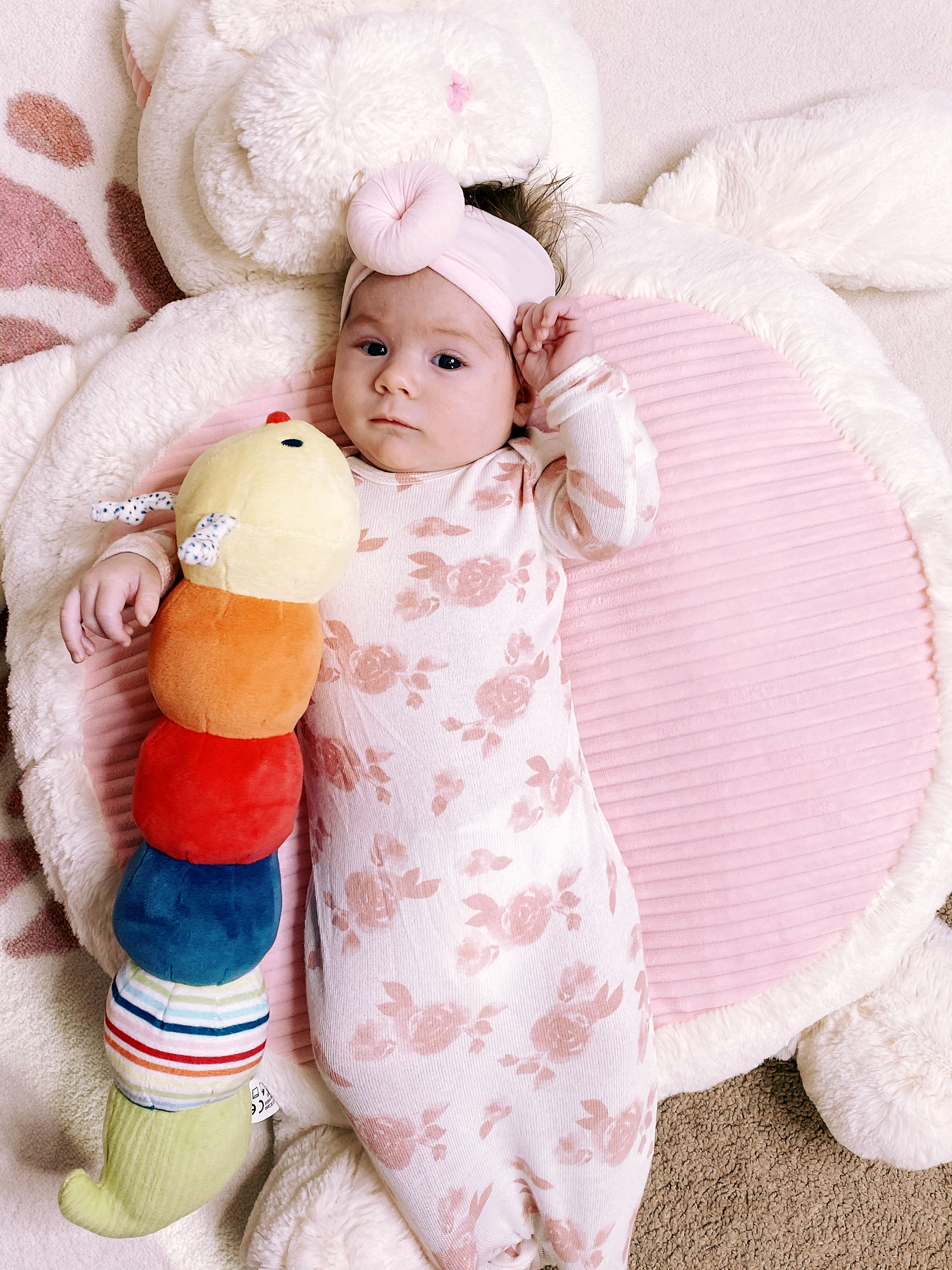 Tinkle Crinkle Activity Ball: Another adorable option from Baby GUND is their plush activity ball. Harlow is going to love throwing and rolling this around when she gets a little older! The soft, 3-
D cut-outs and different-textured fabrics are perfect for a mix of sensory-stimulating and tactile play.
Shop the Baby GUND Collection HERE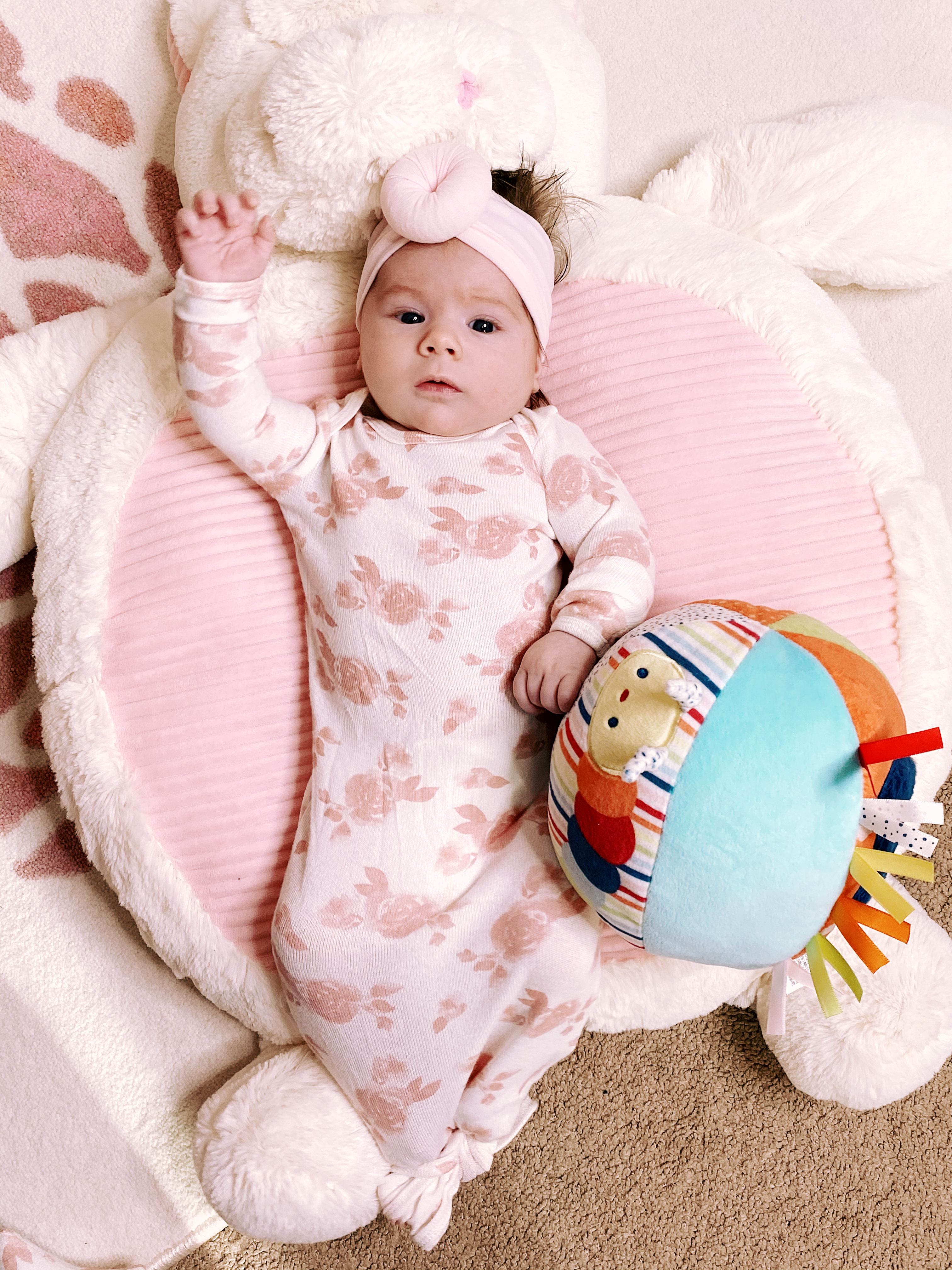 Diaper Change Must:  Diaper Rash on a newborn is not fun at all! Boudreaux's Butt Paste quickly and effectively treats rash without harsh ingredients. Treat that booty! Butt Paste visibly improves the rash in as little as three hours. It's pediatrician recommended and an absolute must-have for any changing station. FREE FROM: dyes, preservatives, parabens, and talc
Stock Up HERE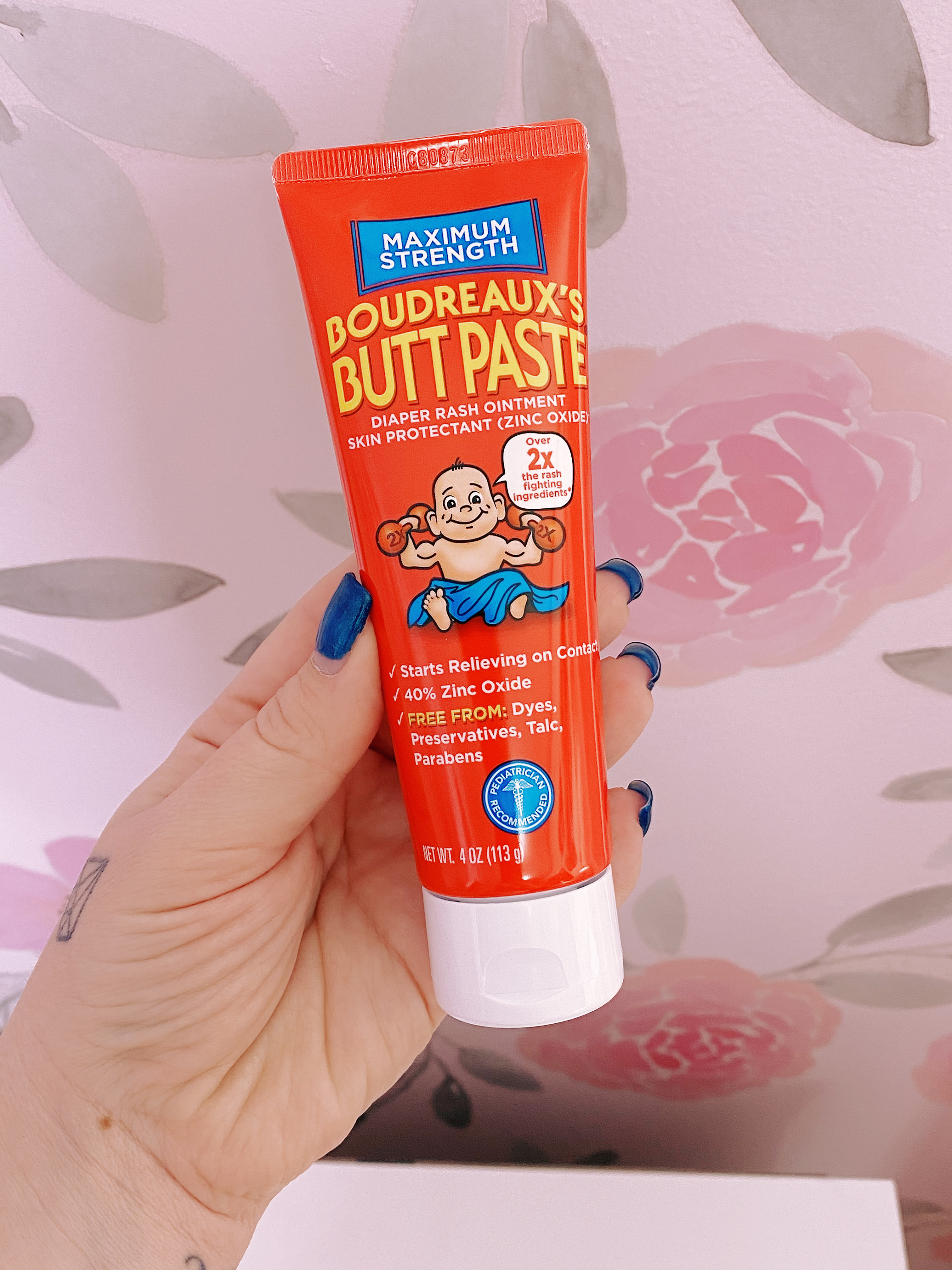 Got Teeth? – Harlow has recently found her hands and loves to suck on them (I swear I feel like she is already teething at 2 months) The Lil' Squish Jellyfish Sensory Rattle + Teething Toy is absolutely adorable! The teether is made of 100% silicone and has so many fun textures. The colorful tentacle loops are perfect for little hands to hold easily.
Shop the Jellyfish Rattle + Toy HERE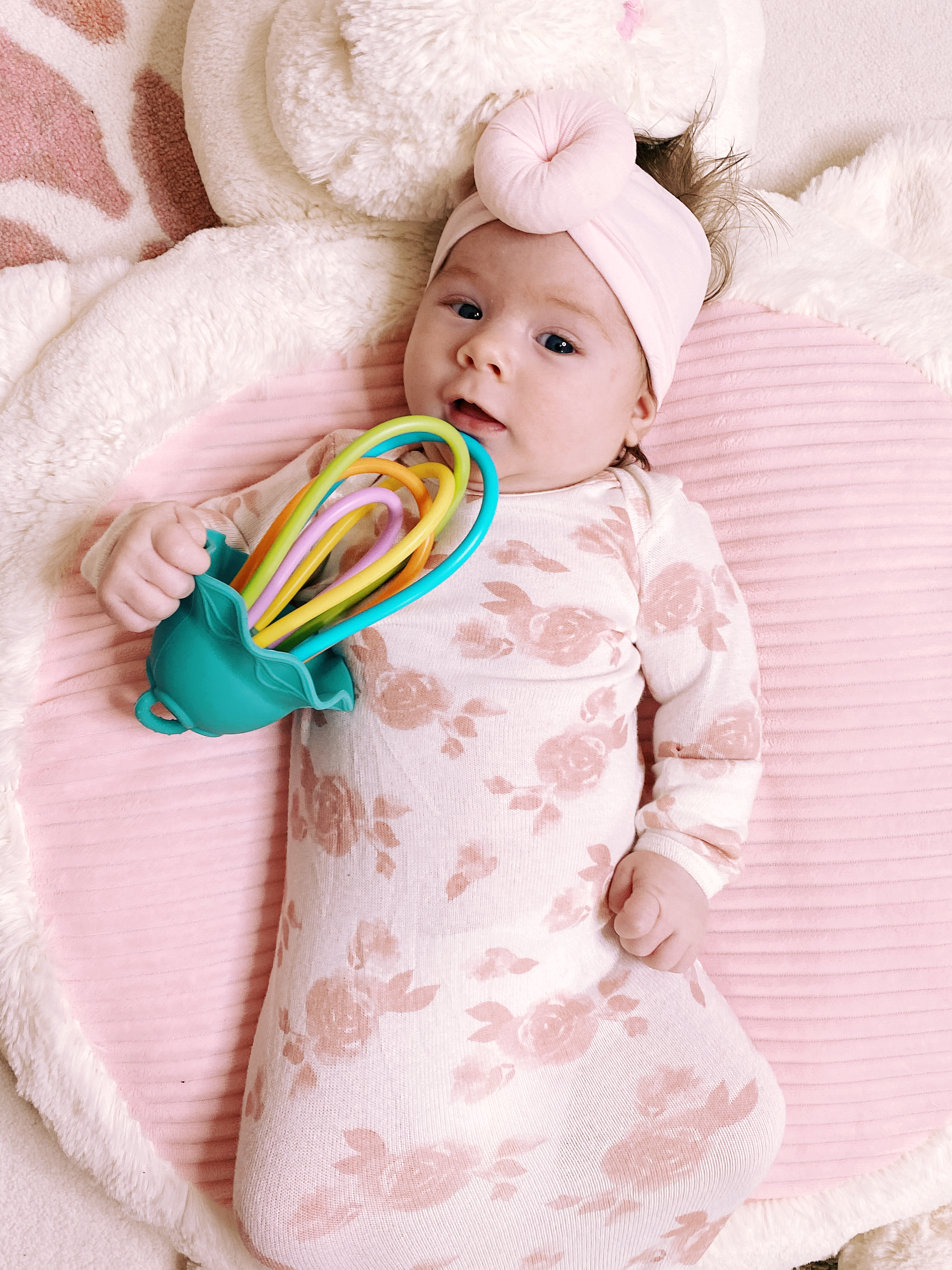 Baby Spa Night- In the event that my mom has to give Harlow a bath, I made sure to pack the perfect products for afterward.
Pipette Baby Lotion – Harlow's skin is still super sensitive, so this lightweight lotion the perfect amount of instant hydration and replenishes the natural moisture of baby's delicate skin. All you need is a small amount to gently massage from top to toes.
Pipette Baby Balm – I was actually super excited to try this balm out! Harlow tends to get dry spots near her eyebrows and with just a small dab around the area, it immediately replenished the skin. You can also dab this on chapped lips, diaper lines, knees, elbows or wherever else baby needs some extra hydration.
Shop Pipette HERE (Bonus! – You can also check out Pipette in Good Housekeeping Magazine on page 49)