*Sponsored by Mirum. All opinions are 100% my own*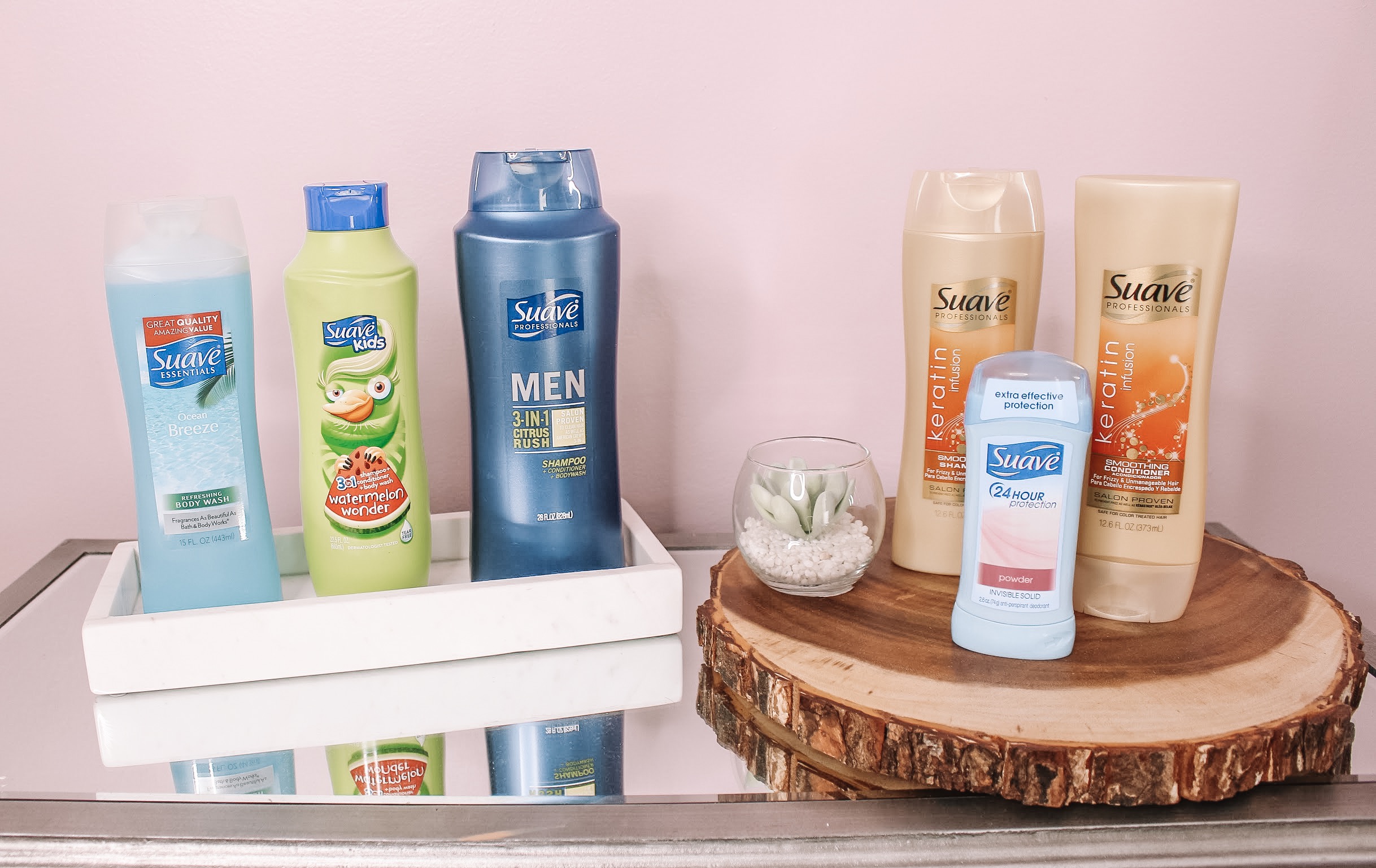 Out with the old – In with the new! I have been in full Spring cleaning mode the past few weeks. I am totally over Winter and ready to refresh all of my personal care products, makeup, clothes etc. My first stop on the Spring cleaning marathon? The bathroom. I knew my shower needed a serious refresh. Some of the products were half-empty and even completely empty! (Does anyone else have a husband who just refuses to tell you he needs a restock on his products so he uses yours?) I made it a point over the past few weeks to use up and recycle all of the half-empty bottles of body wash, shampoo, and deodorant and replace the entire families personal care routine with Suave.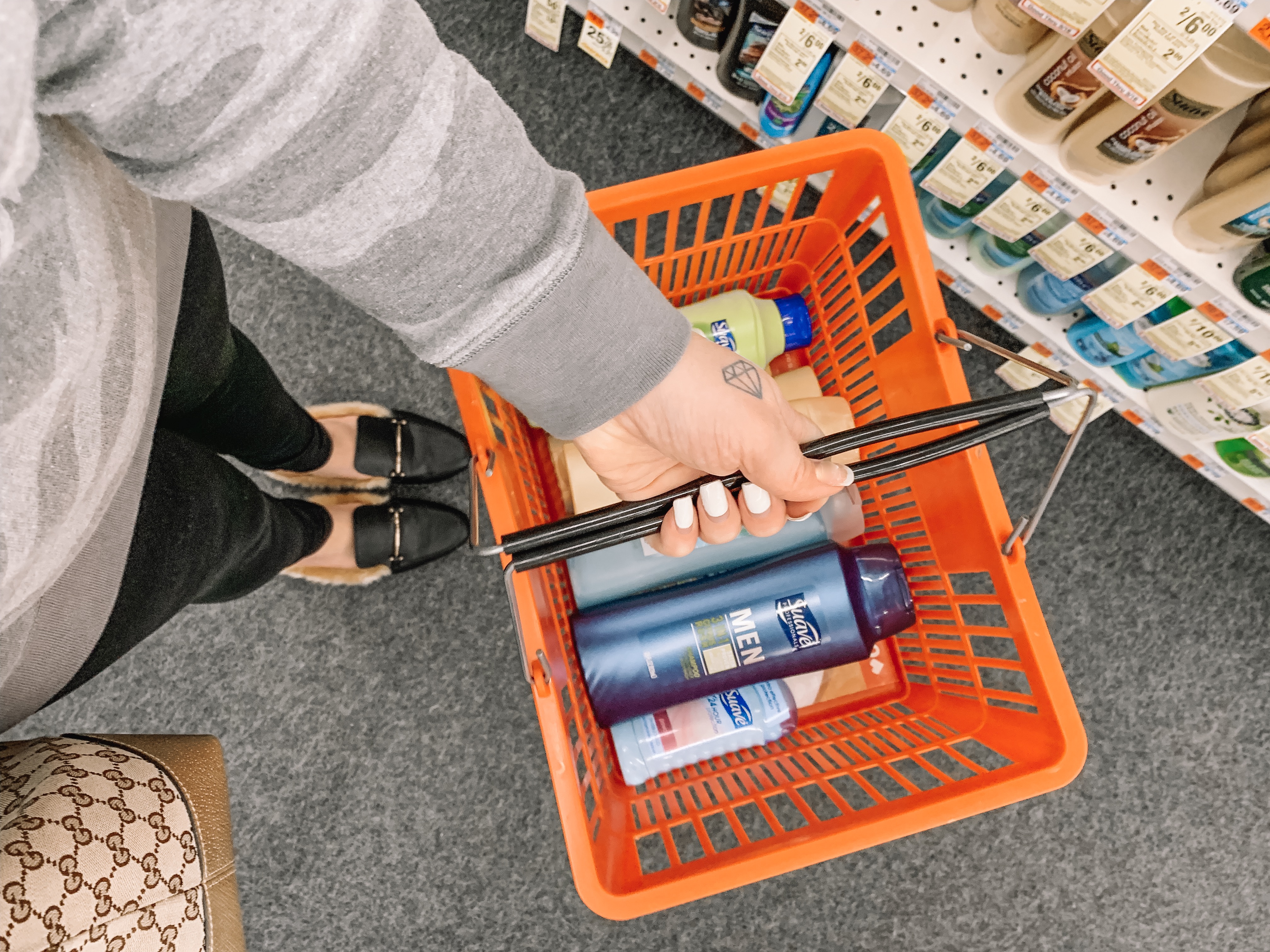 I made my way to CVS because I knew I could find the best deals for everyone in the family. I made sure to grab products that I knew everyone would enjoy and it just felt GOOD to put brand new bottles of shampoo & body wash in my shower.
Deodorant is always a must, so I picked up the Suave 24 Hour Protection. This deodorant is perfect if you are active all day and makes sure to fight against sweat to prevent any sweat patches. I love the fresh powder scent – It definitely reminds me of Spring!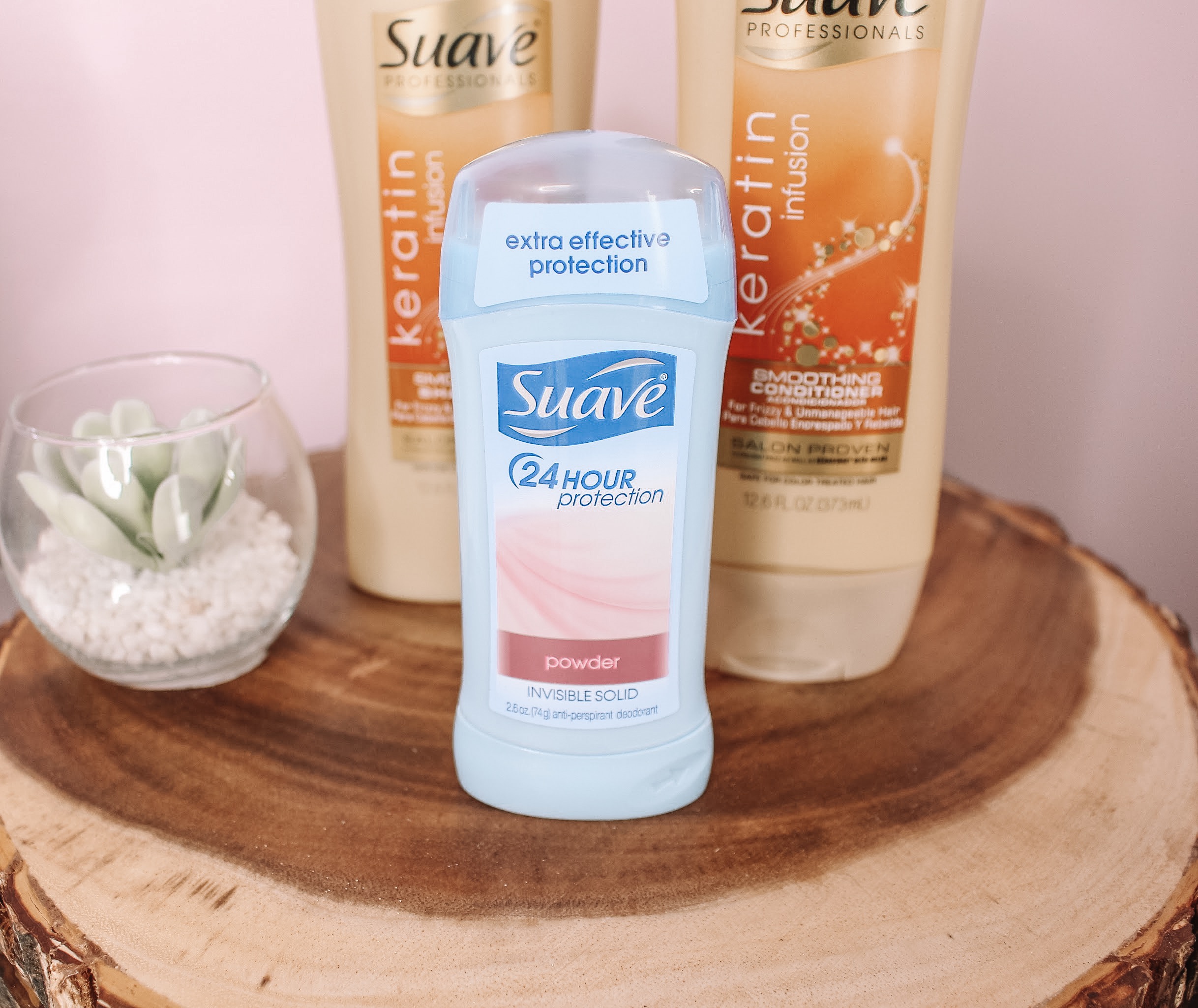 I needed a body wash that was light, fresh smelling and made me dream of warmer days so I also grabbed the Suave Ocean Breeze Body Wash. It's infused with Vitamin E so it gives the skin the nourishment and condition it needs. For the boys in my life, I picked up the Suave Kids 3-in-1 Watermelon Wonder and Suave Men 3-in-1 Citrus Rush. Rylan's favorite scent is watermelon so I knew he would love the smell of this. Chris is a simpleton so as long as it smells fresh, he's all in.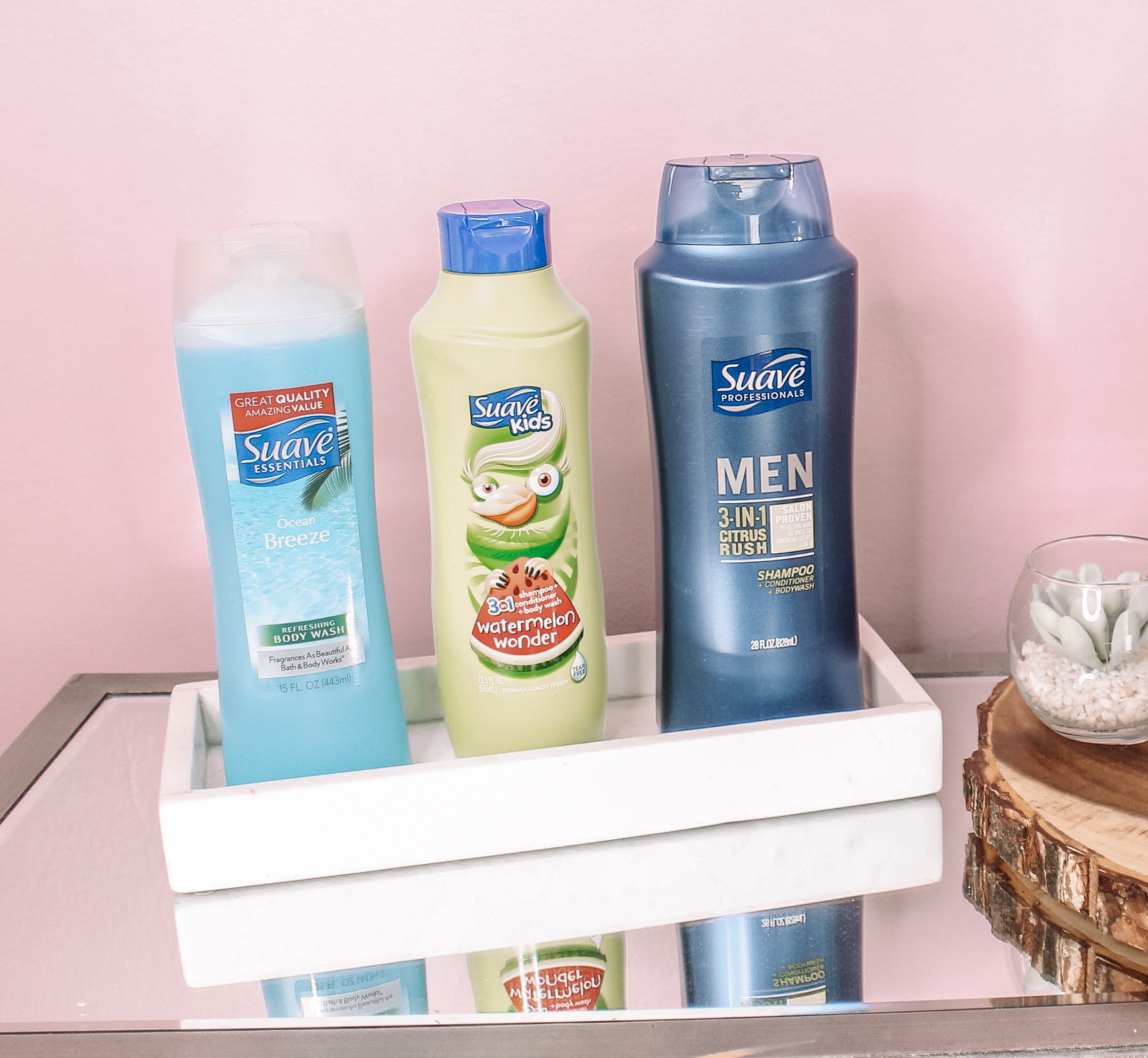 In addition to the Suave deodorant for myself, I needed new shampoo and conditioner desperately. The Keratin Infusion line from Suave is one of my favorites so I couldn't resist picking up the matching set (Plus they were 2 for $6!)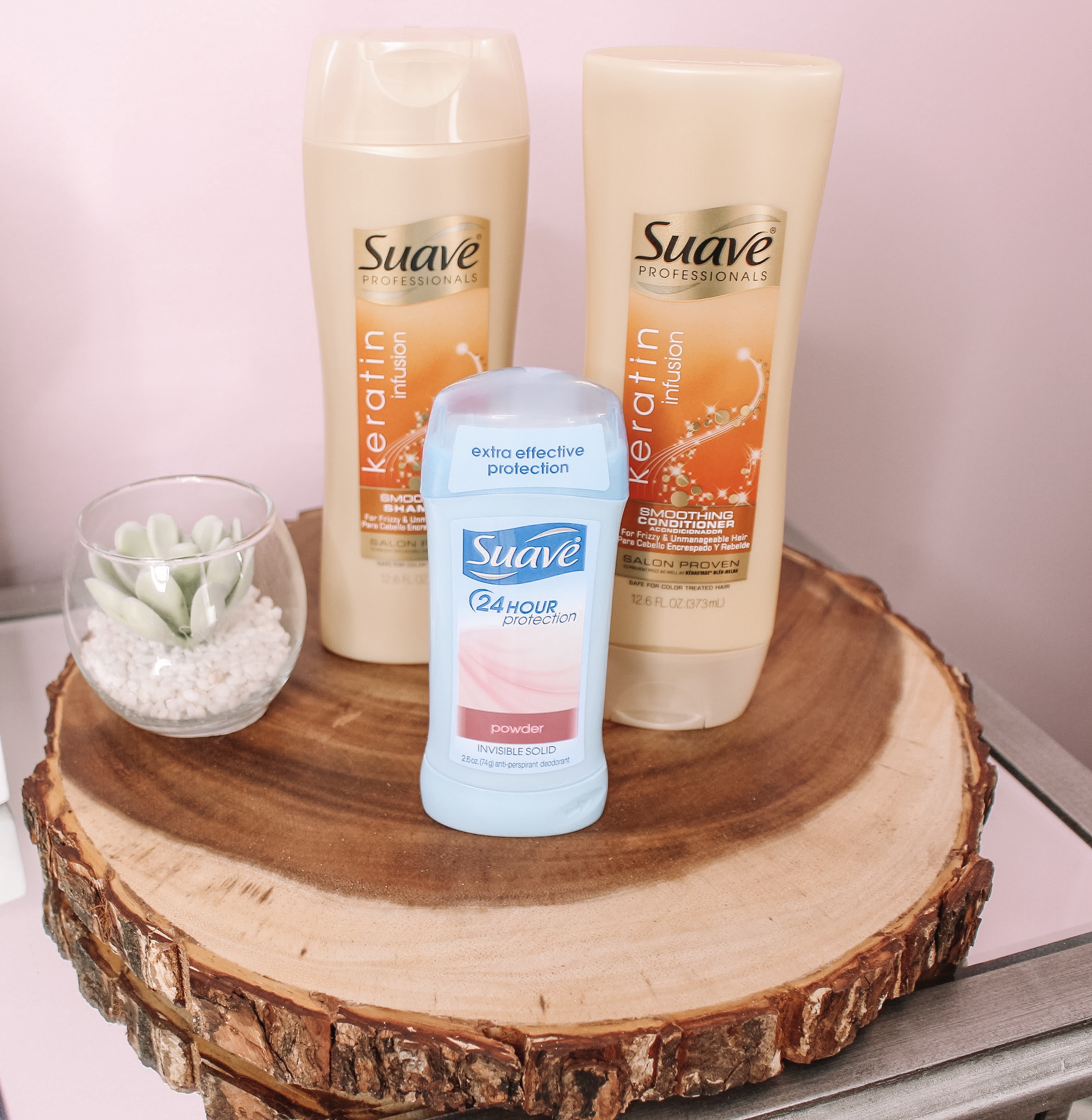 Here are some quick Spring cleaning tips to get started on your bathroom:
Put the laundry in the hamper, the rugs into the washing machine, and the trash out into the garbage can. Then throw out expired cosmetics, beauty products, and medications
Scrub the inside of the toilet with a toilet brush and toilet cleaner. Wipe down the outside of the toilet with a disinfectant wipe or washcloth. Don't forget the handle, hidden crevices, and the underside.
Wipe down the sink and vanity with a washcloth and disinfectant.
Wipe down the insides and outsides of medicine cabinets, toiletry cabinets or other storage areas.
Open the windows and let that fresh air in
Replace your personal care items!
Head to CVS & SAVE on select Suave products: 2 for $6 + Buy 2 Get $2 ExtraBucks Rewards WITH CARD. ExtraBucks Rewards offer limit of ONE (1) per household with card.
Offer Valid 3/10/19 – 3/16/19.