*Sponsored by Boca Java. All opinions are my own*
Coffee Coffee Coffee! Two questions for you. 1) Do you love coffee? and 2) Do you LOVE Gilmore Girls and are excited about the revival coming out on November 25th? If both of your answers were YES, I have something incredible to share with you! I live, eat and breathe all things coffee and Gilmore so when I saw that Boca Java came out with a Stars Hollow monthly coffee club, the excitement was so real.  I can't even pick a favorite – They are all SO good & fresh!
Boca Java released 5 Gilmore Girls inspired line of coffee called the Stars Hollow Coffee Collection. There are five coffees in the collection, including inspiration from Luke's Diner, Mrs. Kim, Sookie St. James and Taylor Doose along with a seasonally inspired coffee. As stated above, they also launched a  Stars Hollow Coffee Club where you can join and save money on every order. Each 8oz bag retails for $7.99. You can also choose Whole Bean or Universal Grind.
About Boca Java & their coffee club : 
All their coffees are roast to order – They 

don't roast, package or inventory any coffee until after it's been sold and everything is shipped out the very next day so the coffee you get is literally 2-5 days old depending on where you live when it arrives. 

Discounted Shipping
10% off Coffee
You can choose your delivery frequency (Every 2 weeks or Every 4 weeks)
Free shipping over $35
Stars Hollow Autumn Festival (Light Roast)  – There's nothing like Fall in Stars Hollow and nothing evokes special memories like this pumpkin spice flavored coffee. If you like Pumpkin Pie and you love coffee then this is a coffee you won't be able to resist.
Description 
Autumn is a special time in Stars Hollow and nothing evokes the warmth, sense of family and Sookie's cooking like the aroma and flavors of pumpkin spice wafting through the air. Stars Hollow Autumn Festival is a seasonal favorite at Luke's Diner as this pumpkin spice flavored coffee makes his kitchen – and soon yours – smell the mouthwatering aroma of warm pumpkin pie when it's being brewed.
Luke's No Nonsense Special (Medium Roast) – You can't expect fancy from a guy who wears a baseball hat & flannel shirt daily. But you CAN expect only the best served at his diner. A medium roast coffee blend with a full-body, citrus fruit and honey notes, sparkling acidity, a clean finish.
Description
Luke is a no-nonsense kind of guy and so, too, is this tasty medium roast coffee blend. Luke's No-Nonsense Special is a full-body coffee that tastes great black or with your favorite milk and sweetener combination. It has sweet notes of citrus fruit and honey with sparkling acidity and a clean finish. Luke considers this coffee to be his signature breakfast blend.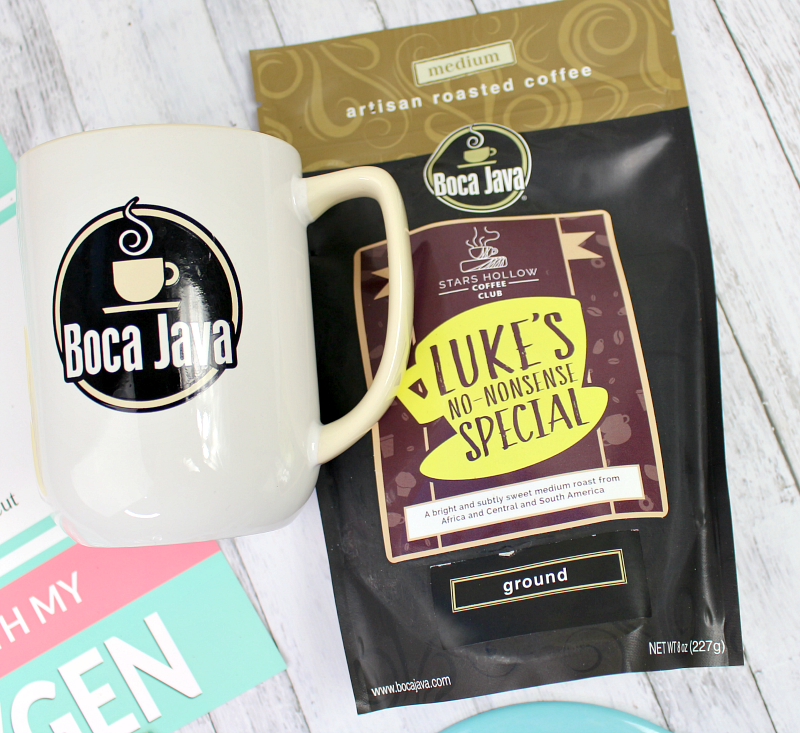 Mrs. Kim Approved Dark Roast – Even Mrs. Kim can't bring herself to snub this dark roast coffee blend. A big-bodied coffee that's intensely bold and flavorful. You break, you buy!
Description 
The rich and robust taste of Mrs. Kim-Approves Dark Roast comes from the three regions that contributed to this blend: Indonesia, South & Central America. It took a lot of time and effort to get this dark roast coffee up to Mrs. Kim's standards. But even Mrs. Kim couldn't resist this full-bodied and intensely bold dark roast. After just one sip she leaped to her feet and proclaimed, "Mrs. Kim approves!"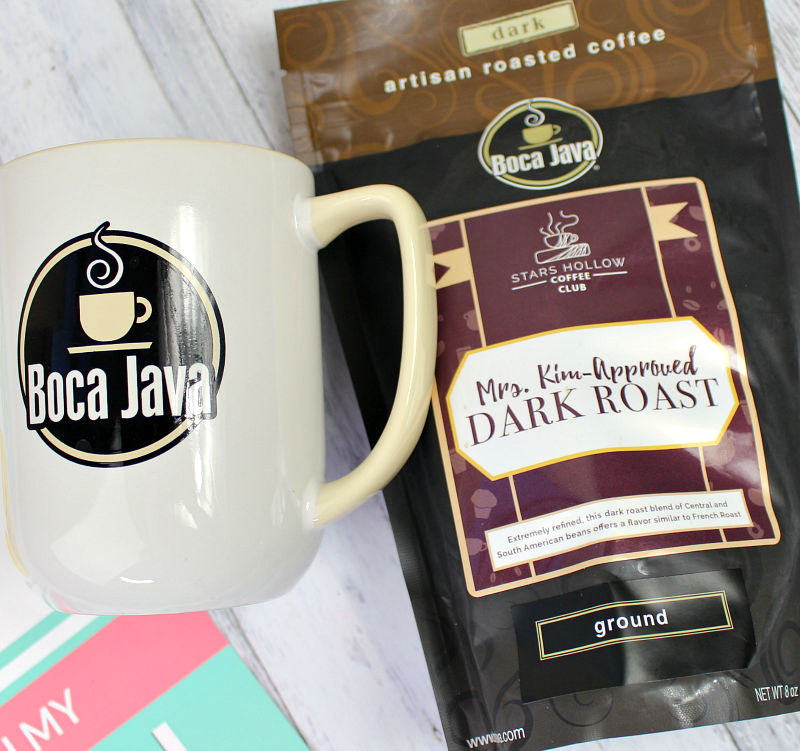 Sookie's Gourmet Blend (Flavor Roast) A flavored coffee that even an amazing (& quirky!) Gourmet Chef like Sookie St. James can appreciate. 
Description
This gourmet coffee combines the fabulous flavors of vanilla, caramel and Kahlua. It's so good you almost want to be "enscotched" in it.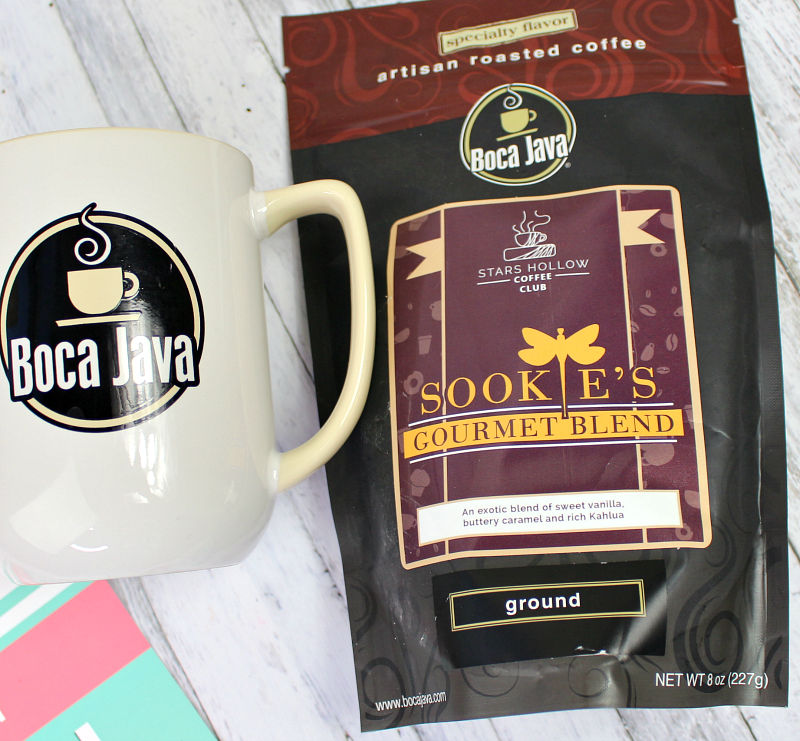 Taylor Doose's Town Meeting (Flavor Roast)  When Taylor Doose calls a Town Meeting, the one thing every Gilmore Girl fan must have is a gourmet flavored coffee that's smooth and creamy with just the right amount of toasted hazelnut. 
Description
Smooth & creamy coffee delights with just the right amount of hazelnut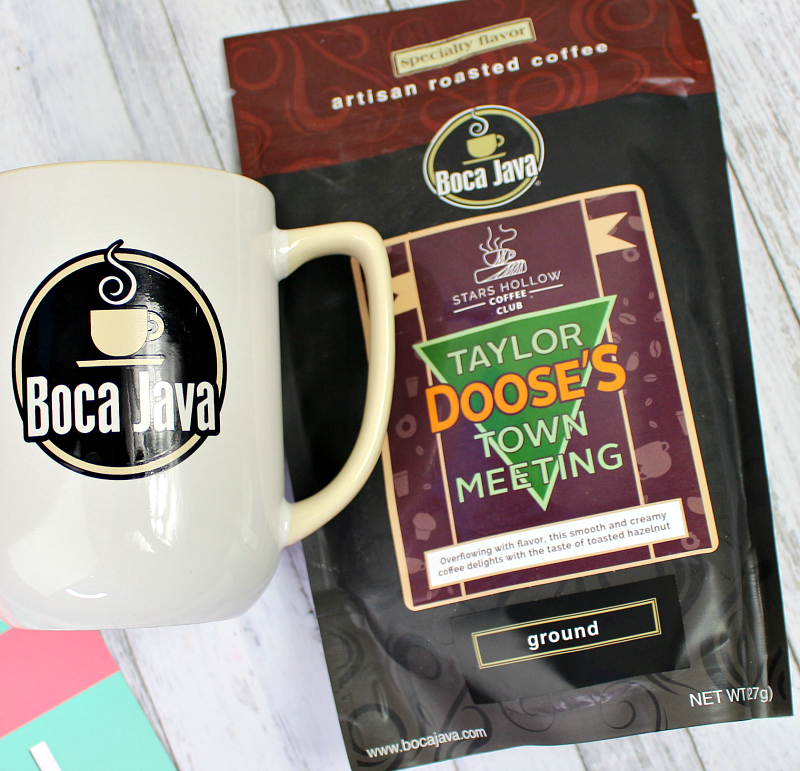 Boca Java has also put together a must-have Stars Hollow Coffee Collection kit which includes the following : (Retails for $49.95)
All 5 Stars Hollow coffees
2 Bags of coffee candy
10 rock candy swizzle sticks
Luke's Diner Poster
Anyone who joins the Stars Hollow Coffee club with 2 or more bags in their subscription we will automatically receive a FREE bag of Stars Hollow Autumn Festival coffee to their first order. AND, for the next 200 people to join the club, they will also throw in a FREE 6″ jumbo Gilmore Girls pin shown above. 
Are you ready to binge watch the entire revival on Netflix? Grab your red vines, your pop-tarts and your Luke's No Nonsense Special and get ready to hear the final 4 words!
*Sponsored by Boca Java. All opinions are my own*