This post has been sponsored by AmLactin Skin Care. All opinions are my own. 
Let's face it. Winter & skin do not get along. Especially mine. I have partnered up with AmLactin Skin Care to kick dry skin to the curb this Fall & Winter.  Trusted by dermatologists for over 20 years, these products are truly the best kept secret for dry skin. AmLactin helps manage the dry, rough skin associated with KP and is available online at Amazon.com.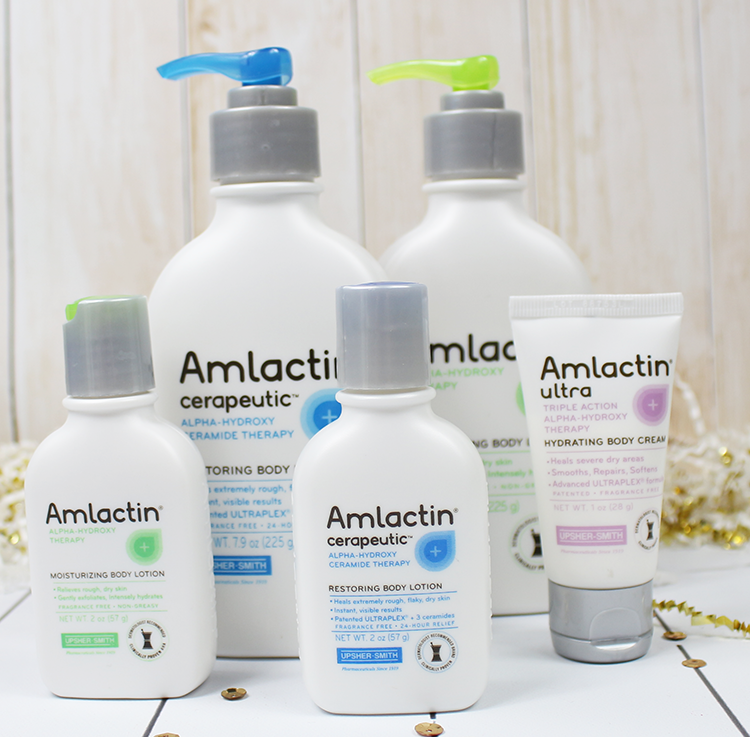 Uncover smooth, radiant skin with AmLactin Alpha-Hydroxy Skin Care.  So what makes it more unique than any other brand? Its exfoliating and hydrating alpha-hydroxy therapy gently removes dead skin cells to reveal soft, hydrated skin. AmLactin moisturizers can transform dry, rough trouble spots into soft, supple, healthy-looking skin. There are four products I want to talk to you about today – each one helping to combat a different problematic area. (Stay tuned to the end for a giveaway!)
AmLactin Ultra Hydrating Body Cream is specifically formulated for severely, persistently dry skin areas.  Both mine and my husband have had some serious rough and dry elbows lately.  I have been keeping this by the  bed and using it every single night since I received it.  The formula is very thick, so a little definitely goes a long way. It is also both fragrance free and not greasy at all. This body cream is intense and it's all because of the advanced ULTRAPLEX formula which gently exfoliates and intensely hydrates for long-lasting moisture and serious relief.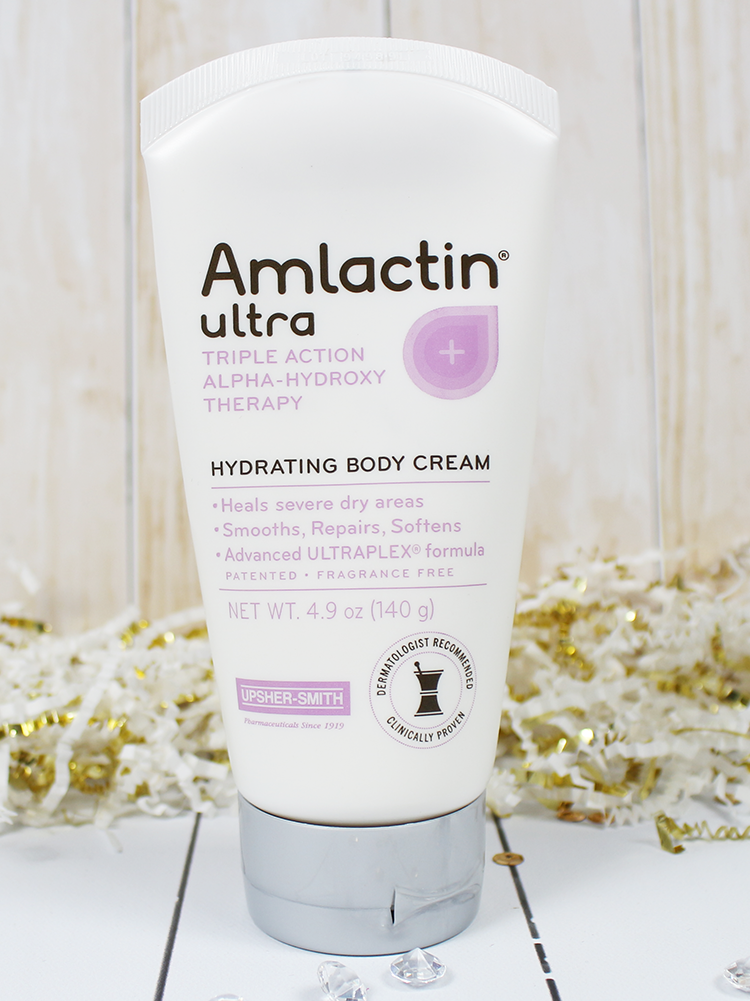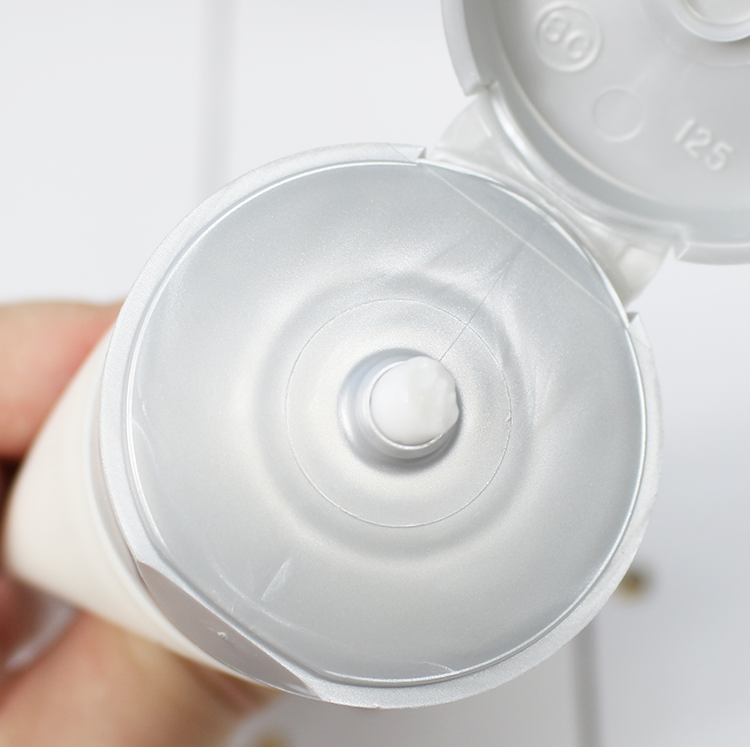 Girls – If you are going to wear heels or flip flops in the Summer, please make sure your feet are taken care of. Being that it is almost Winter, my feet are permanently in boots, but that doesn't mean I can't give them the time of day. Plus, when they are stuck in socks and boots all day, they tend to dry out.  I'm the kind of girl who does her own pedicures at home, and by rubbing this thick lotion on my feet before polishing or after a long day feels amazing! The foot cream contains the unique alpha-hydroxy therapy that not only exfoliates, but retains the skin's natural moisture, and draws water to the skin to hydrate so it looks and feels soft and smooth. Kiss those dry heels goodbye!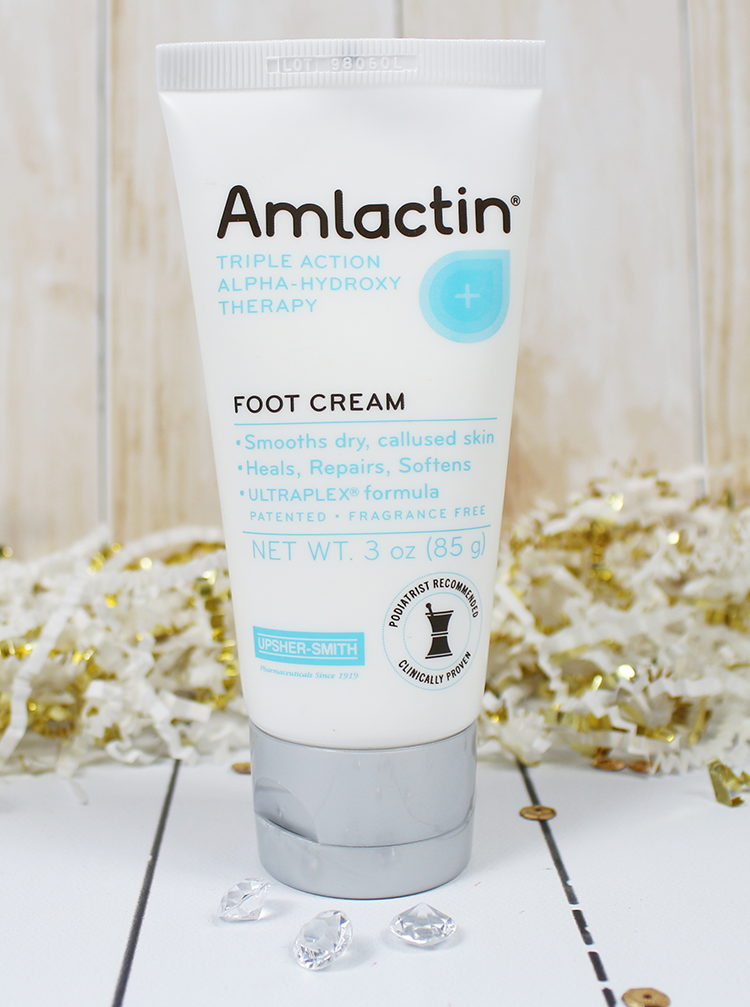 AmLactin Restoring Body Lotion
Instantly transform your skin with this unique and MUST HAVE moisturizer from AmLactin. It's the only formula to combine clinically proven, patented ULTRAPLEX® and three essential ceramides to relieve extreme dryness for 24 hours. Giving you 100% visibly soft, silky, and youthful-looking skin.  The best part about the restoring body lotion? It's a multi-tasker! It exfoliates and hydrates – which means I have one less thing to worry about in my busy schedule. My son gets dry patches on his knees and we have been using this after bath time – It has helped so much!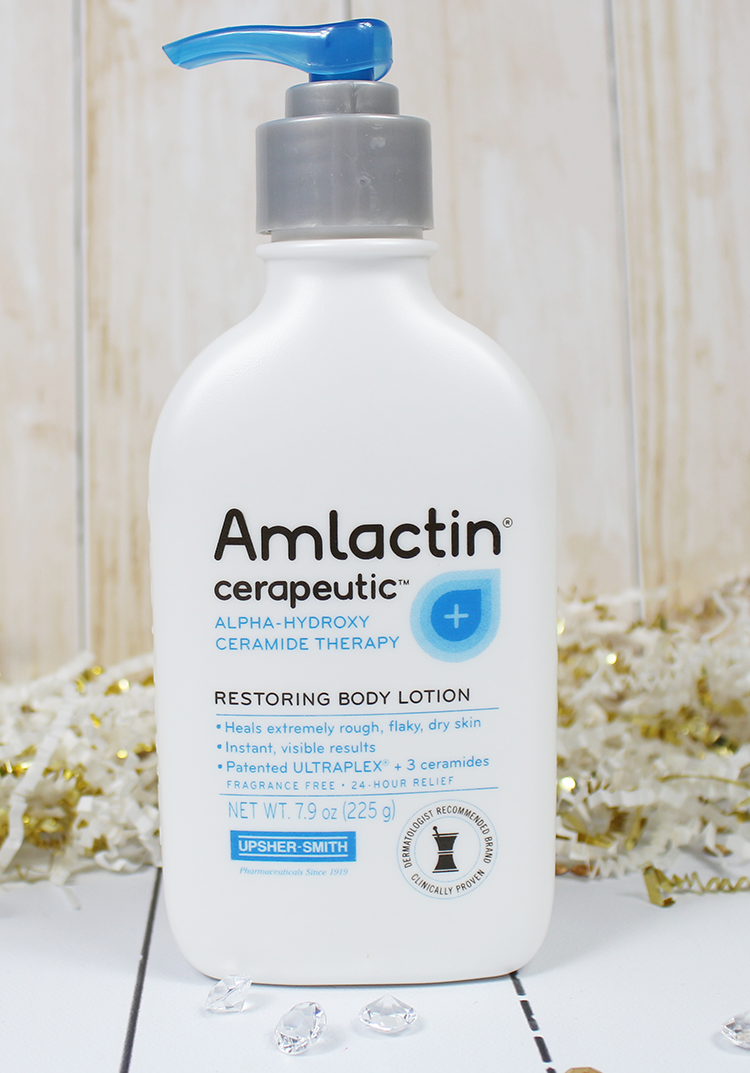 AmLactin Moisturizing Body Lotion
The moisturizing body lotion is a GREAT product for using every day. This is the one I have been keeping on my desk and reapplying to my hands and arms every chance I can get. AmLactin Moisturizing Body Lotion has a special formula with clinically proven 12% lactic acid that's pH balanced for the skin. I love that I can get great skin without breaking the bank.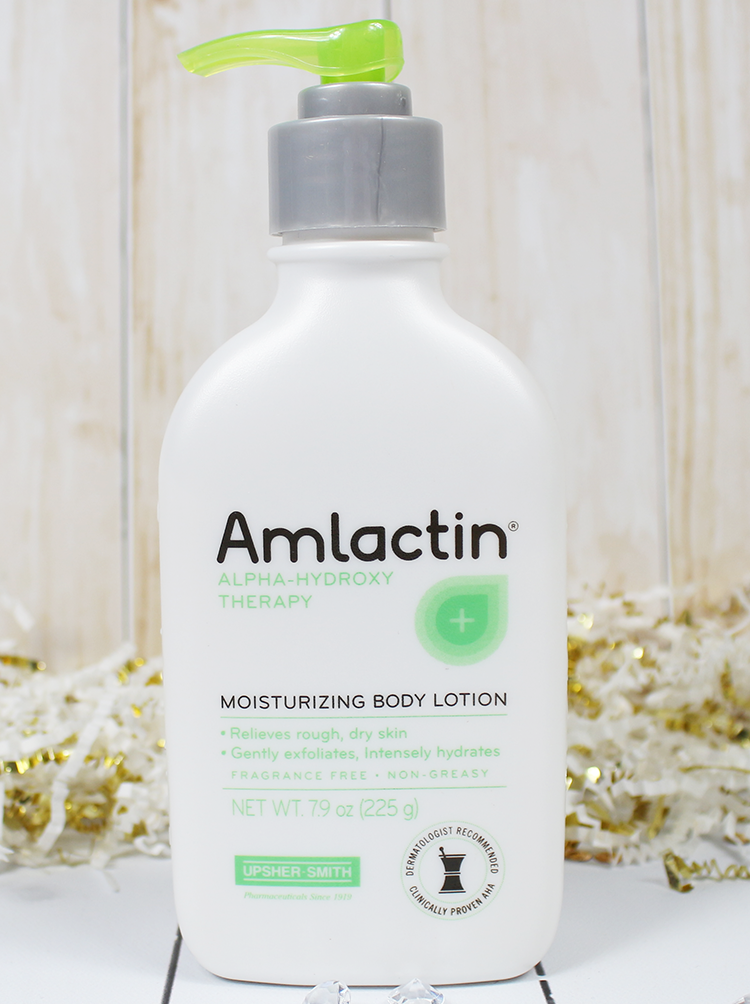 If you tend to travel a lot and don't want to lug around the larger sized bottles, you can also grab these adorable mini bottles that are perfect for throwing in your suitcase or purse if you're on the go.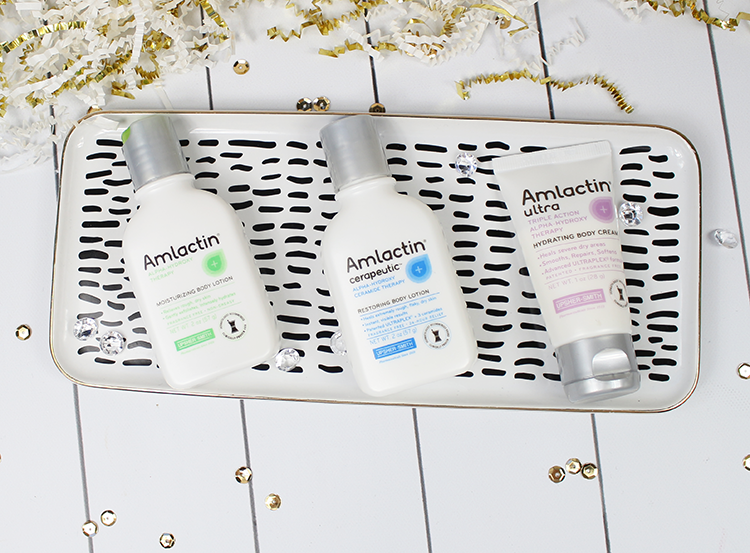 GIVEAWAY TIME!
Would you like to try AmLactin Skin Care for FREE? Follow these steps to enter my Soft Skin Giveaway:
1.Visit amlactin.com and look at each of their products.
2.In the comments section below, tell me about your dry skin problem areas AND provide a link to the product you'd most like to try by Oct 1st to enter.
On Oct 2nd, I will randomly pick 1 commenter to win $100 worth of AmLactin products!
*Giveaway is open to United States residents only. Product and shipping provided by AmLactin Skin Care.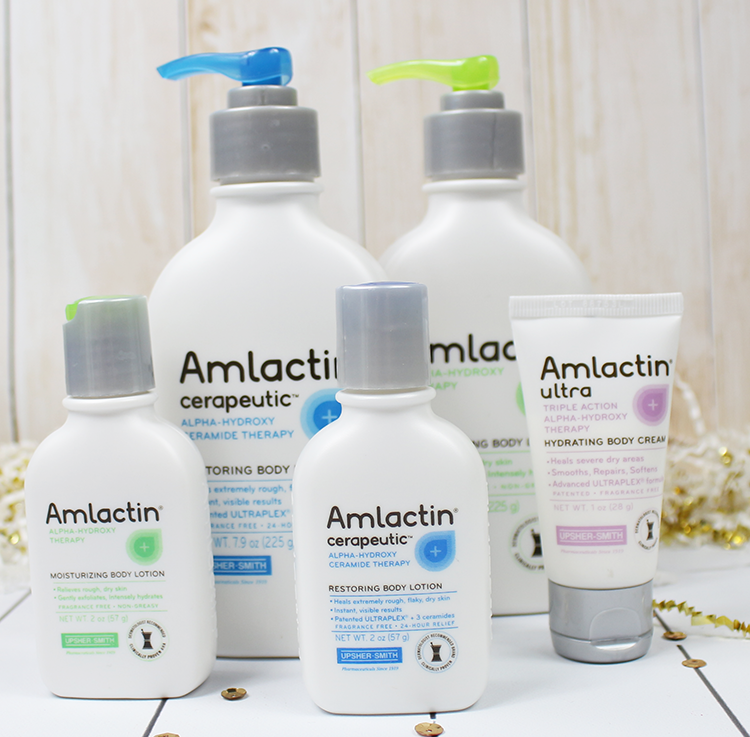 Have you tried AmLactin Skin Care? 
Uncover smooth, radiant skin with AmLactin Alpha-Hydroxy Skin Care. Its unique exfoliating and hydrating alpha-hydroxy therapy gently removes dead skin cells to reveal soft, hydrated skin. It's the difference between skin care and skin therapy. AmLactin moisturizers are available on Amazon.com and at your local Target, CVS, Walgreens, Costco, Walmart and Rite Aid.
This is a sponsored conversation written by me on behalf of AmLactin Skin Care. The opinions and text are all mine.