*Sponsored by PRIMP and Tria Beauty. All opinions are my own*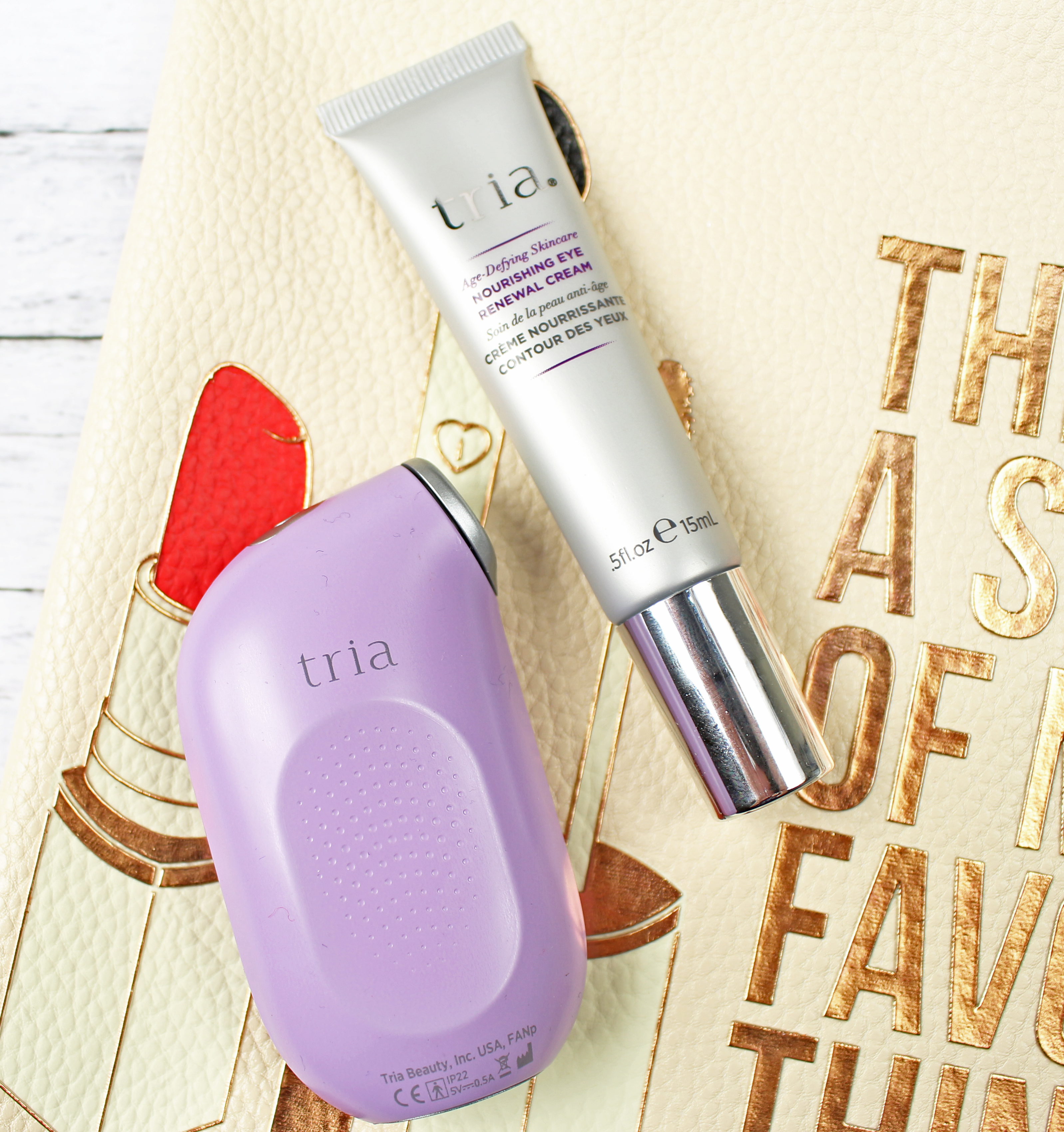 Back at the end of March, I told you guys on my social media channels,  I was partnering up with Pretty In My Pocket (PRIMP) and Tria Beauty to test out their Age Defying Eye Wrinkle Correcting Laser for the next 8 weeks. I can't believe the time has finally come to share all the final details with you, my thoughts about the device and if it actually works. Let's jump right in!
What's In The Deluxe Kit Box?  In the deluxe kit (Which by the way, you can get for only $226 by clicking HERE and entering loveforlacquer at checkout) , you receive the Age Defying device (I am loving the color btw!), the Age Defying Nourishing Eye Renewal Cream and a charger.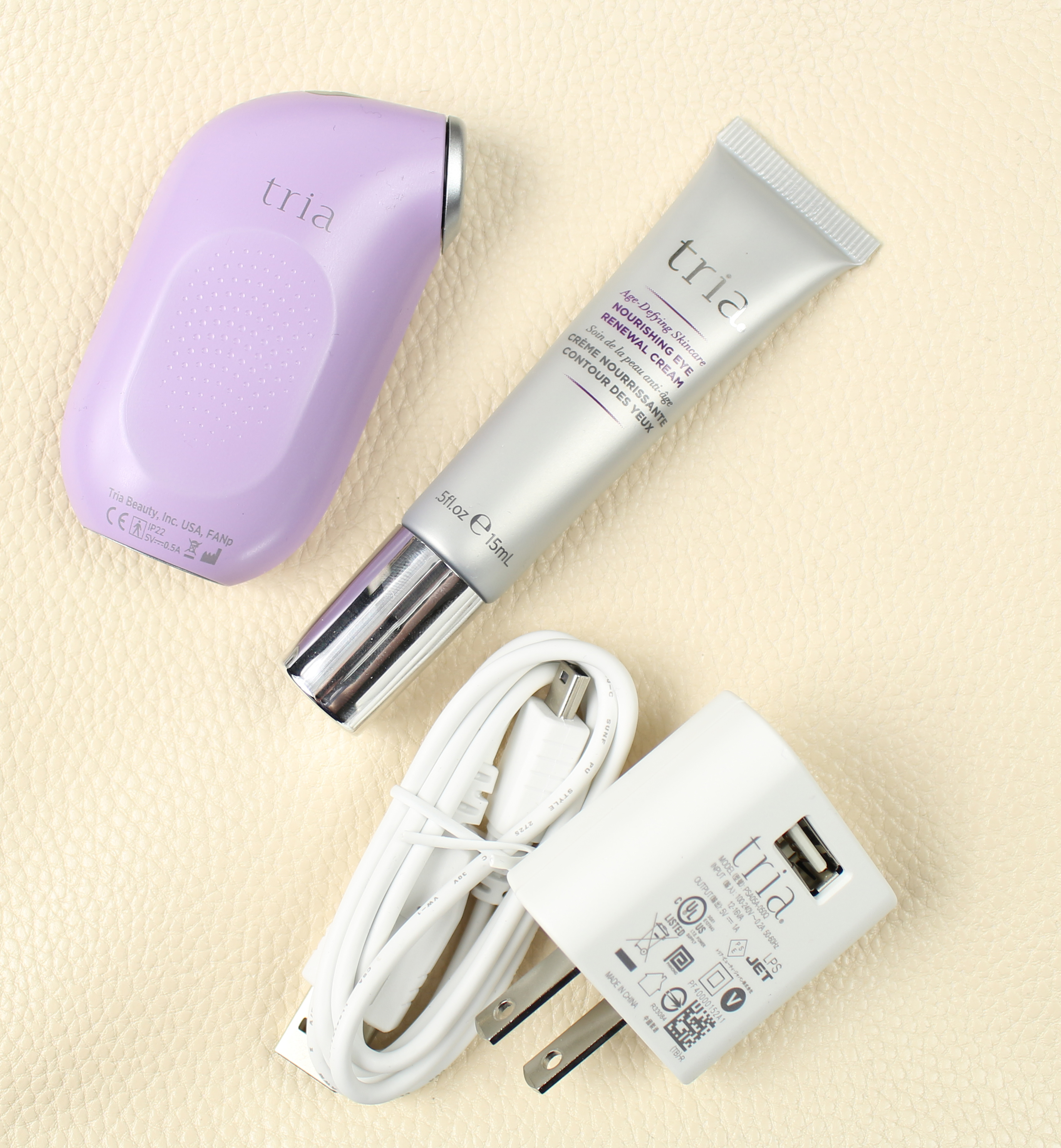 Breakthrough anti-aging laser that is uniquely designed for treating the eye area. The FDA-cleared Age-Defying Eye Wrinkle Correcting Laser corrects fine lines and wrinkles around the eyes for eye-opening results in just 2 minutes a day.
So let's jump backwards to the very first time I used this. I'll admit, I was terrified haha. It was already charged when I received it, so I didn't need to plug it in. As a matter of fact, I have yet to charge it since I got it! With this device, it only takes 2 minutes a day to use (1 minute for each eye) but let me tell you, it's the longest 2 minutes of your life the first couple of times. I won't lie and say oh no it didn't hurt at all. Yes it did. A lot. I really don't know what I was expecting considering it IS a laser and it's underneath your eye which is extremely sensitive.
Make sure your face is washed, dried and cleansed throughout
Clean your device before using with a dry cotton swab or cloth prior to each use
Press & release the power button (Shown below) on the top of your laser
The indicator light will turn green which means you are ready to go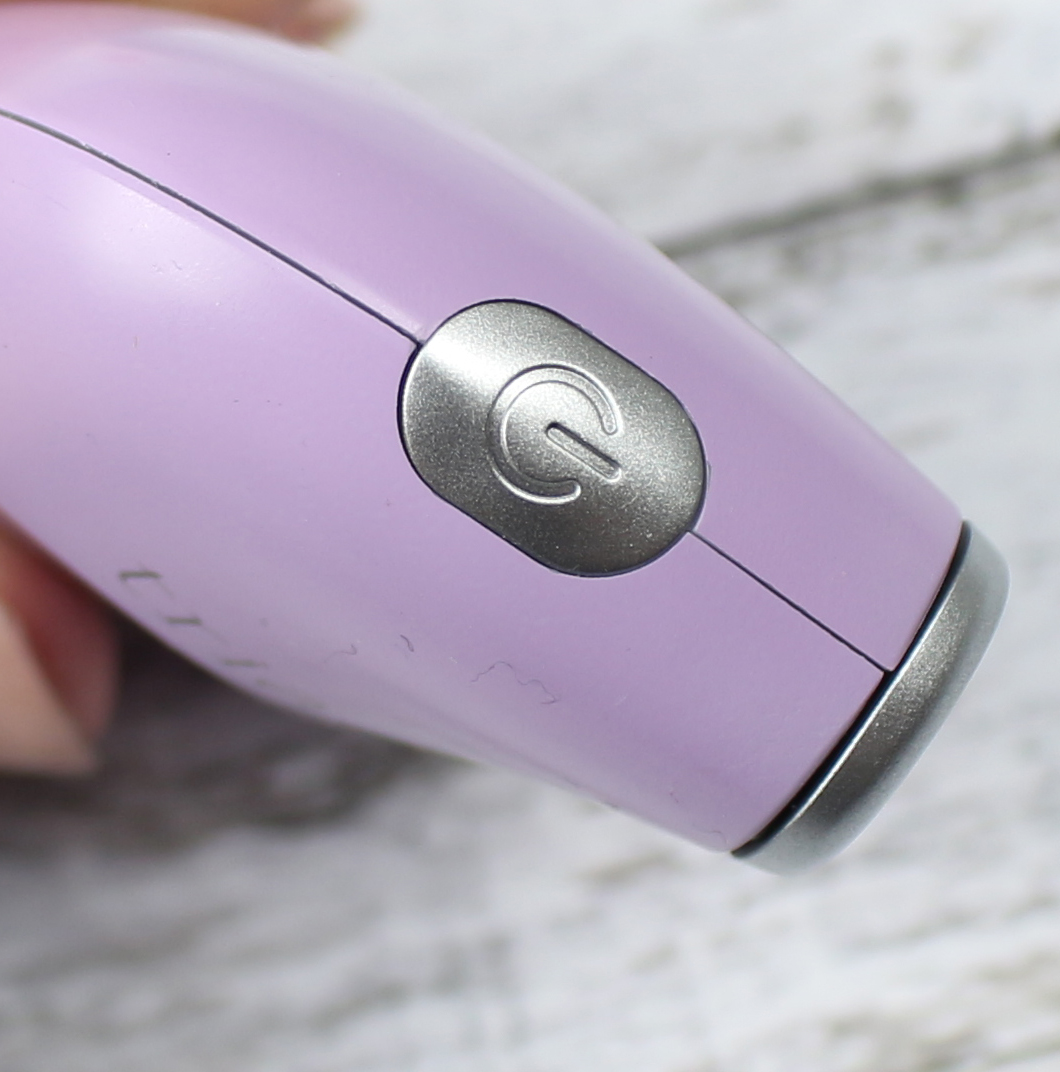 I found it easier to do this in front of the mirror, so I didn't poke my eyes out ha!
Take the tip of the laser and place it flat against your skin and glide it SLOWLY in small circular motions covering the entire under eye area. You are going to want to do multiple passes to ensure you cover the entire eye area.  To ensure you are doing it properly, your Tria device will vibrate and glow purple. This is how you know the laser treatment is being delivered. If you lose skin contact or glide the laser too fast, the purple light will not glow.
After one minute, the device will automatically turn off (It will vibrate several times and the light will disappear)  To begin working on the other eye, just turn it back on and you're ready to go again!
It's extremely simple to use and I love that it only takes a few minutes.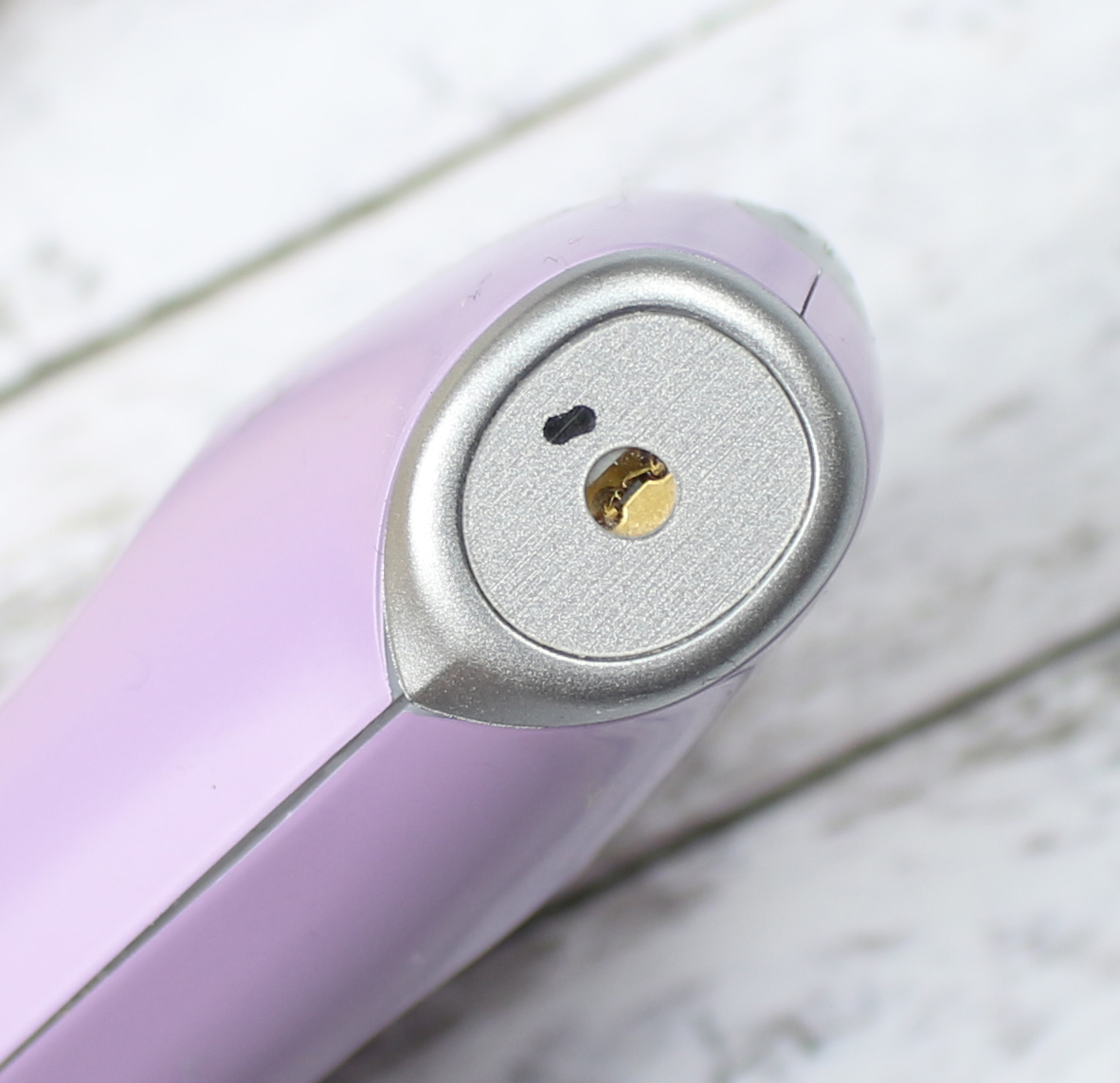 I always did my treatment right before I went to bed. The reasoning? After you are done, your under eyes are EXTREMELY RED. Thankfully in the deluxe kit, you also get the Nourishing Eye Renewal Cream. This was an absolute lifesaver after the 2 minutes were up. The tip has a cooling effect and it felt so great against the skin. I probably overdid it with it the first few weeks. ha! After using the device consistently every single night, your under eyes are going to get very dry. This cream is not going to moisturize them at all, so I would recommend using a thicker moisturizer.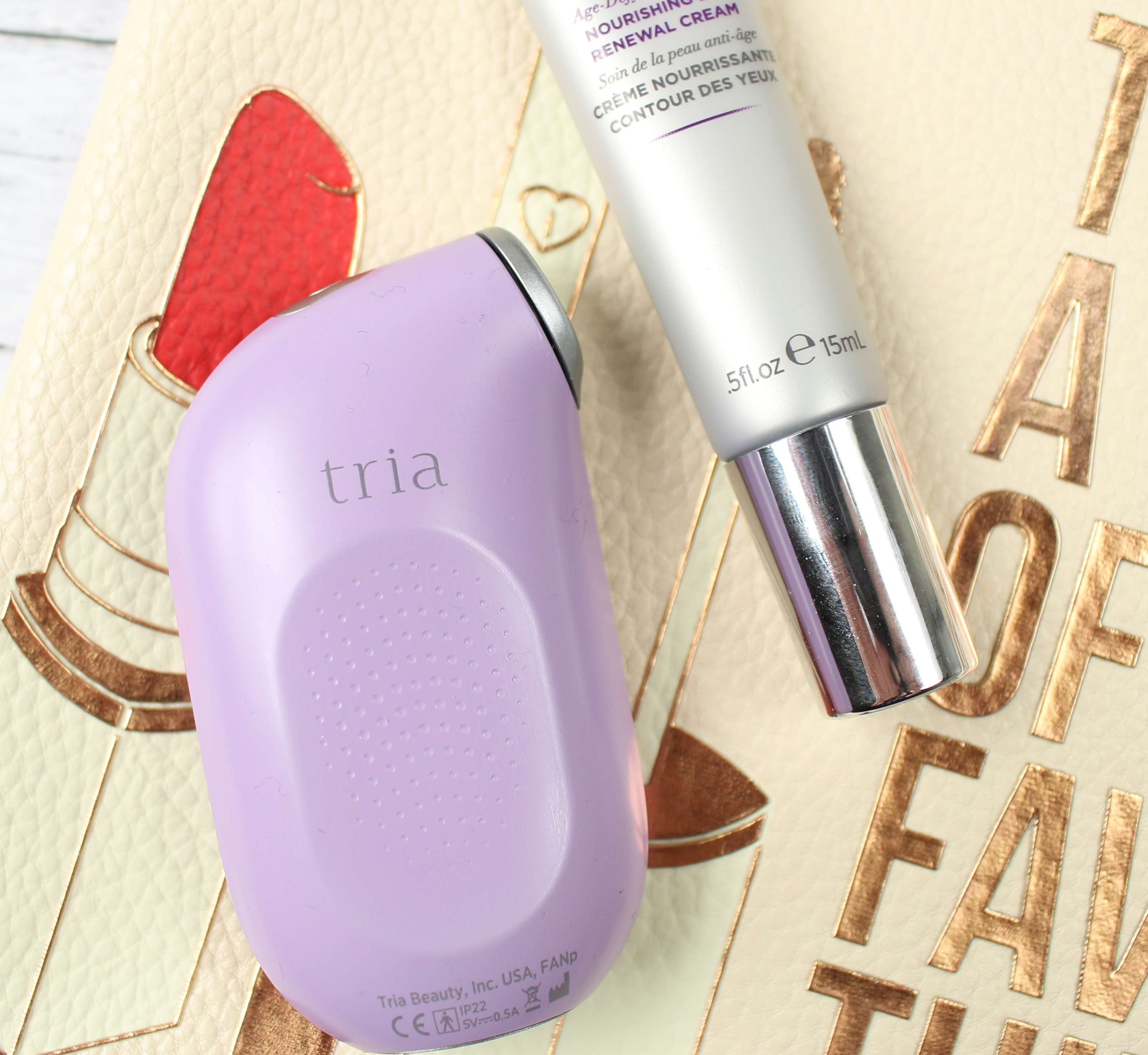 What Did It Feel Like? Does It Hurt?
YES. It hurt like you would not believe.  I do have a tattoo so I was thinking it would feel similar, but I swear you guys this was worse. It feels like someone snapping rubber bands under your eyes constantly. Like I said, your eyes are terribly red afterwards so you definitely know it's working. I'm pretty sure I posted a picture of myself on Snapchat after using it one night and you guys were like what the heck is wrong with your eyes!? Luckily, it's only 2 minutes so it's over fairly quickly. By the 3rd week, I swear I didn't even feel it anymore. It's almost like my skin was numb to the pain. So now I am using it WITHOUT a mirror and not squealing in pain anymore. I recommend sticking it out – it's worth it!
The before / after photo below was about 1 month into the treatment. I am in my low 30's so I don't have TOO many fine lines and wrinkles under my eye but I can definitely see a difference.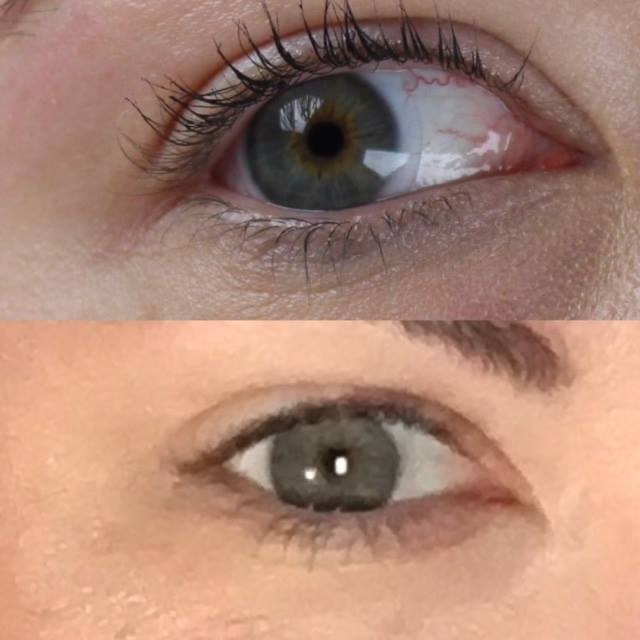 And here is my eye after using for 8 weeks :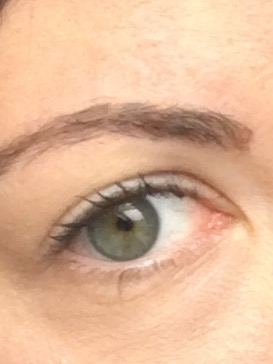 I'm going to have to say – YES! If you have been following along with the other Power Primpers who have been testing out the device as well, some of them have absolutely AMAZING results. Like – completely blown away results. All of their blog links will be linked at the end of this post so you can check out to see what they had to say and their experience.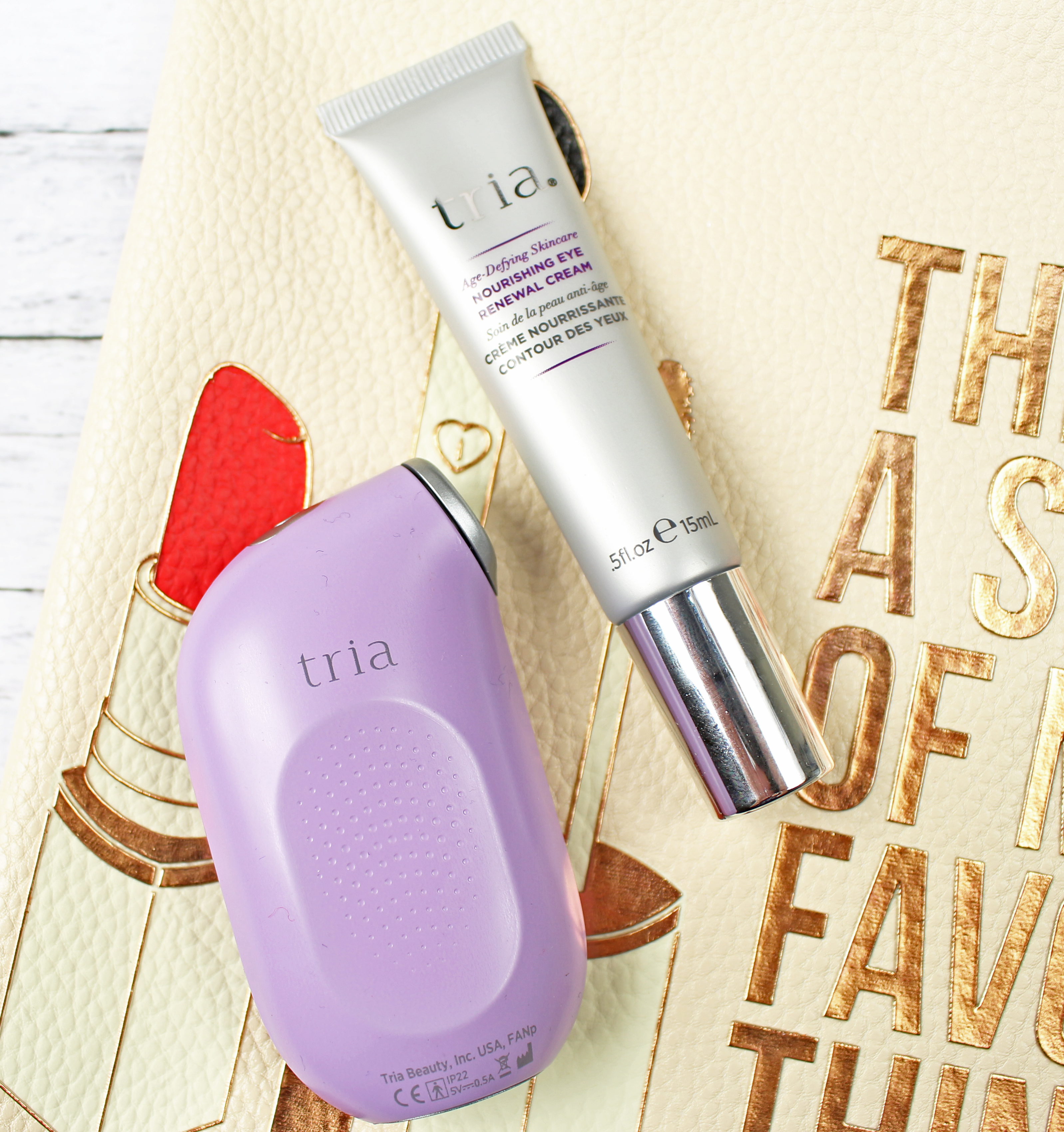 Now for the BEST part! I'm sure you are DYING to give this a shot as well! Tria Beauty was kind enough to provide my readers with a 15% off coupon code. But you have to hurry – there are only 20 AVAILABLE. And once they're gone – they're gone!  (Click ANY of the goldish / yellow links throughout this post and it will bring you directly to the product page)
Easy! Head to the Tria website and add the Deluxe Kit to your shopping cart. What's that? $267?! Too high for you? NO PROBLEM! Add in the code loveforlacquer and it will instantly drop the price down to $226! Plus – Shipping is FREE! Not too shabby of a deal huh? Grab one for yourself or as a gift and get ready to see stunning results!
Would you try the Tria Beauty Eye Wrinkle Correcting Device? Is it on your wish list?
*Sponsored by PRIMP and Tria Beauty. All opinions are my own*