Sponsored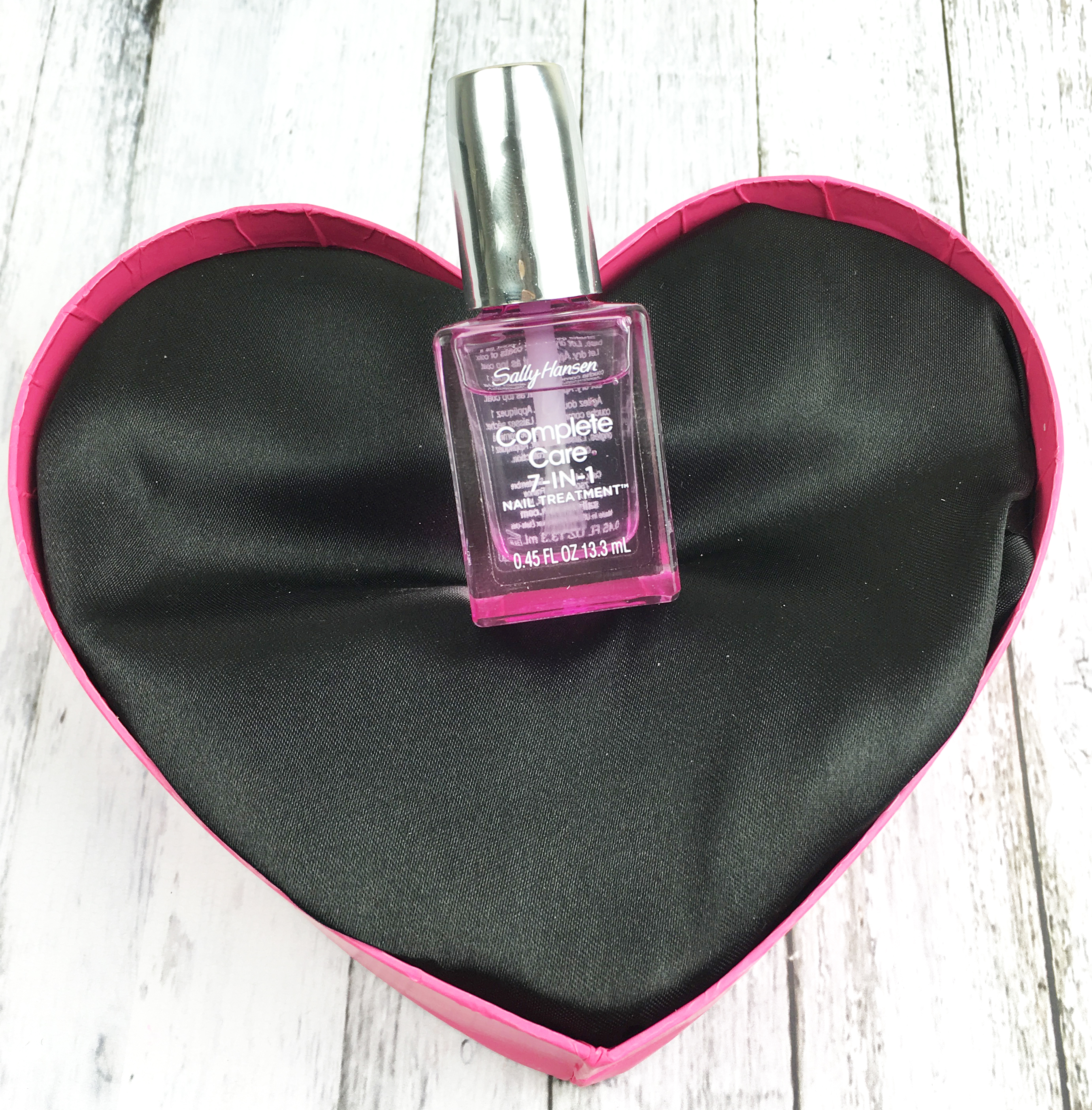 For the past 10 days or so, I was asked to take the Sally Hansen Complete Care Challenge. So what exactly does that mean? Sally Hansen challenged me to use their new 7 in 1 Nail Treatment for 10 days and document my nail transformation. I am always down for trying a nail related product, so I was definitely in.  The Complete Care 7 in 1 Nail Treatment claims to do a LOT so I had high hopes for this little guy :
1) Base Coat
2) Top Coat
3) Growth
4) Strengthener
5) Ridge-Filler
6) Brightener
7) Ultra-Moisturizing
The exclusive patented formula, with Avocado Oil, Sea Salt, Pomegranate Extract and Calcium, immediately protects and continuously nourishes nails, helping create the perfect foundation for any manicure.After just 3 days, nails look shinier, stronger, mega-moisturized and brighter with ridges filled. Below you will see my nails BEFORE I started using this treatment.  They were in pretty rough shape. No filters, no touch ups & completely bare.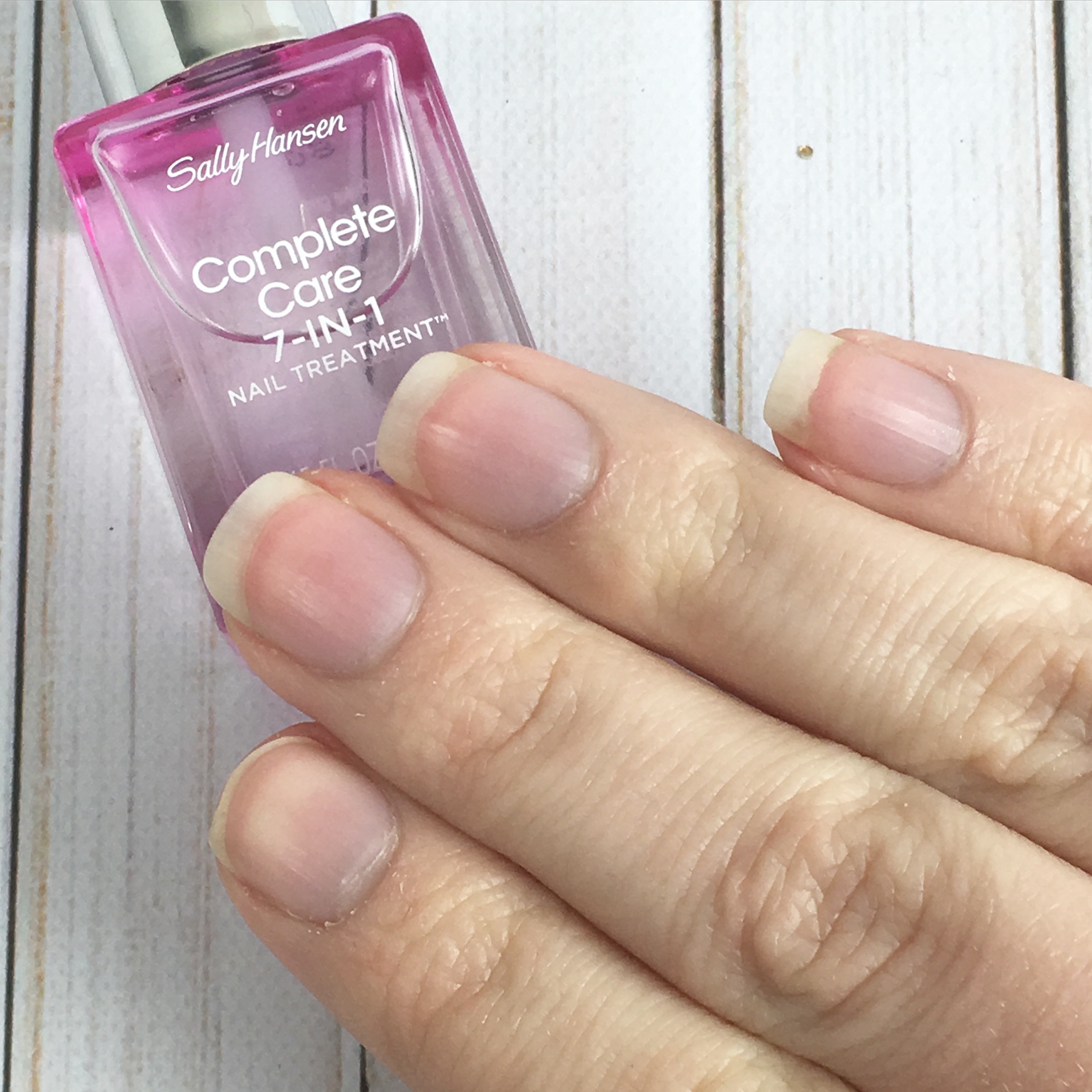 This versatile treatment can be used alone or with your favorite Sally Hansen nail color when applied as a base coat or as a protective top coat. To wear it alone, simply apply two coats to clean, dry, bare nails.Use it to refresh a manicure by brushing on one thin coat to nails. It goes on clear and smooth for an easy application.
After about 5 days, I noticed a significant difference in my nails. They felt stronger, were less brittle and I didn't have issues with my corners breaking like I ALWAYS do.  My ridges definitely looked a lot better and weren't as noticeable. See below for my photo after using for 10 days.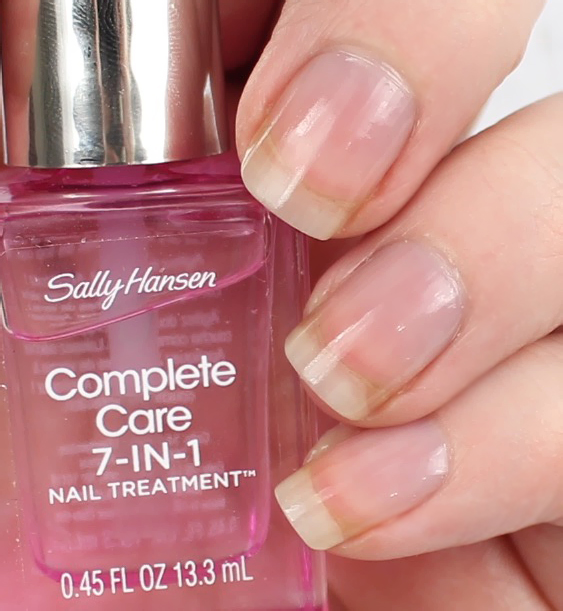 My nails are super shiny and look so healthy! I am in love! I will definitely be using this on a daily basis to keep my nails as healthy as possible.  I highly doubt I will use it as a top coat as I prefer one that dries SUPER quick (#MomLife) but will I use it for everything else? YES! The proof is in the photos!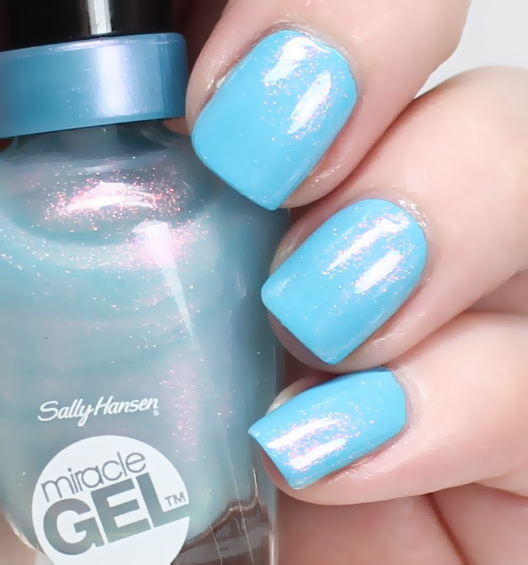 Above I'm wearing Sally Hansen Miracle Gel Digi-Teal with Let's Get Digital layered on top. Loving this combo! How do you think the 7 in 1 Nail Treatment did? Is it something you want to try?
I'm encouraging YOU to take the #CompleteCare challenge! Grab a bottle of 7 in 1 Nail Treatment at your local drugstore or mass retailer and post your before/after photos using the hashtag #CompleteCare and tagging @Sally_Hansen on Instagram (and me please! I would love to follow along!) for a chance to win a Complete Care 7-in-1 Nail Treatment and 3 new Miracle Gel shade collections (Digital Overload, Glam Rock and Voyager) Good Luck!
*This post has been sponsored by Sally Hansen. All opinions are my own*