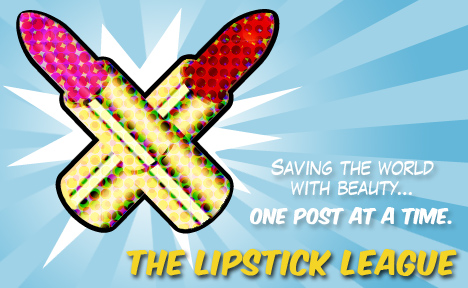 Question of the Week: When you make a "blind purchase" (buy a beauty product without ever having seen it in person), how important is it to you to read reviews first? Have you ever made a blind purchase without reading a single review?
Answer : I'm pretty sure I'm the queen of blind purchasing lol. I do it all the time especially if it's a limited edition piece. I figure if it's something I don't like, I can just return it or sell it!
Lipstick Links Of The Week : 
Nouveau Cheap – Hard Candy has lots of fun new products launching right now (plus new shades for existing products). Here's everything you need to know…and then some!
Olive & Ivy – Want to know what's new at LUSH for Halloween? I've got you covered!
Phyrra – tells you the best eyeshadows to wear to enhance your eye color!
Prime Beauty – thinks Rachel Zoe is ba-nah-nas and so is her new subscription box, the Rachel Zoe Box of Style! The pieces are to DIE for!
Beautygeeks – Reaction is mixed to this post about makeup for a 10-year-old. At what age should girls start wearing makeup? And what's age-appropriate?
Beauty Junkies Unite – Amber grew up watching Jem & The Holograms, and went FULL ON Jem mode for her Halloween costume idea & tutorial, and you're not going to want to miss it! It's truly, truly, truly outrageous!
Blushing Noir – Brooke shares with you the exciting beauty collaboration with NARS Cosmetics and Steven Klein for Holiday 2015! Spoiler alert — every piece is a must-have!
Clumps of Mascara – The change of the season means fabulous new hair styles. And not just for me but for my fashionably-aware little one!
EauMG – Want to add a new fragrance to your wardrobe but don't know where to start? Check out these Perfume Picks for Autumn! There's something for everyone and in a variety of price points!
Gouldylox Reviews – I stopped blow drying my hair for a month and change is dramatic! Here's how I'm dealing with air drying in style. Try it!
Love for Lacquer – Ever wondered what a beauty blogger keeps on her desk at all times? Jess has the scoop for you!
My Beauty Bunny – Nothing beats a fab pair of eyebrows, and the Arch Brow Sculpting Pencil from Hourglass is here to help you get them. Take a look at my before and after pics and you'll see why this pencil is a must-have!
My Newest Addiction – Usually Laura says "Save the drama for your mama", but the Lancome Drama Liqui-Pencil Longwear Eyeliners have her drooling and not wanting to share them with anyone, not even her mama.
(Wondering what the Lipstick League is? Find out here.)
Guest Post of the Week, as chosen by Nouveau Cheap – Stephanie over at Imperfectly Painted swatched one of the new Sinful Colors Halloween 2015 shades, and now it's officially on my wishlist (so perfect for fall/winter).