PR Sample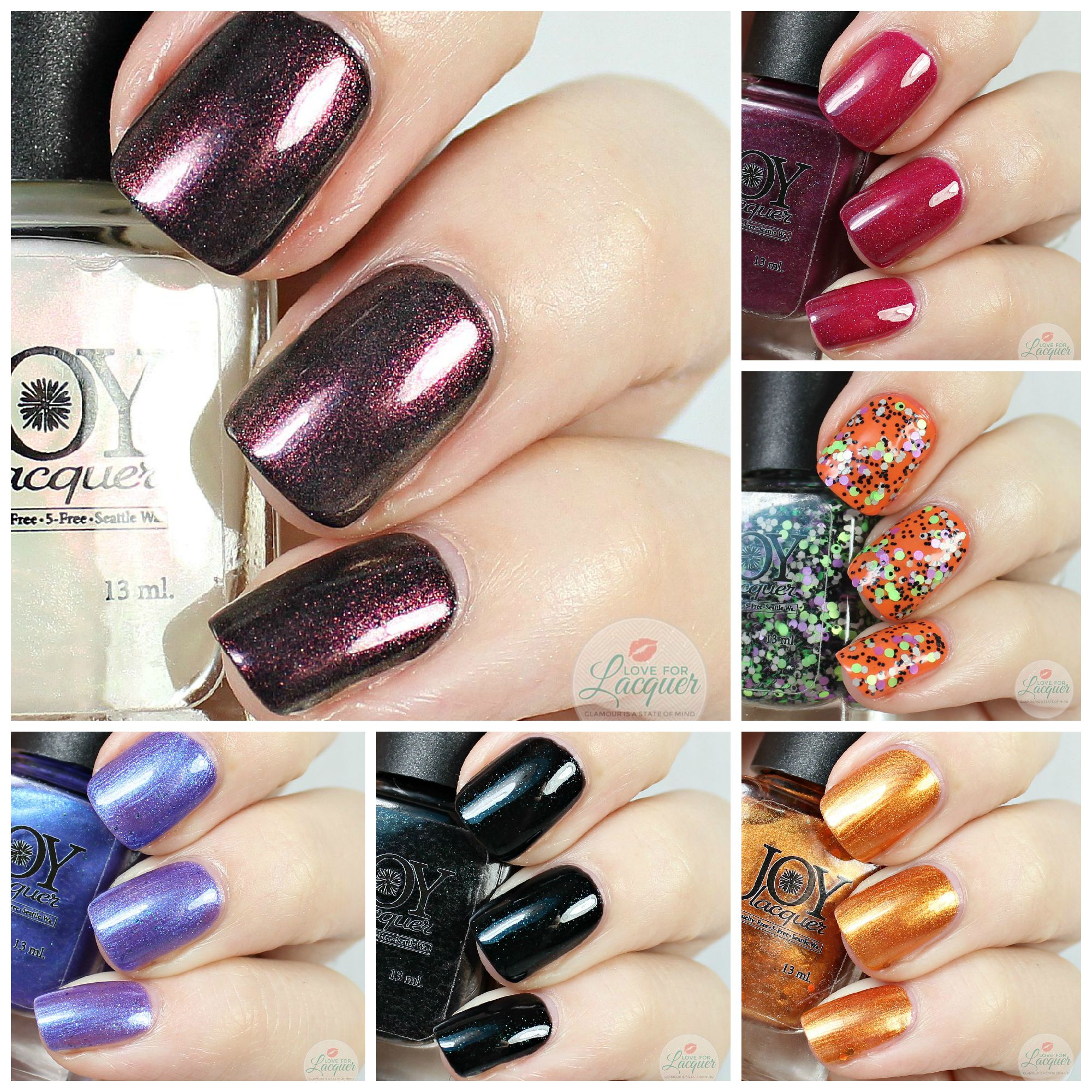 Happy Saturday loves! Today I have a really fun Halloween inspired collection from Joy Lacquer to share with you! This 6 piece collection launches TOMORROW in her shop and is titled the Creepy Hollow Story Time Collection.  Let's take a look!
Bloody Mary : Black cherry thermal linear holo polish that turns blood red when warm. Such a beautiful shade! The thermal turned SO fast on me so I tried to get a decent shot while I could. Formula was super easy to work with and I only needed two coats for the photo below. 
Inspiration : American folklore tells many versions of the scary story of Bloody Mary. She was a witch burned at the stake but before her final demise, she places a curse the towns people.  If any of them were to mention her name in front of the mirror, her spirit would haunt them for revenge.
First Born : Rich royal purple with blue flash and speckled green micro flakies.  Formula was really great on this one as well. Photo below shows two coats. 
Inspiration : Named after the story of Rumpelstiltskin, in which a little man was promised a young girls first born in exchange for spinning straw into gold.  The polish actually resembles a witch, but being a royal purple ties in with the girl later becoming queen and eventually guessing the name of the little straw spinner who tried to stump her.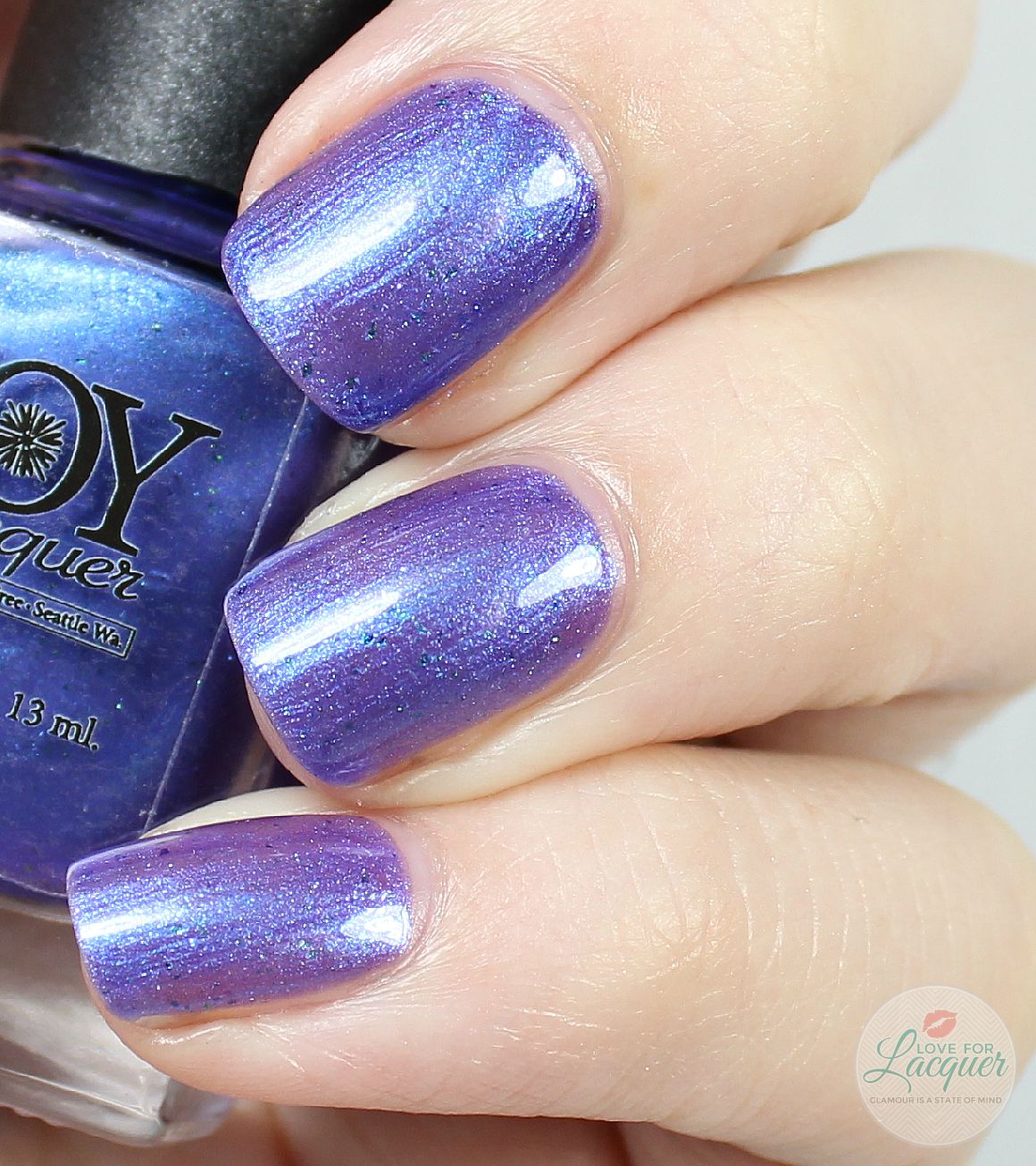 Flaming Pumpkin Head : Orange bronze metallic.  This one is SO pretty on the nail – I honestly thought I wasn't going to like it based on the color in the bottle, but it is so gorgeous and unique. Because it is a metallic, go slow with your application. Photo below shows two coats. 
Inspiration : This polish is named after the iconic image we all have when we hear the name Ichabod Crane and the Legend of Sleep Hollow.  A flaming pumpkin head being hurled from a headless horseman in the dark of the night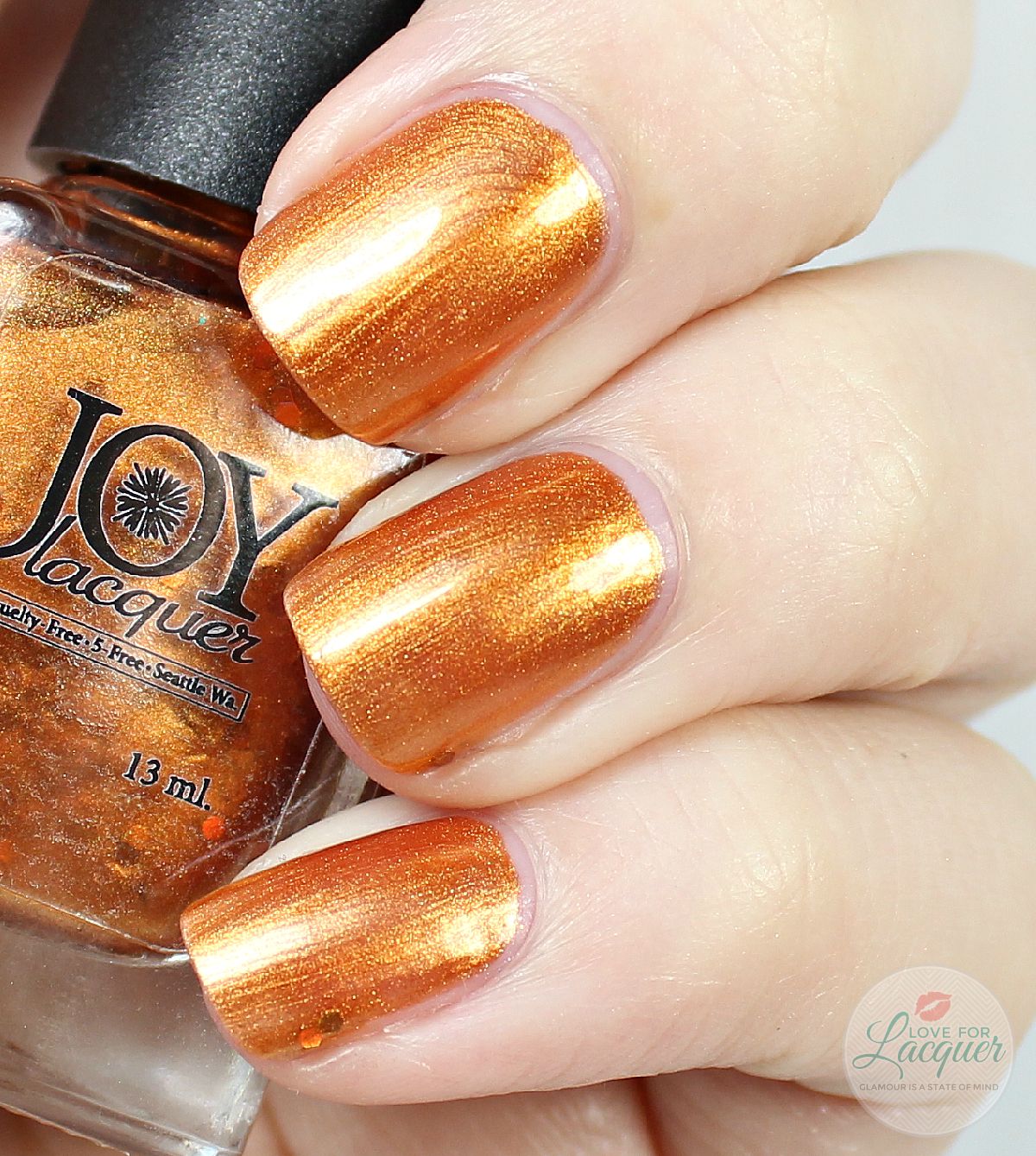 Lets Be Frank : Glitter topper filled with matte purple, green and gray glitter dots peppered with black micro squares. I have two coats of this layered over Joy Lacquer Player Hater. Perfect Halloween combo! 
Inspiration : Frankenstein was a grotesque creature created in a science experiment.  The colors represent the classic appearance of his skin.  Also a play on glitter being a typical thing polish lovers use to "franken" their own creations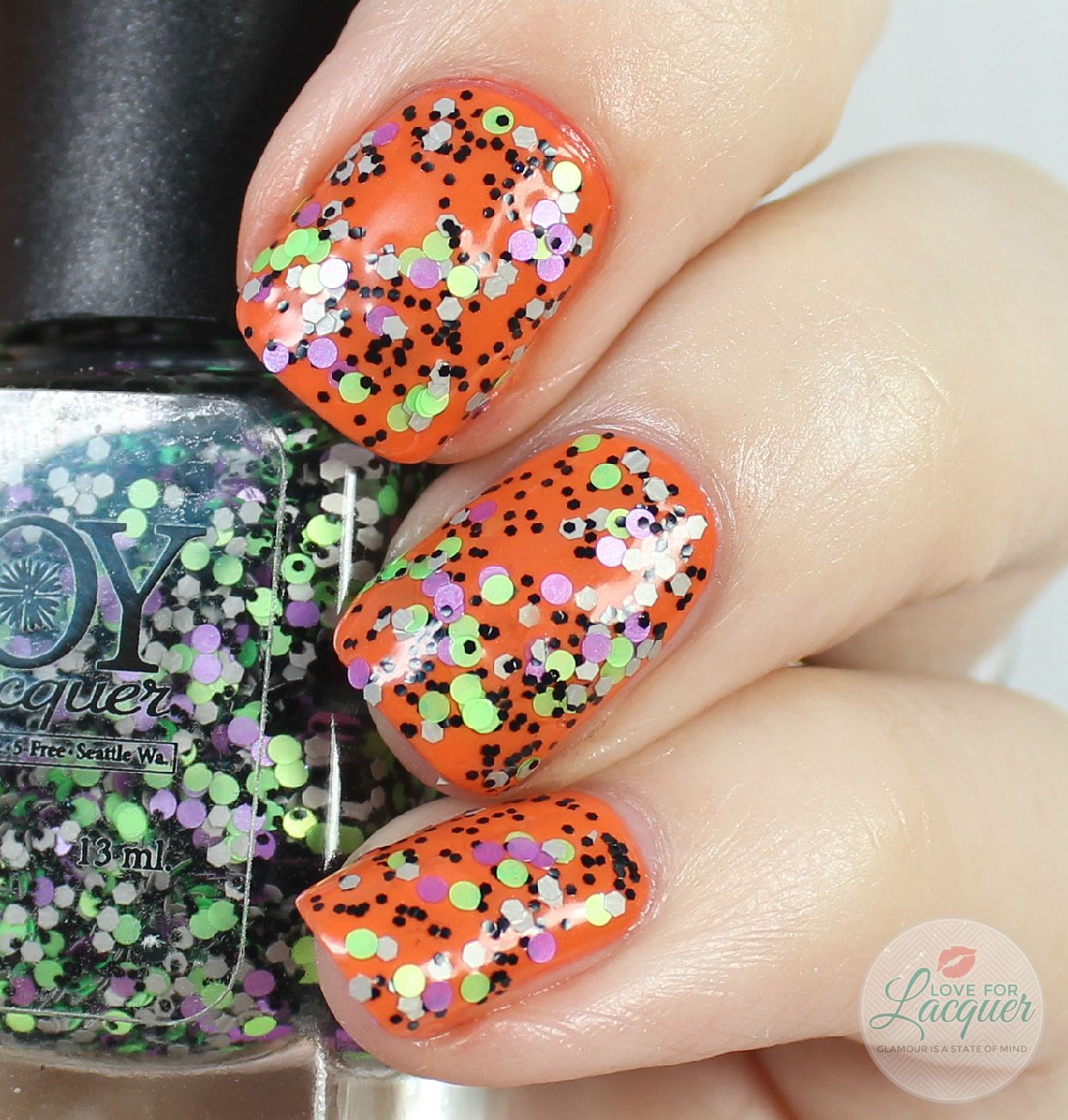 The Ribbon : Black to green shifting pigment with green chameleon spark. Ah I love a good black polish. This one was so creamy and pigmented and I love the added green flakes mixed in. Gorgeous & chic! Photo below shows two coats. 
Inspiration : The story of the ribbon is told as a red, green or black ribbon. There was a little girl who wore a ribbon around her neck everyday and insisted that no one ever remove it.  She grew up and was married.  One night as she slept, her husband's curiosity got the best of him and he pulled the bow loose. The ribbon slipped to the floor, along with her head.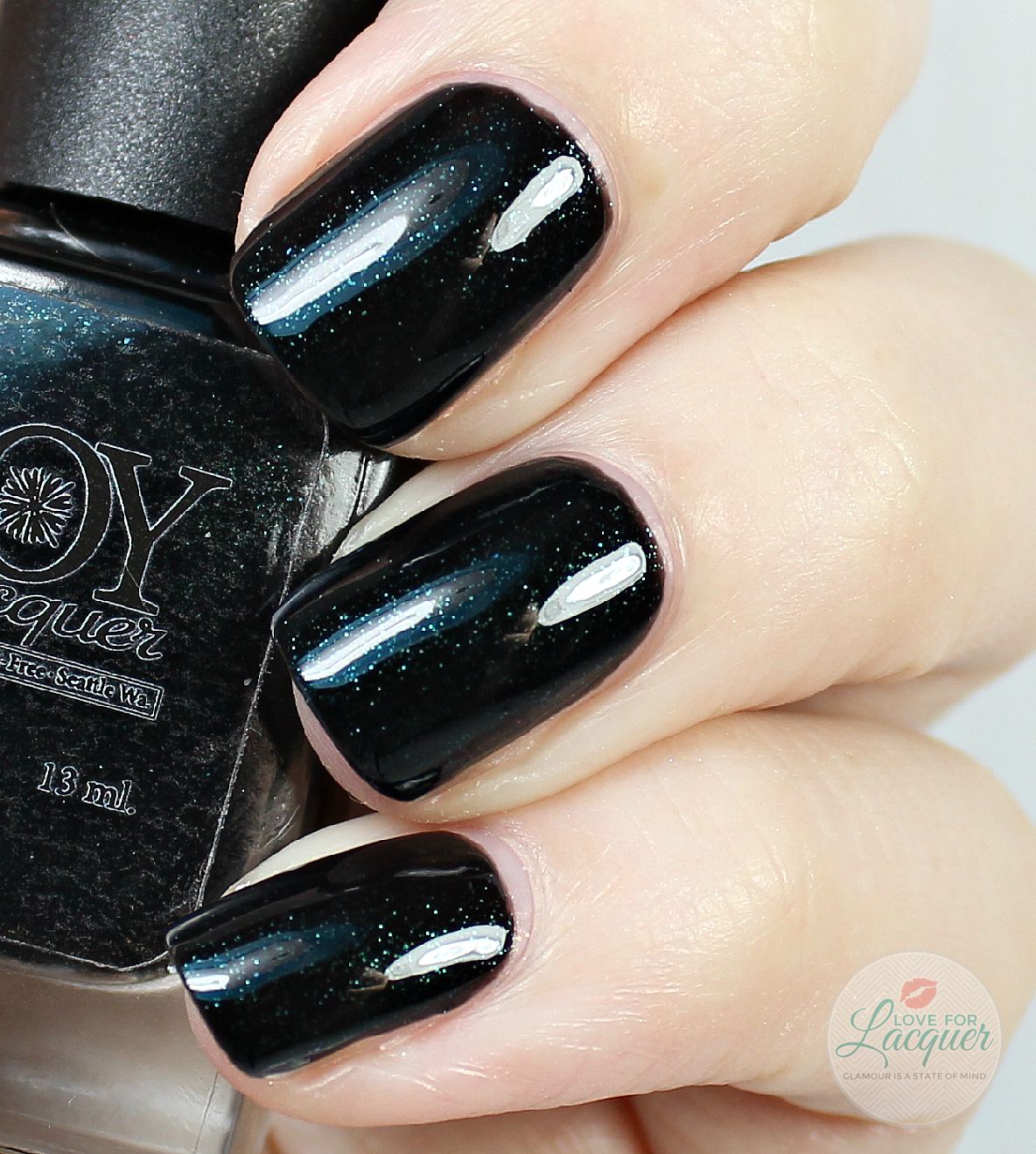 Skin & Bones : Transforming topper.  It's an iridescent cloudy white with a strong orange shift.  It's magic trickery will completely transform any color you put it on top of. I am OBSESSED with this shade. I have one coat layered over The Ribbon and it completely transformed the shade. 
Inspiration : Named for the trick that Hansel played on the witch in the story of Hansel and Gretel. When they stumbled upon the candy house and the witch captured Hansel, her plan was to fatten him up and eat him.  He used a gnarled twig to poke through the cage, instead of his actual finger.  He was able to trick the nearly blind witch into thinking he was not gaining any weight.  She told him she would eat him anyway, no matter that he was still skin and bones.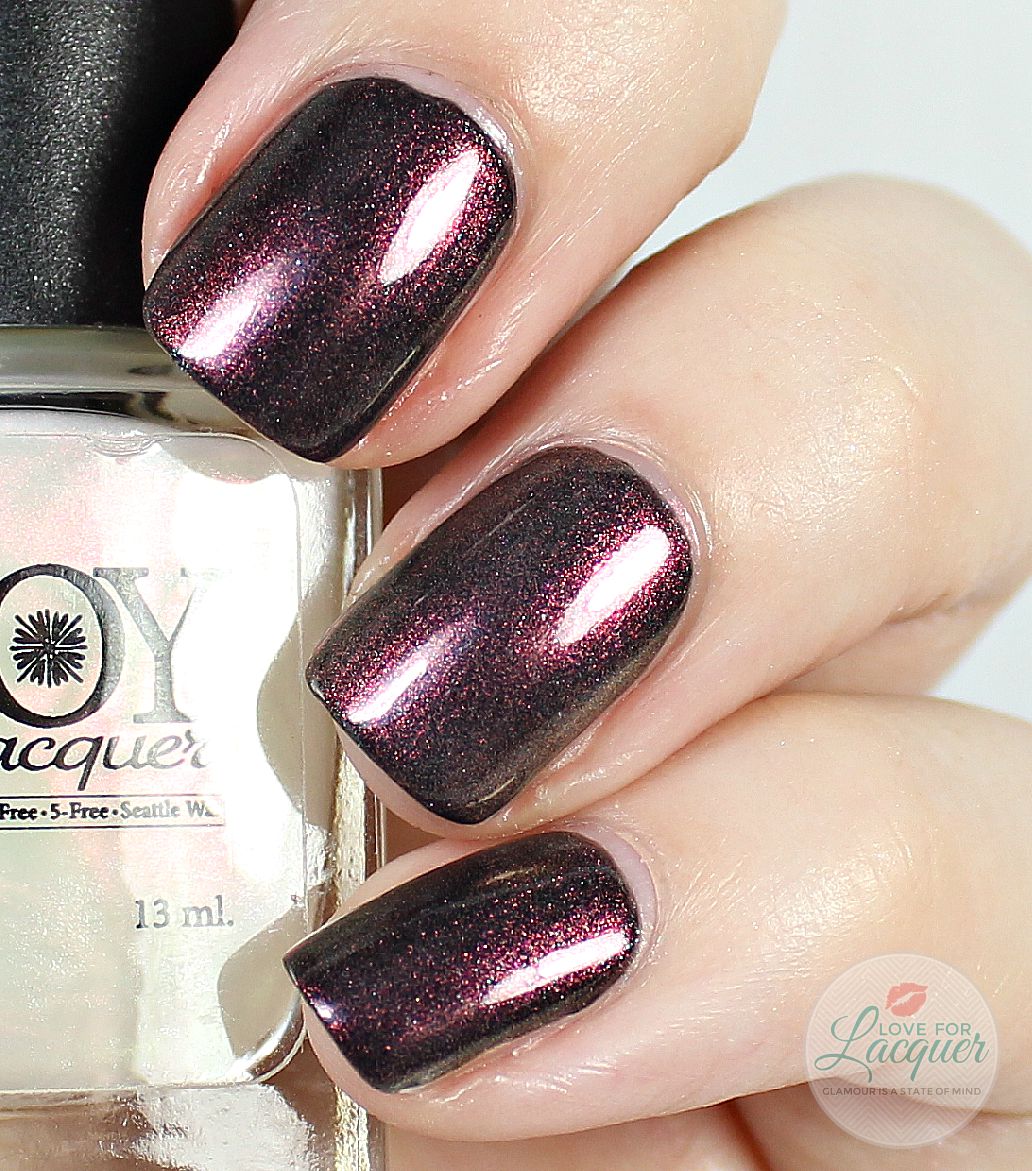 What do you think?! I absolutely love her inspiration behind creating these shades. They are so fun! I didn't have a single issue with application and each one applied really nice. If you are a Halloween fan, you are definitely going to want to add these to your collection!
Which one is your favorite?
Availability : Joy Lacquer
Price: $55 (Full Collection) | Single Shades : $9-$10
Social Media : Facebook | Instagram
*Provided for an honest review. All opinions are my own*