Sponsored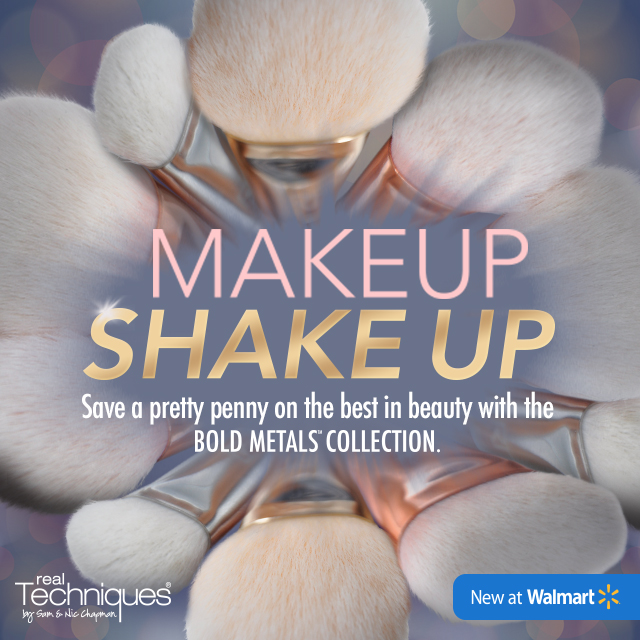 If you know anything about me, you know I am the BIGGEST brush hoarder ever! That is why I am so excited to share with you the brand new Bold Metals Collection from Real Techniques! These brushes may look expensive, but I have to let you in on a little secret – They aren't!
No more running to Sephora, MAC etc to grab some high quality brushes that you will probably pay way too much for.   There is a new prestige line of brushes at your local Walmart and at a price that can't be beat, you are going to be shocked at how stunning and well made this line is. Plus – Stay tuned until the end for a chance to win a $100 gift card to Walmart so you can buy the entire 7 piece line!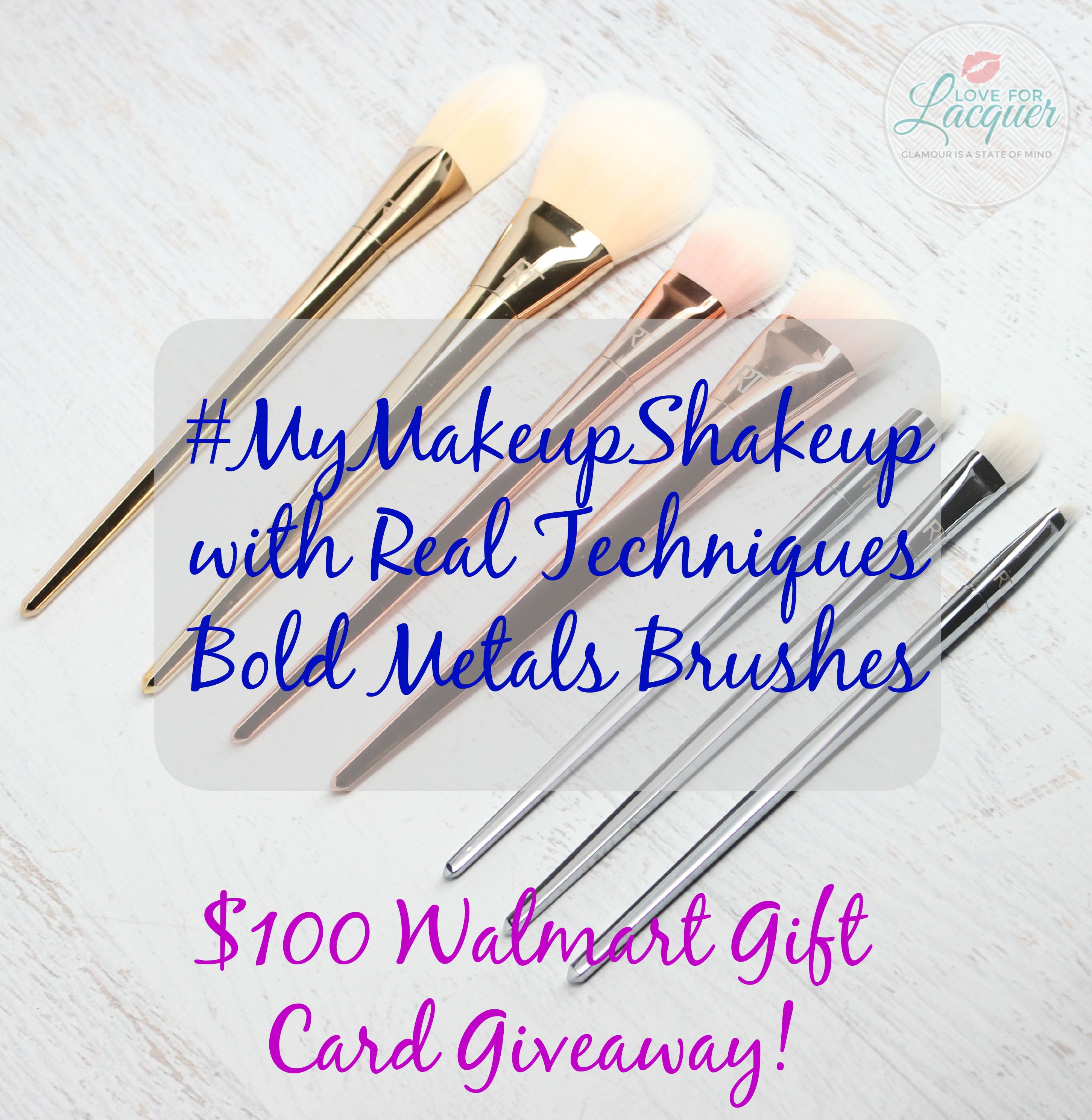 Walmart & high end beauty – Who knew!? The color coded system corresponds to the key steps of makeup application.
Gold = Base
Platinum = Eye
Rose Gold = Face
101 Triangle Foundation Brush – Made for dual duty. Flat edge covers large area of face, while the angled edges contour around the nose and eyes.
100 Arched Powder Brush  – Domed cut to sweep powder perfectly across the face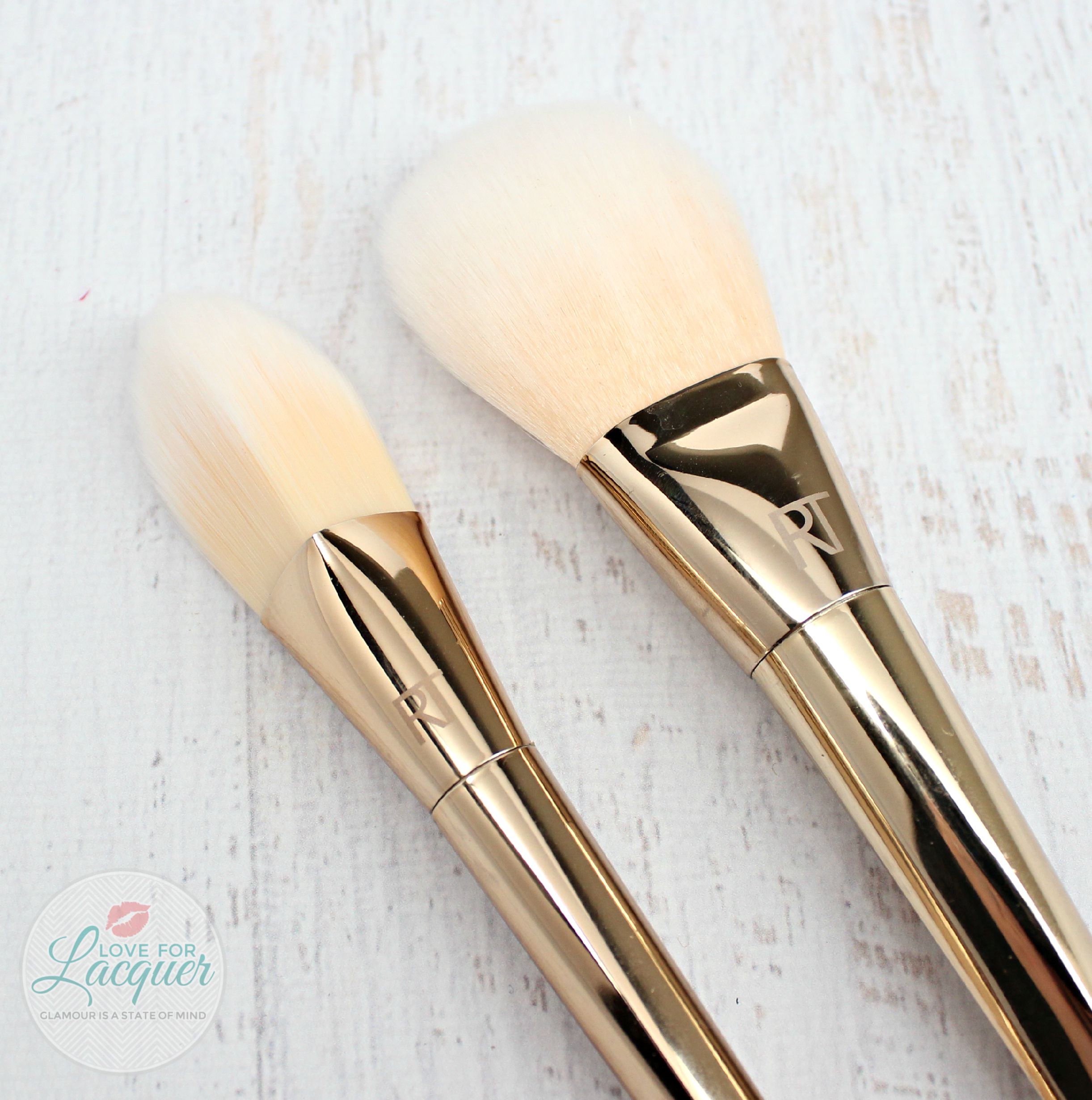 201 Pointed Crease – Densely packed tapered bristles are perfect for creating a smoky effect
200 Oval Shadow – Full round shape perfect for all over lid application
202 Angled Liner – Firm, slanted head fits close to the lash line for smooth, even eye application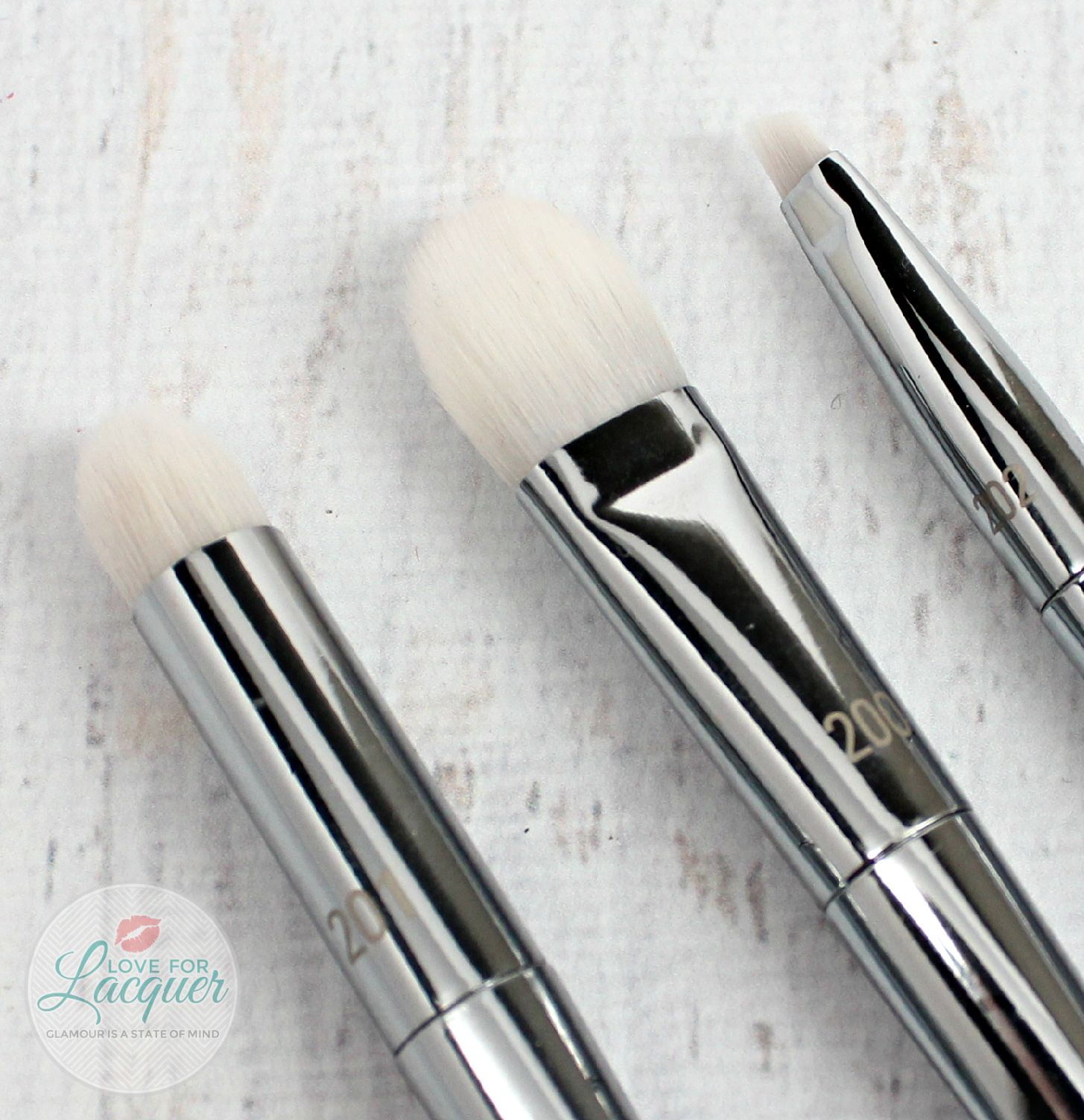 300 Tapered Blush – Specially designed tip highlights and sculpts across cheek for a seamless finish
301 Flat Contour – Dense head creates shadows and highlights to play up favorite features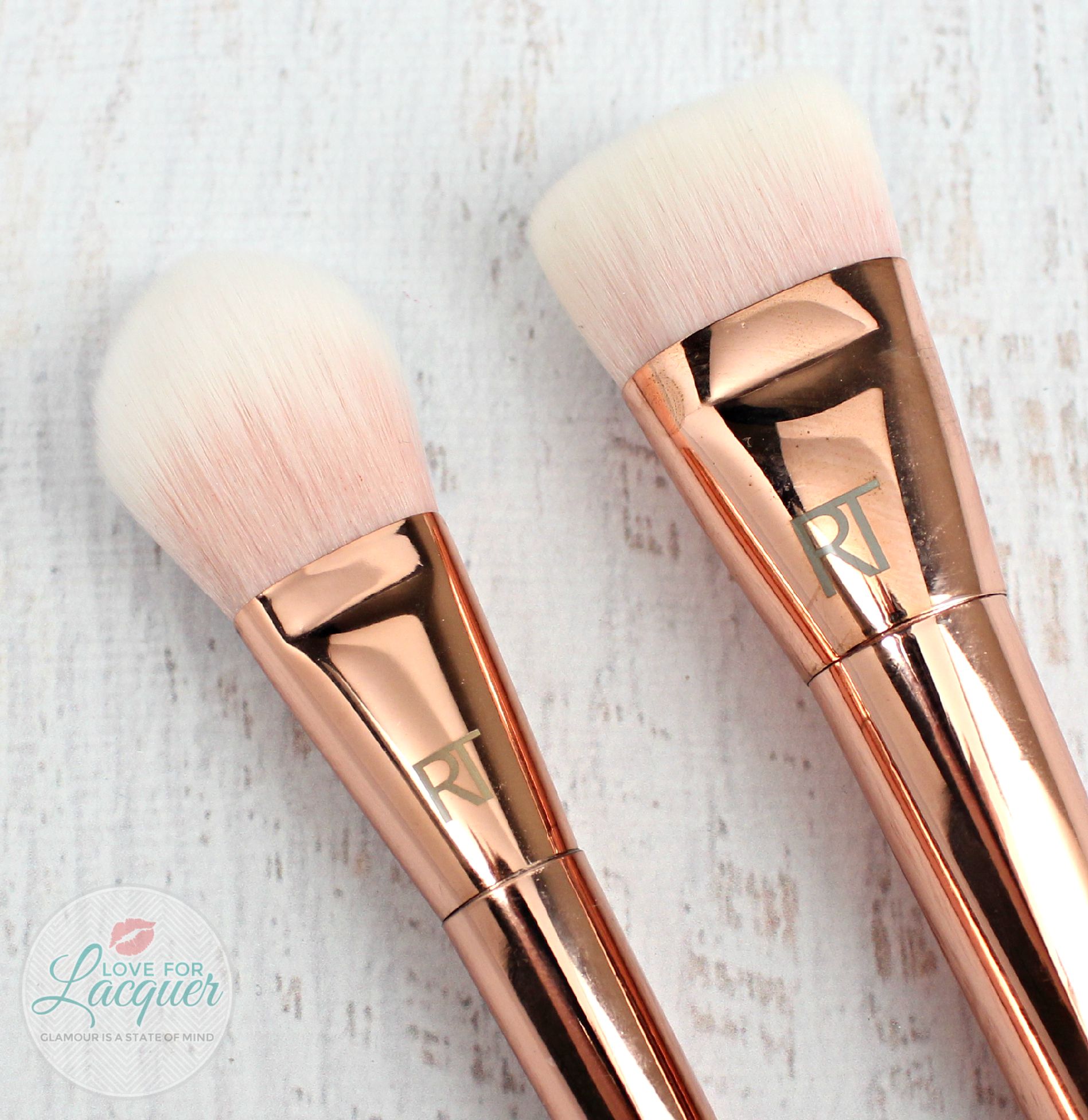 All of the Bold Metals brushes share the following 3 benefits :
Softer than ever bristles
Weighted handles for optimal control & comfort
Refined artistry cuts for high performance and ultimate application
Plus – Can we talk about that packaging!? It's TO DIE FOR!  If I had to pick my favorites, they would be the Tapered Blush, Flat Contour & Arched Powder Brush. They will change your life – And your makeup.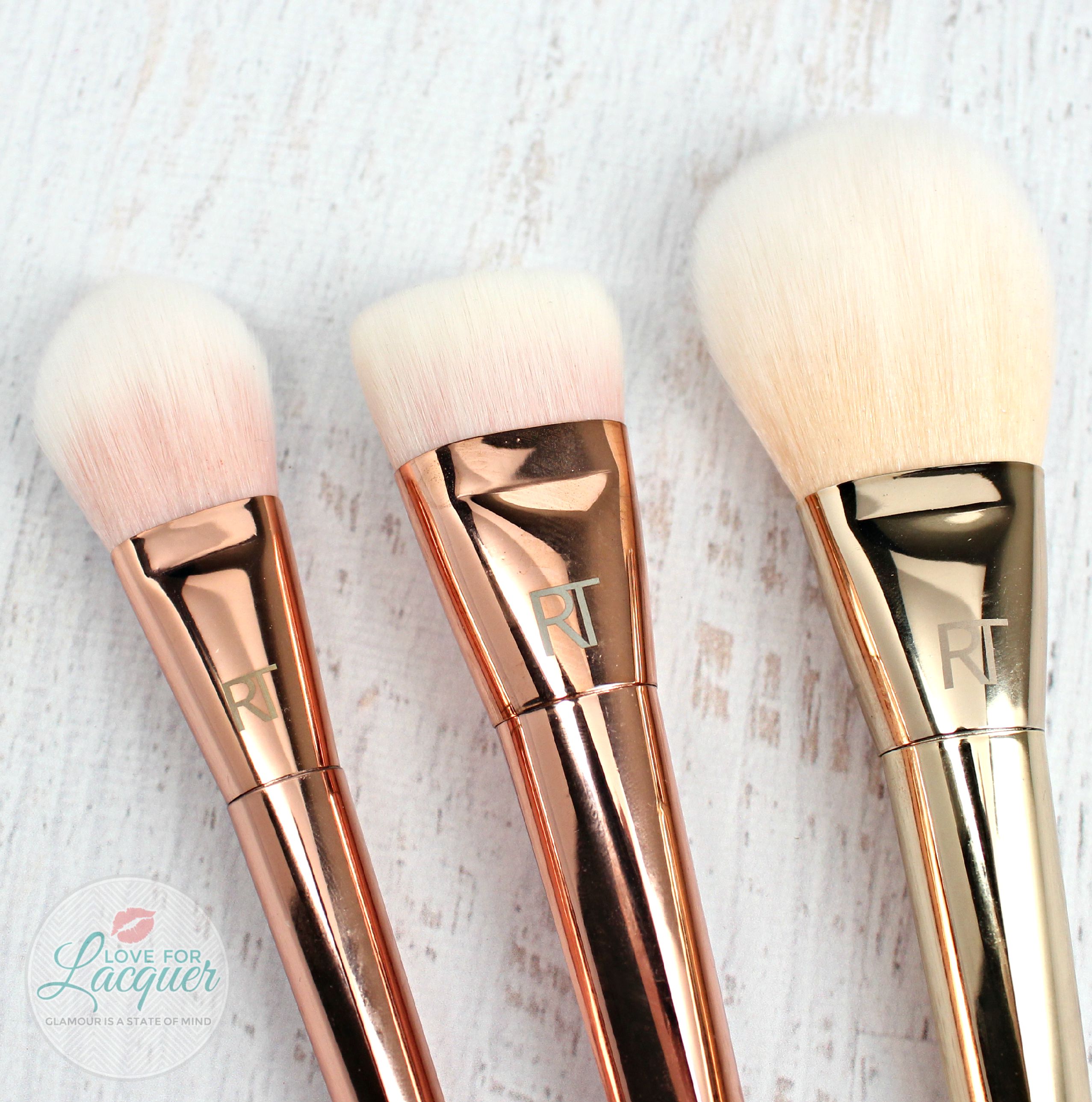 So what are you waiting for?! RUN to your nearest Walmart and grab these brushes!
Go to Walmart.com for additional information and tutorial videos on each Bold Metals brush.
Are you ready for a chance to win $100 Gift Card to Walmart so you can add these pretties to your vanity? Let's go!
$100 Walmart Gift Card Giveaway
Make sure to follow Real Techniques on all their social media channels so you can be the first to know about new launches & releases!
Bold Metals Website | Facebook | Twitter | Instagram 
Post sponsored by Lunchbox. Opinions are 100% my own