PR Sample
Happy Friday! Today I have the brand new Gamer Girl collection from Frenzy Polish to share with you! This collection releases TODAY, June 5th at 8pm EST. I have reviewed Frenzy Polish in the past, and you guys know how much I adore them, so I was so thrilled to be able to review the newest collection! These shades are inspired by gaming & everything in between (Not something I'm super familiar with)  Let's check out some pretties!
AFK – During those long raids, it's sometimes necessary to take a 5 minute break, raid the fridge & grab a drink! Neon lime / yellow with gold / copper shimmer, sparse green glitters & gold green metallic flakies. Not going to lie – When I first saw the name of this, I thought of that Big Bang Theory episode where Penny becomes hooked on gaming. (hahah)
Application on this was easy to work with – Photo below shows two coats.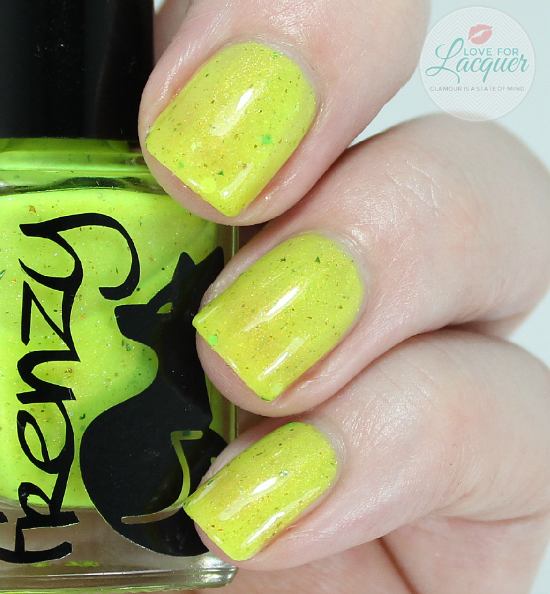 Blue Screen of Death – We all know it, we all dread it! But she decided to make it a little more.. pretty! Slightly tinted blue base with loads of blue glitter, sparse black glitter and flashes of lighter blue and holo mixed in. Plus – it glows in the dark!
Perfect formula & application. Photo below shows two coats.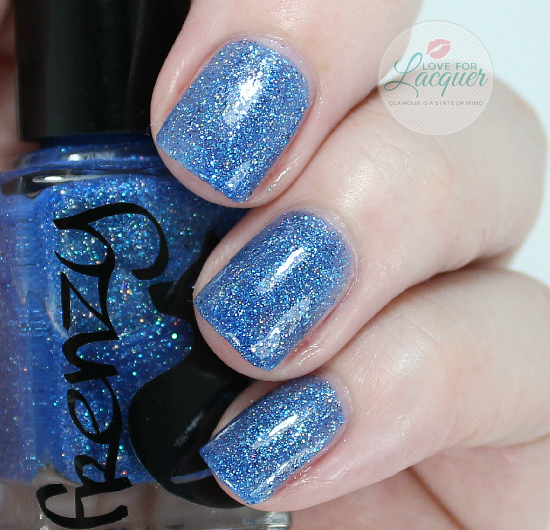 EPIC – For epic gear, epic loot or an epic win. Medium purple creme with multi colored flakies.
This one was a little thick for me, but evened out nicely when I applied top coat. Photo below shows two coats.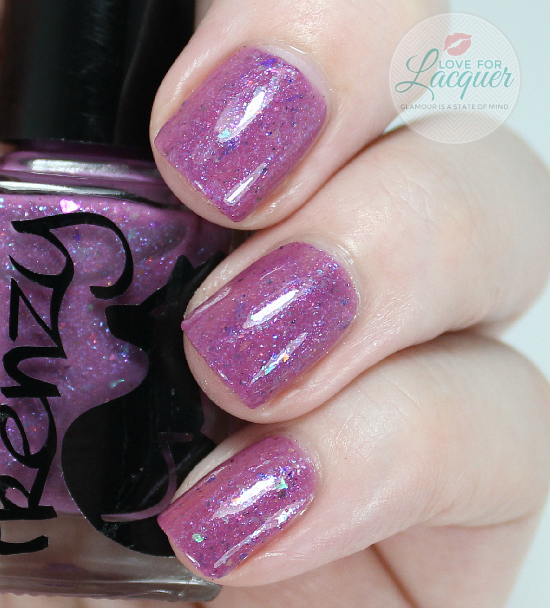 Fatality – A disastrous event that can lead to /ragequit. Brown scattered holo creme with sparse red glitter and a slight red shift.
Probably one of my favorites in the collection. Formula was.. well..epic. Photo below shows two coats.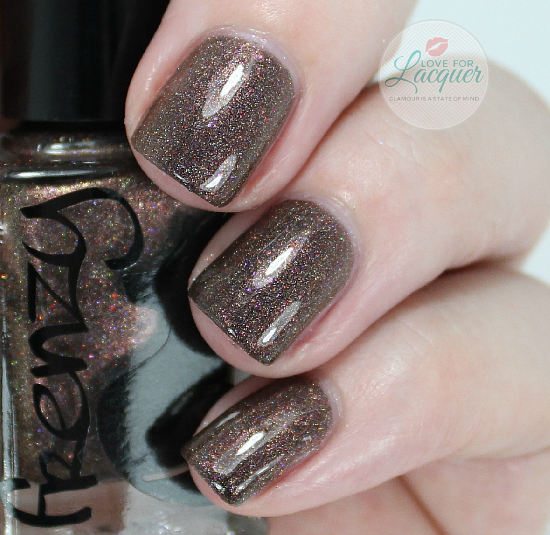 GG Good Game – You finally down the last boss, angels sing & all is right with the world. White jelly creme packed with silver and white microflakes and multi colored shifty iridescent microglitter.
Unfortunately, this was my least favorite. I found the formula to be slightly thick and the brush bristles were kind of all over the place and wonky. It took me two tries to try and get a decent application. The color however is STUNNING. Photo below shows two coats.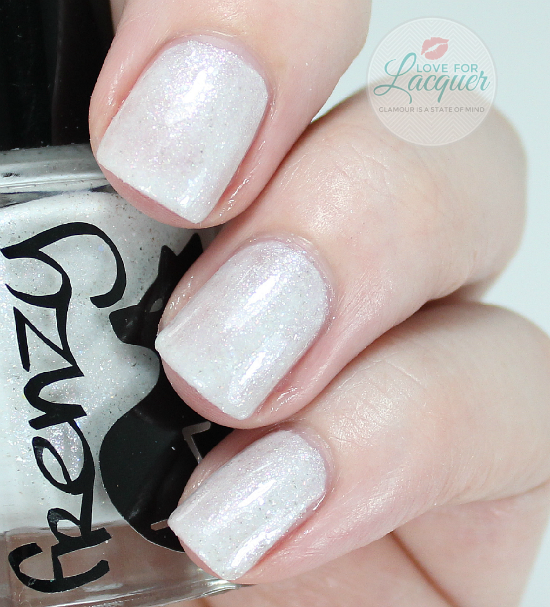 LagFest – Gotta love it when you're at a critical boss and the screen starts freezing up. Nine times out of ten the lag stops as soon as you're dead. Grey jelly / creme filled with pink, purple & black glitters of all sizes and violet shimmer.
LOVE this one! The color combo is so unique! Formula was spot on. Photo below shows two coats.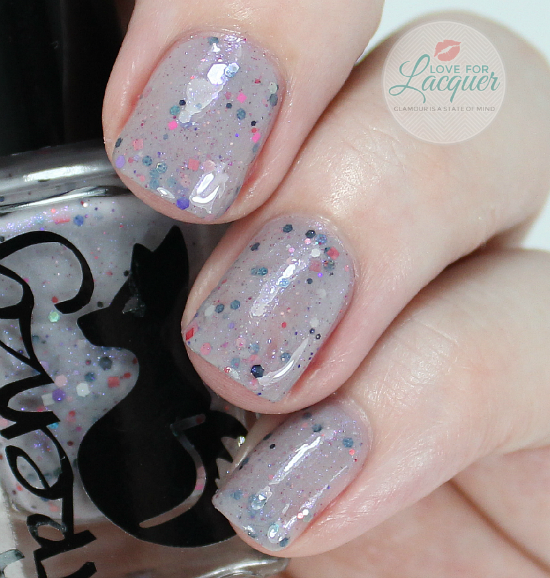 PWN'd By A Girl – Title says it all. Neon pink jelly / creme with blue micro shimmer.
Nothing bad to say about this one! Gorgeous shade and great formula. Photo below shows two coats.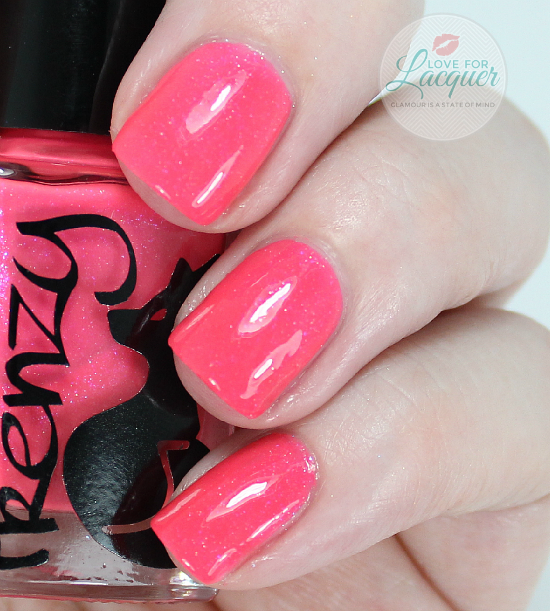 LAN Party – Thanks to laptops, tis is now much easier but I actually remember everyone bringing their monitors, towers, keyboards & mice and getting our game on all together in the same room. Glitter topper filled with neon glitters of various sizes, random neon yellow stars & sprinkled with holo micro glitter.
Amazing glitter / summer topper! I have one coat layered over PWN'd By A Girl.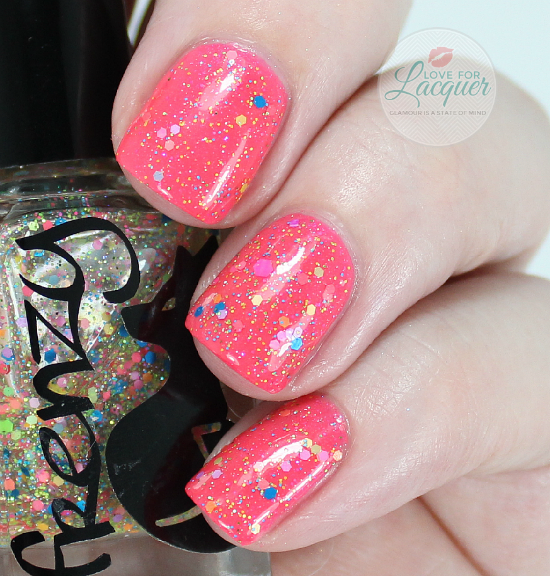 More Pew Pew, Less QQ – What you say to those whiny players who will find anything & everything to complain about. Brown to green thermal holographic.
This changed SO fast on me that it was impossible to get a great photo. That green is to die for though! Photo below shows two coats.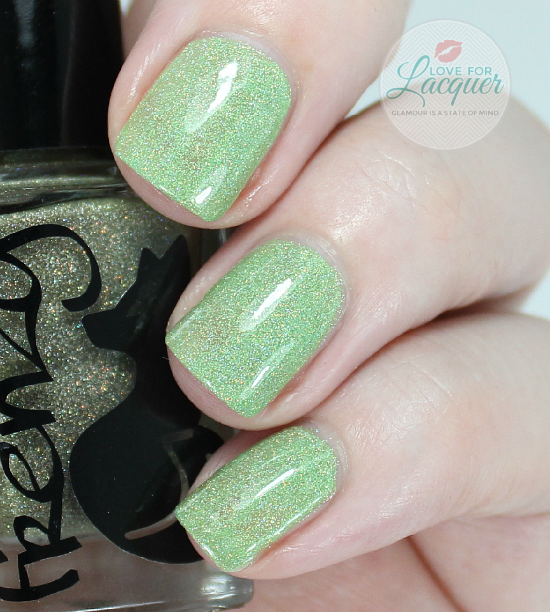 OOM (Out Of Mana) – Out of mana & yet the tank just keeps on pulling adds.. ugh! Light blue creme with a violet red shimmer.
Such a pretty Spring color! The added shimmer really makes it pop. Loving the formula on this one as well! Photo below shows two coats.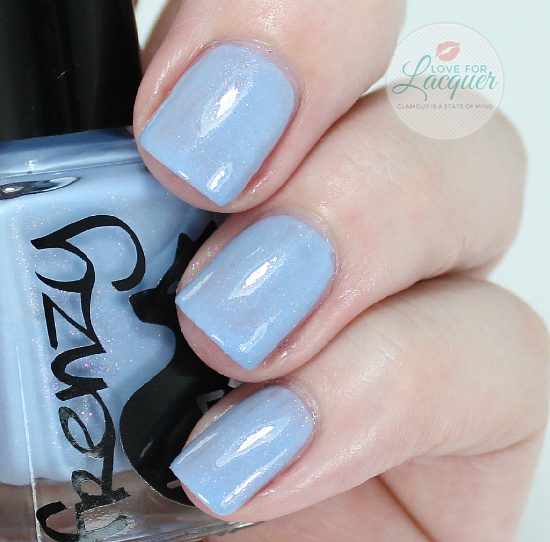 /ragequit – For when you've had enough of fail tanks & people who stand in bad. Sometimes you just have to toss the controller and /ragequit! Blackened maroon base with various sized blue and red glitter with flakies.
This shade is badass. Pretty sure that's all I have to say about that. Photo below shows two coats.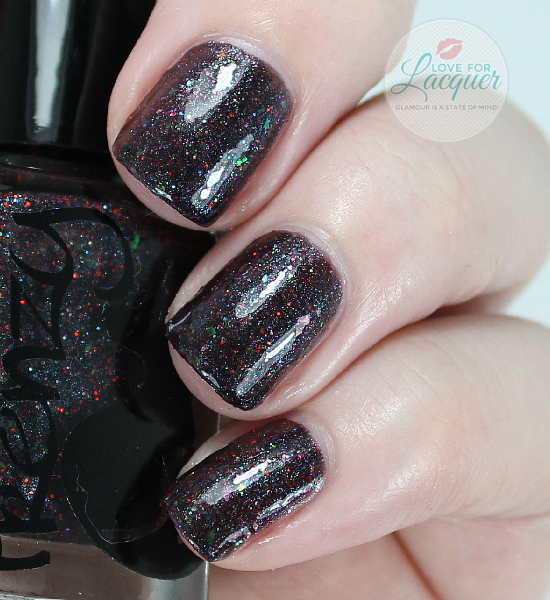 Wanna Role Play? – This is what invariably happens when the guys finally realize you really ARE a girl..and then fall all over themselves trying to "hook up" in game. LOL Teal to clear thermal holographic.
I love how this looks! Once again, it changed super quick on me, but you can kind of see in the photo how it turns out! Photo below shows two coats.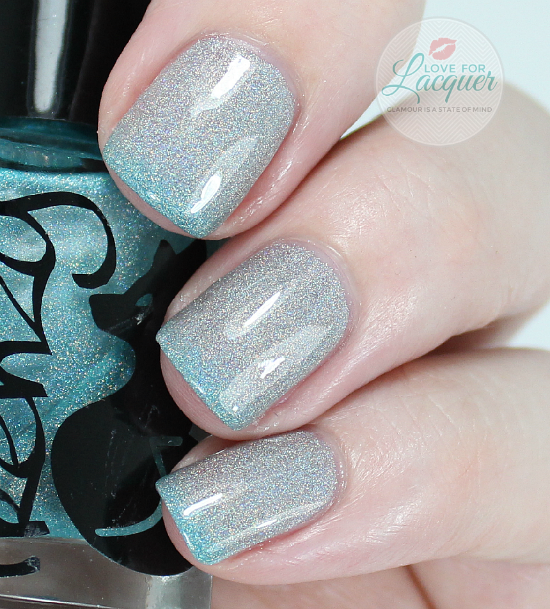 Are you still with me?! That pretty much sums up the new Gamer Girl collection fro Frenzy Polish! Overall, I think she did an awesome job with the creations and the names! The only not so good polish for me was GG, but the rest of the collection totally makes up for it.
Which one of these shades is your favorite? Are you a gamer girl?
Availability : Frenzy Polish (Launching at 8pm EST)
Price : $7.50
Social Media : Facebook  | Twitter | Instagram
*Provided for an honest review. All opinions are my own*