Sponsored
Did you know the average U.S. household uses 10,000 gallons of water every year!? That's CRAZY! The amount of water wasted from U.S. homes could exceed more than one trillion gallons per year, equivalent to the annual water use of Los Angeles, Chicago & Miami combined. That's why this month, in honor of Earth Month, I have teamed up with Neutrogena to take the #WipeForWater challenge!
Neutrogena is challenging it's US consumers to clean their face without using water for one week, and instead exclusively use their new Neutrogena Naturals Purifying Makeup Remover Cleansing Towelettes to remove dirt, oil & makeup.  This simple switch will save up to 5 gallons of water going down the drain each day!
The Neutrogena Naturals wipes are made from 100% renewable fibers, with materials from sustainably and responsibly managed forests. They are formulated with 97% naturally-derived cleaning ingredients without any harsh chemical sulfates, phthalates, parabens or unnecessary additives. And best of all – they are gentle enough for sensitive skin & eyes.
I only need ONE wipe to remove makeup from my entire face – That's pretty awesome!
Brand ambassador, Kristen Bell, will also be helping to kick off the #WipeForWater campaign by encouraging nationwide participation with an exclusive video that announces her pledge to give up face washing for the next 7 days.  She will be conserving up to 35 gallons! Check out her video below!
For each pledge, Neutrogena Naturals will contribute $1 to The Nature Conservancy to support water conservation. (Up to $50,000) So what are you waiting for? Go ahead and take the pledge today! You can help make a difference!
Make sure you share your experience on social media using the #WipeForWater and upload it to their microsite below!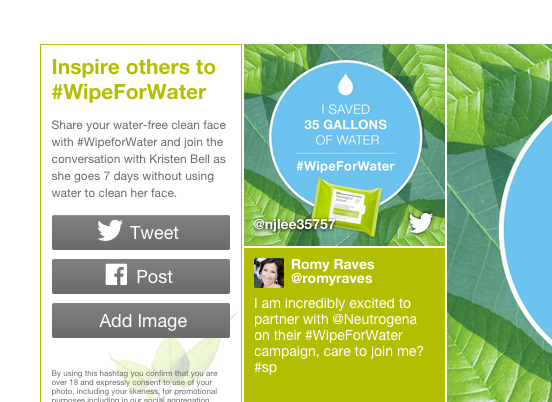 *This post has been sponsored by Neutrogena. All opinions are always my own & YES I will be taking the challenge for myself!*