Sponsored
Happy First Day of Spring! Except you wouldn't know it was Spring in New England because.. it's SNOWING today. But regardless of the snow, it's still the first day of Spring and time to break out those sundresses and shorts! It's been a LONG LONG Winter, and I don't know about you but my legs have been neglected. So head to your local Walmart and grab the brand new Gillette Venus Swirl Razor & Gillette Venus Olay Violet Swirl Shave Gel!
Venus razors are ones I buy pretty frequently so when I had the chance to test out their brand new Swirl, I was so excited (Especially since my legs were in dire need of help!) So what makes this razor so special?
The new proprietary FlexiBall™ technology offers a totally unique movement like no other male or female razor on the market. Venus Swirl™ is the first and only razor with the FlexiBall™, moving in multiple directions to navigate all of the tricky areas of a woman's body. It helps to shave those hard-to-reach places and capture hairs that other razors might miss.
Pesky knee and ankle hairs and other tricky areas are no match for Venus Swirl's new Microfine Comb and five Contour™ Blades. Combined with FlexiBall™ movement, Venus Swirl™ moves like no other razor for flawless skin.
Venus Swirl™ is the first Venus razor to feature Gillette's most advanced blade technology, with five Contour™ blades that cut hair at lower cutting force and have thinner, finer edges — the thinnest in Gillette's history. The Contour™ blades individually adjust to a woman's every curve and contour.
You can check out more info from their site HERE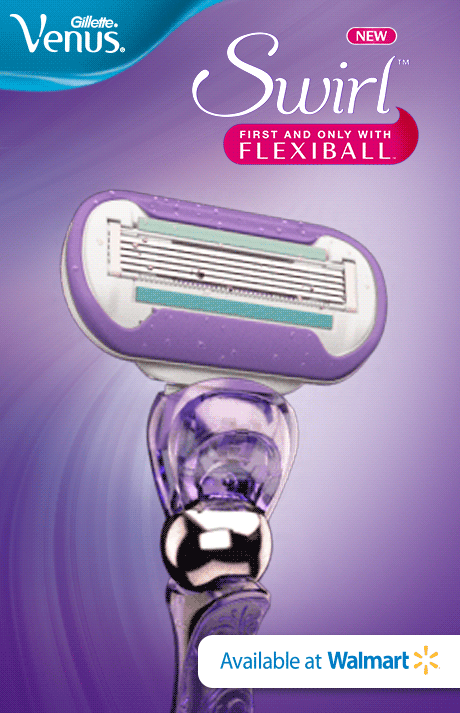 Pretty cool right? I noticed when shaving, it was so much easier for me to get around the ankle & knee area (Some pretty common areas women have trouble with) and on my underarms – It was AWESOME! The Violet shave gel smelled so great and made my legs, arms & underarm area look flawless.
I would HIGHLY recommend grabbing this next time you are doing your shopping at your local Walmart! They have all the NEW must-have beauty products! Look for the entire collection of new Venus Swirl products in the shave aisle at your local Walmart store or at venusswirl.com
For more information, please visit venusswirl.com & check them out on social media! #NewVenusSwirl
How would you like to win a $20 Gift Card to Walmart so you can try this out for yourself?! Please follow all of the directions in the Rafflecopter below! Good Luck!
*This is a sponsored post for SheSpeaks/Gillette Venus. As always, all opinions are 100% my own*