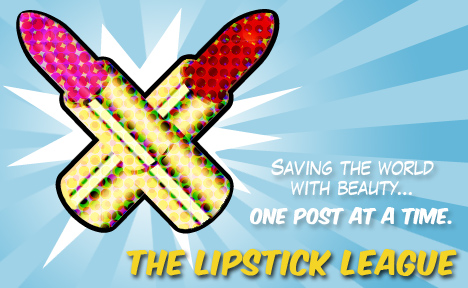 Question of the Week: What product do you find you are always recommending to people in real life (in addition to in the online beauty community, on your blog, etc.)?
Answer : The IT Cosmetics CC Cream! It is seriously one of the BEST out on the market right now – I love how it looks and feels on my skin and the coverage is fantastic!
Lipstick Links of The Week
My Newest Addiction – Laura tells us all about her favorite skincare secret and has an AWESOME GIVEAWAY to boot! You HAVE to find out what it is!
Nouveau Cheap – The L'Oreal La Palette Nude 1 and La Palette Nude 2 ten-pan eyeshadow palettes are (finally) here! Were they worth the wait? Here's my full review.
Prime Beauty – Prime Beauty knows a great set of brushes makes all the difference in makeup application. Read her review of the Mikasa Beauty Classic Brush Kit and get 25% off your order!
Phyrra – shows you How to DIY Your Foundation for a perfect match!
Vampy Varnish – Loves the new Cirque Colors x Nordstrom Collection and thinks you should check it out if you love holographics and glitters!
we heart this – Like you need another nude palette! Except, you kinda do need this nude palette…
Beautygeeks — Dermalogica founder Jane Wurwand knows things about skin (and rebuilding a failing industry — #inspiring). She told us she sees two major issues with skin today. Are you struggling with one of them?
Beauty Junkies Unite – Amber found her holy grail solution to hangnails, pesky dry cuticles, and dull nails. Will all-natural Nail Butter become your nail treatment solution too? Come on over to see if it's meant for you!
Clumps of Mascara – loves discovering new brands. Have you heard of Eddie Funkhouser? I am in loooove with his lippies.
Gouldylox Reviews – Want to look Photoshopped IRL? Take your look from warm to cool with a quick dusting of this tinted setting powder from Too Faced.
Love for Lacquer – Looking for a fabulous face mask? Jess shares her thoughts & results on the Revelations RX face masks and even has a giveaway & special discount code available!
(Wondering what the Lipstick League is? Find out here.)