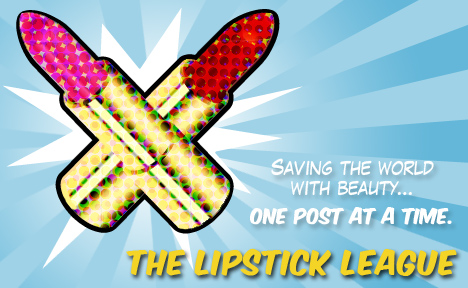 If you haven't entered our Black Phoenix Alchemy Lab perfume oil giveaway yet, there's still time! Click here for a chance to win 12 BPAL fragrances personally selected by members of The Lipstick League ($235 value).
Question of the Week: How much time do you spend on your skincare regimen each day?
Answer : To be honest, not that long – Which is something I am trying to work on. I do a quick face wash and then that's pretty much it. But I am getting into using my GlamGlow masks more often.. My skin needs all the hydration it can get!
Lipstick League Round Up :
Beautygeeks – If you habitually skip body lotion after your shower because you're too rushed, this new Jergens Moisturizer for Wet Skin is a game-changer, even more-so than Olay Moisturerinse (discontinued anyway) and Nivea In-Shower Body Milk and Lotions (sorry, Nivea).
Beauty Junkies Unite – In 1983, I used to sneak my brother's Grandma's bottle of Vidal Sassoon shampoo in my bathtub and use it when I wasn't supposed to. Now, that original cherry almond scent is coming back in updated Vidal Sassoon Shampoo & Conditioner formulas, and 7 year-old me couldn't be more thrilled.
Clumps of Mascara – shows off more Shea Moisture Cosmetics awesomeness.
EauMG – Valentine's Day is a week away! Treat yourself with these little lovely-scented luxuries.
Gouldylox Reviews – I always feel like sharing my thoughts with you when I read magazines, but I never do. That changed this week. Grab your People StyleWatch and let's discuss.
Love for Lacquer – Looking for an affordable & moisturizing lipstick from the drugstore? How about these from the ELF Studio Line which are only $3!
My Newest Addiction – Have you seen the new Charlotte Tilbury Filmstars On The Go Palettes or Beach Sticks? Laura shows you Some Like It Hot and Moon Beach. GORGEOUS!
Nouveau Cheap – If you love the Disney Princesses and you love makeup brushes, get ready for cuteness overload.
Prime Beauty – asks if you really need a shave cream and what is a hair inhibiting gel? Find out the answer to these pressing questions!
Phyrra – Ever wondered who the best all around cruelty free drugstore brand is? Phyrra shares why she picks Nyx Cosmetics!
Vampy Varnish – The new Zoya Delight collection for spring 2015 truly is delightful!
we heart this – introduces a five ingredient product that will clear blemishes, smooth and tighten skin, diminish pores, exfoliate, tone, clarify and hydrate. Oh yeah, and it's only $19.95! Check it out.
(Wondering what the Lipstick League is? Find out here.)
Guest Post of the Week, as chosen by Beautygeeks – I'm all about a specific sheet mask for therapeutic moisturizing right now, but my pal Tracy at BeautyReflections recently posted this great moisture-mask smackdown that reminds me that moisture masks in a tube are great options too.