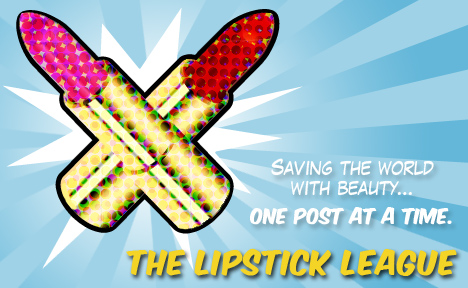 Question of the Week: Are there any makeup looks you wish you could rock, but feel like you can't?
Answer : Probably a really strong contour. I feel like it would look incredibly muddy or dirty on my fair skin.
Lipstick League Links Of The Week : 
we heart this – shows you a box of brushes so luxurious, they're presented in satin! Prepare to "oooh"…
Beauty Junkies Unite – Amber is giving 5 winners a $50 Walgreens gift card, and a mini Neutrogena prize pack! You know you want to enter! (ends 2/9/15)
Clumps of Mascara – is a married woman who had never worn a wedding dress before. Until this day.
EauMG – It's another installment of In the House, a quick brand overview of some of my favorite indie and niche perfumes. This month's focus is on Neela Vermeire Creations, a line of luxury perfumes inspired by the rich history and culture of India.
Gouldylox Reviews – More men wear makeup than you might think. When Howard Stern's Sal Governale's favorite concealer was discontinued, I rushed to find a new, perfect choice. Is his favorite your favorite?
Love for Lacquer – Ross & Rachel or Carrie & Big? The new Too Faced Soul Mates Blushing Bronzer Duos will make your heart explode!
My Beauty Bunny – Dropped a bundle on new hair color? Find out How To Keep Hail Color From Fading With Paul Mitchell and Quinoa!
My Newest Addiction – Excited about the new NARS All Day Luminous Weightless Foundation? Laura shares her opinions and photos!
Nouveau Cheap – Free, unlimited 2-day shipping at Sephora for just $10 a year? Too good to be true? Check out >my first experience with the Sephora Flash subscription service and you be the judge!
Prime Beauty – gives the new LORAC Unzipped Gold Eye Shadow Palette a test drive. Is it worthy of it's name? Find out!
Phyrra – Want to know the secret behind the name of Too Faced Better Than Sex? Find out that and much more from my Interview with Jerrod Blandino!
(Wondering what the Lipstick League is? Find out here.)
Guest Post of the Week, as chosen by we heart this – we heart Karen of Makeup and Beauty Blog (I know, who doesn't?) This blogger babe knows her makeup AND her cats! We love when the two collide; like this post about the palettes from the Paul & Joe Menagerie Collection. Meow.