Sponsored
Low self-esteem and not feeling confident is something women and young girls struggle with daily. Even more so, with the pressure of the online community and social media. 52% of girls feel that the negative posts, comments, snaps, videos or photos they see on social media damage their confidence. By posting positive advice online, it will be the start of making social media a more positive place, especially for those moms out there with daughters.  Dove is encouraging and motivating everyone out there to be part of the
#SpeakBeautiful
program by purchasing
Dove
at
BJ's Wholesale Club stores.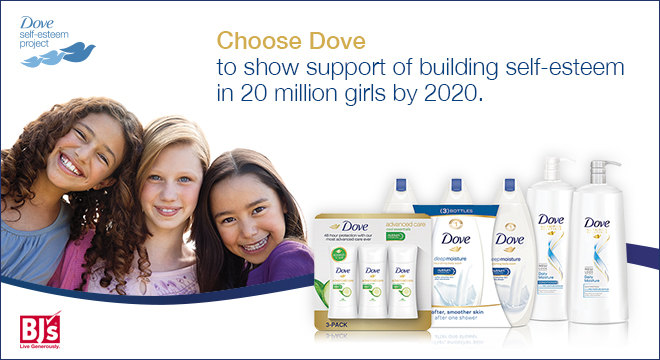 Take a stand and educate girls and women about having positive self-esteem by posting inspirational blog posts and using Dove products to show support. I have always been a huge fan of Dove, their products and especially their amazing campaigns.  Even though I am not a mom of a young girl, I'm still a mom to a 6-year-old boy. Boys may not feel as much pressure as girls, but if another boy says something mean to Rylan, he is absolutely going to take it to heart and be upset by it.  Just the other day, he was upset because a boy called him stupid for liking John Cena and watching wrestling. We had a long conversation about how that wasn't nice and he shouldn't be upset by it, but it still upset him.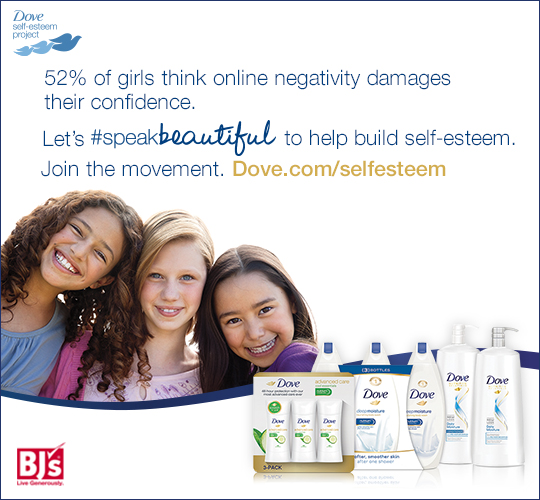 So how can you get involved? By choosing Dove and purchasing the below products from your local BJ's. 
Dove Deodorant Cool Essentials 3pk
This antiperspirant deodorant delivers up to 48-hour protection, underarm care and a refreshing cucumber and green tea scent.
 Dove 3 x 24 oz. Deep Moisture Body Wash
Enjoy softer, smoother skin after just one shower with this moisturizing body wash that leaves skin feeling cared for.
 Dove Cool Moisture Bar 16 ct
Enjoy soft, more radiant looking skin vs. ordinary soap and revitalize your senses with the refreshing scent of cucumber and green tea.
 Dove Daily Moisture Shampoo & Conditioner
Get hair that looks up to 5X smoother with Dove Daily Moisture Shampoo & Conditioner system vs. non-conditioning shampoo.
You can also head here and watch an exclusive BJ's video which encourages club members to learn how they can speak positively in their local communities through the Dove Self-Esteem platform. In the video, BJ's employees share their thoughts on self-esteem, beauty, and body confidence. They reflect on the ways their current job responsibilities have helped boost their self-esteem, while also commenting on the ways they will instill the values of beauty and confidence in their own children. It's very powerful and I encourage you to take a few minutes to check it out.
How will you #SpeakBeautiful? How will you instill the values of beauty and confidence in your own children?
*Sponsored by Mirum Shopper. All opinions are my own*