I leave for Vegas tomorrow! I'm nervous and excited all at the same time and of course I waited until the day before to start packing. Procrastination at it's finest! I thought I would share with you what I plan on carrying in the bag I'm going to be using when I head out to dinner and events at night. (During the day I will most likely have a giant purse) Going to networking events, I needed to make sure I had all the essentials and more. You never know what can possibly happen! One of the bags I plan on bringing is my Rebecca Minkoff Love Crossbody bag in the Raspberry color. It looks small, but it can hold a TON of stuff!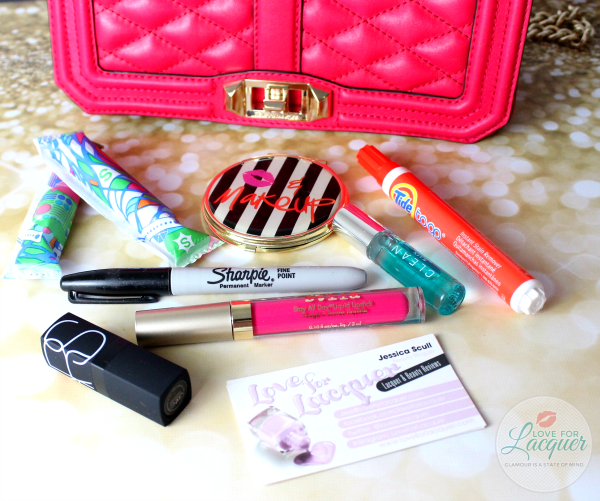 Mirror : Clearly this is important. You don't want to have lipstick in your teeth when you are trying to schmooze the big guys!
Tide To Go : There are usually appetizers at events and if I spill something on myself, I want to make sure I tackle the stain immediately! I found this in the travel section at Target and immediately snatched up a few!
Sharpie : I am always looking for a sharpie when I'm out and about & never have one. I made it a point to make sure I carry one at all times when I'm in Vegas – You just never know!
Clean Air Rollerball : Perfect scent for wanting to freshen up from day to night.
NARS Lipstick in Cruising : I just got this a few days ago and am in LOVE with the color! It's a sheer nude / pink shade and so easy to just throw on your lips plus give them a bit of color
Stila Liquid Lipstick : These liquid lipsticks last a lifetime, but if for some reason I need to touch up after I have been eating & drinking, I will have it available
Business Cards : SUPER important! I have a TON of these ready to go with me in various  bags at all times. These are key to network with!
Tampax Pocket Pearl : And last but not least, the new Tampax Pocket Pearl Tampons. I will be wearing mostly dresses and white pants during this trip and I want to make sure I am FULLY prepared just in case. I honestly never know when my period is going to come so it's better to be safe than sorry! Plus, I love that they are compact enough that I can fit several in my bag and not have to worry about them taking up too much space.
And let's be real – How cute is the outer packaging? I was able to find them at my local Target which conveniently had an end cap and made them super easy to locate.  I would definitely recommend these for on the go!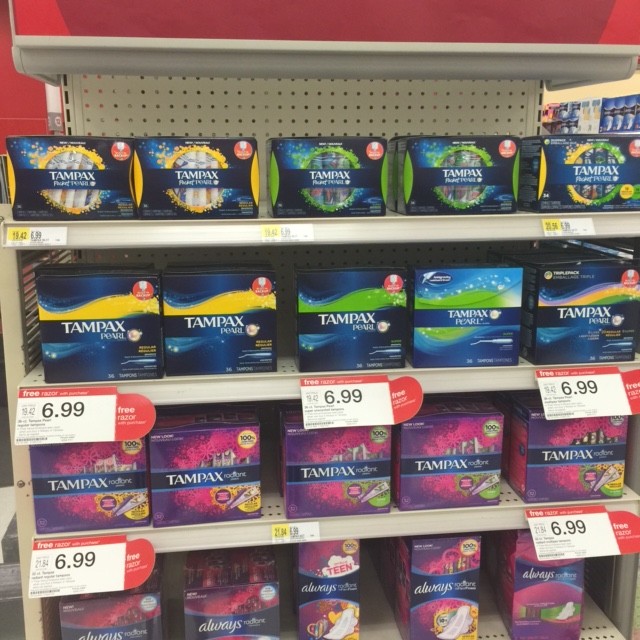 I think I'm ready! What essentials do you carry in your purse when you go out to an event? I would love to know!  And make sure you head to your local Target to try out the new Tampax Pocket Pearls for yourself!
I was selected for this opportunity as a member of Clever Girls and the content and opinions expressed here are all my own.