PR Sample
Update as of 11/8/15 – Please note the recall regarding the T3 Micro Twirl. Mine unfortunately melted and the clip came off so it went straight in the trash.  I would recommend you stop using this product if you own one.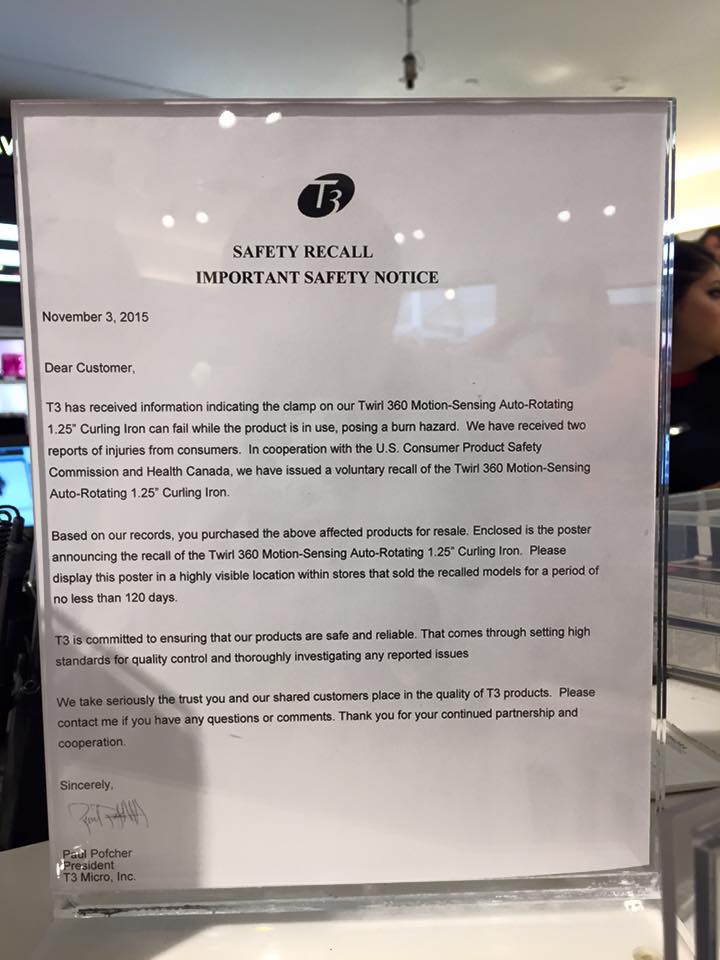 Happy Wednesday loves! Today I had an interesting hair tool to share with you – The T3 Micro Twirl 360! This fun curling iron is a unique tool that has motion sensing technology to auto rotate the barrel in order for it to make curling your hair extremely easy & effortless.
Now I have to be honest – I am NOT a curling iron kind of girl. I never learned how to use one nor did I ever bother. I have always been all about the curling wand life just because it's easier for me. So I was a little apprehensive when I got this in the mail because I seriously had NO idea how to use it. It did take some getting used to and several failed attempts.
What it is formulated to do:
Flawless curls, powered by science. T3's revolutionary gyroscopic curling iron features patent-pending motion-sensing technology and an auto-rotating barrel to create beautiful curls and waves with a simple turn of your wrist. The Twirl 360 senses the movement of your hand and automatically rotates in the desired direction, forming polished, perfect curls every time. With five heat settings up to 410°, two speeds, and T3 tourmaline + ceramic technology, the Twirl 360 is ideal for any hair type or skill level. It features an ergonomic design for an effortless styling experience, creating long-lasting, beautiful, lustrous curls and loose waves quickly and easily.
Features and benefits:
– 1.25-inch barrel: perfect for creating on-trend curls and loose waves
– Single "Go" button: barrel activates with a press of a button and a simple turn of the wrist
– Digital SinglePassTM technology: constantly measures and adjusts the temperature across the entire barrel for accurate, consistent heating while styling
– Mid-length clamp: ideal for curling any length of hair—even if it's layered
– Cool tip: makes it easy to safely and quickly maneuver the curling iron
– Nine-foot 360° swivel cord: professional-length with swivel prevents cord tangling for hassle-free styling
– Two-year warranty: comprehensive coverage and support options
Below is a photo of the 'Go' button. I had the HARDEST time trying to find this sucker when it was time to curl. I feel like they could have made it rose gold so it stuck out, but beggars can't be choosers.
The Twirl 360 has 5 different heat settings & goes all the way up to 460 degrees.
For me personally, I feel like this took WAY longer to curl my hair than it would if I used a clipless curling wand. Because my hair is so thick , I had to use small sections and found it barely curled my hair even when I had the heat cranked up. (Which I don't normally like to do)  I will definitely keep playing around with it, and hopefully once I get the hang of it or get into the groove of how it works it won't take me as long.
What do you think of the T3 Micro Twirl? Is this something you would use to get bombshell curls or do you prefer a clipless wand?
Availability : Sephora
Price : $230
Social Media : Facebook | Instagram | Twitter
*Provided for an honest review. All opinions are my own*