Sponsored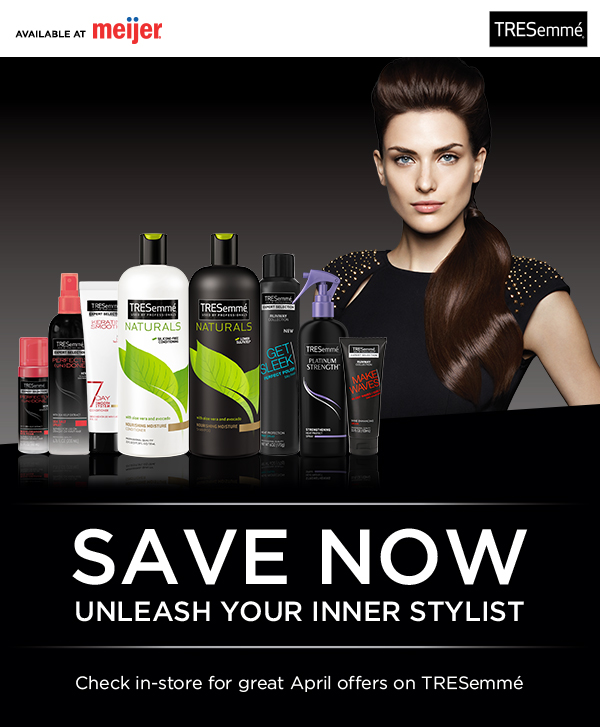 Do you ever look back at pictures and realize maybe you had the same hairstyle for a little too long? I definitely had that realization recently and that's why I'm on the lookout for fun new styles I can recreate at home for the spring time . TRESemmé has been perfect for my quest for a new look because they have so many helpful how-tos and tips so I can Unleash My Inner Stylist. I love that I can experiment with different looks and style without shelling out over hundreds of dollars on salon products. Meijer and TRESemmé allow you to find your personal style and make every day more beautiful with quality products.
I have been absolutely LOVING the new Perfectly Undone shampoo & conditioner from TRESemme! I love curling my hair and using these products has been such a lifesaver for me!  They don't weigh my hair down and my hair has never felt silkier.
For styling, I pump a few pumps of the Wave Creation Sea Foam onto my damp hair and blow dry as normal. If you have naturally wave hair, you can also scrunch in & air dry! I will probably do this a TON during the Summer! And to finish it off, the Ultra Brushable Hairspray keeps my curls in check all day. I absolutely HATE when hairspray makes my hair feel sticky or stiff and this doesn't do that at all.  (Hense the brushable formula)
They have been giving me the PERFECT curls every single time – It's incredible! And did I mention they smell amazing too?
Check out some of my favorite how-to's at Meijer's TRESemmé page HERE for fun new spring looks to try at home. Meijer is my favorite place to pick up these amazing styling products because I can grab everything I need on my regular trip to the store. April is the perfect time to stock up because Meijer will be having many offers on TRESemmé in-store.
What spring style do you think you'll try? Do you have any great at-home styling tips? Feel free to share in the comments below.
*Sponsored post by Lunchbox. All opinions are my own*