Press Sample
Affiliate Link
Happy Sunday! I have teamed up with Gloss48 again to introduce you to a brand called Doucce (pronounced DOO-say)
Here's a little more about the brand :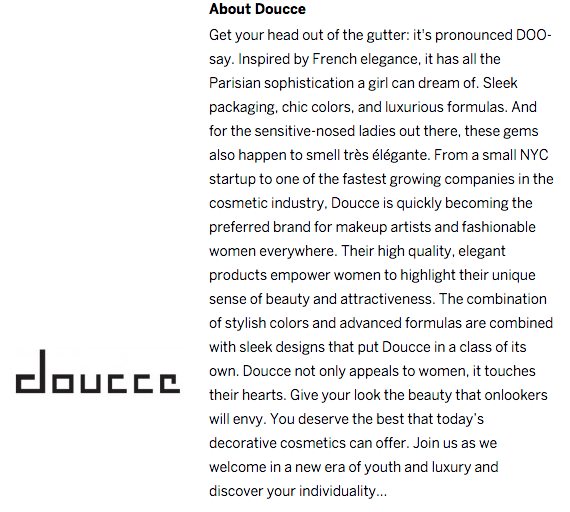 I have a few lip products to share with you, so let's get started. This exclusive sale ends on March 10th, so if there is anything you love – I would act fast. If you sign up for their newsletter, you can get $10 off your purchase!
These glosses are NO joke in pigmentation. They give your lips a radiant finish with a ton of added shine. They are a tad sticky though, so keep that in mind. The only thing that threw me off was the scent. It reminds me of those roller ball lip glosses you got back in the 90's. It's not really something I prefer, but it does tend to fade away quickly.
They also come with a paint brush type applicator.
Swatches – Sun Drop, Sparkling Sugar & Cappuccino Brown
(All one swipe)
The Lush glosses are a tad bit different than the Gloss Wears. I noticed they provided even MORE shine and color payoff and the formula is thicker. The applicator on these is different as well as it's a doe foot. They have the exact same scent as the previous glosses.
Swatches – Spring Bloom, Peachy Nature
And last, but not least is the Wet Fusion Lipstick in the shade Natural Tan. The lipsticks are priced at $16.50 as well.
The formula of these lipsticks are SO creamy! I actually wish I had a few brighter shades, because this may be a tad too nude for me. But if nude lips are your thing, I would definitely recommend picking this up. The lipsticks have NO scent at all.
Overall, I'm really glad I was able to try this brand! I think they have some really great and high quality products. The only thing I would change was the scent on the glosses and either make them unscented or something more pleasing.
If any of these tickle your fancy, you can grab them at a discounted price NOW on gloss48.com! But hurry – the sale ends on March 10th!
Availability : Gloss48
Price : Varies
Social Media : Facebook | Twitter | Instagram
*Provided for an honest review. All opinions are my own. Post contains referral / affiliate link*