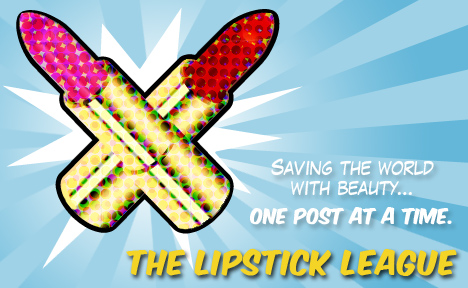 Question of the Week: What's your current favorite top coat and how long have you been using it for your manicures?
My hands down holy grail top coat would have to be HKGirl. It dries in 30 seconds and leaves my manicures SO shiny! I have been using it for about 2 years now!  I have been exploring other options though and also really love Clearly On Top from KBShimmer & Need For Speed from Serum No 5.
Lipstick Links Of The Week!
Prime Beauty – takes a look back at her Top 10 Favorite Beauty Products in 2014!
Phyrra – Looking for the best matte liquid lipstick formula? Phyrra found it! It's the Fyrinnae Liquid Matte Lipsticks!
we heart this – They're not new, but they're pretty! And we swatched a BUNCH of them; the L'Oreal Colour Riche Ombre Quads.
Beautygeeks – Canadian winter — GAH! We're distracting ourselves with this sneak peek of the forthcoming Essie Resort 2015 collection.
Beauty Junkies Unite – Even if Miley Cyrus isn't your cup of tea, PLEASE don't miss this review & swatches of the new MAC Viva Glam Lipstick & Lipglass shades launching for the first half of 2015. 100% of the purchases of MAC Viva Glam x Miley Cyrus goes directly to the MAC AIDS Fund, and they've been doing so much good since 1994!
EauMG – My perfume pals have spoken! Here's the perfumes that you thought were the best new launches of 2014! A big thanks to everyone that voted!
Gouldylox Reviews – How can you say no to this palette? Assuming you can still find it, that is.
Love for Lacquer – If you're a fan of Young Wild & Polished, you are going to LOVE this duo from Glisten & Glow!
My Beauty Bunny – We heart tarte! But is their Amazonian Clay Full Coverage Foundation a hit or a miss? Check out our latest video and find out.
My Newest Addiction – Matte palettes are super popular lately and Laura shows us the Tarte Tartelette Amazonian Clay Matte Eyeshadow Palette. She loves it so much she even went as far as to say it could be THE eyeshadow palette of 2015.
Nouveau Cheap – Ulta is releasing a brand new Rose Gold Eyeshadow Palette on February 1st, but if you want a sneak peek (with swatches), click right here.
(Wondering what the Lipstick League is? Find out here.)